Best Online Colleges By State
Online accredited degrees are now offered at nearly every level and in every subject. Conceptually, the distance-learning model has been around for more than a century. Some education historians trace the concept back to the late 1800s when the University of Chicago offered the first type of distance learning course. Through the years, the concept of distance learning evolved through various iterations that included radio and television broadcasts.
However, distance learning exploded onto the education panorama when the concept melded perfectly with the super information highway – the Internet. In due time, the concept of distance learning offered on the Internet became a driving force that some now predict will forever alter the traditional landscape of higher education.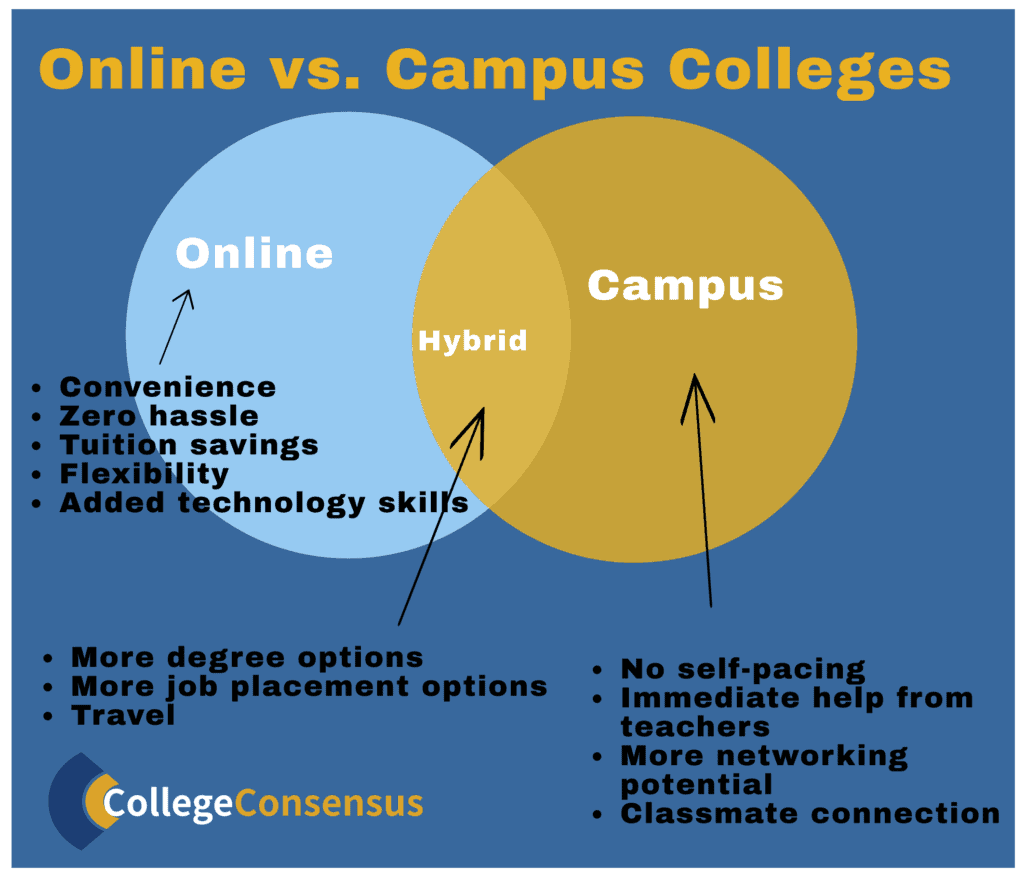 What Types of Degrees Can You Get Completely Online?
Our Ultimate Guide to Online Associate's Degrees allows you to learn about the Associate's online degree in depth. Obtaining an online degree provides the flexibility to fit your studies around your many other commitments while enjoying the same quality teaching as on-campus counterparts.
Browse through our Ultimate Guide to Online Bachelor's Degrees if you are seeking an online degree at the Bachelor's level. You'll find out all the current trends in distance learning and be most surprised that online degree students often finish their online bachelor's degrees in much less time than those learning on-campus.
Be sure to check out our Ultimate Guide to Online Master's Degrees for the latest scoop on graduate school via distance learning. Working full-time in your field already? You can keep your job and boost your pay-rate while studying part-time for an online graduate degree.
Lastly, our Ultimate Guide to Online Doctorate Degrees will give you all the information on terminal online degrees. Most of these doctoral online degrees are highly developed for those currently working full-time and in need of flexibility to juggle school and family obligations. Our guide will help you plan your academic future without hitting any snags.
What Are the Advantages of an Online Degree?
There are many benefits of online degrees, including scheduling flexibility. The primary benefit of online learning for many students involves the extreme flexibility. In some cases, online students can begin courses immediately or attend accelerated courses of five, eight or 10 weeks instead of the traditional 16-week semester.
The benefits of online college degree programs also include an opportunity to save money. Online learning often costs the same amount per credit for tuition. However, these students don't have to pay for campus meal plans or housing. Learning online also cuts down on the time and expense of commuting. Benefits of online degree programs include digital textbooks, which are cheaper than printed textbooks used in traditional classrooms. Most colleges allow online students to receive the same financial aid as traditional classroom students. Elearners who take classes online may also be eligible for merit scholarships and grants based on financial need.
Further advantages of online degree programs include the learner's choice of environments in which to study and watch lectures. The study anywhere option is one of the major benefits of online degrees. Online learners can juggle work, family and other obligations bye fitting in their schoolwork when it's most convenient for them.
Finally, the benefits of online college degree programs include perks for colleges and universities with limited physical capacity. Among the advantages of online degree programs, institutions of higher learning only have to provide office space an equipment for instructors to record or deliver live lessons.
By using online resources, digital programs yield fiscal benefits of online degree programs. This format can save millions of dollars previously spent on libraries and reference materials.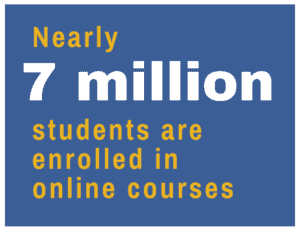 How Credible Are Online Degrees?
Are online degrees credible? Yes, there are hundreds of great options. However, ensure that any school you choose is accredited by a regional or national organization.
For example, our top online colleges for veterans include:
Rutgers University
Western Carolina University
University of Iowa
So how does College Consensus decide which online degrees are credible? In searching for a degree program, you could spend your time checking for student reviews as well as seeking reputable ranking sites. But College Consensus does all that for you. College Consensus uses sources like U. S. News and Forbes to develop our consensus rankings, while sites like Niche provide the student consensus.
Online degree credibility should be the major criteria in the choice of an online college. Employers give much more weight to accredited, well-established institutions when it comes time to hire.
Are Online Graduate Degrees Credible?
Not only are online graduate degrees credible: today, with a high demand for well-educated professionals, and a competitive job market in many in-demand occupations, online graduate degrees are not just accepted – they're encouraged.
It's not hard these days to find online programs for every imaginable field. Online graduate degrees in Business administration, criminal justice and psychology are the most popular for online graduate degrees, and there are hundreds of others that lend themselves to an online format. These are fields where people often earn their graduate degrees while working in their occupation, and employers strongly encourage their employees to increase their credentials with an online degree.
How Do We Know Which Online Degrees are Credible?
In recent years, with Department of Education crackdowns on predatory, for-profit institutions have been relatively successful in shutting down the worst actors. At the same time, online programs have boomed among reputable, accredited colleges and universities. As long as students properly research the online universities they wish to attend, it's easy to find great programs in just about any major.
So how credible are online degrees? Harvard, MIT and many Ivy League schools now have online components. So far, offering online courses hasn't called the integrity of these institutions into account.
Is an Online Degree Credible if Offered By a Low-Tuition School?
In America, we tend to think "You get what you pay for." But affordability and quality are not totally linked with an online program. Often, total cost of attendance at an online school is a fraction of what it would be if attending classes in person. The same faculty teach in-person and online courses at most schools. So, you can often get great value for money by taking online degree classes. In fact, the most affordable online programs are also some of the best. Try to choose a program in your budget that is regionally recognized by employers and that has the proper accreditation for your field of study.
What Do Employers Think of Online Degrees?
Many students, either new grads or working learners, are now seriously considering completing (or at least partially completing) their college degree online. These potential degree candidates often ask themselves –Do employers take online college degrees seriously? Or, is an online degree a good choice?
These are smart, fair questions. And, the answer to each question is yes.
Are Online Degrees Respected By Employers?
Online education allows elearners to work while attending school, so many employers are fans. But how do employers view online degrees, really? As online learning becomes more mainstream, they are given the same respect as in-person classes. Some schools won't have the academic robustness required by some fields with highly technical materials or that require lab or clinical hours.
So it's a very real concern for students – do employers hire people with online degrees? When online programs first appeared on the scene, they were an oddity. There was a distrust for an online program. That was two decades ago, and times have changed. Today, even traditional, residential institutions are now offering online courses and many online programs. In fact, more than 1/3 of colleges have some kind of online classes available.
In recent years, traditional, residential colleges and universities have begun offering college courses through online learning. More than 30% of traditional colleges offer degrees online. So how do we know what employers think of online degrees? According to one study, 28% of students take some online courses. Employers who look down on online learning may find a shrinking pool of candidates who come from a strictly in-person environment.
Do Employers Look Down on Online Degrees?
But even if they hire workers with them, do employers look down on online degrees? Some may, but it might be easier to find an employer that stays up to date on modern trends than to clear your plate for four or more years of traditional college. Depending on the policy of the university, employers may not even know whether students attended online or on-campus classes based on the transcripts.
With more than 38% of all graduate classes taking place online, employers have begun to understand that flexible learning is not a detriment to job candidates. At this point, it's not really even a question of whether employers recognize online degrees. In fact, many employers respect the commitment and discipline required to take classes independently. And many online programs offer job placement.
According to the Online Learning Consortium, of 6 million people taking distance education courses, nearly 3 million were taking all the courses online. About half of online classes require synchronous components, meaning students interact at the same time for projects or classes. This mimics the in-person student experience. With current trends and the number of job hunters finding work after online programs, employees are taking it seriously.
Millions of Americans have gone back to school to change careers and many of them are doing it online. This has affected the acceptance of online degrees by employers.
So to sum up:
Are online degrees respected by employers? As recently as 10 years ago, employers were not big fans of online degrees. Except in some very conservative fields, though, that attitude has essentially reversed.
How do employers view online degrees? An online degree demonstrates commitment and resolve. And having employees with higher credentials is ultimately better for any employers.
Do employers accept online degrees? Not only do they accept them: increasingly, employers are encouraging their employees to get online degrees, especially master's degrees in professional fields.
How Are Online Degrees Accredited?
Accreditation is the process by which a neutral, authorized organization or agency evaluates the school or program against a set of predetermined standards set forth by a government education agency or education-industry oversight organization.
Accreditation from a legitimate accreditation agency reveals to students and the education community as a whole that degree conferred by the accredited school has met or exceeded strict education standards. Institutions of higher learning can be accredited as follows:
Nationally Accredited Online Degrees
National Accreditation is offered by the United States Department of Education. Future employers will likely consider a degree or school that operates without national accreditation unacceptable. Nationally accredited online colleges publish this designation on their school's websites.
Regional Accreditation
The best regionally accredited schools have voluntarily applied for the more rigid regional accreditation designation. The best regionally accredited schools accept transfer credits from other regionally accredited colleges and universities. An online school that is regionally accredited alleviates the need to consider how credible are online degrees.
Ranking Accredited Online Degree Programs
There are countless companies; organizations and agencies dedicated to ranking available accredited online colleges. Each of these ranking websites recognizes their 'best accredited online colleges' in terms of academics, program quality, graduation rates, and the intangible factor of prestige.
Many of these accredited online college ranking lists are calculated by the government or long-standing publications like US News, the Princeton Review, or Forbes. However, students searching for degree program information should confirm the legitimacy of the source before resting a final decision on the information listed on the website.
In general, students should try to select a regionally accredited school that fits within their budget. If possible, the degree program selected should be an approved program that has received national or specialized accreditation.
What Are The Highest Paying Online Degrees?
College Consensus has a treasure trove of rankings on the highest-paying online degrees:
How Do Online Degrees Work?
Online degree education has evolved over the past decade to the point where it is possible to now locate the highest paying online bachelors degree from some of the best colleges for adults returning to school simply by searching the Internet.
Perhaps after searching for the best colleges for adults returning to school, the potential student will have already answered the questions as to whether an online college is good or bad. It is more challenging answering what is the easiest degree to get online because the answer depends on the student's aptitude and study skills.
How are Online Classes Held?
Many online degree programs offer asynchronous classes; that is, a student-centric education methodology that permits students to access educational materials at a time that is convenient for the student.
Asynchronous coursework may also provide students (with ample time and extra motivation) to complete classes ahead of schedule; although examinations and assignments may follow a more routinized schedule.
Online programming has arrived. The best online degrees offer a convenient, flexible program that now reaches more lifelong learners and students than anyone ever thought possible. However, it is just as challenging deciding which potential program is offered by the best accredited online college than when deciding on traditional on-campus education. The difference is that students considering accredited online degrees have a larger selection from which to choose. This is because a school's location is no longer a part of the decision when deciding upon the right accredited online degree program.
There are many considerations when determining which school or program to select from the best online degrees. Most students begin by reviewing the school's accreditation.
What About Students with Disabilities?
Students with visual impairments or hearing impairments should be aware of some limitations of online learning, however. Some colleges (especially those with lower levels of funding) have not optimized their online courses for students with disabilities, which can be extremely frustrating for them. On the other hand, the more technologically advanced schools have developed online programs that can be more effective for disabled students than a traditional classroom environment.
Earning an on online college degree is convenient and flexible, and now accessible to more learners than one could ever have imagined. The distance learning experience offers students the opportunity to learn independently and at their own pace.
How to Make the Most of an Online Degree Program
Students studying online will learn quickly that in order to succeed, it is critical that they identify and create a way to manage the independence provided by distance learning degrees. For those who are new to independent coursework, will find they need to develop the strategies required to remain motivated, disciplined, and committed to completing the course until graduation. Consider the following:

Develop Time Management Skills
While online degree coursework is heralded for its convenience and flexibility, the flip side is that the online student is now responsible for completing the required coursework according to the program's schedule. Students who devise, and follow, a reasonable time management strategy, will find it easy to solve this newly discovered independence. A time management strategy will typically include dedicated windows of time to ensure the student completes reading assignments, online studying, and quizzes/exams. An online degree is no less stressful than a traditional program, so time management is crucial for avoiding stress.
Utilize Online Tools Provided
Distance education delivered online includes easy-to-access 24/7 resources for online degree candidates. In addition to the school's online library resources, online students can find assistance through message boards (that are updated regularly) or live chat rooms where students can discuss academic issues or simply socialize with other online students and moderators. Chat rooms also offer online students an opportunity to network with other students in the same industry; which often is helpful for future endeavors. (Some colleges provide hardware tools too – like free laptops and iPads for all students.)
Remain Motivated
Staying motivated can be tricky for independent learners. What motivates one person might be completely ineffective for another. As a result, each online student will need to personally discover the motivation method that works for him or her. An online bachelor's degree from the best colleges for adults returning to school is only truly beneficial if the online student graduates.
Some online students find that simply being able to earn their degree is motivation enough; however, it is not effectual for those students who need to feel a sense of a daily accomplishment to stay motivated. The trick is for the student to take ownership of their study habits by finding out what works. The only thing else required is the online student's ability to remain committed to the strategies they have developed to make the most of their online program.
What Are The Best Degrees to Get Online?
Typically, the best degrees for online learning are those oriented toward professional careers. Online students tend to be working adults who already know their field, or who are entering a new field, and who have experience working. They tend to go back to school to make more money or advance in their career, rather than learning the basics. For those reasons, the best online bachelor's degrees tend to be those in business and technology.
Business and Management
Typically, the many facets of a business/management field are great options when searching for the best online colleges for associates degree, or a bachelors or more advanced degree.
Management Information Systems
A Management Information Systems (MIS) degree integrates the world of business with its dependence on computer technology. The coursework for this degree is a great fit for an online course delivery format.
Business Management
Business Management degrees prepare graduates to assess, identify and implement viable ways to reduce costs, and thus, increase profits for businesses across many sectors. The online format covers a wide spectrum of business subjects that fit — hand in glove — with the online delivery method.
Marketing
A marketing degree earned online is typically offered as a business major, although the skills learned are applicable to industries that depend on advertising to introduce or maintain a brand. Marketing professionals focus on sales, pricing and sales distributions.
Finance
A Finance major is a great option for an online program. Students graduate with the skills necessary to succeed in the areas of statistics, accounting, economics, and lending. Many finance professionals are required to pass industry exams to earn a license to practice.
STEM (Science, Technology, Engineering Math)
A STEM degree is an integrative approach to education where the four core subjects are included throughout the student's curriculum to earn the degree of the student's choice.
Engineering
An Engineering education fits an online course delivery method as it includes several subspecialties of mechanical, civil and electrical engineering — all of which require technical studies easily understood through a distance-learning course.
Physics
A Physics degree prepares students for rewarding careers in a variety of industries. These included engineering, health care, research, and astronomy. It is important to mention that not every student who earns a physics degree will become a physicist. Finally, many physics majors work for the government (i.e. NASA), while many others find gainful employment in the private sector.
Computer Science
A computer science degree earned online prepares students by exploring the practical, scientific and theoretical applications related to the field of computer science. A computer science degree, whether earned online or on-campus, is a broad foundational science which then allows students to select from numerous subspecialties. And, based on the many ways computers now impact society as a whole, the many facets of the ever-growing field of computers is expected to outpace growth in most other careers.
How Much Do Online Degrees Cost?
The cost of an online program varies from school to school. The costs of degrees also depends on the degree level. Obviously, an online bachelor's degree will be priced differently than an online master's degree. Two-year colleges average $3,730 in costs while four-year schools average more than $10,440 on the low end for in-state universities. Out of state tuition averages $26,820. The cost of online degrees is often somewhat cheaper. When considering the cost of an online masters degree or the cost of online associates degree, look for schools that discount online programs.
The average cost of an online masters degree varies from school to school and the major. Some degrees include extra fees for lab work and clinicals, which drives up the cost of online college degrees.
The average cost of online bachelors degree is $85,000, while online degrees average $30,000. The cost of online college degrees makes education accessible to more people than ever before. When comparing the cost of an online degree make sure to include tuition and fees. Even though online degrees aren't on campus, they often include athletic and resource fees. The costs of online degrees can save you money and hassle since many set your own time and place to work on your courses.
With cost of online degrees rising in recent years, it's important to understand exactly what you are paying for. Therefore, ensure that your program and the school itself is accredited. The cost of an online masters degree has many people going back for business and other degrees that can enhance their careers.
If you want to start out with an associates degree, the cost of online associates degree is much cheaper than the average cost of online bachelors degree. You can always pursue a four-year degree after finishing your associates. With the lower average cost of an online masters degree, you can also seek a masters without stepping foot on campus.
What Colleges Offer Online Degrees?
The best online colleges and universities offer a sterling reputation, well-respected name recognition and affordable tuition and fees. The best online universities and colleges for individual elearners depends on what field of study interests them the most. For example, the best accredited online universities for aviation include Embry-Riddle Aeronautical University—Worldwide in Daytona Beach, FL, according to U.S. News and World Report.
The best regionally accredited online schools and universities often cater to returning adult students and many have students in their 30s and even older. What are you looking for in the best online colleges and universities? Although there are many resources on the internet to help you make your choice, the final decision is a deeply personal one.
What are the best online colleges and universities? The best nonprofit online colleges and universities often offer a wider worldview than conservative private schools. Each student must find the school with the best program, price and culture that fits their needs.
What is an Accelerated Online Degree Program?
Many online schools and colleges offer opportunities for students to complete the fastest online degree completion programs. These fast online degrees simply cover the same degree coursework material in a reduced timeframe – typically by reducing class durations equal to ½ length semesters. Logistically, these shortened classes allow students to nearly double the amount of work that can be completed in the same amount of time.
A fast track associates degree online program is likely to be considered one of the fastest online degree completion programs available. These quick and easy online degrees require the least amount of credit units to graduate.
Students interested in completing the fastest online degree programs can determine if their choice of degree offers an accelerated option.
Applying Life & Work Experience Towards College Credits
Students have the option of completing fast online degrees by determining if the school offering the quick and easy online degrees offers a policy that allows for the application of college credits (to be applied to chosen online degree program) based on the degree candidate's work proficiencies and life experiences that are specifically related to the fast track associates degree online program.
The application of life and work experience not only reduces the amount of time required to earn a degree, it reduces the degree's tuition costs. Transferring credits from earlier education makes a difference too; some online accelerated programs will take as many as 90 credits.
Test Out of Classes by Taking Available Equivalency Tests
Students studying online have the option of testing-out of certain classes by successfully passing equivalency exams like CLEP and DSST. The College Level Examination Program (CLEP) provides exams to test collegiate aptitude in 36 different subjects. The CLEP exams are free to personnel of the United States Armed Forces' personnel that qualify, and to veterans. Testing out of required coursework is one sure way to create one of the fastest online degree programs.
Accelerated Online Degree Rankings:
How Do I Pay for an Online Degree?
By its very nature, online education is less costly for the online student than the student studying as a resident on-campus.
The cost of living on-campus (including food, health services, and school events) is clearly less than the cost of a student studying from home or their office. In addition, as there is no required commute, students avoid the cost and stress created by commuting to classes that begin at a specific, exact time. However, it is challenging to calculate the value one receives by the convenience offered by an all day, and all night accessibility. But make no mistake about it, this convenience value is real.
Students searching for the best value online colleges that are available will find that online schools and universities disclose the cost of the school's program as a whole or on a per credit unit of measurement. Those searching for affordable online colleges will also discover that there are many dedicated legitimate sources that have professionally organized the most affordable online colleges based upon the subject matter and the education level — i.e. an associate's degree, a bachelor's degree, or a doctoral degree.
Employer Reimbursement Programs
Many employers encourage their employees to further their education by earning a college degree. As a result, many businesses and organizations offer either tuition reimbursement programs or financial assistance for employees who meet the program's eligibility requirements. Taking advantage of an employer's financial assistance creates a win-win situation for the business (they receive a better-educated employee), and the student/employee — who reach their educational objectives at a reduced cost.
Massive Open Online Courses
A Massive Open Online Course, better known as a MOOC, is a recent addition to the world of online education. The coursework was initially offered at no cost (and much of it is still offered for free), which essentially created course work from an online school free of charge. However, the coursework offered by these free online colleges has evolved as the schools now offer an option to pay a nominal fee upon completion of the course to receive written verification that the student has successfully completed the coursework required by the institution of higher learning.
Don't Forget About Financial Aid
It is important to note that students studying online are eligible for the same federal financial aid as those students studying on-campus. That is if the online school meets the following requirements:
Free online colleges have been appropriately accredited, and
The School has executed the United States Department of Education agreement, which officially designates the online school as a Title IV school.
There are amazing amounts of online education opportunities for students and lifelong learners to reach for their education and career objectives. Affordable online colleges offer online degrees for students interested in earning an associate's degree, a bachelor's degree, or a postgraduate degree. The Massive Open Online Course (MOOC) movement essentially acts as an online school free of charge to anyone interested in studying online. Online students are encouraged to explore all online education sources to ensure they select the degree that best suits their needs.
---
Related:
Types of College Degrees – The Ultimate Guide
Fastest Online MBA Programs
---