In the 21st century the tech industry has been so fast-growing that the demand for professional workers is far beyond what traditional colleges and universities can produce. So coding boot camps have developed to fill the void and provide an alternative path for people who want to explore a career in tech but can't afford or don't want to wait the years it takes at a four-year college.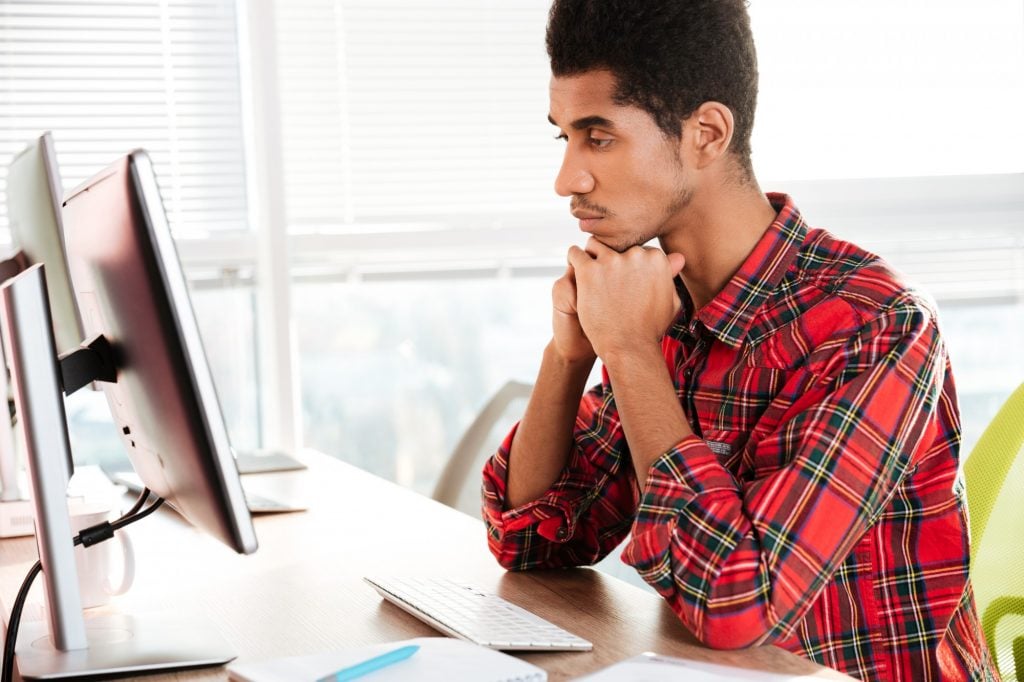 Coding boot camps are shorter versions of traditional college courses. Generally, coding boot camps offer a more intense, faster pace and condensed curriculum than many 4-year university engineering programs. They provide students with hands-on experience in software development by teaching programming languages such as HTML, CSS, and JavaScript to students who want to learn how to code, and only want to learn how to code (without all the rigamarole of a traditional college degree, like humanities courses or extracurricular activities).
Recommended Online Coding Bootcamps
Explore our featured online programs to find the right match for you today.
Coding boot camps come in all shapes and sizes, including online-only, mostly online, and hybrid. They offer differing approaches: some teach the fundamentals of coding, others teach highly specific skills, like how to build apps with web frameworks like React and Ruby on Rails. Some are for beginners while others are more advanced. There are coding camps for adults, college students, beginners and professionals. The learning environment depends on the stage the student is at as well as their goals.
Here is a look at this exciting new trend in technology education and how those who are interested can find quality computer boot camps near me.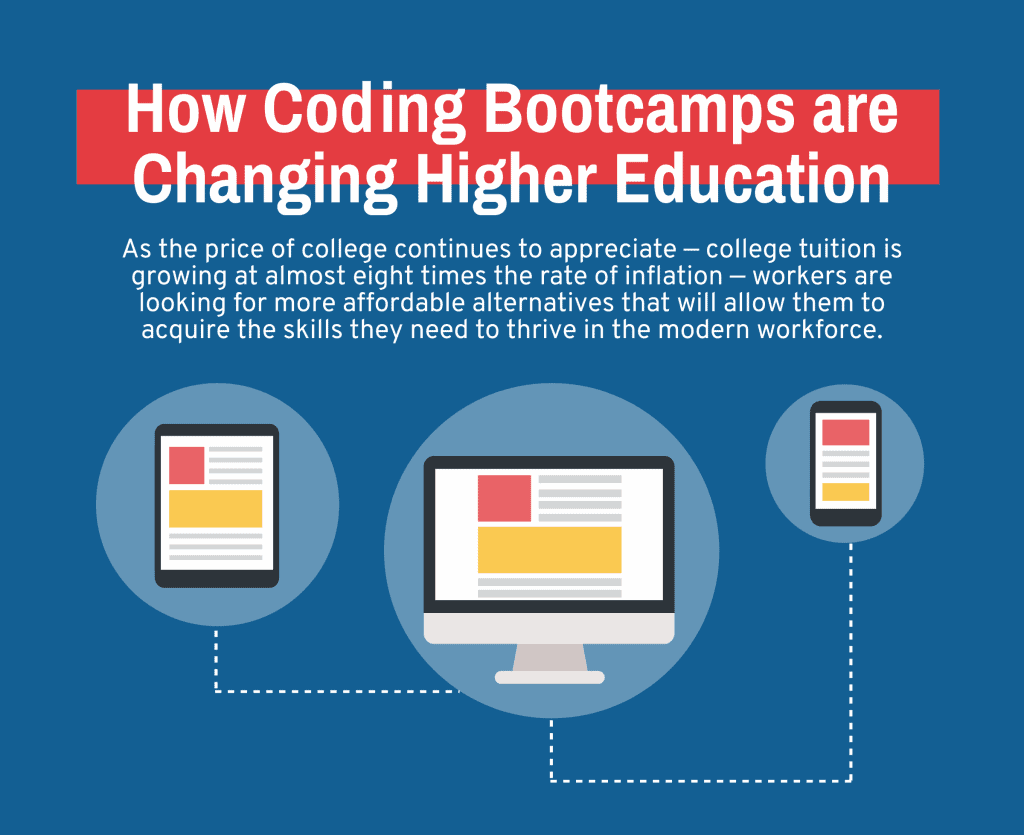 Bootcamp Resources:
The Coding Boot Camp Directory
Best Coding Bootcamps for Job Placement
Most Affordable Coding Bootcamps
Ultimate Guide to Coding Boot Camps
Are Coding Boot Camps Worth It?
Can I Earn College Credit at Coding Bootcamps?
Are Coding Bootcamps Accredited?
What's a Typical Day Like in a Coding Bootcamp?
Do I Have to Know How to Code Before I Apply to a Coding Bootcamp?
Is a Coding Bootcamp Better Than a Degree?
Why Choose a Bootcamp?
There are several reasons why one may choose to enroll in a computer coding bootcamp. They offer a variety of benefits compared to a four-year degree, as well as flexible and cost-effective learning solutions. Some of the major benefits of a computer programmer boot camp include:
Learn in-demand skills in a hands-on environment: Technology has transformed nearly every sector and as a result, there is a near unlimited demand for coders and other tech professionals. Coding bootcamps offer a way for anyone to learn the skills necessary to adapt to the future. Although most coders go on to work in the tech sector, there is always a need for skilled data scientists and IT professionals in nearly every industry. An online coding boot camp or in-person course can equip you with the skills needed to work in high-level positions in this dynamic industry.
Affordable programs with discounts and financial aid available: Another benefit of a coding boot camp for college students or those looking for an alternative to a four-year school is affordability. The average in-person coding bootcamp costs around $13,500, while the average coding boot camps online cost around $12,900. Although this is a rough figure and can vary greatly depending on the program and institution offering it. But, when you compare this to the cost of a four year degree and the earning potential for graduates, coding bootcamps are an amazing deal.
Flexible format that allows you to learn at your own pace: Coding bootcamps also offer flexibility and a way to learn at your own pace. Computer science is an intense subject and can get quite difficult if you don't have the time to fully absorb it. An online coding bootcamp gives you the ability to learn at your own pace and go through the lesson modules at a rate you feel is comfortable. Even in-person boot camps will cater to the needs of the student and provide professional guidance to help overcome any hurdles.
Boost your career or change industries: Coding bootcamps can be a great way to boost your career and advance your position within your current company or make a career change. A coding bootcamp for beginners can help you learn the skills needed to meet the demands of the tech industry, even if you have no prior experience. Or, if you're interested in a higher-paying position within your own company, a coding bootcamp can equip you with a profitable skill set that will allow you to advance in nearly any industry.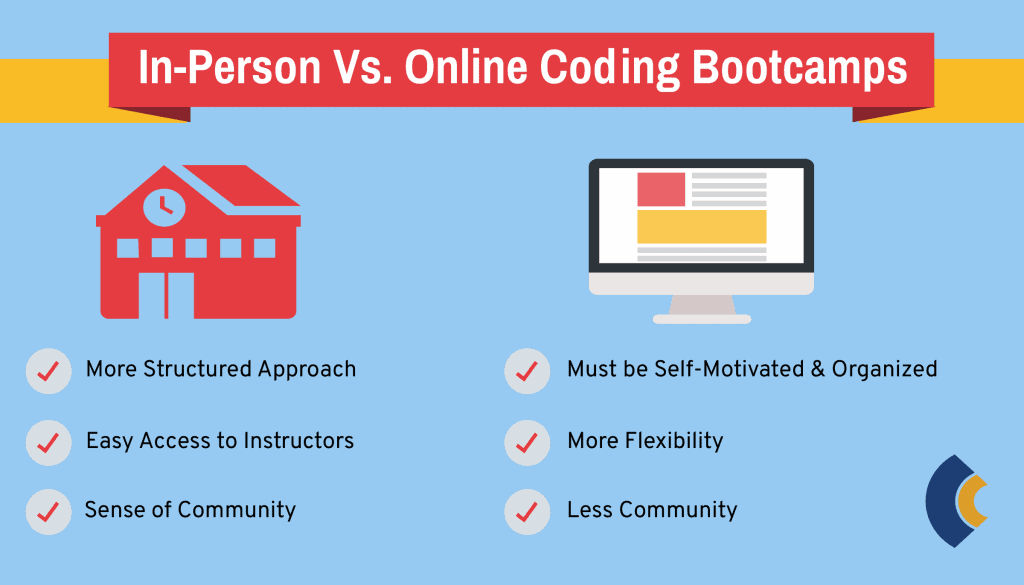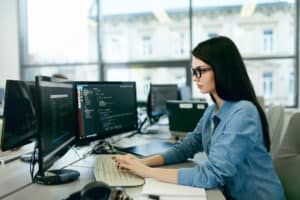 Coding Bootcamps and Careers
10 Highest-Paid Technology Jobs
25 Highest-Paying Technology & Computer Degrees
Ultimate Guide to Pandemic-Proof Careers
Highest-Paying Careers for Introverts
Highest-Paying Community College Degrees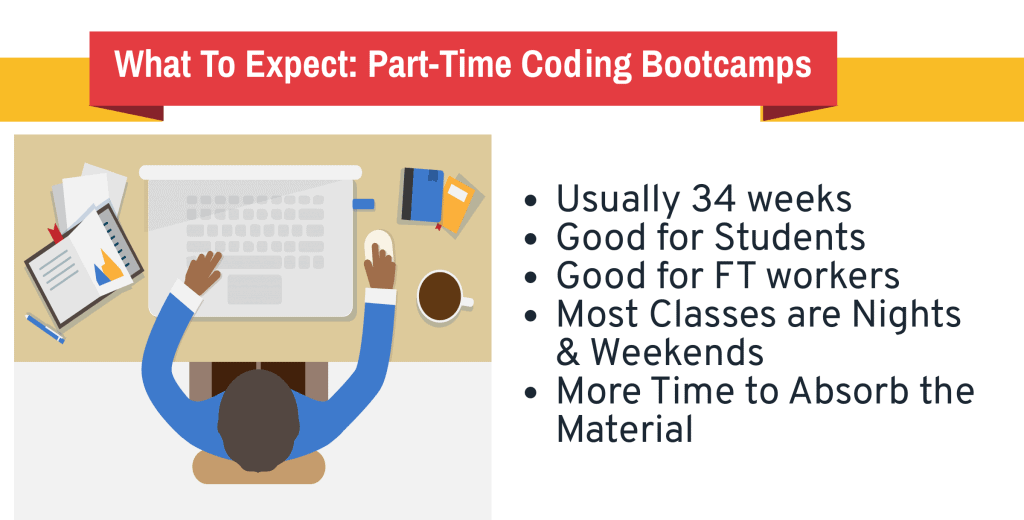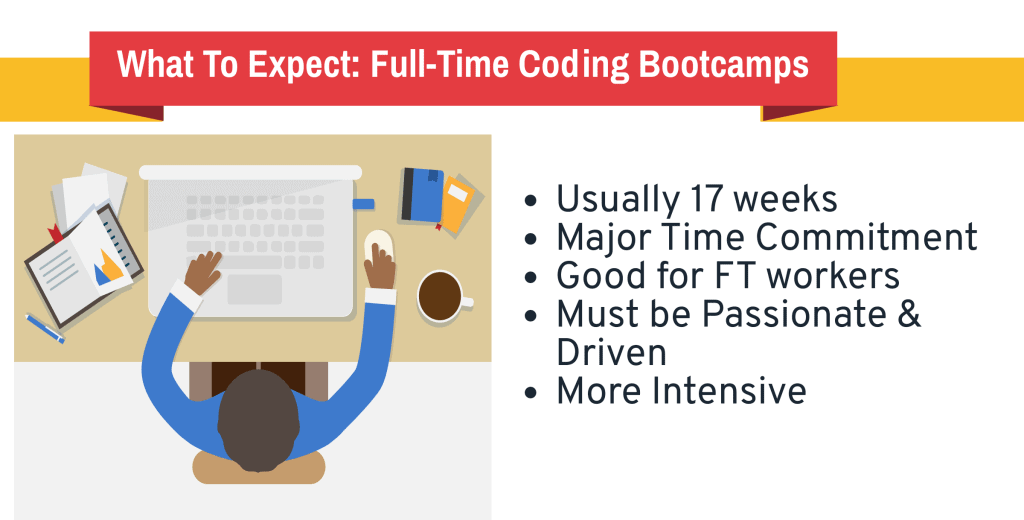 Resources for Free Courses
Top 50 Colleges for Free Online Courses
How MOOCS are Reshaping Higher Education
Best Free Cybersecurity Courses
What is a Coding Bootcamp?
A coding bootcamp is a short-term, intensive training program that equips students with the computer science skills needed to excel in a technology field. They vary in length but typically take anywhere from a few weeks to a few months. The bootcamps teach a variety of different computer programing languages, such as HTML, CSS, Ruby, JavaScript, Python, and a variety of others.
Recommended Online Coding Bootcamps
Explore our featured online programs to find the right match for you today.
Students may also learn important computer science skills such as Full-Stack, web development, digital marketing, UX, or UI design. These programs are designed to track students' in-demand skills needed to excel in a career in tech, in a fraction of the time it would take to get a 4-year degree. You can attend a coding boot camp online, in person, or as a hybrid of both and they are offered on both a full-time and part-time schedule.
Plus, many offer generous financial aid programs and ways to defer payment until you've been hired in a tech job. Coding boot camps are all the rage for those who want to learn the skills of the future but don't have the time or interest in attending a four-year university to study the subject. So, when you're ready to make a career change, all you have to do is search for coding boot camps near me.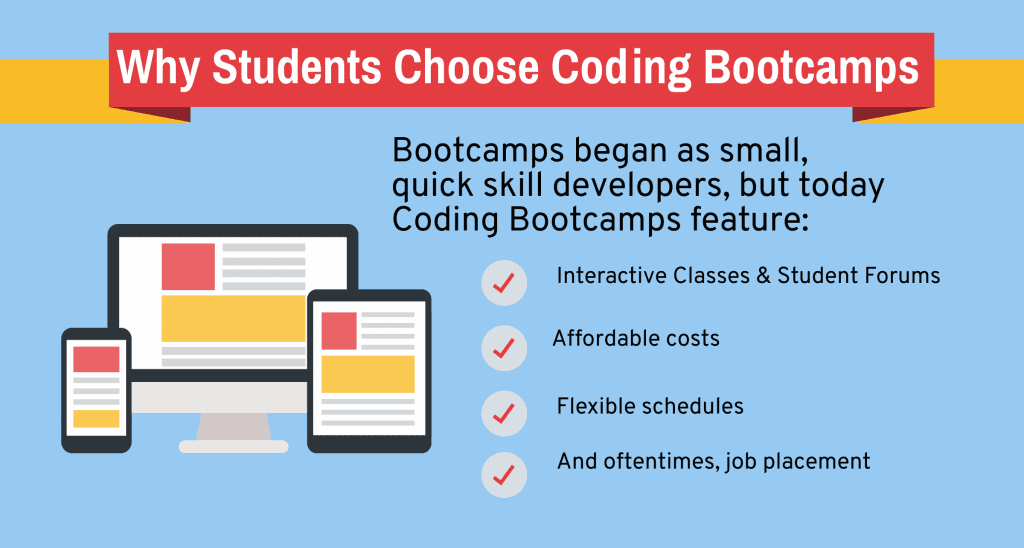 Bootcamp to Careers
There are a variety of exciting careers you can explore after completing a coding boot camp. Some of the most in-demand jobs in the tech sector will be available to those who complete a computer programmer boot camp, including careers in data science, computer science, and IT/cybersecurity. Here is a look at some of the top careers you may explore after completing a programming bootcamp near me.
Data Science
Analyst: The job of a data analyst is to collect data, organize it and use it to make complex business decisions. Data analysts work with all kinds of information, including sales data, social media metrics, marketing info, product inventory, and more.
They spend their time developing systems to make businesses run more efficiently and are valuable in almost every industry. In order to fulfill a role as a data analyst, applicants must have strong math and statistical skills, computer programing knowledge, and the ability to use business intelligence and analytics tools, all of which can be learned at a coding bootcamp for beginners.
Data Scientist: The job of a data scientist is to design data collection processes to create algorithms and predictive models to perform custom analytics. Data scientists work closely with business leaders and key decision-makers to understand their objectives and use data to achieve goals.
The key difference between a data scientist and a data analyst is that data scientists are tasked with predicting future outcomes based on algorithms, whereas data analysts simply extract meaningful insights from available data.
According to the Bureau of labor statistics, the average salary for a data scientist is just under $60,000, with those in the top 10% of the profession earning over $160,000 per year. The key skills that data scientists need include statistical analysis, computer science, machine learning, and programming, all of which can be learned at programming boot camps near me.
Computer Science
Software Engineer: The job of a software engineer is to apply mathematical insights to the principles of computer science in order to design and develop computer software and products. These products range from simple business applications to video games to complex networks and control systems.
In the same way that a mechanical engineer uses principles from mathematics and physics to create complex mechanical systems, a software engineer applies those principles to the world of tech. Software engineers create the world of tomorrow by developing the programs all of our technological systems rely on.
According to the Bureau of labor statistics, the average pay for a software developer is over $110,000 per year and the number of available jobs is expected to increase by 22% over the next decade, which is much higher than the national average. Those interested in a career as a software engineer must be proficient at programming and coding, computer science, algorithms and data structures, and information analysis, all of which can be learned at coding boot camps online or in the classroom.
UX/UI Design: "User-experience" and "user-interface" or UX/UI designers are web developers who specialize in making sure that a website is best optimized for internet users. A UX designer is responsible for ensuring that the interaction between actual human beings and a product – in this case, a website – is as seamless and intuitive as possible. A UI designer, on the other hand, is responsible for ensuring that the interfaces between a customer and a product are best optimized for their function.
Think of it as a restaurant – you have a front-of-house staff that deals with the customers and a back-of-house staff who focus on ensuring that the cuisine is as delicious as possible. One focuses on the customer experience while the other handles the technical process which enables that experience. In this analogy, a UX designer is in charge of the front of the house and a UI designer is in charge of the back of the house.
Both work together to create an optimal experience for the customer, yet each specializes in a different area to ensure that the whole operation functions smoothly. UX/UI designers are required to have both coding and computer science skills, as well as creative skills like design and marketing, all of which can be learned at a coding boot camp for college students or adults.
Recommended Online Coding Bootcamps
Explore our featured online programs to find the right match for you today.
Web Developer: The job of a web developer is to create and maintain websites. They have a similar role to a web designer but are more concerned with the backend functionality of a website than the way users interact with it. Web developers are tasked with using computer programming languages to build websites, create content for sites or directing others to do so, identifying bugs and problems to correct them, and maintaining the overall function of a website.
According to the Bureau of Labor Statistics, web development jobs are projected to increase by 15% through 2026, meaning there are plenty of opportunities for those willing to learn. Experienced developers often work as freelancers and own their own business or work for large companies and manage a team. Web developers must know computer programming languages like Javascript, HTML, jQuery, SQL, CSS, and other computer science skills like UI design, app development, and software engineering, which can be learned at a programming bootcamp near me.
Mobile App Designer: A mobile app developer is tasked with designing, creating, and updating mobile applications for Android or iOS. They work with multiple programming languages and operating systems to create software that is functional and user-friendly. They also work closely alongside computer analysts and engineers to develop products and troubleshoot any issues.
They perform a similar function to a web developer and UX designer but specialize in mobile applications, which requires special expertise. Skills that mobile app designers are required to have include app design, software design, coding, UX/UI design, backend web services, and computer programing, which can be learned at a computer coding bootcamp.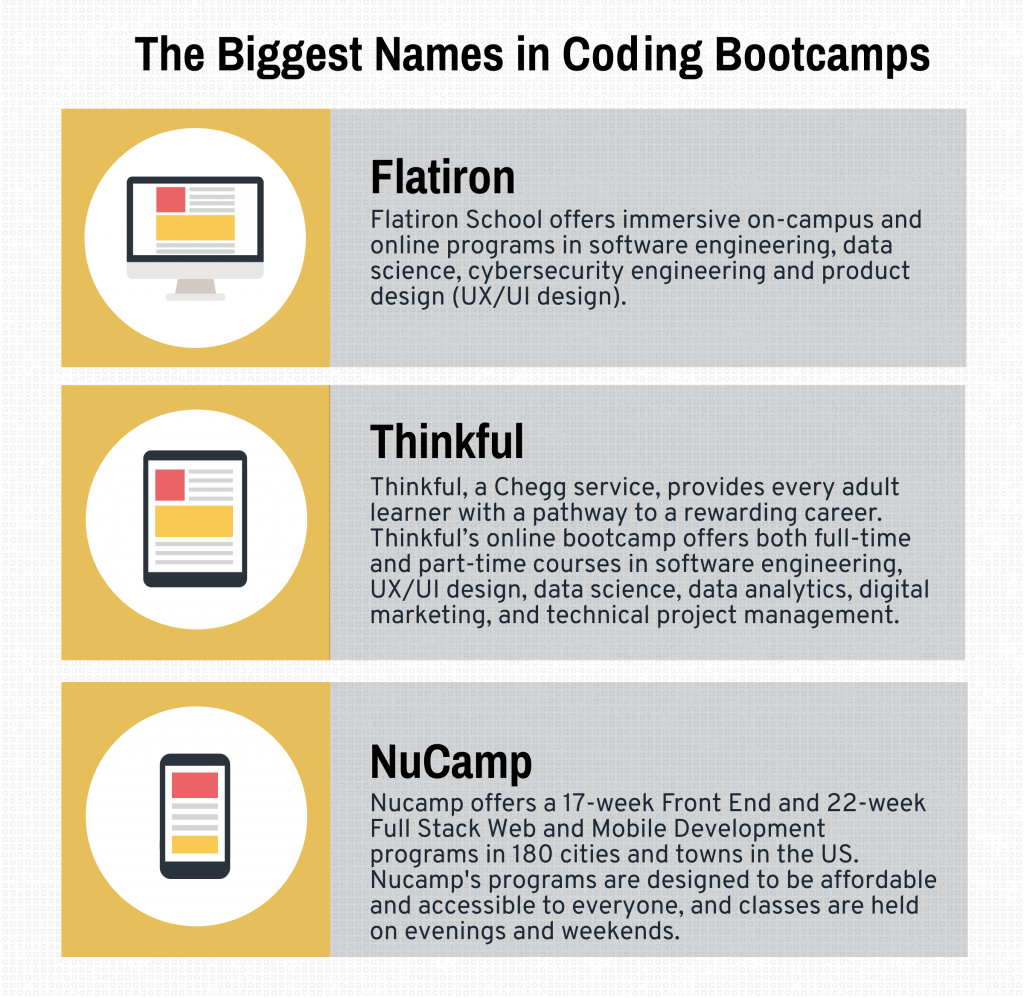 Network Security: The role of a network security specialist is to protect the network of an organization from threats and bugs that could harm or attack the system. This includes external attacks from hackers and other cybercriminals as well as internal threats from data leaks or computer errors.
The role of a network security engineer is to plan, design, optimize, implement and audit network security systems to ensure efficiency and protect the organization from online threats. They are essentially the security guards of the tech world and are tasked with overseeing IT protocols and preventing any vulnerabilities.
According to the Bureau of Labor Statistics, the average salary for a network security analyst is just over $100,000 per year and job opportunities in the sector are expected to grow by 31% over the next decade, which is much higher than average. Network security analysts are required to possess a good balance of analytical and communications skills, as well as the computer science and programming skills that can be learned at a computer programming bootcamp.
Information Technology: An IT professional is tasked with supporting network databases and systems, updating software or hardware, troubleshooting any system errors, and optimizing data security and communication. IT is a wide category of jobs that work to maintain the information systems of a business.
Technicians cater to the technical needs of the business and collaborate with members of the organization to ensure that the network and computer systems are operating efficiently. Companies typically hire IT specialists to solve complex problems relating to their computer systems, hardware, network, phone lines, cloud systems, or any other area that needs assistance.
According to the Bureau of Labor Statistics, the median annual wage for IT specialists was just over $90,000 per year in 2020 and the occupation is expected to grow by 11% over the next decade. IT specialists must possess high-level communication and organizational skills, as well as technical know-how, such as coding, network configuration, database management, and knowledge of operating systems, which can be learned at a reputable coding boot camp online.
Information Systems: An information systems manager is similar to an IT manager and they are tasked with using technology to improve the efficiency of businesses and organizations. They use computer networks, systems, and databases to analyze and interpret data to better understand business practices.
IT falls under the umbrella of IS, but the former deals directly with the technology within a system, whereas the latter deals with the entire network. They are tasked with continually analyzing a company's network and technology, while recommending upgrades and security solutions. Information security specialists typically go on to fulfill roles in higher-level management positions within IT. They are required to have strong communication and managerial skills, in addition to the computer science and tech skills taught at coding camps for adults.
What Will I Learn at Coding Bootcamp?
The exact curriculum of a programming bootcamp near me will vary depending on the course you enroll in. But they are designed to teach beginners in-demand skills that will allow them to land a high-paying job in the tech sector.
The skills you'll learn in an in-person or online coding boot camp include but are not limited to:
Full-stack web development
Coding
Data Science
Cybersecurity
Digital Marketing
Ux/UI design
Technical Sales
Social Media
Many prospective applicants often ask themselves, can you go back to college after coding boot camp? The answer is, of course you can. Coding bootcamps are designed to give students a thorough understanding of the principles needed to excel in a tech field but don't always provide instruction on a particular specialization.
Say for instance, you wanted to become a UX designer for Fortune 500 companies. You may decide to take a coding bootcamp to learn the programming skills necessary to pursue a career in the field, then attend a business program to better understand the corporate landscape.
Or maybe you want to design apps for marketing professionals. You may decide to enroll in a coding bootcamp to learn computer programming while pursuing a degree in marketing to increase your understanding of the field. The great thing about learning tech skills is that they can be applied across a wide variety of industries. How you decide to apply them to suit your own career goals is entirely up to you.
How Long Will it Take?
The exact length of a computer coding bootcamp varies depending on the program, but they generally take no more than four months. The average length of a coding boot camp is around 15 weeks and generally takes a few months. It all depends on how in-depth you're looking to go and how intense the subject matter is.
For instance, a coding bootcamp for beginners on basic HTML and CSS is not going to take as long as a full-stack programming course. But, in general, you can expect to be proficient in whatever subject you're looking to learn in less than 6 months. The benefit of a coding bootcamp is that is offer students a rigorous and expedited program that will prepare them for a career in tech.
Although you shouldn't expect to become an expert overnight, you can expect to become well versed in an in-demand subject much faster than you would be if you went to a traditional 4-year school.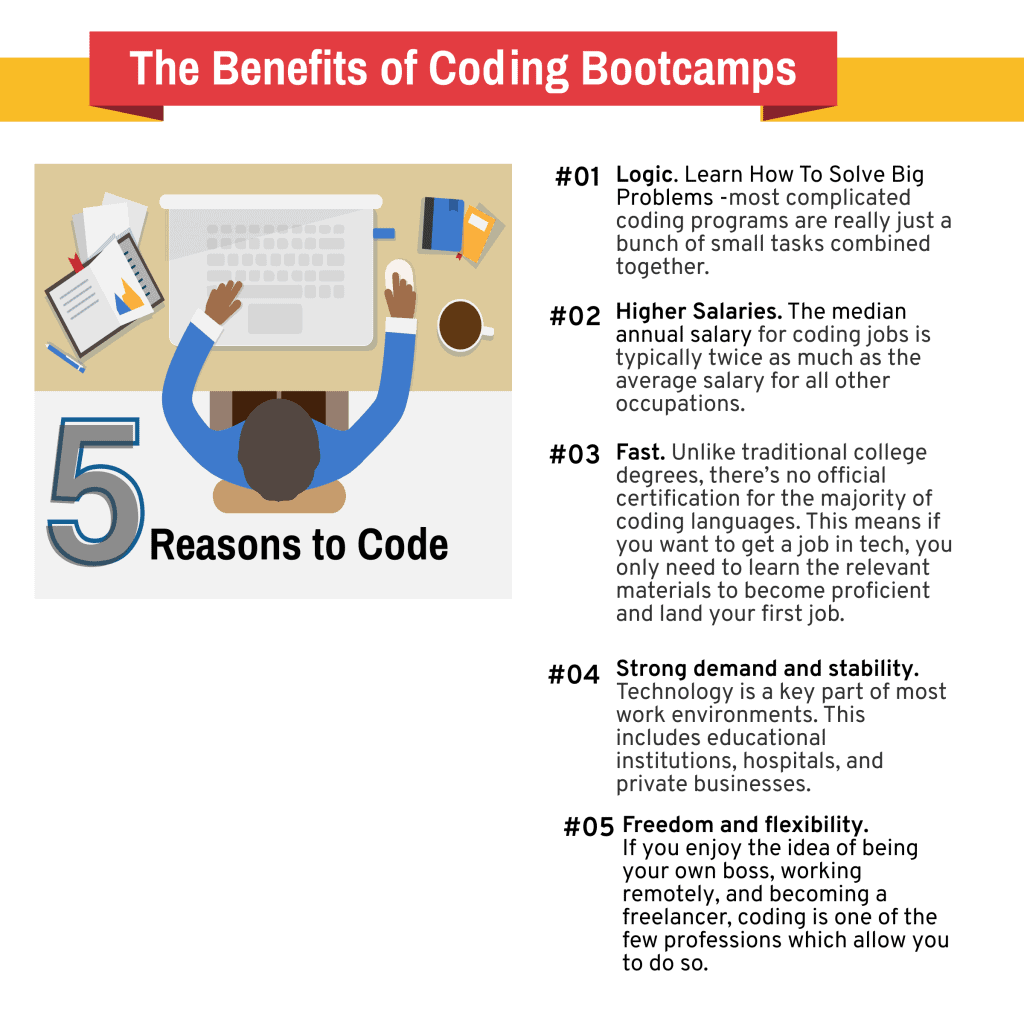 How Much Will it Cost?
The exact cost of a computer programming bootcamp will also vary depending on the program. However, most are between $10,000 and $20,000. The average full-time coding boot camp is $13,584 although prices can vary depending on the intensity and the institution offering it.
Some can be as low as $5,000 while others can be close to $25,000. Anything out of this range is either not fully accredited or overpriced. Coding bootcamps are designed to give students an affordable alternative to a 4-year program. But if you want a quality education, you should expect to make some investment, because you're learning skills that could earn you upwards of $100,000 after graduation.
Many programs offer need-based scholarships and financial aid. Others make a pledge that you won't have to pay anything until after you've landed a job. Plus, if you shop around, you can often find discounts, scholarships, and grants that can reduce the costs even further.
How to Choose a Bootcamp
When it comes time to look for a coding boot camp near me, there are several factors to keep in mind that will help you find the right program.
First, you have to consider your career goals and find a program that will help you excel in that area. It doesn't make much sense to enroll in a program on cybersecurity if you want to design mobile apps and vice versa.
Next, you should look for a school with quality accreditation and a high job placement rate. Although not as expensive as a four-year school, a coding boot camp is still a major investment and you'll want to be sure that you make the right choice. Not all boot camps are created equal and you don't want to enroll in a course that will only waste your time.
Finally, it's important to shop around and consider your options. Once you have your focus and criteria in mind, finding quality coding bootcamps online or in your town will be easy. You'll just have to weigh the pros and cons of each program and decide what makes the most sense for your goals and personal situation.