Indiana online colleges offer ease of access to higher education for those in the state who may not otherwise have the ability to attend a traditional college. Working adults in the state can attend an Indiana online university without the need to travel too far or upset their schedules to attend said Indiana online university. In addition, outside of Illinois, many adults are using Indiana online colleges to help transition from the more rural economy outside of Illinois and into the business and technology sectors. For online colleges Indiana residents have a lot of options as far as scheduling and learning on their own time.
For online schools Indiana residents have a plethora of available options. People seeking a degree online need to keep in mind that many of the best online schools in Indiana are part of larger, well-established and accredited colleges and universities. The benefits of online colleges in Indiana are more properly looked at as advantages. Students can avoid commutes, learn in an environment they are most comfortable with and use their experience as a path towards career advancement.
Our Best Colleges & Universities in Indiana is also helpful for in-state residents looking for quality schools.
Ranking the Best Online Colleges in Indiana
To rank the best online colleges in Indiana, College Consensus editors began with the Consensus Score of every school in the state – the aggregate of all sorts of published rankings and student reviews. With that initial pool of Consensus schools, we researched institutions offering at least 3 fully online undergraduate degree programs. Only accredited, reputable schools with a Consensus Score qualify.
Institutions are ranked by Consensus Score.
1
Purdue University-Main Campus
West Lafayette, IN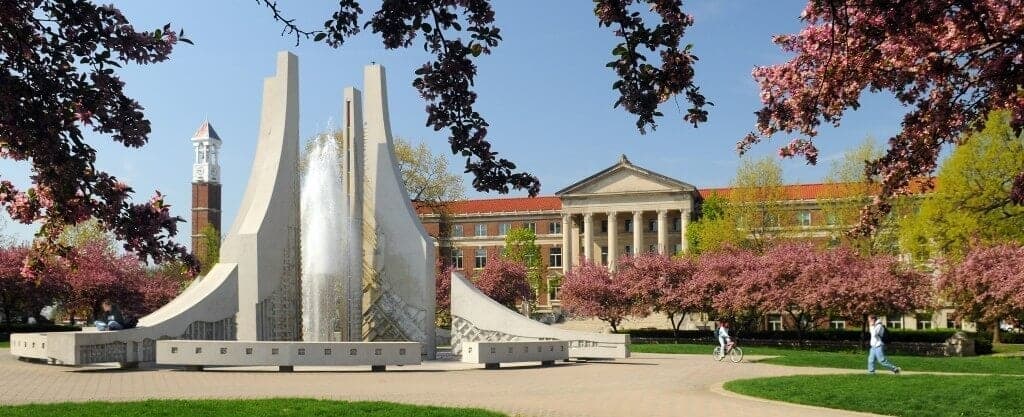 Number of online programs
29
2
Indiana University-Bloomington
Bloomington, IN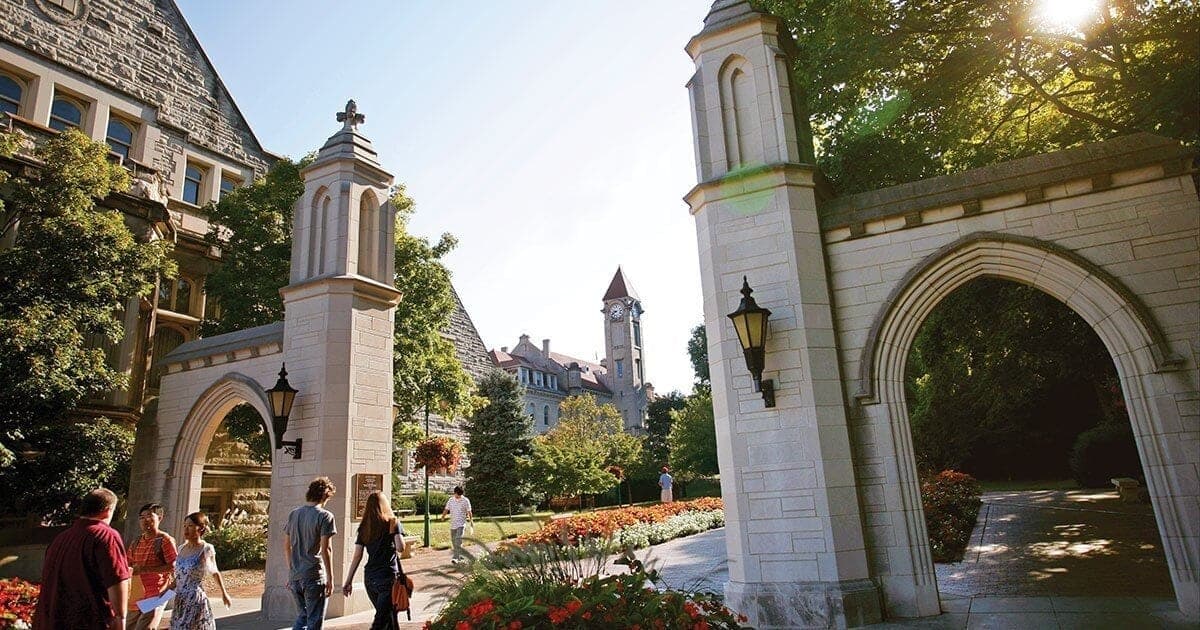 Number of online programs
28
Number of online programs
6
Who Benefits Most from Online Colleges in Indiana?
With online colleges, Indiana students will reap the same benefits as those who attend online universities and programs the world over. An Indiana online university offers a tremendous amount of flexibility, typically a lesser total cost, increased access to teachers, and a more personalized path towards a degree. These online colleges Indiana residents have access to can help them make the changes they need to make the same transition the state is making, from agriculture and manufacturing to more technology-driven fields. Indiana online colleges offer benefits that go beyond what many brick and mortar universities can offer, especially for working adults.
What Kinds of Degrees Can I Earn Online in Indiana?
Indiana online degrees range from online associate's and bachelor completion programs to online master's and even doctorate degrees online. When seeking an online degree, Indiana residents do not have to worry that they can only go so far with their education before they have to look for more traditional colleges and universities. Accredited Indiana online degrees hold just as much weight and recognition as a degree from anywhere else. This can become especially beneficial for those seeking Indiana online degrees to help them gain credentials, advancements, transfer credits, or otherwise gain their next level of mastery. People who want to finish their master's degree can definitely pursue their graduate studies online.
Online options offer a high level of flexibility. Some Indiana online degrees are obtainable through programs where applicants study at their own pace. Some Indiana online degrees are part of accelerated programs. This will all depend on the degree choice and program options that the applicant chooses. The point is, there are numerous options, whether an applicant is looking for an undergraduate or graduate degree.
Accredited online colleges in Indiana can typically allow students to transfer credits. This means someone who already has their associates, bachelors, or credits in general, can possibly use them with their online Indiana college program. This serves to increase the flexibility of online school while allowing those who already put in work to not have to start from scratch when they are pursuing a higher degree.
How Can I Save Money on an Online Degree in Indiana?
Online schools in Indiana are no different from any other form of higher education. This means Indiana natives can take advantage of all the same financial options as they would for any other school. For example, lower-cost online schools Indiana residents can visit physically may also have an online component that retains that lower cost tuition. This is especially true of public institutions. Applicants looking at public universities should check if the school offers online courses as well. These days, the odds of an Indiana public university having an online option are quite high.
In addition, the best online schools in Indiana can have financial assistance programs, financial aid, grants, and other opportunities to lower the cost of tuition and pay for college. All the avenues someone would use to find these types of money-saving programs will still apply if they are applying for the online schools Indiana has in abundance. At the same time, students will not have to worry about those additional college costs that can add up and become a burden, especially with student loans. Hidden college costs can include things like commute costs, parking fees, furnishing a dorm, paying for on-campus amenities, student services fees, and various other things. In some online Indiana universities, students can even use eBooks rather than hardcover textbooks, which can also help them save money.
An applicant's employer may also offer education programs, reimbursement programs, and even incentives for employees who want to continue their education or pursue a degree in the employer's field. Taking advantage of these programs can help someone pursue an online degree in Indiana and maybe recoup some or all the cost of the classes. A little research may uncover even more money-saving options for those who do some digging into all the avenues towards finding and attending the best online schools in Indiana.
Related Rankings:
Best Online Colleges & Universities
Best Regional Universities Midwest
Best Regional Colleges Midwest