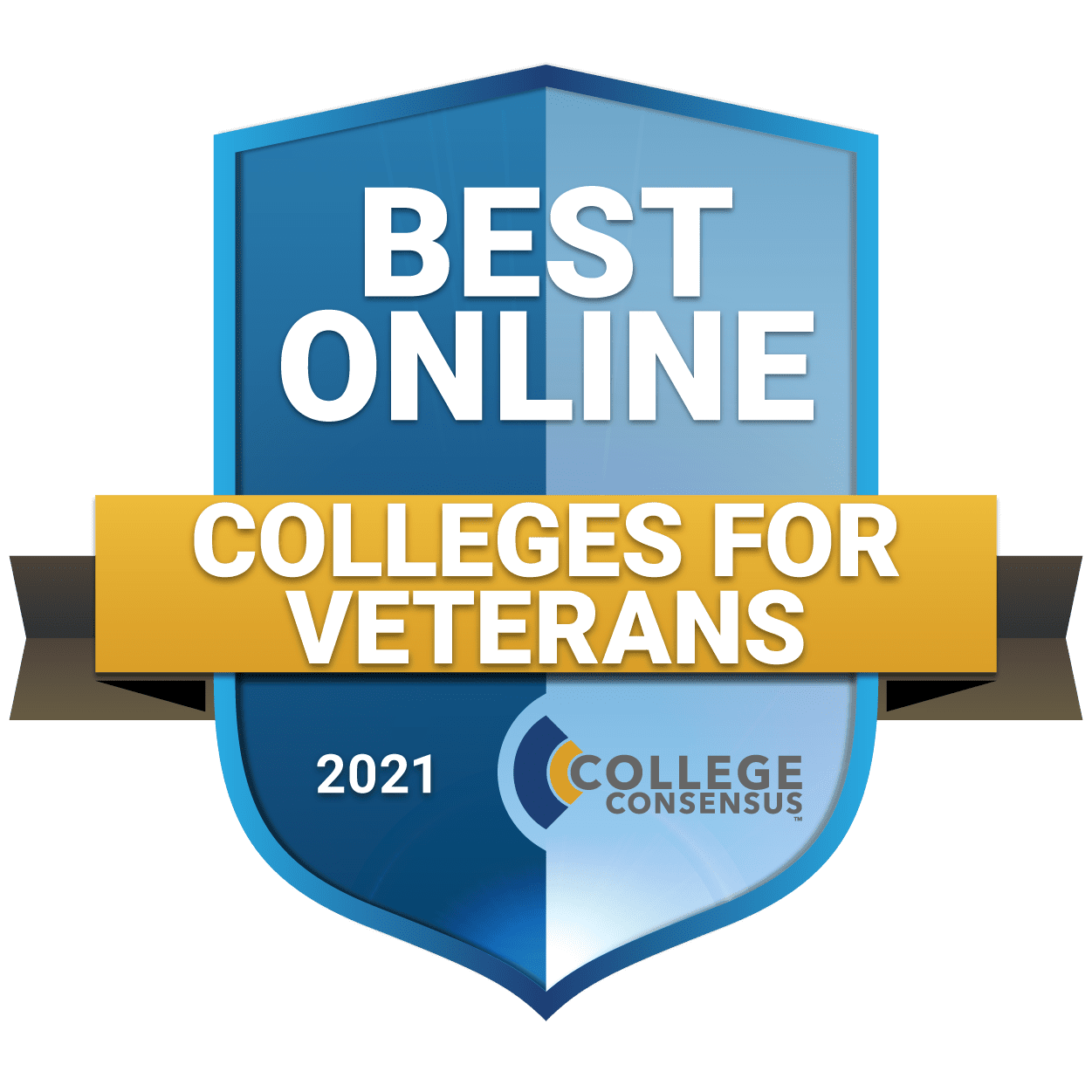 Many veterans are looking to receive an education and enter the civilian workforce once they have returned home. In most cases, these veterans have families and other obligations, which make them seek out the best online colleges for veterans, who will work with their benefits and their schedule. The flexibility that comes with online degree programs allows these military veterans the ability to work at their own pace and gives them the ability to restructure their life to fit their personal needs.
The lifestyles of veterans are often demanding, even after they have retired from the military. Some of our veterans return home to jobs that require twelve-hour shifts that can be overnight (in public service roles such as nurses, EMTs, and law enforcement), making traditional courses undesirable for their lifestyle. The best online colleges for military veterans give them the ability to work with their instructor and classmates around their schedule while gaining the education necessary to further their degree.
How We Chose the Best Online Colleges for Veterans
To select institutions to highlight as the best online colleges for military veterans, College Consensus editors had a set of criteria for determining military-friendliness. Institutions must have:
at least 3 online bachelors degree programs to qualify
Servicemember Opportunity Colleges membership
Recognized Student Veteran Organization
Yellow Ribbon Program participation
A staff/faculty support member for veterans and their families
Transfer credits for military service and training
Colleges and universities that met these standards are ranked according to their Consensus Score, using the unique College Consensus methodology. That process should give veteran students confidence that they are choosing a college that not only understands their needs, but have a track record of quality and return on investment.
Military and veteran students may also be interested in our ranking of the best traditional colleges for veterans.
Can I Get an Online Degree for Free as a Veteran?
Most online degrees offer a discounted tuition rate for veterans. Upon their retirement, veterans are offered a benefit from Veteran Affairs known as the GI Bill, which will cover the cost of the tuition for the veteran. These VA approved online schools college give veterans the ability to earn a quality education without having to pay out of their personal pocket for the funds. The GI Bill is available for veterans to use in either traditional classrooms or online classrooms. Most online college programs are considered equivalent to traditional programs and recognized by Veteran Affairs when paying for the classes.
There are some institutions that offer free tuition for veterans that do not require the use of their GI Bill, allowing veterans to save it for dependents in the future. These programs are known as the Yellow Ribbon program, and they offer free online college for veterans who are acclimating to civilian life after returning from the military. Still others offer scholarships just for veterans and their families. Depending on the residing state of the veteran, they are able to review a list of schools that participate in this program and determine which online program fits their career goals and needs.
Are Active Duty Personnel Eligible to Learn Online?
Active Duty personnel have the ability to further their education online, and many find this opportunity rewarding. The best online college for active-duty military allows these students to access their courses from bases and countries across the globe. This gives them the ability to continue their education without a time-lapse, and they are also able to continue interacting with others through the classroom forum. They can access their classroom around their work schedule, and while their time zone may be different, they are still able to gain that interaction and have access to resources around the clock.
Some of these students were able to complete some college credit prior to joining the military or even during the military from nearby institutions. Credit transfer is something that many active-duty personnel consider when searching the best college for military credit transfer, which many of these programs are available online.
Some Active Duty Personnel wants to advance their current education and seek out the best online masters programs for military personnel. These programs are often designed to fit their leadership roles and the necessary military industries such as intelligence, emergency management, and engineering depending on their career field. Like the undergraduate programs, they are provided the same online conveniences of resources and interaction despite their current location.
What Are the Benefits for Military Spouses to Learn Online?
Like active duty and veterans, military spouses have the ability to also learn online. Most online colleges that are military friendly understand that one of the best ways to support military personnel, whether they are active or a veteran, is to support their spouse with discounted or free education. Many of these spouses are located across the globe, stationed at bases with their active-duty spouses where they are currently working or based out of while on assignment. Because their lives are also unconventional, online learning gives the spouses the ability to continue their personal education and preventing a time-lapse, so they are able to resume their career once they return to civilian life.
These spouses are able to review the best online colleges for military spouses and are able to use their spouses, GI Bill to cover their tuition if they need it. Like the Yellow Ribbon Program for active-duty members and veterans, some colleges offer free online courses for military spouses that give them the ability to interact with others while furthering their education. It is essential for spouses to have the same ability to continue their education and readapt to civilian life, since they, too, sacrifice a normal life to support their military spouse.
Related:
Best Online Degrees for Veterans and Active Duty Personnel