A New York online college offers several benefits for people who may not have time or money to attend a traditional college. An online college NYC is the ideal choice for working adults, recent high school graduates with uncertainties about college, nontraditional students, and professionals who want to change careers but are too busy working 9-to-5 jobs. A professional who is already employed may want to take classes at a New York online college to increase their chances for a promotion and raise. More companies are requiring a postsecondary education, and attending online college is a great way to further an already existing career path.
Online colleges don't require students to attend classes at a specific time. Instead, a professors at a New York online college understands that people need flexibility to juggle careers, families, and school. Other benefits of online colleges include a comfortable learning environment (your kitchen, for example), greater ability to concentrate, setting a class time that fits with a work schedule, and no commuting time.
Ranking the Best Online Colleges in New York
The College Consensus best online colleges rankings are looking for just a few simple qualifications. 1) institutions must be fully accredited; 2) schools must have a Consensus Score (the average of their published rankings and reviews); and 3) schools must offer at least 3 online degree programs. Colleges are presented in the order of their Consensus Score.
Wondering how to pay for your New York college degree? Check out our list of the Top New York Scholarships.
1
Columbia University in the City of New York
New York, NY

Columbia University in the city of New York has expanded its online learning options, making it one of the best online colleges in New York.  There are many certification programs for continuing education, as well as degree and non-degree programs. The school also offers hybrid master's programs.

New York University has been a pioneer in distance education, so it is no surprise it is one of the best online schools in New York. They have a nice variety of programs that can be completed online or in-person, and they can be combined. Programs are designed to be the same as in-person education.

Stony Brook University offers lower-cost but high-quality online education, making it one of the best online colleges in New York. The school offers 340 undergraduate degrees, as well as graduate programs and professional certifications. You may also take individual classes even if not pursuing a degree.

Syracuse University has a long tradition of academic excellence, and now people can have this level of education online no matter where they are. Syracuse is one of the best online schools in New York because it brings the classroom to the student. The school provides counselors for each online student.
CUNY Lehman College is on the list of the best online colleges in New York because it integrates many forms of education. There are traditional and online courses, and the school adds web-enhanced learning to both. This gives students a tremendous amount of flexibility while they are in college.
6
SUNY College at Brockport
Brockport, NY
SUNY College at Brockport makes the list of the best online schools in New York because of the lower costs and the flexibility it offers students. Students can take courses online and transfer them to another traditional college if desired. It also offers master's programs in education, public health, and other areas.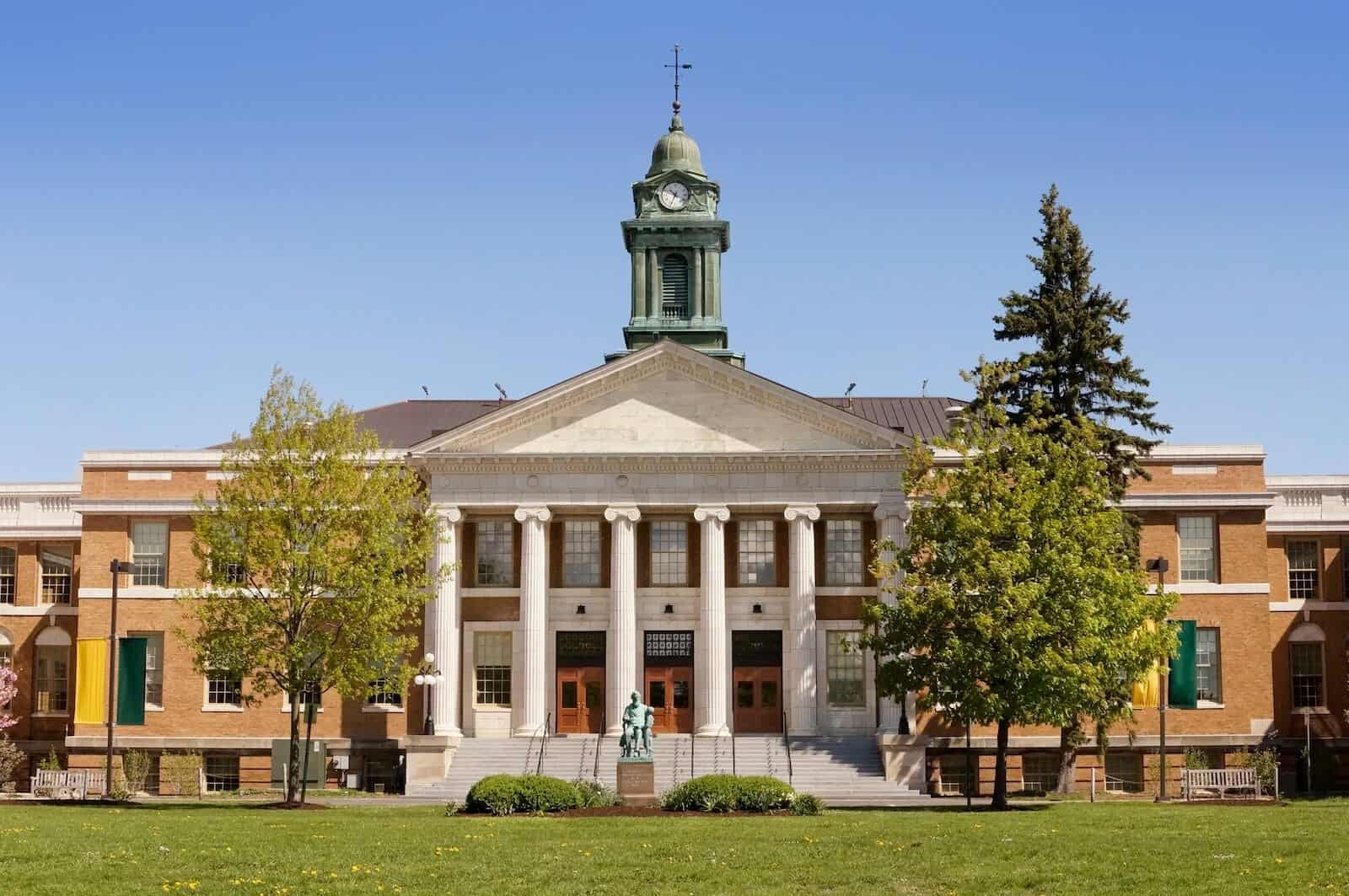 SUNY College at Oswego is another state institution on the list of the best online colleges in New York. It offers online education to out-of-state students at a lower rate than out-of-state students would pay at the physical school. Students may take traditional classes and combine them with online courses easily.

Many degree programs at the University at Buffalo can be completed online, which adds to our list of the best online schools in New York. In addition to undergraduate degrees, students may also pursue master's and Ph.D. degrees online. Professional certificates can also be gained online.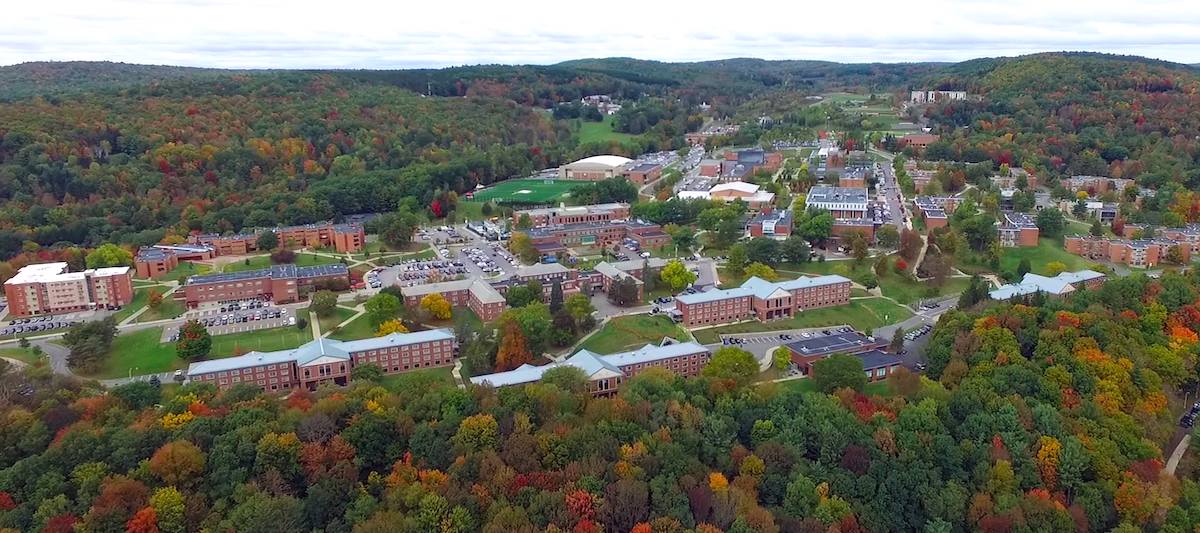 SUNY Oneonta offers a lot of programs online, but what makes it one of the best online colleges in New York is some of its unique programs. It has a four-week program in online teaching and learning, for example. The college has many programs for teachers.

Suny Courtland still has traditional classes, but it is offering more and more opportunities for online education. As one of the best online schools in New York, the school tries to accommodate students as much as possible. There is a big support staff and help for students to help them get the best education possible.
What Kinds of Degrees Can I Earn Online in New York?
Online degrees in New York offer students an array of choices that can propel their education and jumpstart their careers. A student can take classes that will earn them associate's, bachelor's, master's, and even doctorate degrees. Degrees cover many areas from historical studies to public relations, nursing, computer science and business.
As more companies require higher education to succeed in the workplace, earning an online degree can help with a better salary and offer more potential for promotion. Limitless opportunities exist when a student considers online degree programs in New York.
25 Highest Paying Online Associates Degrees
25 Highest Paying Online Bachelors Degrees
25 Highest Paying Online Masters Degrees
25 Highest Paying Online Doctoral Degrees
Certification in areas like radiation curing chemistry, court reporting, and early childcare also are available in online degree programs in New York. If a student wants to start on a new career path, a dream degree can be discovered – and earned – at various online New York colleges with more than 450 degrees available.
How Can I Save Money on an Online Degree in New York?
Cheap online colleges in NY are available to students, and more cost-effective than attending a traditional brick-and-mortar college or university. On average, an online education in New York will cost between $100 to $400 per credit hour. Students looking for an educational bargain should investigate an online community college NYC. That's because New York is home to nearly 100 community colleges with many offering online education.
Online community colleges in New York can be considering cheaper than a four-year university. Yearly tuition can cost less than $5,000 at some community colleges, and all of them offer an online education in New York for less than $6,000 a year. How does a student know they are saving money? The State University of New York Learning Network (SLN) has created a distance learning calculator for students to determine how much they can save by enrolling in an online course and calculates numerous costs including mileage, commute time, and childcare.
Did you know federal financial aid is available for online classes? If a student is enrolled in an online school with regional accreditation from a U.S. Department of Education agency, they can receive aid just like a student attend classes on a campus.
In many cases, employers will reimburse students for New York online college courses. Students may already have a degree but need additional training or instruction for their jobs. Employers are realizing that a more educated workforce benefit their companies, and the investment for more education for their employees is a smart decisions. That's why more and more are reimbursing, and in some cases, paying for their workers' online education. Such an arrangement can be a win-win situation for workers and employers for years to come.
Are There Online Public Universities in New York?
Public online education is becoming increasingly more important, because it gives people vast opportunities to obtain a higher education. With access any time and any place to learning, people can earn a degree while balancing busy lives.
There are several online public universities in New York, including the well-respected Open SUNY program that allows students to register at any of SUNY's 64 campuses. Numerous courses are available from respected faculty throughout New York. This program even attracts students from out-of-state as do other New York online colleges and universities. The New York Department of Education has even adopted "Principles of Good Practice" to ensure that students who take online classes have the most positive experience possible while urging colleges and universities to include online classes when planning and goal-setting their priorities.
With so many options available, more students now have more avenues toward an online education in New York than ever before.
Related Rankings:
Best Colleges & Universities in New York
Best Regional Universities North