Distance learning in Arkansas is a growing need for residents of the state, as online education is beneficial in the economic transition that is happening across the state. In many areas, the rural economies are shifting to a more modern and populated community, requiring the need for more jobs and education of the local residents. In order to meet these demands, distance learning in Arkansas has become a convenience for the working adults in the state either seeking a career change or looking to advance their current careers with distance education.
With the number of programs for distance learning in Arkansas growing, the working adults in these transitioning areas are getting the highest benefit from distance education. They are able to take advantage of a flexible program that gives them the advantage to pursue exactly what they desire without having to commute to a local institution regularly. They are also able to take advantage of pursuing the degree they want, instead of being limited to the options available at the local institution. With online programs, they have more options to consider.
Ranking the Best Online Colleges in Arkansas
To guide Arkansas' working adults and nontraditional students to the best options for them, College Consensus began with a pool of Consensus-ranked colleges and universities. That means the schools that have earned a Consensus Score from published rankings and student reviews. Then, we looked for institutions offering at least three online undergraduate degree programs. With the combination of reputation and student satisfaction, online students in Arkansas can trust these colleges and universities to provide a solid career boost.
Last Accessed: August, 2019
John Brown University is well-known for the excellence of its online programs. What really sets JBU apart from the rest of the schools on this list is the number of degree tracks available to online students. There are 60 different undergraduate degrees available and 16 different graduate degrees. The many different options available to online students makes JBU one of the best online colleges in Arkansas.
JBU is a Christian university dating back to 1919. As a nondenominational institution, John Brown accepts students of all faiths. However, Christian students, even online students, find the curriculum and atmosphere at JBU to be the perfect fit due to having the values and beliefs that the university espouses. Working adults and other online students will find JBU's quality second to none. JBU is fully accredited by the Higher Learning Commission.
Number of Online Programs
60
2
Ouachita Baptist University
Arkadelphia, AR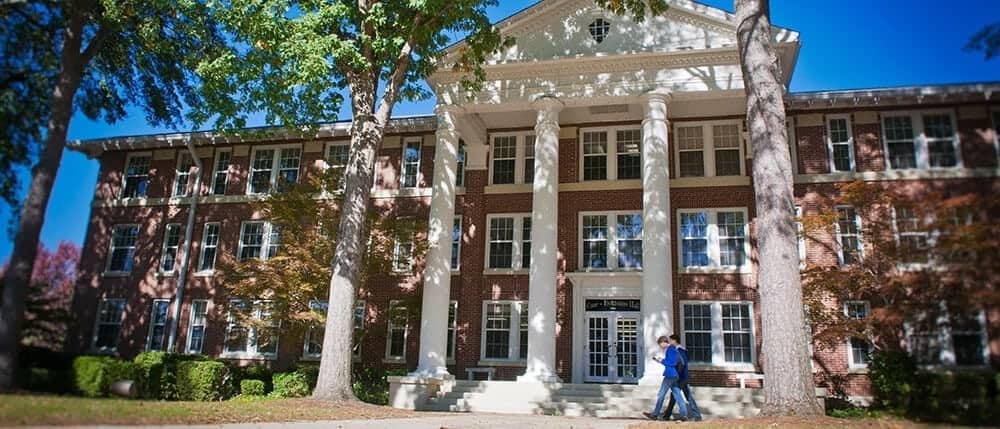 Last Accessed: August, 2019
Ouachita Baptist University offers three different online undergraduate degrees. OBU offers a bachelor's and associate's degree in Christian Studies and a bachelor's degree program in Interdisciplinary studies. For many students, the interdisciplinary studies program will be the most attractive aspect of the online degree programs at OBU. It allows students a large amount of freedom and customization in choosing their preferred degree track. Students who want to be able to control their own educational experience may find that OBU is one of the best online colleges in Arkansas for them.
Like John Brown University, OBU is a Christian school. All of their online degrees have a Christian component. Many Christian students find that this suits them, although it may not be the best fit for students of other faiths. OBU is affiliated with the Southern Baptist Convention.
Number of Online Programs
3

Last Accessed: August, 2019
The University of Arkansas has many different online degrees, including eight undergraduate programs and 22 graduate programs. Arkansas is unique in its focus on online graduate programs. Few universities, especially large public universities, focus their online education division on working grad students like Arkansas does. This makes it one of the best online colleges in Arkansas for graduate students.
Arkansas is one of the most prestigious public universities in the South. It combines this prestige with affordable tuition, especially for residents. Out of state students do have to pay higher tuition, but Arkansas has plenty of available financial aid to offset tuition expenses. Arkansas is often ranked among the top 100 public universities in the country.
Number of Online Programs
8
4
Arkansas State University
Jonesboro, AR
Last Accessed: August, 2019
Arkansas State University offers a leading online division with 13 undergraduate degrees and 20 graduate degrees. This school's online offerings are unique because of the variety of fields represented. The various degrees include an online RN to BSN, as well as bachelor's degrees in highly in-demand areas like Criminology, Business Administration, and Communication Studies. What may be most interesting about ASU's online offerings are their unusual programs in Organizational Supervision, Creative Media, and Digital Innovation. Students who want to able to study in many different fields will find that Arkansas State is one of the best online colleges in Arkansas for their needs.
Arkansas State University is known for offering extremely affordable tuition. Its tuition rates for Arkansas students are among the lowest in the state. Even students from outside of Arkansas can benefit from relatively low tuition. All of Arkansas State's online degrees are fully accredited by the Higher Learning Commission.
Number of Online Programs
13
5
University of Arkansas at Little Rock
Little Rock, AR
Last Accessed: August, 2019
The University of Arkansas – Little Rock has an online division that offers 16 undergraduate degrees and 11 graduate degrees. The online division at UALR is unique because it focuses on business and business-related degrees. Students who want to go into business should put UALR on their list of the best online colleges in Arkansas for their intended career path.
UALR prides itself on offering as much financial aid as possible to students. There are many different grants, scholarships, fellowships and work study opportunities available for students from all walks of life. Female students and students from socially disadvantaged groups can benefit from many financial aid opportunities available to them. UALR is known for its usage of cutting-edge technology to enhance students' educational experience.
Number of Online Programs
16

Last Accessed: August, 2019
Central Baptist College offers 12 different undergraduate online degrees. These degrees include many business and leadership-related programs, especially in religious areas like Church Administration and Leadership & Ministry. CBC also has degree in Military Technologies, an unusual offering for an online program. CBC is known to be very friendly to veterans. The online bachelor's degree programs at CBC are also popular among current military members.
Central Baptist College is a Christian college, as the name makes obvious. What makes CBC unique is the blend of religious and secular curriculum. Christian students who want to be part of an academically rigorous program should put CBC on their list of the best online colleges in Arkansas. CBC is affiliated with the Baptist Missionary Association.
Number of Online Programs
12
7
University of Central Arkansas
Conway, AR
Last Accessed: August, 2019
The University of Central Arkansas offers 6 undergraduate and 17 graduate degrees that can be completed over the Internet. UCA is one of the few colleges on this list whose online program is focused more on graduate degrees than on undergraduate degrees. The structures of the graduate degree tracks are designed to accommodate students who are working full-time. Prospective grad students who want to further their educations online while working full-time should add UCA to their list of the best online colleges in Arkansas.
UCA is known for offering very affordable tuition. People who are familiar with regional public universities like UCA likely won't be surprised to hear this. Such schools often offer the most affordable tuition.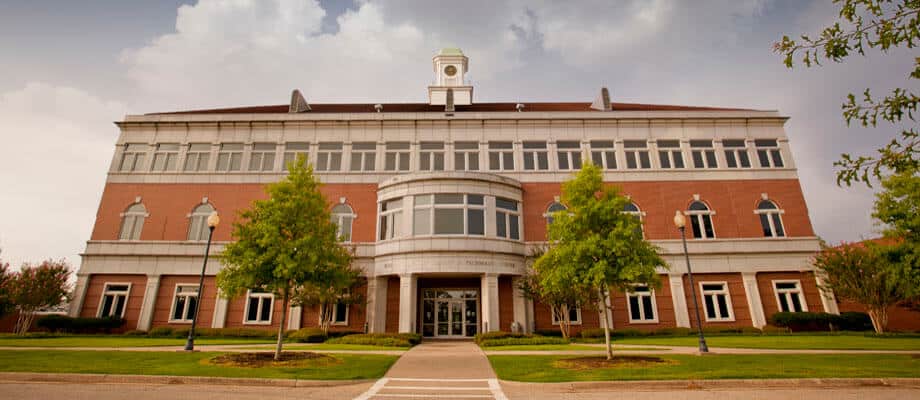 Last Accessed: August, 2019
Arkansas Tech University has six different online undergraduate degrees. These degrees cover a diverse set of subjects, including: Early Childhood Education (Pre-K), Emergency Management and Administration, RN to BSN program, and an Accelerated Degree Program leading to a Bachelor of Professional Studies degree. ATU, as the name states, is a STEM-focused university. It is the only tech school in Arkansas that is featured on this list. Prospective students who want to go into a STEM field should strongly consider ATU.
Dating back to 1909, Arkansas Tech began as a humble agricultural school providing the latest in practical farming and mechanical engineering education to Arkansas' rural residents. Today, ATU remains committed to providing opportunity for those same people as a comprehensive regional university, with a range of online degree programs. ATU also offers vocational training in addition to its degree programs.
Number of Online Programs
6
What Kinds of Degrees are Available Online in Arkansas?
Arkansas online degrees can be found at most of the institutions throughout the state, which are both public and private. Because of the vast need of this type of education by Arkansas residents, these institutions have all decided to offer online degrees in Arkansas. This does give Arkansas residents the option to choose the institution and program of their choice with so many available from the small community colleges to the private universities.
These students are also able to pursue different levels of degrees. Whether they desire an Associate degree, Bachelors, or even plan to pursue graduate school, there is an Arkansas institution offering different program levels, as well as different majors in these levels. Students in a variety of different careers are expanding their education based upon this offering that is growing in the state of Arkansas.
Such a rural state has not had access to post-graduate and doctoral programs like they currently have with distance learning. Many of the online degrees in Arkansas are at the doctoral level, elevating careers for many residents of the state that otherwise would not be possible without Arkansas online degrees and this flexible format.
What are Some In-Demand Online Degree Programs for Arkansas Students?
The online accounting degree Arkansas institutions offer has elevated this career field throughout the state. These different programs have allowed residents to acquire different careers such as CPAs and open their own tax filing businesses throughout many communities in the state. When obtaining an online accounting degree Arkansas institutions vary in the degree level, ranging from the Associates to the Masters level in many of the larger universities.
The online psychology degree Arkansas universities offer range from the Bachelors to the Doctoral level, giving students an ability to pursue either an academic career in the field or practice as a psychologist across the state. With the healthcare industry growing in demand for psychology majors, this degree has gained significant interest with residents across the state.
Another popular program among residents is the online computer science degrees Arkansas community colleges and universities offer across the state. With most pursuing an Associates or Bachelors in this major, many residents are becoming very successful in this career field, as the need for computer technicians and IT departments grow in businesses across the state. The growing involvement of technology in different industries requires a new demand for skilled employees – skills that are accessible with online programs.
Related: 
Best Online Colleges & Universities 2019
Best Online Public Colleges & Universities 2019
Best Regional Universities South