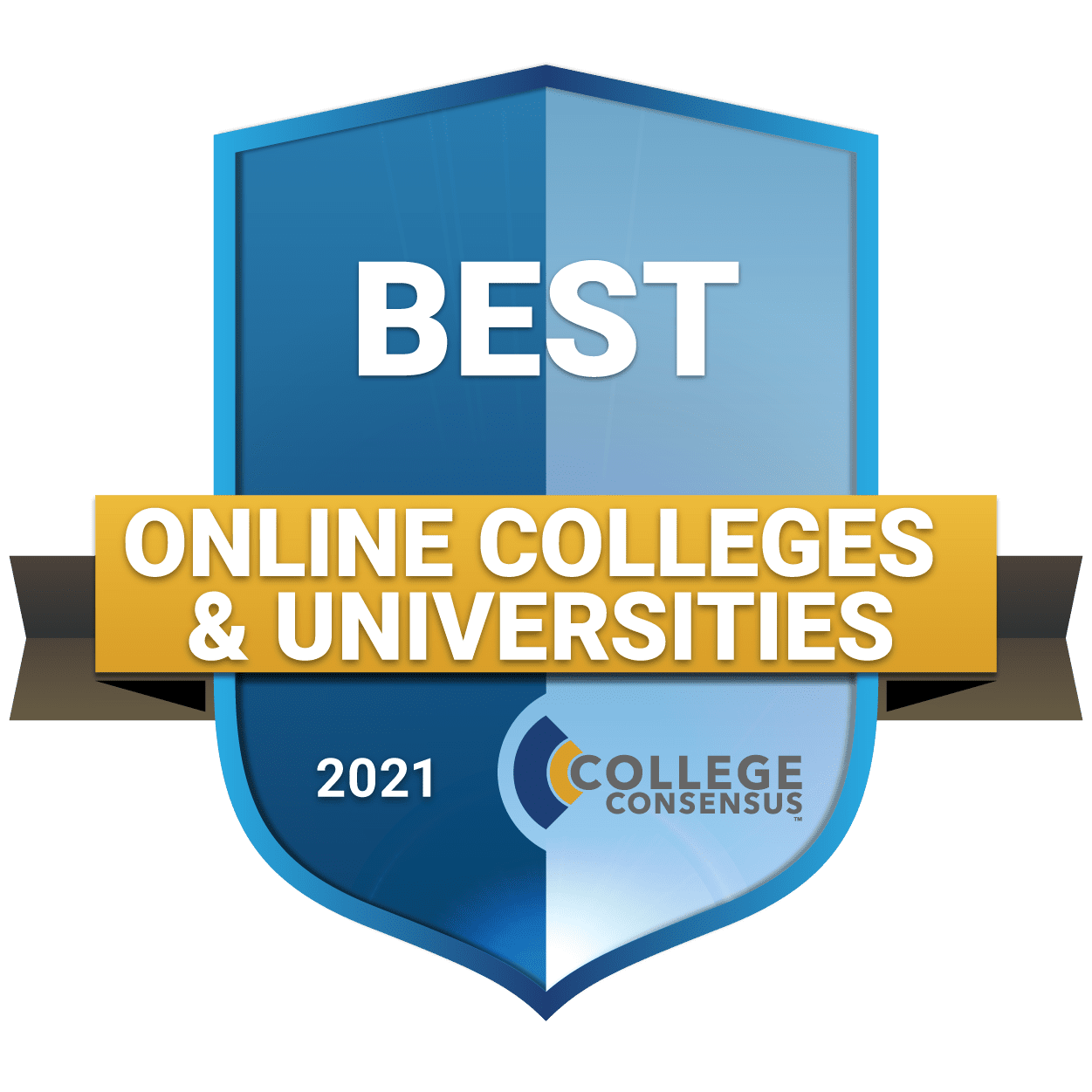 Online college education has come a long way; a child born in the same year as the first fully online degree could very well be earning their doctorate online right now. In that time, online education has gone through many changes, from scoffing and disbelief to full acceptance. While predatory, unscrupulous online "colleges" once threatened to make online degrees a punchline, today the most prestigious colleges and universities – from the Ivy League to research giants like MIT and Stanford – offer fully online programs. The best accredited online colleges for undergraduates are some of the best colleges, period.
Earning your undergraduate degree through an accredited college online offers busy working professionals a viable option if they want to earn their college degree. Online degree completion programs offer affordable options and unmatched convenience, especially when compared to their 'brick and mortar' counterparts. The flexible scheduling capabilities, offered by online degree completion programs, allows working professionals to earn their degree at their own pace, on their own time. Online classes can be asynchronous (accessible on the student's schedule) or "live sessions" that take place simultaneously, sometimes with an on-campus class.
How We Ranked the Best Online Colleges and Universities
To rank the Best Online Colleges and Universities, College Consensus applied the Consensus method to online institutions. The Consensus approach to rankings is well-established and explained in full on our About page. We combine official rankings of accredited colleges and universities from the most trusted publishers with verified student ratings from reputable review sites to form an aggregate ranking that takes into account the opinions of experts and the experience of students equally. That's the Consensus Score.
To qualify for the Best Online Colleges and Universities ranking, institutions must have a Consensus Score and offer at least 3 bachelor's degree or bachelor's completion programs in an online or hybrid format. Schools are ranked according to their 2021 Consensus Score.
How Credible are Online Bachelor's Degree Programs?
The process required to accredit a college or university includes an intensive investigation by a federally recognized accreditation organization. The U.S. federal government hand-picks these associations and gives them their stamp of approval. With the authorization bestowed, these councils then evaluate the credibility of an entire school, or just a specific program. Accreditation associations follow strict requirements to determine the answer to the question – How credible are online degrees? When an institute of higher learning meets (or surpasses) the established, rigid accreditation standards, the government sanctioned councils receive authorization to issue an accreditation to the school or a program.
Accredited online degrees are available in many fields of study. The best online colleges are evaluated from differing perspectives, by a diverse set of industry experts (according to each national publishers's choice of methodology), then aggregated here on College Consensus. Online schools are ranked in descending order of their 2021 College Consensus score. Prospective students should also consider other metrics when choosing a distance learning program. These include: just how affordable the school is, how convenient and accessible the online program is, and, the overall reputation of the school and/or the degree program. Students are advised to take the time to define their education goals, their scheduling needs and their career aspirations before they begin to narrow down potential online degree programs of interest.
What Are the Best Online Degrees to Get for Jobs?
The most respected online degree programs are available in a variety of disciplines that include: Accounting, Engineering, Information Technology (IT), Business, Counseling, Criminal Justice, Education, Graphic Design, and Health care, among others. Each year, schools create more online degree programs to meet the growing needs of working professionals.
Within the healthcare field, students have the option to specialize in areas like Medical Coding, Informatics, Public Health, and Medical Assisting. Finance, accounting, marketing and management specialties are some of the best online degrees to get in the many facets of the business industry. The best online degree to get is the degree that springboards your career to elevated positions of leadership and the salaries those advanced positions pay.
Many respected online degree programs offer students the ability to 'lock-in' the tuition rate – at admission – for enough time to reasonably complete the degree a student is working towards. This 'lock in' capability allows a student to not only save money, but offers a viable budgetary solution that can accurately predict the cost of tuition during the time it takes to earn your degree.
Will an Online Bachelor's Degree Help Me Make More Money?
The pay scale for most workers depends upon a host of factors that include one's experience, background and work-specific factors. However, one's educational background is likely to be one of the most important determinants that holds the key that opens the doors to increased responsibilities and compensation. Even if the diploma you hold is from one of the top online degree programs, you may only realize a significant bump in salary if the degree you hold is related to the job you are applying for. The higher the degree you attain, the higher the salary.
Graduates of top online degree programs find job opportunities where there once were none; salary amounts that far exceed their current pay scale. Undergraduate online programs are the first step towards a more advanced degree that will ultimately, provide leadership opportunities in the industry of your choice. It is best to match an online degree program with a student's salary and career objectives.
What About Accelerated Online Bachelor Degree Programs for Working Adults?
Working professionals must earn their online degree in a way that allows them to continue to receive a paycheck, and to continue living their preferred lifestyle. Accelerated Bachelors Degree programs for adults are designed to for working learners to quickly learn new skills that will help advance their career and improve the salaries earned.
The Bachelor Degree programs for working adults essentially condenses coursework that is typically covered in four months, into five through eight-week semesters, depending upon the density of the material taught. Accelerated Bachelors degree programs for adults are great options for working professionals who prefer to focus on one course each semester. Fast track online programs typically require students to attend classes year round. This is one of the ways that allow students to earn their degree quickly.