In recent years, thanks to advances in technology and social awareness, more disabled students are attending college than ever before. However, according to data from the National Deaf Center on Postsecondary Outcomes, only 5% of deaf people are enrolled in higher education – much less than the 11% of hearing people. Nearly a fifth of those are also disabled veterans, more than half are first-generation college students, and a third also have additional learning disabilities.
So even though doors are opening, deaf students still face a lot of obstacles to higher education. To put it simply, most colleges are not designed with the needs of disabled students in mind, especially deaf and hard of hearing.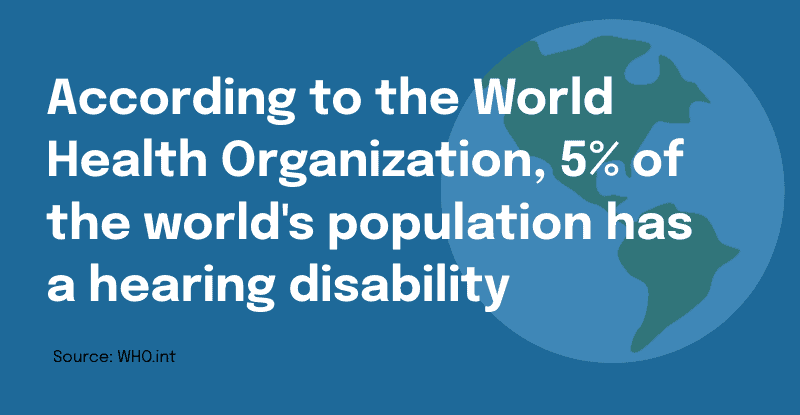 What are the Obstacles for Deaf College Students?
Even though the Americans with Disabilities Act (ADA) promises disabled people equal rights (at least in any setting that receives public funding), the reality is very different from institution to institution. Colleges and universities that accept federal funding – that is, any school that participates in Federal Student Aid – has to provide accommodation for disabled students.
Those accommodations can run the gamut from bare legal minimum to well-funded and well-organized, though many colleges unfortunately opt for bare minimum. Many colleges simply don't see the value in spending money to accommodate a small percentage of the student body.
The best colleges for deaf students should have not only have an active, engaged disability resource center. They should offer assistive technologies, interpretive services, specialists, and healthy, supportive student groups and organizations – all the resources a deaf student needs to not only make it, but to thrive and succeed.
Organizations for the Deaf and Hard of Hearing
Accessible College
Accessible College offers transition planning and guidance for incoming disable college students, whether they are deaf, blind, have other physical disabilities, or have chronic health conditions that make them disabled.
A.G. Bell Assocation for the Deaf and Hard of Hearing
Named for the inventor of the telephone – who dedicated much of his life to educating the deaf – the A.G. Bell Association works on a global scale to help deaf and hard of hearing people communicate through technology and education.
DREAM – Disability Rights, Education, Activism, and Mentoring
The core mission of DREAM is in its name – working to ensure disability rights, education, activism, and mentoring on college campuses. DREAM is made up of student organizations that welcome students with any disability.
Hands & Voices
Hands & Voices is a parent-led organization dedicated to supporting families with deaf children regardless of their chosen communication modes. They work to ensure deaf children and young adults have the resources to make the most of their education.
Hearing Loss Association of America
The Hearing Loss Association of America is an advocacy organization working to educate the public and government about the needs of people with hearing loss. They advocate for policy, technology, and equal access in all arenas of life.
Laurent Clerc National Deaf Education Center
The National Deaf Education Center, at Gallaudet University, provides resources and education on deaf culture and deaf education for parents, families, and young people.
National Association of the Deaf
Formed by deaf leaders for deaf people, the National Association for the Deaf advocates for equal opportunity for deaf Americans, from the right to communicate in American Sign Language to policy changes that preserve the rights of the deaf and hard of hearing.
National Black Deaf Advocates
National Black Deaf Advocates works to prepare the next generation of deaf Black leaders through workshops, leadership training, seminars, and education support. The NBDA has offered the Youth Empowerment Summit (Y.E.S.) since 1997.
National Cued Speech Association
The National Cued Speech Association works with families, children, young people, and educators to foster the use of cued speech in education for the deaf.
National Deaf Center on Postsecondary Outcomes
The National Deaf Center – located at the University of Texas at Austin – provides assistance and research to close the employment and education gap for deaf and hard of hearing Americans. Their research is crucial to understanding the needs of deaf students.
National Technical Institute for the Deaf (RIT)
Rochester Institute of Technology is the home of the National Technical Institute for the Deaf, the first and most accessible technology college for deaf and hard of hearing students. The NTID serves more than 1000 students and is recognized as a model for disabled education.
US Department of Education Office for Civil Rights
The US Department of Education's Office for Civil Rights is the place for students and families to go when their rights as disabled people are not met. The OCR works to ensure all disabled Americans have access to education and preserves the right guaranteed by the ADA.
Youth Organizing! Disabled and Proud
Youth Organizing! provides disabled teens and young adults with opportunities for leadership, volunteering, community, and advocacy.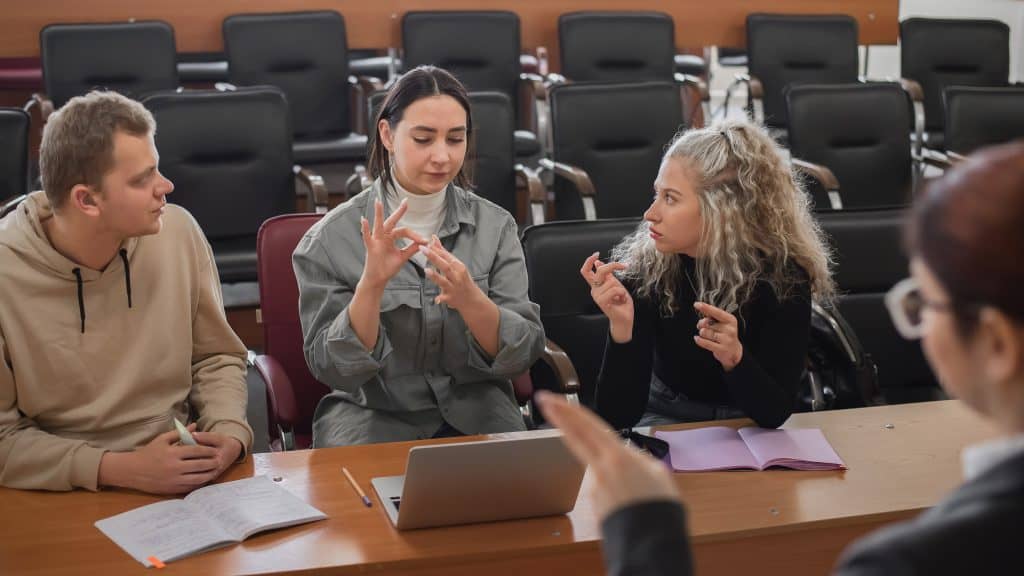 What Accommodations Should I Request?
As a disabled person in college, you have a right to accommodations in the classroom and any other educational setting – even when meeting with advisors or in school-sponsored groups. Some of the most common accommodations are:
Amplification – Hard of hearing students may request amplification, such as microphones for lecturers and speakers, or an earpiece that goes directly to the professor's microphone.
Interpretation – You are within your rights to request the institution provide sign-language interpreters for class, tutoring, and other meetings.
Noise Management – Background noise can cause significant problems for deaf and hard of hearing people with hearing aids or implants. Minimizing noise in the classroom – such as background conversation or machine noise – can help them understand.
Note-Takers – You may also request your school provide you with an in-class note taker who can help ensure you do not miss any material.
Visibility – Deaf and hard of hearing students may request to be at the front of the class to see the professor's mouth if they use lip-reading, or if they need to see visual aids more closely.
Visual Aids – Deaf and hard of hearing students benefit from visual aids, whether it be captions for videos, clear slide show presentations to go with lectures, or printed notes.
It's worth noting that many of these accommodations are also beneficial to students with learning disabilities, processing disorders, autism, and other disabilities. Since many deaf and hard of hearing students also have learning differences, colleges and universities would be smart to spend more of their budget on making learning accessible for every student.
What About Assistive Technology?
Technology explains one reason deaf and hard of hearing students are entering conventional colleges in higher numbers. Today there are far more resources available to deaf and hard of hearing students than ever before. Your college may provide some of them, but even if they do not provide them, they must give you space to use them.
In other words, a professor who doesn't want their lecture recorded can get over it.
Some of the technology you may use in class, tutoring, study groups, and other situations include:
Assistive Listening Devices – As mentioned before, hard of hearing students can request a direct line to the professor using technology.
Digital Recorders – Digital recorders can be as tiny as a pen and just as non-disruptive. Hard of hearing students are within their rights to record classroom material to transcribe later – no matter what their old-school professor might say.
E-Textbooks – Just as they can be more helpful for students with learning disabilities, the greater flexibility of e-texts can provide deaf and hard of hearing students with extra content for context and understanding.
Speech-to-Text Services and Apps – Today, students can choose between many speech-to-text transcription services and apps. Their quality may vary quite a bit, but there have never been so many options.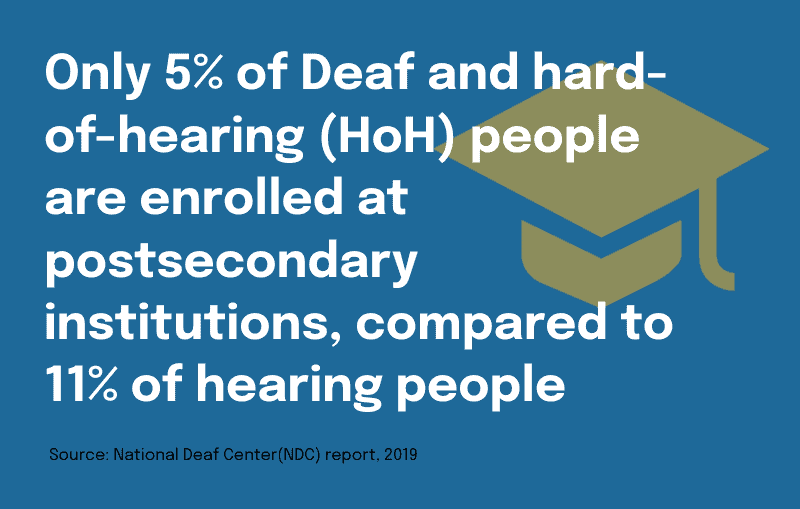 Mobile Apps for Deaf and Hard of Hearing Students
CaptionCall
CaptionCall is a free, federally-funded service that provides a captioned phone for deaf and hard of hearing people. Users can see their call transcribed on screen.
Captions for All
Captions for All provides instant AI captions, or professionally transcribed captions, for a variety of uses – online meetings, doctor visits, online videos, and more.
Hear Now
Hear Now is a sound amplifying app based on hearing aid technology that allows users to understand speech better in noisy or distracting environments.
InnoCaption
InnoCaption is a mobile app that uses stenographers and AI to caption telephone conversations in real time for deaf and hard of hearing users.
Live Transcribe and Notification
The Live Transcribe and Notification app provides real-time transcription in more than 80 languages.
Rogervoice
Rogervoice is an app that creates live transcriptions and receives incoming phone calls.
Sound Amplifier
The mobile app Sound Amplifier allows users to augment and filter sounds around them to more easily understand conversation.
TapSOS
TapSOS provides a voice-free tool for deaf, hard of hearing, and non-verbal people to call emergency services.
TextHear
TextHear is a speech-to-text app that not only transcribes words, but provides automatic punctuation and spacing for clearer understanding.
Applying to the Right College for Your Needs
While making your college selections, figure out what campus services are offered that will benefit you. Do they have dedicated personnel? What the is the process of requesting accommodations? What other resources are available, and what percentage of students at the school also have a hearing impairment?
Colleges and universities today generally have assistive technology centers where hearing-impaired learners may find the necessary equipment and resources to aid them in their college career. This is in compliance with the Americans with Disabilities Act (ADA) and the Rehabilitation Act which require college campuses offer learning facilities accessible to all students, regardless of ability, and provide devices to accommodate students with various disabilities. However, quality and availability of these services and resources are not the same from school to school, and are something to be considered during the college selection process.
Upon acceptance, if not before, meet with someone from the college's office of disability services, or equivalent. Not only will you build relationships with staff on campus who can help advocate for you and other students with hearing impairments, but you can make sure you are taking full advantage of what the school can offer in terms of assistance.
Generally, the office will also handle official communication with professors regarding necessary accommodations for you to help ensure that such accommodations are provided and honored. Make sure you know the timelines necessary for any technology or other accommodations you request, as many times there is some bureaucracy and time involved in getting everything set up for you.
You should speak to your professors at the beginning of a new semester or quarter. This allows you not only to share your needs but also for the professors to ask any questions s/he might have. Should you find a professor who is unwilling to provide necessary accommodations, contact your office of disability services immediately.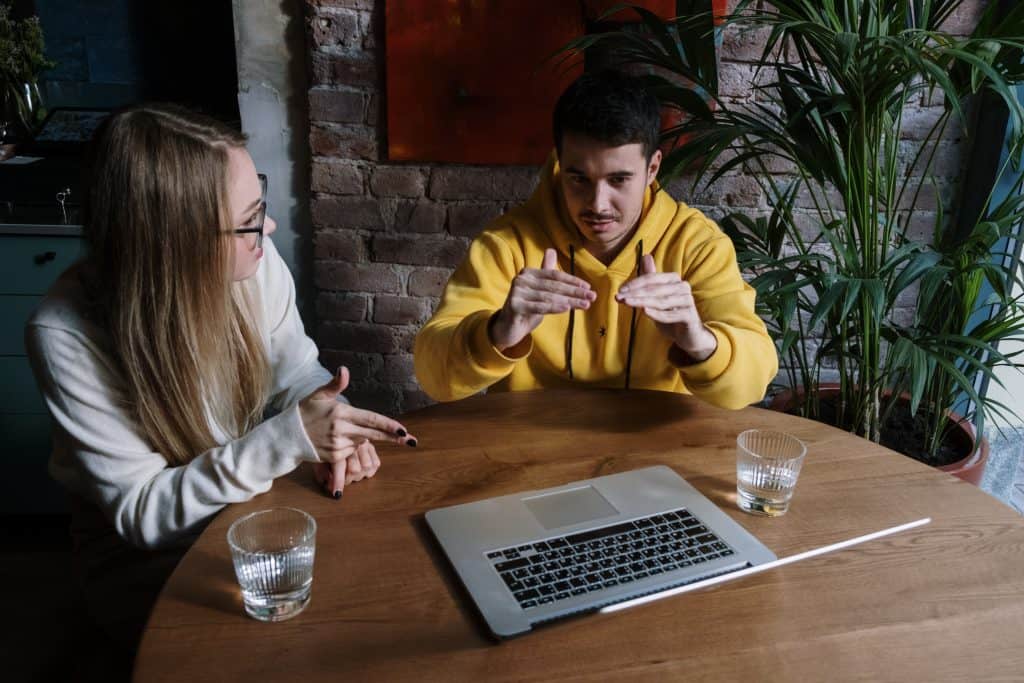 Scholarships For Deaf and Hard of Hearing College Students
AG Bell College Scholarship
The AG Bell College Scholarship offers a scholarship contest for deaf and hard of hearing students going to college. To be eligible, applicants must have been diagnosed with hearing loss before the age of 4, be working toward a bachelor's or graduate degree, and primarily use listening and spoken language.
Cochlear Scholarship
Cochlear offers several scholarships for students with Cochlear implants, including a new vocational scholarship for students going to vocational or technical school programs. Applicants must have a Cochlear Nucleus, Baha, or Osia implant and cannot be associated with the Cochlear company.
Gallaudet University
Gallaudet University has a unique mission to provide higher educatio for the deaf and hard of hearing. Part of that mission is providing financial aid for students with hearing impairment, including many merit-based and endowed scholarships.
Rochester Institute of Technology Scholarhips
Rochester Institute of Technology is home to the National Technical Institute for the Deaf, and to provide the highest level of education for all, RIT has numerous scholarships specifically for NTID students:
Alice Beardsley Memorial Endowed Scholarship Fund for Interpreting Students at NTID
Benjamin J. Soukup Endowed Scholarship Fund at NTID
Carolie R. Simone Endowed Scholarship at NTID
Citigroup Endowed Scholarship Fund at NTID
Continental Corporation Endowed Scholarship Fund at NTID
Lillian M. Cowin Memorial Endowed Scholarship Fund
The NTID Foundation Endowed Scholarship Fund
Sertoma – Hard of Hearing or Deaf Scholarship
Sertoma offers scholarships for deaf and hard of hearing high school graduates and current undergraduate students. Applicants must have substantial bilateral hearing loss, be enrolled full-time, and have a GPA of at least 3.2.
Related:
The Complete Guide to College for Students with Disabilities
Best Disability Friendly Colleges and Universities