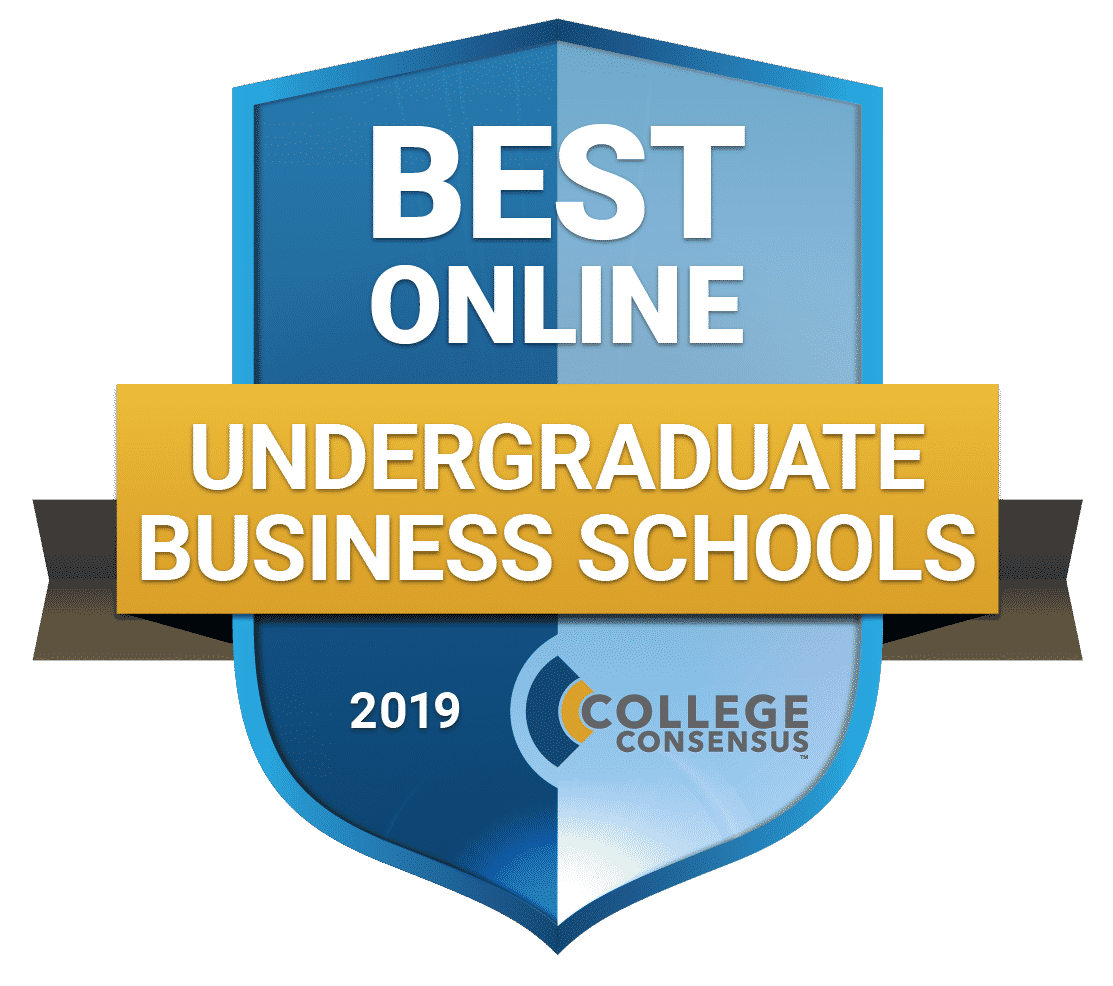 An undergraduate business program is a sound investment for a student interested in a career with options and advancement. The training one receives will act as a solid foundation no matter where the student takes her focus. Many bachelor's in business administration programs offer students the chance to gain useful knowledge of business topics like accounting, marketing, economics, management, and finance. Students also get the chance to learn what it really means to be a leader. The concepts of teamwork, decision-making, problem-solving, and how to be a good communicator are also top priorities in a degree like this and prepare students well to succeed in their career or a top online MBA program.
With advances in technology and modern education, it has never made more sense to consider a program like an online undergraduate business program. Online education has improved by leaps and bounds even in recent years. More business schools than ever have integrated online programming into their list of degrees offered. Many schools now offer identical curriculums to online students that their in-class counterparts enjoy. Scan the websites of many of the best business schools in the nation, and you will see them advertising that there is no difference between a diploma earned by a student attending classes on campus and those attending courses through distance learning.
Some of the most important factors to consider when finding the right online undergraduate business program are centered on program cost, business school reputation, and convenience for the student. It is no great mystery that students want to find affordable degrees so as not to be burdened with student loans years after they graduate. It is important to look for programs which offer in-state prices to online students as that is one way to save on tuition fees. When it comes to convenience, the 100% online format means students do not have to pay to visit a school's campus that may be in another state. Some hybrid programs require short residencies at the beginning or throughout the program, and this can be an added benefit for students wishing to meet professors and fellow students. Finally, reputation can be a great asset to an online undergraduate business program as it can help to impress potential employers in the future. Look for business schools that score high marks among ranking entities like Money's Best Colleges for Business Majors and U.S. News & World Report. With factors like these considered, here are fifty of the very best online undergraduate business programs currently offered in the United States.
Methodology
To find the very best Online Undergraduate Business Programs, College Consensus examined programs based upon their affordability, convenience, and reputation.
Affordability: This data is taken directly from the National Center for Education Statistics. It is the estimated undergraduate tuition and fees for the year. This number is multiplied by four (signifying four years of undergraduate work), placed on a 100-point scale, and then inverted (so that the highest tuition gets the lowest score). This is the Affordability Score.
Convenience: Each degree's convenience is based upon if it can be completed 100% online or if it has any on-campus requirements. Programs that are completed 100% online with no residency requirements receive full marks, and those that have on-campus requirements get half marks. This is the Convenience Score.
Reputation: This data is taken from three of the most prominent undergraduate ranking lists: US News and World Report's Online Bachelors Ranking, Money's Best Colleges for Business Majors Ranking, and the Times Higher Education Best Universities for Business Degrees Ranking. These rankings were converted to scores on a 100-point scale. These scores were averaged for each college and placed on a 100-point scale. This is the Reputation Score.
The data for each school was averaged to find the ranking order for this list.
Are Online Business Schools Reputable?
One of the most optimal ways of determining if online business schools are reputable is by looking for their accreditation. For example, an accredited online business management degree will have accreditation through the Accreditation Council for Business Schools and Programs (ACBSP) or a similar accrediting agency.
When looking up an accredited online business administration degree, these programs may receive accreditation from the ACBSP or the International Assembly for Collegiate Business Education. The IACBE sets their targets on smaller, or mid-sized public and private colleges offering business degrees. However, the AACSB accredits business schools that are more well-known. You'll find that most "well-known" colleges offering online courses or distance learning programs will have an accredited business degree. If you're unsure, you can look at their "about us" page, where the program information is listed, or on a separate accreditation page.
Is a Business Administration Degree Worth It?
When individuals earn their business administration degrees, it helps them enhance their career opportunities, increase their potential for job promotions, and receive additional compensation. There is a broad range of types of business degrees, the most popular of which include accounting, advertising, business management, economics, finance, healthcare management, human resources, marketing, public relations, and supply chain management. When looking at these types of business degrees and salaries, it's important to think about their resulting career path and if the need for furthering education will become necessary.
For example, if for those who decide to pursue their business administration degree instead of the others mentioned here, the following business administration degree jobs are examples they can consider:
Accountants
Commercial Loan Officers
City Managers
Sales Managers
Human Resource Managers
Public Relations Managers
Advertising Executives
Chief Executive Offers
Financial Officers
Market Research Analysts
According to Payscale, the average bachelor business degree salary is $61,000 annually or $17 hourly. The top three professions include:
Human Resources Director: $85,972 annually
Human Resources Manager: $64,728
Operations Manager: $57,197 annually
How Long Does it Take to Get a Business Administration Degree Online?
Depending on your educational goals, achieving your business degree online can take up to the following times for completion:
Associate Degree: two years
Bachelor's Degree: four years
MBA (Master of Business Administration): between one and two years
DBA (Doctor of Business Administration): between three and six years
Business administration degree courses follow a broad range of curriculum that incorporates various areas of administration and management. When determining what classes do you need to take for business administration, students can expect to take courses in accounting and finance, business law and ethics, economics, marketing, mathematics, office administration and human resources, philosophy, and social sciences. Because students will be taking courses online, they'll have preparation for working in a global economy. They'll also develop specialized skills in business writing and communication, financial accounting, organizational behavior, and management policy and strategy.
For those who would like to launch a new business, they may be wondering how many years of college to be a business owner. While there are no specific educational requirements regarding business owners, the recommendation is that those who wish to pursue this goal begin with associates in business administration.
Prospective business owners who started college years ago and didn't finish can participate in a bachelor's degree completion program. These programs allow past students to transfer the credits from their previous school to the school they've chosen to participate in for their completion program. Under most circumstances, students enrolling in a bachelor's completion program can finish in two years or less.
Should I Get a Bachelor of Arts in Business or a Bachelor of Science in Business Administration?
When perusing colleges and universities, it isn't uncommon to see listings for a Bachelor of Arts in business and Bachelor of Science in business administration offered at the same school. While they sound like the same degree, there are differences. Many students find this confusing and don't understand the difference between a BA or a BS in business, so we'll break it down for you.
BA in Business: those opting for this degree will find a broader selection of electives, as well as a liberal arts program. The Bachelor of Arts also allows students opportunities for developing a path to future opportunities to further their education.
BS in Business: when pursuing this degree, students will find more rigidity in their course of study. There aren't as many electives and, instead of a liberal arts program, students are required to participate in scientific disciplines.
Determining which degree depends on your interests and, in the case of the Bachelor of Science, how many math and science courses you would like to take.