In just over a decade, MOOCs have gone from being a novelty to being a valuable part of contemporary higher education. Even now, though, many prospective students do not realize how useful MOOCs can be to their careers.
MOOC (Meaning): "MOOC" stands for Massive Open Online Course. MOOCs have grown in popularity since they were first introduced around 2005. MOOCs became a viable education delivery method after distance-learning platforms made their entrance into the education community. Essentially, a Massive Open Online Course follows a couple of basic features:
It is delivered online, via the web
It offers unlimited participation and license-free content, and
It is available at no cost, unless the student chooses, at his or her own discretion, to pay a nominal for the fee required to earn certificate credit.
MOOCs have been recognized as a successful way to deliver free (or low-cost) education to lifelong and working learners. Educators laud the concept of MOOCs as an amazing way to reuse and repurpose existing content to worldwide learners.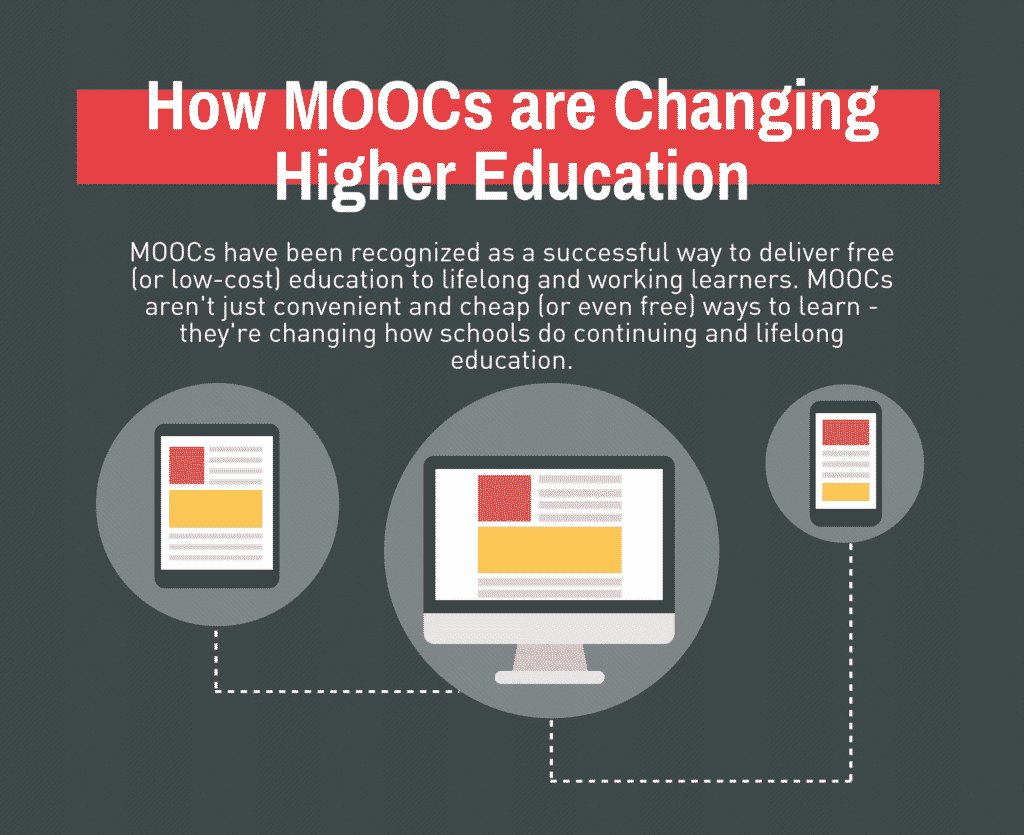 Massive Open Online Courses are often thought of as straight content – videos and text, mostly – but the best MOOCs today also include:
Interactive Classes
Student Forums
Access to teaching assistants
Instant Feedback when taking quizzes and examinations
These days, Massive Open Online Courses are much easier to find compared to when they were first introduced. MOOC providers include professional schools, colleges, and universities. The MOOC concept put to use has grown so popular that prestigious universities have opened online extensions that operate as independent entities. Some recently created schools have opened that are strictly dedicated to delivering distance-learning education with ease and flexibility.
The standard format of a MOOC was designed, essentially by default, by the online courses websites of EdX and Coursera — the industry's largest, most used websites. MOOC providers like Coursera and EdX collaborate with colleges, universities and professional schools that want to offer their own Massive Open Online Courses through existing online platforms.
Massive Open Online Course Types
The Transfer MOOC
Perhaps the most common Massive Open Online Course is known as the Transfer MOOC. A Transfer MOOC is designed to impart knowledge to the student or end user. Transfer MOOCs deliver conventional classroom methodologies through the use of a digital platform. Videotaped lectures teach the material, which is then supplemented with reading assignments and other homework assignments. Students are assessed through various tests and examinations as they work through the Massive Open Online Course. Transfer Massive Open Online Courses are available from online courses websites.
The Made MOOC
A Made MOOC differs from the Transfer MOOC as it was specifically created as a Massive Open Online Course, rather than reusing an already existing classroom delivery format. A Made MOOC is a bit more polished as it goes beyond a taped lecture using more interactive approaches like an online white-board platform. The interactive capability provides instant feedback to a student. Made MOOCs are the most effective simulation training modules.
MOOCs — Synchronous & Asynchronous Methodologies
Students can opt for an Asynchronous MOOC format or a Synchronous MOOC format. Here's the difference between each MOOC meaning:
· A Synchronous MOOC requires each student to follow a preset schedule; which likely includes an exact time and day. The Webinar or lecture (among other options) is only available at that one time, so if a student misses it, there is no way to catch up. This type of MOOC gets tricky when students are located in different time zones.
· An Asynchronous MOOC is a self-paced online course and ideal for working learners and busy professionals. The convenience and flexibility of the asynchronous format has become the preferred format for businesses and organizations.
The Adaptive MOOC
The Adaptive MOOC is the next evolution in Massive Open Online Courses. The Adaptive MOOC is personalized by the student's performance throughout the course by the use of built-in algorithms. The market anticipates that Adaptive Massive Open Online Courses will be most beneficial for corporate training settings. Adaptive MOOCs are designed to support students who wish to reach higher levels of education using the same Massive Open Online Courses.
The Mini MOOC
The Mini MOOC, as its name suggests, is designed for a predetermined number of weeks. These abridged courses are specifically designed with only one or two goals to be covered in the coursework. Mini MOOCs are ideal for a specific stand-alone learning module or as an on-demand education unit.
In many respects, the Massive Open Online Course concept is still in its infancy. It is clear; however, that Massive Open Online Courses are changing the traditional educational landscape. Their accessibility and flexibility allow for the spread of knowledge in many remote places, the education of disadvantaged students, and masses unable to attend traditional classes online.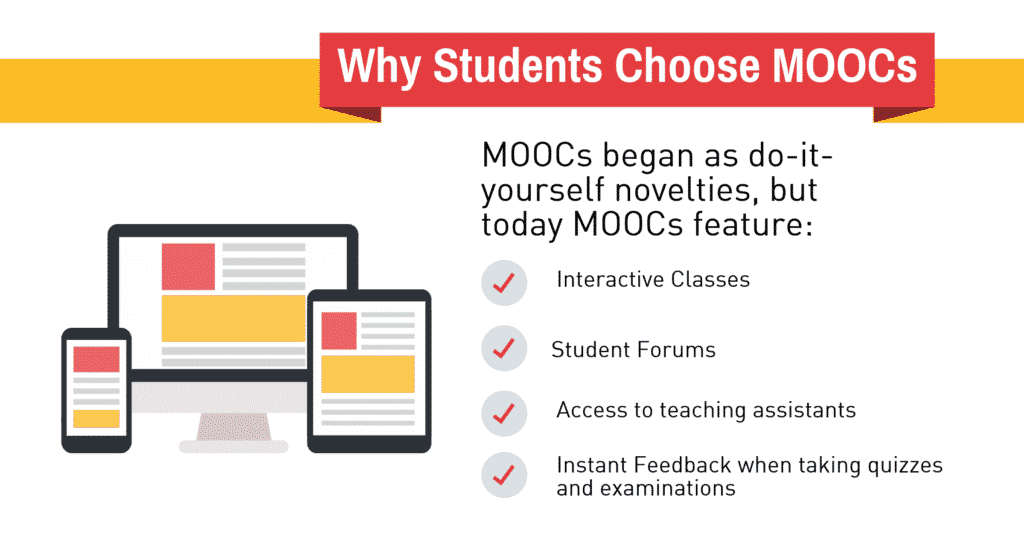 Why Do People Take MOOCs?
Massive Open Online Courses have become a popular education delivery method that allows working, adult and lifelong learners to access tremendous amounts of education material by simply accessing the Internet from anywhere in the world. Unlike full online degree programs, MOOCs provide just the courses students want when they want them. Many fully accredited schools, universities and professionals schools offer:
Free College Courses Online
Free Online Course for Credit
Free Online Courses
Free Online Courses for Adults
Free Online Courses with Qualifications
Free Technology Courses
Determining the best online courses to take depends upon the student's purpose for enrolling in the Massive Open Online Course. For students looking to work towards a college degree, the best online courses to take would be free online college courses for credit. No student loans to worry about later!
Many other individuals take free online courses with qualifications to meet professional certification requirements. Lifelong learners, i.e. knowledge seekers, typically take MOOCs offered as free online courses for adults. However, some of the best free online courses are taken (and enjoyed) by students simply for fun.
IN general, MOOC students take free college courses online for several reasons.
The Education Seeker– these MOOC users choose to take free college courses online because they believe that learning is a lifelong process, not a goal. Many of these students include seniors who want to keep their minds sharp and active. MOOCs allow academic students to:
Earn college credit units to be applied to a college degree
Select or confirm a career choice
Prep for college entrance examinations
The Disadvantaged Student– these MOOC users may not be able to attend traditional classroom settings because of physical handicaps, or have proximity problems – they live in remote places with limited educational resources.
The Career Builder– these MOOC users are the most common type of user. Career Builders take free online college courses for credit as a way to improve their employment or to facilitate a new career. Career builders may have plans such as:
A new career
A promotion
Becoming a new business Owner
The Return to Work Mom– Mothers who wish to reenter the workforce often find the industry they work in has evolved since they last worked. Free college courses online are a convenient way for Moms returning to work to refresh their skills and to learn new technologies and concepts.
MOOCs and the Bottom Line
MOOCs are making headway in providing educational resources to many students across the world. You knew MOOCs had arrived when the Oxford Dictionary added "MOOC," a few years back.
And, while MOOCs were once considered an education diversion or just a passing fancy, things have changed. Education experts now generally agree that MOOCs have the potential to revolutionize the traditional higher education processes that have been in place for centuries. Research suggests that MOOCs are more popular than ever, with prestigious universities adding online coursework to their standard curriculums.
Since MOOCs began it is estimated that more than one hundred million students around the globe have accessed MOOC coursework since the firsts Massive Open Online Course was offered. Free college courses online, like MOOCs; also offer scheduling-flexibility, in addition to significant convenience. A Massive Open Online Course opens access to courses about incredible amounts of information to the public, especially those students who would have no other means to study this material.
MOOCs are now available in many languages. Each year, countries around the world add their own Massive Open Online Courses to the existing cyber-library of MOOCs. MOOCs are available in Spanish, and many other languages, through Coursera and EdX. Tecnológico de Monterrey, Universidad Nacional Autónoma de México, and Universitat Autònoma de Barcelona offer these Massive Open Online Courses using the above noted dedicated MOOC platforms.
How Do You Get Credit for MOOCs?
Many students new to the Massive Open Online Course idea are interested in finding out if there are MOOCs — free online courses with certificates of completion available. And, if there are, where are the best free online courses with certificates available?
The concept of the Massive Open Online Course began simply by offering existing coursework content online to anyone who with an interest in the material. The Massive Open Online Course offers great flexibility as it allows students to study at their own pace and on their own schedule.
Over time, the MOOC has evolved to become a more sophisticated educational tool with a tremendous reach. This is because MOOC courses with certificates (for credit) are fast becoming popular and widely offered by professional schools, colleges, and universities.
Each institution of higher learning is responsible for deciding if their proprietary MOOC will offer an option for a student to earn a credit certificate when completing the Massive Open Online Course successfully. Students are advised to check with the specific school/university to see if the credit is available as a Coursera or EdX certificate.
A MOOC, by definition, leverages the technology of web video-conferencing with the important teaching components of an interactive experience and student collaboration. Together it recreates an effective learning environment that closely resembles its more traditional counterpart.
Consider the very real possibility that free online courses with certificates would forever alter the education landscape — a method that has been used for several hundred years. The reality is students who want to take free online college courses for credit, now have the option of completing a free online course with printable certificates, for just a nominal fee. A cost that is lower than on-campus tuition.
A Coursera or EdX certificate smartly leverages cutting edge and emerging technologies (like video conferencing) with accredited education options to create an educational experience that closely resembles a classroom. An interactive cohort that is accessible by any student with an electronic device and Internet connection.
Free online courses with printable certificates are a great way to:
Enhance the skills required for one's current employment to receive a promotion or an increase to one's compensation package
Test the waters of a new career without having to make a monetary or time commitment
Brush up on skills and learn more current skills for those who have taken a hiatus from working
Take free online college courses for credit while studying for a degree part-time
The best free online courses with certificates of completion options are those Massive Open Online Courses that provide electronic certificates that are verified. This is because this verification process signifies the MOOCs authenticity — a designation which allows a job applicant to highlight the Massive Open Online Course on the application. Verified MOOC course certificates are becoming more serious players in the market when one considers that the Massachusetts Institute of Technology (in the area of Transportation & Logistics) offers verified MOOCs.
MOOC courses with certificates are verifiable and offered as a Coursera, Udacity, or EdX certificate. Additionally, the education community suggests that offering free online courses with certificates as an option will incentivize students who remain skeptical about the MOOC's value. Authenticated coursework is a game changer that will ultimately radically modify how college degrees are earned.
Getting the Most Out of MOOC Courses with Certificates
The benefits of Massive Open Online Courses have yet to be fully discovered as the MOOC is, in the grand scheme of education, but a new idea. Here are a few ideas to keep in mind if you are considering taking a Massive Open Online Course:
Be Smart When Selecting the Course– Choose the course based on the subject and the reason you are studying.
Take Advantage of the MOOCs' Self-paced Option– This allows students to customize how long it takes to finish the MOOC.
Make a Personal Commitment to the Course and Yourself– Education is about gaining knowledge and the act of achievement. The discipline and commitment applied to the course will reflect in your professional and personal life. It is a win-win.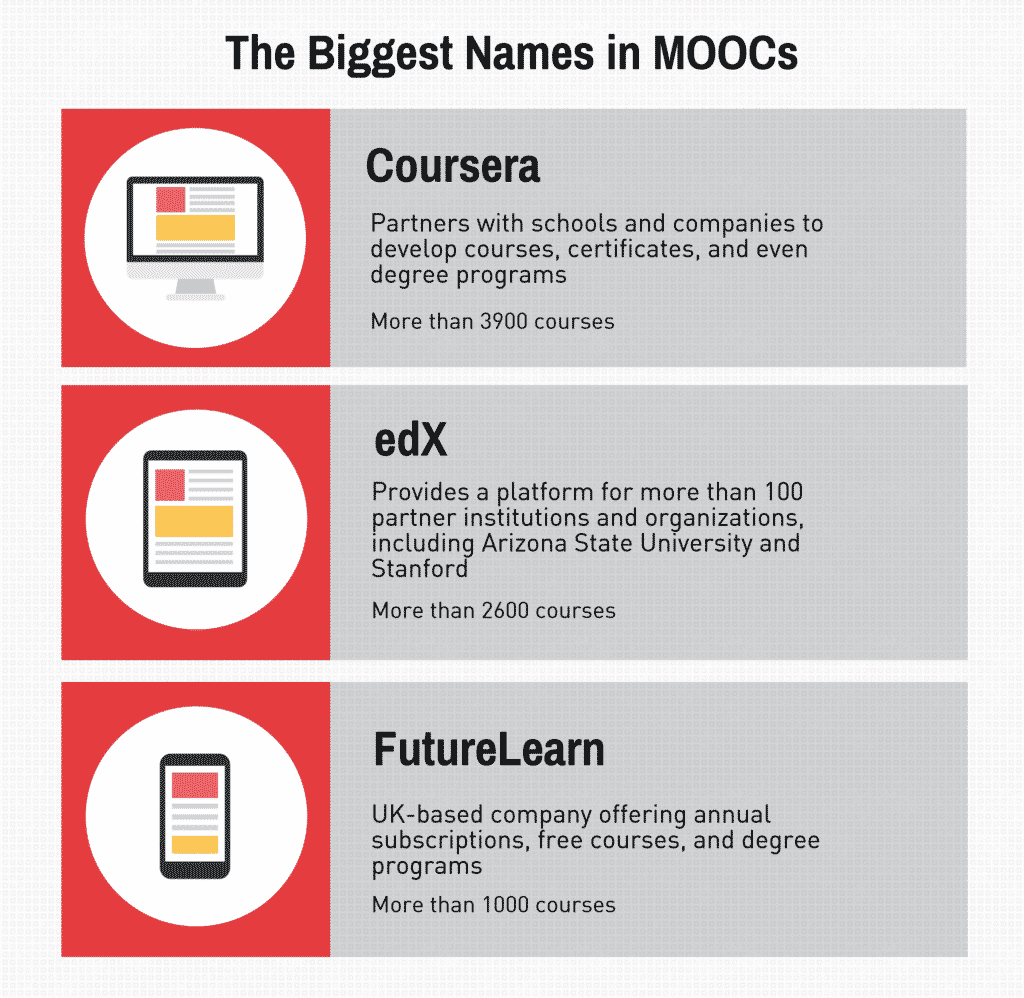 The Top 10 MOOC Platforms
(Platforms are ranked in order of how many courses they offer. Go big or go home.)
1. Coursera
Coursera partners with schools and companies to give students universal opportunity to the best education online. They offers individual courses, specializations, and degree programs. Their courses are video recorded lectures, graded assignments, and discussion forums. Upon completion, students receive a certificate of course completion. Courses can be completed in four to six weeks. Coursera has over 3000 courses from which to choose. Specializations are for those interested in a series of courses with hands on projects. Upon completion, students receive a specialization certificate. They offer Masters degrees for which students can get a subscription and pay one price per month to take the classes. They do offer free college courses online for those who want to audit the class.
# of courses: 3978
2. edX
edX has a mission to provide purposeful education to any student in any location, across the globe. They want to add value to education both on campus and in an online environment. They research teaching and learning to enable themselves to provide better and more advanced courses. They provide a location for online learning and massive open online courses (MOOCs). In their application, students can access courses provided by schools everywhere. They have offer 100 partners across the globe and offer over 2500 courses. All courses are free, unless a student wants a certificate. Certification does have a cost associated with it. edX offers a MicroMasters program, which are graduate level classes from top schools to help students propel on their current career path. This gives students an opportunity to gain a deeper understanding of a specified career. If the student applies to the school offering these courses, he may be able to take an accelerated path to a Master's Degree. In cooperation with Arizona State University (ASU), edX offers the global freshman academy, which allows students from around the world to take courses from the same instructors as on campus students. This will give the student credit from ASU that can be transferred to any school.
# of courses: 2601
3. FutureLearn
FutureLearn is an organization based in the UK and owned by The Open University. They offer the largest number of massive open online courses (MOOC) type degrees. They offer free classes but for a fee, they offer also offer unlimited access to courses. With one payment, students get an annual subscription to almost a thousand courses. Students can move through those courses at their own pace. They will also be able to gain a certificate of achievement for some courses. The certificates also come with the opportunity to keep the content from the course.
# of courses: 1044
4. Canvas Network
Canvas Network offers complete and open access to courses for students around the world. The material remains available even after the ending date of the course. The content is open to be shared and the licensing is open, so students aren't limited. Students can use third party tools because Canvas provides an open platform for students to access courses from multiple institutions. They currently offer about 574 courses. Some courses may provide an opportunity for students to receive a certificate of completion.
# of courses: 574
5. Udacity
Udacity offers opportunities to students to take higher education courses and access them in a flexible and inexpensive manor. Udacity focuses on partnering with technical companies, not institutions of learning. All a student needs is access to an internet connection to access their suite of 232 courses. Udacity offers nanodegree options. This allows students to gain skills that are in high demand and gain a credential that is valuable in their industry. They offer programs in the school of programming, data science, autonomous systems, business, and artificial intelligence.
# of courses: 232
6. Open Education by Blackboard
Blackboard Open Education offers free college courses online in an application that is fully supported in the cloud. It allows Blackboard customers to access massive open online courses (MOOC) and other open online classes. They offer classes that can be taken on mobile devices, as well as computers. There are currently 115 courses available. Some of those courses are provided by global clients.
# of courses: 115
7. Kadenze
Kadenze is website that allows students to enroll with a membership and then provides access to over 80 courses in their catalog. Their mission is to bring universities, instructors and artist together to give students superior knowledge and education in creative art and technology. Students have the opportunity to receive college credit in some specific classes. Kadenze offers two tiers from which students can select. The first is free and gives access to most of the catalog of courses, videos and discussions. The premium tier costs $20 per month and students will have access to exclusive material and are eligible to submit assignments and receive grades and feedback.
# of courses: 90
8. Stanford Open edX (Independent)
Stanford Open edx offers the best free online courses in cooperation with Stanford University. The University created new material specifically for these online courses. They offer 88 free courses to students. Most of these courses are self paced, but some are flexible. The courses vary in length and how long it takes to complete the course. Stanford Openedx also allows students to take courses through other massive open online courses (MOOC) programs so they have additional flexibility.
# of courses: 88
9. NovoEd
NovoEd offers the best online courses over more than one platform. Their courses can be accessed on a computer or mobile device. This allows students to have a complete, effective and fully engaging experience. This provides online training that is comparable to training in person. Students have access to an unlimited number of guides, videos and answers to all questions. Students can participate in hand on learning and incorporate role play and simulations. They have coaches to provide input and mentorship for feedback.
# of courses: 67
10. Complexity Explorer
Complexity Explorer is one of the top online courses websites that gives students access to educational information about complexity science. Complexity Explorer is part of the Sante Fe Institute, the experts on complexity science. This collection of classes are available to anyone. Most courses are offered for free after the first three sessions, which typically is three years from when it is first offered. For the first three years, students must pay a tuition to take the class. During the first three years, there is assistance from the instructor and the potential for a certificate upon completion.
# of courses: 20
Related Rankings:
10 Most Popular Online Degree Majors
50 Underrated Colleges Doing Great Things
Top 25 Best Online Degrees Most Likely to Get You a Job
Top 25 Most Innovative Online Colleges
Tuition Free Colleges
Best Free Online Accounting Courses