Sure, students in Rhode Island aren't constrained by long commutes, like a student in Montana or Wyoming. And there aren't large, remote rural populations like many of the Midwestern and Southern states (in fact, it's the most densely-populated of all the states). But working adults in Rhode Island – especially busy commuters working in Boston or Hartford – find a lot of benefit in being able to enhance their career from anywhere.
Distance learning has changed education dynamics over the last decade. More people from diverse cultures, ages, and backgrounds are now taking online courses. The growing popularity has made it possible for people who work full-time, high school graduates, unemployed and stay-at-home parents to access educational programs that fit their lifestyle. The trend has also been welcomed by millennials who are more appreciative of learning remotely, thus achieving study-life or work-life balance at the best online colleges.
Ranking the Best Online Colleges in Rhode Island
The College Consensus ranking of the best online colleges in Rhode Island is built on the Consensus Score, which brings together rankings and reviews from reputable publishers. But that's just for putting them in order; to qualify, schools must also be legitimately accredited and offer at least 3 online undergraduate programs.
Colleges are presented below by Consensus Score.
Last Accessed: October, 2019
Bryant University is an accredited institution that offers graduate degree and certificate programs for students who want to make more of their career. Get ready to meet instructors who will offer their professional input to ensure you come out with distinctive educational experience. Be it the School of Business, Arts & Sciences, or School of Health Sciences, the system is designed to help students become good at what they do. Being one of the best colleges in Rhode Island, Bryant University is expected to attract more applicants.
Recent reports by College Factual/ USA Today indicate that almost 99% of Bryant's class of 2018 graduates were absorbed into many industries as employees, or went for further studies after 6 months of graduation. 94% of them have confessed that the institution offer high-quality services to see them through the entire school process. A median starting salary of $60,000 for the class of 2018 graduates is an indication that more people are being absorbed from this facility. Its firm belief in a smooth transition is the reason why it recently announced the record-setting class of 2023.
Number of Online Programs
18
2
Roger Williams University
Bristol, RI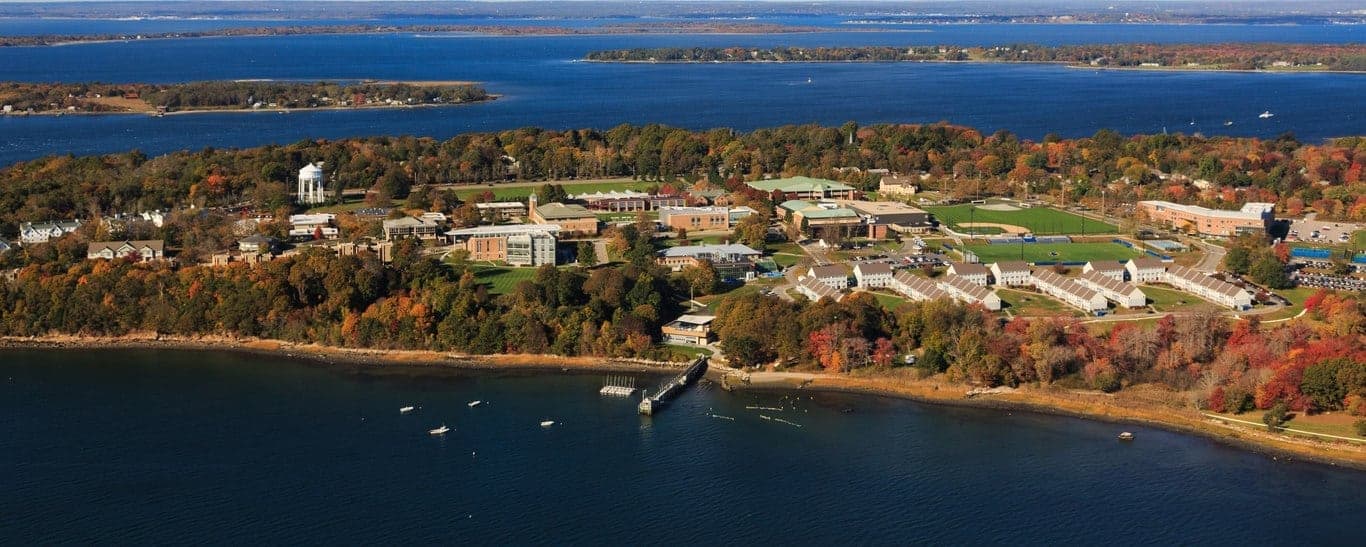 Last Accessed: October, 2019
Roger Williams University is a higher education institution based in Bristol, RI, that offers graduates, certificate, and master's degree programs available on-campus and online. The institution relies on a rigorous, customized, and marketable approach to train students on how to become self-sufficient and productive citizens. As one the best online colleges in Rhode Island, it has managed to attract up to 6,500 students in undergraduate, graduate, law, and University College.
Being on the forefront to assist needy students is what RWU is all about. That is why it increased into financial aid undergraduate budget by over 50% since 2014. With a student faculty ratio of 15:1, the facility is expected to earn a good reputation for the next four years. Whether you are interested in the School of Law, Art, or Sciences, RWU will help you "find your path and discover your passion."
Number of Online Programs
11
3
Johnson & Wales University-Providence
Providence, RI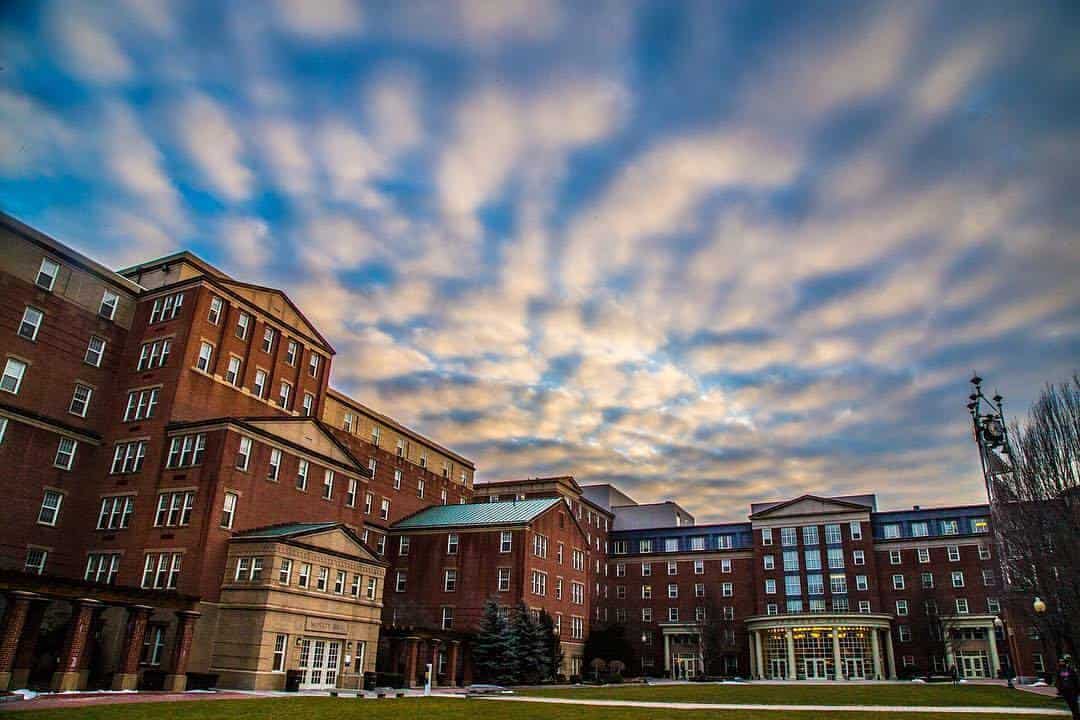 Last Accessed: October, 2019
Johnson & Wales University is an accredited institution, hosting more than 8,500 students from diverse backgrounds. Students who qualify to join JWU will have the opportunity to pursue various courses to fulfill majors & degrees, internship programs, and other academic programs. A curriculum that empowers you to broaden your horizons is the reason why it is among the best online colleges in Rhode Island.
The institution believes in rounding up the education experience with community service, student clubs, and volunteering process. Providing a budget-friendly education services is part of the reason why the university came up with scholarships. More than 94% of students have benefited from this program since it was first introduced. At JWU, get ready to work with your tutors to create life out of your passion.
Number of Online Programs
32
Who Benefits Most from Online Colleges in Rhode Island?
To ascertain that you can comfortably undertake an online course, one needs to meet the following requirements:
Be able to learn outside the classroom setting: Different people have varying capabilities when it comes to attention and alertness while learning. Some students focus and are more attentive in a classroom setting. One of the major reasons why students fail in online colleges in Rhode Island is that they underestimate the time they need to devote to the coursework and assignments. Just like a conventional classroom, you need to keep up with the coursework and submit assignments on time.
Be self-motivated and disciplined: Online learning might not be the best option for people who struggle to accomplish tasks on their own. While there are courses that demand that students collaborate on group projects, most of the work is done by the student.
Have access to a computer and a reliable internet connection: Unlike conventional classes, students spend most of their time listening to lectures, taking projects, tackling assignments and projects, interacting with fellow learners, and emailing instructors. People who do not enjoy working with computers might find online learning overwhelming.
What Kinds of Degrees Can I Earn Online in Rhode Island?
Today, technology has made it possible for students to earn online degrees in Rhode Island. Students can also transfer their credits from online colleges to conventional schools and vice versa. Courses that cater to thought-heavy topics such as mathematics, humanities, and English tend to be common compared to courses covering specific subjects such as computer science.
You can undertake virtually any degree program online. For instance, professionals who are looking into improving their resume and developing skills that will make them more marketable at the workplace can undertake certification courses. There are also multiple online professional development programs. However, such professionals need to check with experts in their fields of practice on how particular online courses are received in the industry. Certification credits might or might not be transferrable towards bachelor degrees.
25 Highest Paying Online Associates Degrees
25 Highest Paying Online Bachelors Degrees
25 Highest Paying Online Masters Degrees
25 Highest Paying Online Doctoral Degrees
For students with a limited budget, there are associate two-year online degrees in Rhode Island. Such programs usually focus more on general education with little emphasis on the learner's career. Associate degree programs are best suited for working adults or high school graduates who seek an affordable avenue towards obtaining a bachelor's degree. Online bachelor's degree programs in Rhode Island normally take students four years of study time. Such a program costs more than the associate's degree program as it is more comprehensive.
How Can I Save Money on an Online Degree in Rhode Island?
Students prefer online courses due to their affordability and convenience. The following tips are meant to make such courses even more affordable:
Come up with a plan and stick to it: The only way students can get the most out of their online course is by coming up with a study plan and intentionally sticking to it. This is because it is easy to get distracted during the self-education process. During the planning process, students need to prioritize the skills they need to improve.
Enroll in low-cost regional institutions or community colleges: Community colleges are quite popular as they have smaller class sizes which means students get personalized attention. CCRI online degree courses from community colleges and low-cost regional institutions cost lower compared to four-year programs. Such institutions usually have transfer agreements with local institutions. Enrolling in a community college gives the student physical access to their preferred campus.
Find out whether you qualify for employer reimbursement online training programs: Today, employers are using incentives, such as tuition reimbursement to motivate their employees. Normally, the employee has to pay for the online course out of their pocket. Once they complete it, the employer reimburses some or all of the tuition fees. The reimbursement conditions are different for every employer. For instance, certain employers will reimburse their employees if they undertake courses that are within their scope of practice.
Final Thoughts
One of the most common mistakes students make as far as online learning is concerned is not checking on the institution's accreditation. When an institution is accredited, it implies that it is providing students with the necessary support as well as the required job skills. Accreditation could also impact the student's eligibility for state and federal financial aid. Students should also make a point of reviewing their preferred course's curriculum before enrolling for any online course.
Related Rankings:
Best Colleges & Universities in Rhode Island
Best Regional Universities North