Despite many Alaskan residents living in the larger cities and communities across the state, there are rural but populated villages spread beyond these city limits that make going to college in Alaska difficult if attempting the traditional route of daily commuting. Because of this difficulty, Alaska's online education offers these residents an option that they did not have a generation ago. They have the ability to pursue Alaska distance education courses through an online format, allowing them to work at their own pace and flexibility, taking advantages of the same educational opportunities as residents who live in the more populated areas.
Ranking the Best Online Degree Programs in Alaska
College Consensus editors have an easy job ranking the best online degrees in Alaska, as only 3 universities in the state meets the two requirements: have a Consensus review score, and offer fully online degrees (amongst various degree levels).
1
University of Alaska Fairbanks
Fairbanks, AK
Number of online programs
54
2
Alaska Pacific University
Anchorage, AK
Number of online programs
9
3
University of Alaska Anchorage
Anchorage, AK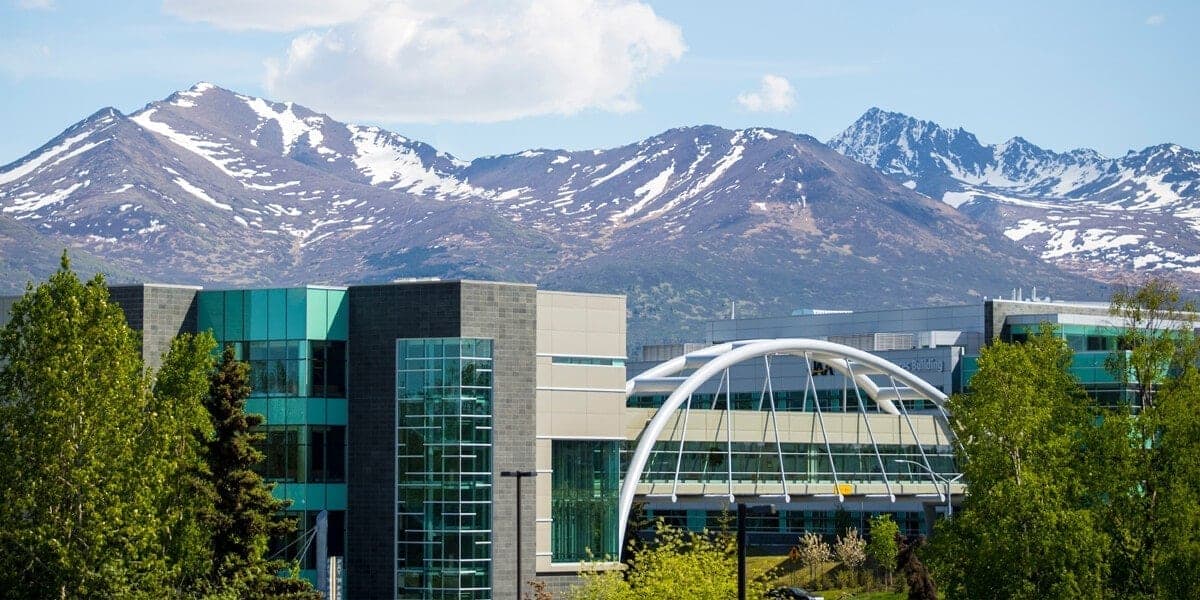 Number of online programs
29
What are Some of the Most In-Demand Online Degrees in Alaska?
There are numerous degree options a student can pursue with Alaska online degrees. Some of the most sought after online degrees include business and management. These degrees are highly sought after by Alaskan residents as they decide to open their own businesses in their communities and villages across the state. Because many of these areas are so rural compared to other states, they depend on successful businesses in their community to meet the community's supplies and service demands.
These scattered populations are in need of the same community careers such as teachers, police officers, nurses, and other essential community positions that meet all of the needs of the community. In order to get ahead in these small areas for careers, Alaska online education gives many residents the ability to seek a career change into one of these essential roles that they are pursuing, or advance their career. For example, an Alaska nurse in one of these communities could pursue their MSN online and become a Nurse Practitioner in a community that may not have a doctor in residence, amplifying their career and working to the benefit of the community.
Homeland security is another highly sought degree among Alaskan residents who are pursuing online degrees in Alaska. With security being a significant concern in Alaska due to the remote areas, many residents find themselves wanting to take advantage of the federal jobs that are located within the state and focus on law enforcement.
Some of these Alaskan residents want to pursue law enforcement, but on a more local level. Because of this desire, criminal justice is another one of the most popular Alaska online degrees. These residents pursue a degree in criminal justice in order to be the most qualified law enforcement in their local villages. With the remoteness of many populations in Alaska, maintaining a law enforcement presence throughout these communities is essential.
How Should I Choose an Online College in Alaska?
Before tackling an online program, students in Alaska should first review the accreditation of Alaska online colleges, and ensure that these programs meet these standards. Accreditations are designed to enforce standards and proper curriculum for programs that are similar across a region or a national level. Employers determine whether a program is worth a career promotion based upon accreditations.
The second thing to consider is the job market in the state. Students who are looking to obtain a degree, but plan on living in Alaska should consider if the degree they are pursuing has an actual job market for them upon graduation. This is one of the reasons why law enforcement degrees such as criminal justice and homeland security have such high popularity among residents.
Is the program convenient? Students need to review the online format of Alaska online colleges and determine if it is something that fits their schedule and daily lives. Finally, students should consider the affordability of the program and if the return on the investment will be sufficient. The cheaper the tuition rate for these programs, the less amount of students loans are required, minimizing student debt.
Related:
Best Online Colleges & Universities