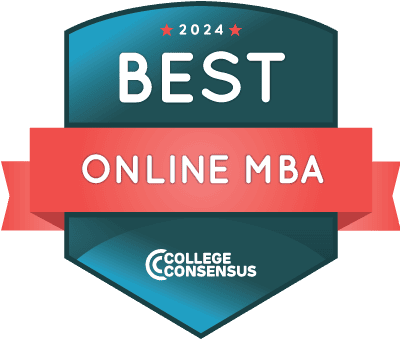 The Online MBA is an excellent program for business students who want to earn an advanced business administration degree. An online MBA degree offers students a flexible format and schedule without sacrificing quality. After spending four years or more studying to earn their bachelor's degree, the idea of jumping back into higher education to live the student life again may sound less than ideal. And for some business professionals, it would be near impossible to move to a new city for a business school. This reveals that many business professionals have more obligations than their younger student counterparts. Therefore, many business schools across the nation currently feature online MBA programs.
The Nation's Best Online MBA Programs
Online MBA programs allow graduate students to enroll in some of the most prestigious business schools and take coursework from virtually anywhere worldwide. Being a distance learner through an MBA program can reduce costs and enable graduate students to increase their income quicker. This ranking is designed to help future MBA students learn more about how to find the best online MBA program in the United States.
Ranking Navigation
Methodology
This is the College Consensus ranking of the top online MBA programs. It is a consensus ranking of the most prestigious online MBA programs available. We combined data from five leading MBA and school ranking systems:
All data was averaged and place on a 100-point scale to find the Consensus Score.
The Best Online MBA Programs
Top Online MBA Programs
The online MBA has remained a mainstay in the United States in recent years. Demand for high-quality business administration degrees has continued to grow over the past decade as U.S. business students investigate career paths and affordable options to bolster fruitful business administration careers. According to the Graduate Management Admission Council, a record number of prospective business administration students consider an online MBA the most viable route for their advanced education. Online MBA programs account for just over half of AACSB-accredited Master of Business Administration programs in the nation. This is the highest percentage in a decade.
Are There any Disadvantages to an Online MBA?
Network
Some may think that the online MBA, with its proximity issues, leads to a less viable network. This may be an issue at some business schools, but some safeguards help reinforce the value of distance education. While access to classmates in an online MBA may seem limited, MBA students in these programs still have the chance to build more meaningful and intentional relationships as they build a trusted network and a healthy support system. Many online MBA students are given opportunities to engage with their fellow distance learners in and outside the virtual classroom. Through common electives, co-curricular and social activities, and leadership development programming, online MBA students forge robust networks throughout their business school tenure. It's vital to remember that distance learning often encourages a high-touch, personal experience with access to professors and business school leaders who aid in the educational experience.
Experience
Another misnomer about online MBAs suggests they offer fewer experiential learning opportunities than on-campus programs. This is categorically false, as most of the nation's best online programs emphasize experiential learning as they practice lesson content regularly. Online MBA students take advantage of the same academic learning opportunities as traditional business students. Upon graduating from their programs, these students participate in leadership development opportunities like executive coaching, one-on-one peer, and capstone projects.
Curriculum
Finally, a common myth about online MBA degrees considers them watered-down MBA programs. While it may be a shorter academic responsibility, it is sometimes more intense as an experience that includes full learning options like a traditional full-time MBA. These programs may last between twelve months and twenty-four months. Online MBAs feature experiential learning, real-time client projects, international travel, leadership development, and opportunities for students to participate in student clubs and social activities. The content topics will be equal to their on-campus counterparts, exploring topics in:
Organizational behavior
Business law
Accounting
Business analytics
Marketing
Economics
Finance
And more!
Format
In some ways, the online MBA program will not replace the full-time, on-campus MBA when considering program options and future student demand. Online learning is not for everyone. Some potential MBA students may be discouraged by the online program's intensity. Due to working professionals' schedules, the high-touch nature of the online format is not the best fit for those wanting to be less social. But for business leaders interested in accelerating existing career paths or transitioning into a new field, the advantages of the online MBA make it an ideal fit. The online MBA may not be perfect for everyone interested in a business administration degree. However, many prospective business students find compelling reasons to consider it for their future.
The Online MBA's Attractive ROI vs. The Traditional MBA
Few will argue about the advantages students pursuing an online MBA enjoy. There is the lower cost and reduced completion time options. In some cases, satisfying all online program requirements in just twelve months to 18 months instead of two years or more reduces graduate students' time away from their careers and a steady income. The disadvantage of professionals needing to commit precious time away from their jobs is vastly reduced. The acceleration within a career (which often results in a higher salary) presents itself quickly.
Online MBA degrees are typically less expensive than their traditional full-time MBA counterparts as many students pay in-state tuition. For example, Emory University's Goizueta Business School features an online MBA at a fraction of the tuition of its on-campus MBA. In addition to program and tuition costs, online MBA students save on living expenses, including housing and health insurance. This can easily result in a higher return on investment for online MBA students.
An Online MBA Can Put Your Career into Overdrive
An online MBA is perfect for professionals looking to accelerate existing careers. Resources like internships are not always beneficial to those staying within their existing industries or functions due to experience already there. Whether you work in tech, marketing, finance, consulting, or any other business field, an online MBA jettisons a pathway to advanced leadership positions. It is the preferred, advanced business administration education option for students receiving financial backing from their organization and entrepreneurs needing to start a business foundation to nurture young ventures.
The intensive nature of an online MBA enables graduate students to put lessons they learn into practice as they improve their current career trajectory and prepare themselves for future leadership positions upon graduation. While online MBA programs might offer fewer electives than traditional Full-time MBAs, electives are typically used for career discovery. They are not always needed by working professionals advancing existing career fields. It would be typical for online MBA students to complete ten electives instead of more in a longer MBA program. Many graduate students with work experience appreciate the chance to expand their skill set and knowledge by diving into topics that directly relate to their industry.
The Online MBA Can Help Professionals Changing Career Paths
Business leaders interested in switching careers have good reason to consider the online MBA. While it may influence the transition into some industries – on the off-chance that an organization hires exclusively from internships – it can reveal itself as a gateway for professionals with transferrable skills wanting to transition into a related career. Examples may include regulators and researchers seeking to move into healthcare administration, students transitioning from sales to marketing positions, or engineers interested in technology product management.
An online MBA is a great tool to add value to existing graduate programs. Dual-degree options include
MD/MBA,
MTS/MBA,
JD/MBA,
JM/MBA, and
DPT/MBA.
Healthcare and business, like law and business, fit well by providing graduates with career options and opportunities for future career paths.
Top Business & Management Careers
These are some of the top business and management careers available to online MBA graduates. We averaged the median salaries reported by Payscale and U.S. News and World Report to get a consensus view.
There is a lot to like about the online MBA. The advantages outweigh the disadvantages for a myriad of business leaders. If you are interested in this business administration degree, contact admissions leaders at your favorite business school and see if they feature an online MBA.
Related Resources
Best MBA Programs
Best Online EMBA Programs
Best EMBA Programs
Best 1-Year Online MBA Programs
The Best Undergraduate Business Schools