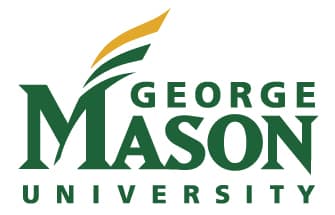 Accreditation
AACSB, Southern Association of Colleges and Schools, Commission on Colleges
The School of Business at George Mason University is highly regarded among the best business schools in the country. U.S. News and World Report recently recognized them at #25 in Most Diverse Public Universities in the Country and # 79 in Best Undergraduate Business Schools. The campus is a truly unique combination of races, languages, nationalities, and religions. Students from 130 countries and all 50 states are represented in the George Mason student body. The School of Business works diligently to provide students with an array of relevant professional experiences. One way this is accomplished is through the School of Business Corporate Partnership. Recent collaborations have included top companies such as Lockheed Martin, USPS, ExxonMobil, and many more.
Education
George Mason's School of Business is ranked within the top 10 percent of the nation's undergraduate business schools. The programs are designed to prepare students for every facet of the business industry. Five comprehensive undergraduate majors encourage focus and mastery in the areas of Accounting, Finance, Information Systems and Operations Management, Marketing, and General Management. Those who earn their Bachelor's in Accounting then have the option to complete a 30-hour Accounting Certificate Program which will qualify postbaccalaureate students to sit for the CPA exam in Virginia. In addition to the Accounting Certificate Program, School of Business students can also complete their master's degree in seven areas of study. These distinguished options include MBA, JD/MBA, EMBA in National Security, Accounting, Management, Real Estate Development, and Technology Management.
Student Life
George Mason University is located 15 miles outside of Washington, D.C. This prime placement is ideal for business students looking to be a part of one of the busiest cities in the nation. This location gives access to 176 foreign embassies, the International Monetary Fund, Pan American Health Organization, as well as, countless multinational and international organizations. On-campus, there are over 1,000 events each year, and students have more than 500 clubs and organizations to choose from. The Career Services division at George Mason is nationally recognized because of its successful and innovative approach to assisting students as they determine and achieve their academic and career goals. Advising, workshops, and specialized courses are all available to help students find the right educational path to meet their needs. On-campus job fairs and internships give students the ability to network and practice skills with alumni in order to find a great position after graduation.
Online Programs
While many universities only offer graduate-level degrees online, George Mason students can earn their undergraduate degree in Information Technology, Management, or Applied Science in Cybersecurity in a complete distance format. Graduate students can complete an online MBA with a global residency option. The global residencies is an excellent way for virtual students to experience the business practices of other countries on a first-hand basis.
SEE ALSO