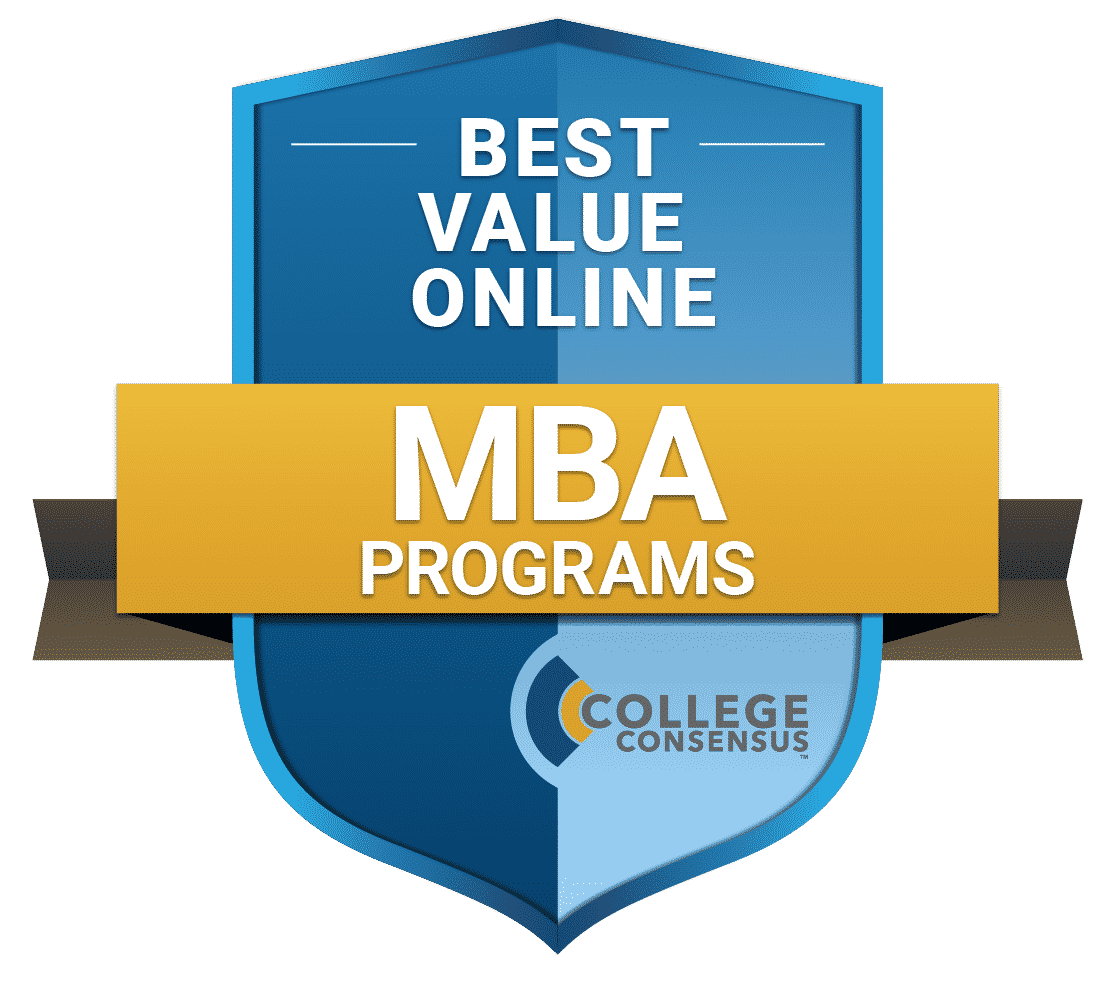 For years, marketing experts have learned ways to sway consumers to choose one product over another. Celebrity endorsements, emotional advertising, and hilarious commercials that become a part of our pop-culture have all been proven as ways to get people to purchase products and services. But when it comes to choosing an online MBA, the stakes are high, and the researching graduate student needs to focus on what makes a program better than its competitors. While the average consumer can be emotionally influenced by a commercial when making a purchase at the grocery store, an online MBA student needs to have all the facts surrounding a program before choosing a degree that offers the best value.
What is a Best Value Online MBA Program?
Students looking for the best value online MBA should know this factor is constantly in flux. It is based upon the tuition cost of a program and the salary that students receive upon graduation. The old adage of "you get what you pay for" can be very true when applied to certain products in the market place. With today's highly competitive world of higher education, some excellent business schools across the nation are providing affordable online MBA programs at a fraction of the tuition cost you may expect. Today, students can find a 30-credit hour degree with no campus visits for just over $5,000, while other programs can reach far beyond the $100,000 point. These tuition costs vary based upon the number of credits a student takes, and the colleges could change tuition rates every year. Most programs release their tuition rates on their websites, so it only takes a little time to be able to compare tuition costs of each program.
But equally important in this category of best value is the salary that graduates receive. An affordable program might not be advantageous if it doesn't help land a job with a higher salary. Multiple things can influence this factor, including prestige. An MBA brand name could influence a recruiter to extend an interview invitation. A couple of ways to research prestige is by finding schools which are consistently featured in ranking systems, as well as identifying the schools and programs that carry an elite business accreditation through the AACSB-International, ACBSP, or IACBE. These accreditations mean the school and program can be validated to prove their academic integrity. Another thing to consider while researching salaries is the location in the country and the job specialization. Salaries can differ, but by looking at average salaries of graduates from a business school, prospective students can get a good idea on the possible return on investment.
With these important factors in mind, we have compiled the 25 Best Value Online MBA programs in the country.
Methodology
In the business world, when you are calculating value, you look for return on investment (ROI). The ROI calculation equals (Current Value of Investment – Cost of Investment) / Cost of Investment. This is the equation that has 100% determined the ranking order of this list. We calculated the
(graduate salary – online MBA cost) / online MBA cost
The graduate salary was taken from the average starting salary recorded by US News and World Report. The online MBA cost is the base tuition cost taken from each MBA website.
Affordability Score – the base tuition is inverted and is placed on a 100-point scale.
Convenience Score – based upon each school's online format and GMAT/GRE requirement.
Reputation Score – based upon ranking lists by US News and World Report, Businessweek, and The Economist. Ranks were converted to scores, averaged, and then place on a 100-point scale.
What jobs can you get with an online MBA?
The MBA has turned into the degree of choice for all business leaders interested in utilizing critical thinking, problem-solving, and elite decision-making in multiple areas of business leadership. The MBA (Master's of Business Administration) is the natural next step for undergraduate students of business who want to advance their credibility within organizations they currently work in or become trained in a new direction of business. Fortunately, there continues to be a trend of offering online MBAs by some of the nation's best business schools.
A degree like the online MBA can open doors in all types of organizations from government departments to for-profit and non-profit organizations to healthcare firms and beyond. Professionals working as specialized consultants, real estate agents, and entrepreneurs can all benefit from this trusted graduate degree. Students within an online MBA program benefit from keeping their jobs without having to move near a university and have the luxury of applying concepts learned through coursework in the firms where they currently work.
Some very satisfying, and lucrative, careers are accessible to working professionals that have pursued an online MBA. The list of occupations held by MBA grads includes product managers, advertising executives, financial analysts, and human resource managers. Many of these professions command salaries of between $75,000 and $100,000 while also giving professionals the chance to get promoted within their organizations. Now is a great time to consider an online MBA for career development.
Which online MBA specialization pays the most?
Business schools all over the country take different approaches when considering concentrations related to their online MBA programs. While the University of Washington in Seattle provides an award-winning general online MBA, the Spears School of Business at Oklahoma State University provides over ten ways a distance learner can pursue its online MBA degree with concentrations from Business Sustainability to Nonprofit Management.
So, what is the best option for concentrations when considering an online MBA? The best answer to that question comes in the form of knowing what the end result for the degree will be. If a graduate student wants to accelerate his experience, he may be better off by choosing a general MBA that requires fewer courses to complete. If a student wants to specialize in an area of business leadership because she is interested in becoming a CPA or working in an organization's accounting department, she might want to consider a focus in accounting.
One of the greatest drivers for professionals in choosing a specialization is what emphasis will result in the highest paying job. Online MBA students looking for the best "bang for their buck" will want to investigate an executive online MBA as they typically train graduates to be prepared for roles as CEOs, CFOs, and COOs. Executive positions in organizations of all types and sizes are typically some of the highest paying jobs to be found in business.
How much does an online MBA cost?
The price of an MBA can be as varied as the number of them available across the country. One must first look at where the program is offered. Large public schools offer online MBA degrees just like small private colleges. Tuition rates can be as much as $2,000 a credit hour or as low as $200 and less. As the cost of an online MBA has much to do with the tuition price advertised on the university's website, there are also other factors that will affect a program's "cost."
A less expensive degree can save a graduate student lots of money in tuition, but if that business school suffers from a poor accreditation rating, the degree might not be an asset to the online MBA student's resume. Always look for accreditations by respected entities like the AACSB-International, IACBE, and ACBSP.
Another factor to consider when evaluating a program's cost is how flexible and convenient the program is marketed as. Online MBA students with a busy schedule will need a program which will allow them to take courses at a custom pace and perhaps have access to program advisors and course instructors.
These are just two factors to take into account when considering an online MBA's cost to the distance learner. Tuition is an important part of the decision, yet all too often, students end up paying a higher price when a business school does not offer high-quality support services.