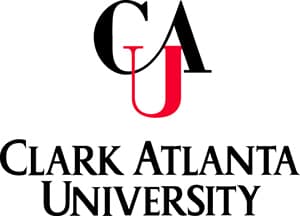 Accreditation
AACSB, Southern Association of Colleges and Schools, Commission on Colleges
Clark Atlanta University is a Historically Black University that was formed when Clark College and Atlanta University merged in 1988. The School of Business Administration has served students for over 70 years and was one of the first HBCUs to earn prestigious AACSB accreditation. The SBA provides high-quality, affordable education to African-Americans from more than 40 states and 30 countries. Money Magazine named the SBA among the top 5 HBCUs in the "Best Buy" category. The business school also reports their MBA graduates are among the highest recruited in Georgia. The SBA consists of six departments; Accounting, Decision Sciences, Economics, Finance, Management, and Marketing.
Education
Undergraduate students are provided with student-centered learning and supportive instructors who are invested in their success. Degrees are offered in Accounting, Economics, Entrepreneurial Management, Finance and Financial Planning, International Business, Management, Marketing, Supply Chain Management, or Sports and Entertainment Management. There is also an accelerated BA/MA in Accounting, which can be completed in five years. Students who exemplify superior academic ability may apply for the Isabella T. Jenkins Honors Program. Accepted students will be recognized at the Academic Charge Ceremony at the beginning of the semester. Honors students have the option to live in an academic cluster. They are expected to complete 20 hours of community service and one leadership experience each semester, participate in Reading Circles, and have opportunities to study abroad.
Graduate students have the option to pursue the Full-Time or Working Professional Master of Business Administration route. Other master's degrees include Accounting and Economics. The FT MBA is a two-year program, featuring an 11:1 student-to-faculty ratio. Students can select a concentration that aligns with their career goals in Entrepreneurship Management, Finance, Marketing, Sports and Entertainment Management, or Supply Chain Management. The Working Professional MBA addresses business courses from a global perspective and helps mid-level management professionals advance their careers or gain new knowledge. Students are able to earn their degree while continuing to work, with classes held on Friday evenings from 6-10 PM and Saturday from 8 AM-5 PM. The WP MBA can be completed in 18 months.
Student Life
The SBA is a proud participant of the prestigious Mandela Washington Fellowship, created by President Obama's Young African Leaders Initiative. This program opens up a door of opportunities for students from Africa to receive leadership training, mentoring, networking. Fellows will visit CAU for six-weeks to learn about Business and Entrepreneurship. This program is beneficial to SBA business students because they are able to study alongside fellows and diversify their business perspective.
The Center for Innovation and Entrepreneurial Development provides students with hands-on experience in starting a business. Market Thursdays are a unique opportunity for start-up students to sell their non-food products on campus. Undergraduate students have the opportunity to showcase their research at the Annual Research Symposium. Students can attend research workshops at the Center for Undergraduate Research and Creativity in preparation for the symposium. The Career and Professional Development Office hosts annual career fairs, where many regional and national Fortune 500 companies recruit students.