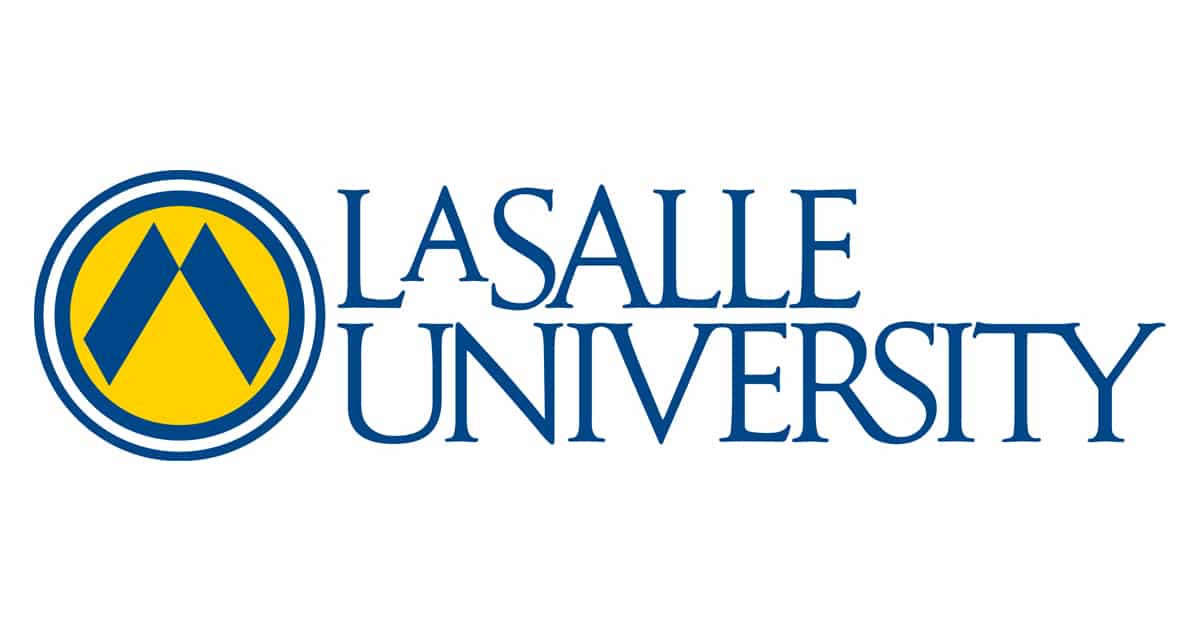 Accreditation
AACSB, Middle States Commission on Higher Education
Within the School of Business at La Salle University, Catholic traditions permeate every degree program. The expert faculty not only teach, but mentor students with passion, commitment, and excellence. The school offers a rigorous curriculum, ethical and inclusive teaching, and highly valued experiential learning. All of the business programs carry the AACSB accreditation.
La Salle University traces its roots back to 1863. At some point along the way, they began offering business courses and have acquired a rich history of experience and quality education. The School of Business is now housed in the new, state-of-the-art, technologically sound, $35 million Founders' Hall that opened in 2016. This facility has provided a fantastic learning environment for business students, which includes six stories, 87,000 square feet, a large atrium, real-time wireless global interaction, an auditorium with 400 seats, video conferencing, computer rooms, simulations, a sales training lab, and much more.
Education
Undergraduate students can major in Accounting, Business Administration, Business Systems & Analytics, Finance, International Business, Management & Leadership, Marketing, and Organizational Leadership. Graduate students can obtain a Master in Business Administration, Human Capital Development, and Nonprofit Leadership. There is also the accelerated dual Bachelor of Science and Master of Business Administration program that can be completed in just four years. La Salle also offers a renowned and respected Honors program for qualifying students. Being located in the large metropolitan of Philadelphia, business students have a significant advantage of utilizing the numerous corporate connections that La Salle has to offer. Students can gain substantial hands-on experience and be paid through co-ops and internships with companies like ACE Group, Aramark, Burlington, City of Philadelphia – Department of Revenue, Ernst & Young, LLP, Philadelphia Eagles, and the Federal Reserve Bank of Philadelphia. Study abroad opportunities exist at partner institutions in Rome, Switzerland, Ireland, Mexico City, Brazil, China, South Africa, and more.
Student Life
The university believes that "learning is best achieved by doing," so there are a variety of clubs and organizations that business students can get involved, in such as the American Marketing Association, Beta Gamma Sigma, Accounting Association, Gamma Iota Sigma, Investment Club, Business Systems & Analytics, and the La Salle Women's MBA Association. The Academic Support Programs and Services exist to help students succeed in every area of their education, including tutoring, writing assistance, advising, developmental classes, and workshops. Entrepreneurial aid for both students and surrounding entrepreneurs in the community comes from the Center for Entrepreneurship.
Online Programs
For this critical education to be accessible to people who work full time or have important life commitments that keep them from attending classes in person, the School of Business has provided several 100% online degree programs. For undergraduates, there is the Bachelor in Organizational Leadership. For graduate students, there is a Master in Human Capital Development, Nonprofit Leadership, and Business Administration. The MBA is also offered in a part-time, hybrid format where time is shared between online and in-person classes.