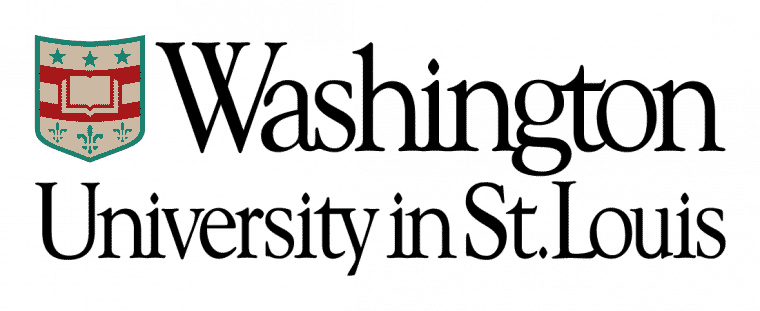 Accreditation
AACSB, Higher Learning Commission
Washington University in St. Louis offers an extraordinary private school business education to students through the Olin Business School. WU was founded in 1853 and has grown into one of the world's leading research institutions. With a 7:1 student-to-faculty ratio, professors individualized coursework based on their students' career aspirations. Professors use their professional connections to the St. Lois area to link students to hands-on learning through more than 600 partnerships. Annually, students volunteer more than seven million hours, according to the Gephardt Institute. Olin students are changing the world as they become thought-leaders, driven by data and ethical decisions.
Education
Eager undergraduate students are immersed in business courses starting their first year with the Bachelor of Science in Business Administration. During sophomore year, BSBA students will declare a major in Accounting, Economics and Strategy, Entrepreneurship, Finance, Healthcare Management, Organization and Strategic Management, Marketing, or Operations and Supply Chain Management. Many short-term immersion experiences are offered for credit. Students can apply the knowledge they've gained in the classroom to real businesses through the Luxury Goods program in New York, Venture Advising in Israel, and Business and Government in Washington, D.C. These phenomenal experiences translate into well-built resumes and set students apart from their competition. Another component to ensure students are successful is the career preparation course taught by the associate dean. The undergraduate curriculum also consists of three experiential learning courses based on real-world consulting projects.
Graduate students have access to an exciting curriculum filled with hands-on experiences as well. As early as junior year, students can be admitted into the MBA 3+2 program. Specialty master's degrees are offered in Accounting, Customer Analytics, Finance, and Supply Chain Management. International business is not just discussed in the MBA program. It is experienced. The MBA program kicks off with a six-week trip venturing around the world to Washington, D.C., Barcelona, Spain, and Shanghai, China. The summer following the first year of the program is dedicated to a summer internship, where students will gain real-world applications. Students return for their second year invigorated and ready to dive into electives such as Defining Moments: Lessons in Leadership and Character from the Top and Women in Leadership taught by the founder of Build-a-Bear. This transformative MBA degree can be completed at an accelerated pace in 14 or 18 months, or at a traditional pace in two years. A career platform can be selected in Consulting, Corporate Finance and Investments, Entrepreneurship, Marketing, or Operations and Supply Chain Management.
Student Life
Olin students never have a shortage of activities to share with their recruiters! Students can hear a lecture from some of the greatest leaders in business today through the Olin's Century Club. There are also more than 30 student organizations specifically for Olin students, so regardless of your interests, you can find at least a few that are the perfect fit. A few of your options include Olin Cares, Entertainment and Media Association, Real Estate Club, Strategy and Consulting Association, Wine Club, and Women in Business.
SEE ALSO