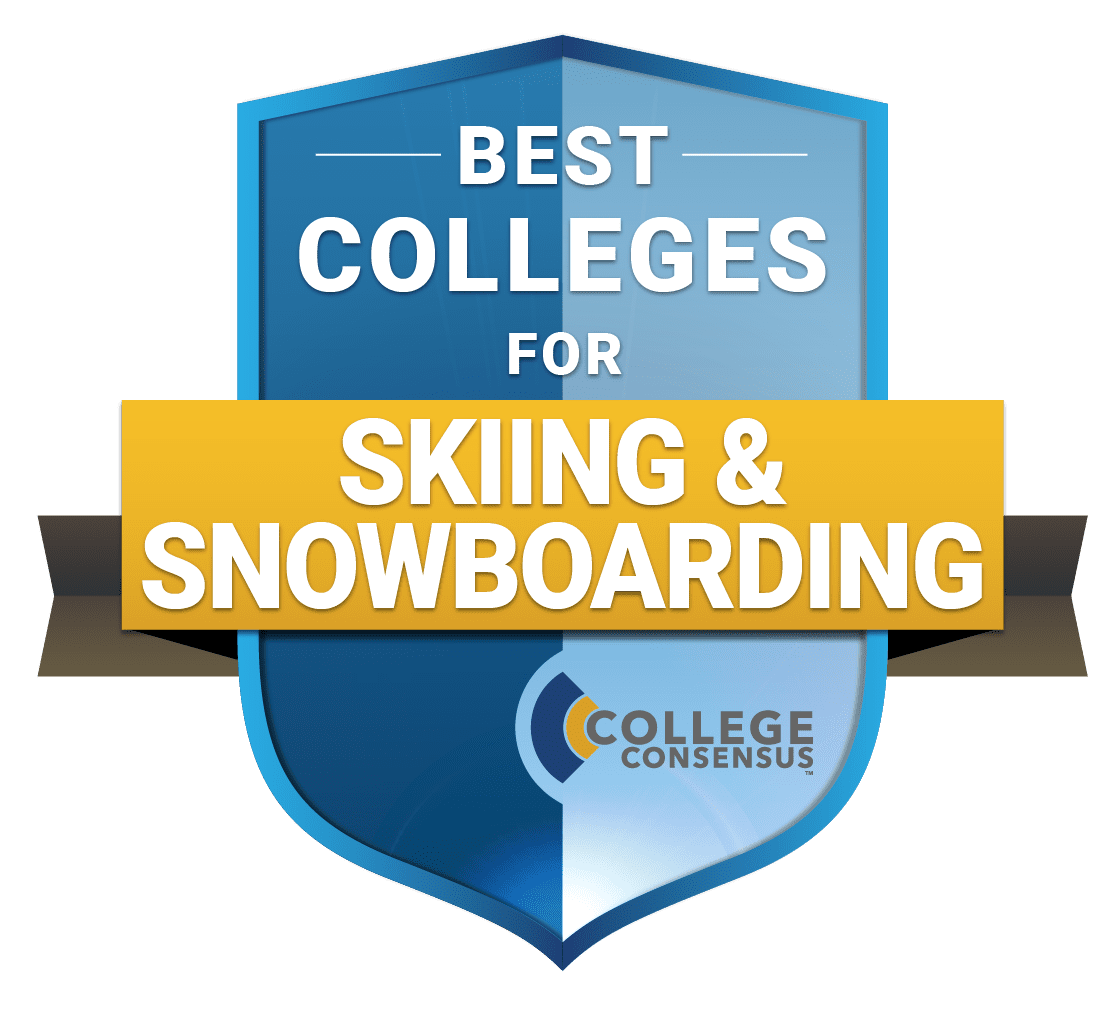 Spring break gets all the glory, but what about winter break? There's no love there, but why not? In our ranking of the Most Beautiful College Campuses in the Fall, we said that college never looks more like college than in the fall. And most people would say that a college is never less college than in the winter, when students go home for the winter break, campus is snowy and cold, and everything grinds down to a quiet halt. When they're wondering what to do over winter break, college students don't usually think "stay on campus and play in the snow."
Well, not at these colleges and universities – not at the best colleges for skiing, the snowiest colleges, and the best colleges with cold weather! How long is college winter break? At the best colleges for winter life, it's never long enough, because there are more activities, events, and parties than anyone can possibly take in during a few weeks of winter break. If you want to know what to do over winter break, college winter break trips and events, snowboarding and skiing teams, and all sorts of snowy events are the answer. (Some of the most innovative colleges also have special winter break terms, but we're talking fun here.)
Ranking the Best Colleges for Winter Life
To find the best colleges for ski bums and dogsledders (yes, some colleges have dogsledding teams), College Consensus editors researched the colleges and universities in the snowiest areas of the US – New England, the upper Midwest, the Pacific Northwest, and Alaska, of course – to find colleges that embrace the cold. They don't just embrace it; the best colleges for winter life are one with the snow and ice, finding joy and community in the coldest of climates.
Since a ranking like this one is unavoidably subjective, institutions are ranked according to their College Consensus score, not any winter-related order (though annual inches of snowfall might open some eyes).
Are Snowboarding and Skiing Official College Sports?
Snowboarding and skiing are definitely official college sports of some universities. For people looking for the best ski colleges or snowboard colleges, it's important to investigate the extent of the school's skiing or snowboarding offerings. While some colleges with skiing or colleges with snowboarding teams, not all colleges have these activities as collegiate sports.
Some universities offer these activities as purely recreational. This means that prospective students need to ask themselves if they want the best colleges for skiing competitively or are they simply looking for colleges near ski resorts.
The same questions apply to those looking for the best colleges for snowboarding. Both types exist, so there are a lot of options to choose from as long as college seekers show care when they're doing the choosing.
For those looking for the best ski colleges that have an official ski team, there's a full list to consider on the NCAA official skiing programs list. The NCAA has one championship for men and another for women.
There are three conferences based on region. To easily find the ski colleges that have a place in the NCAA programs, prospective students need only look at the NCAA's official directory for men's skiing institutions or women's institutions.
Similarly, the United States Collegiate Ski & Snowboard Association (USCSA) comprises 175 member colleges. The USCSA maintains a real-time list of skiing colleges and snowboarding colleges with active teams.
Many of the best colleges for skiing may have teams and more local competitions. So, even if someone wants to compete but not compete in the larger venues offered by the NCAA or USCSA, there's still the possibility of participating in team skiing or snowboarding competitions at some universities.
While snowboarding doesn't hold the widespread popularity that skiing does, many colleges with snowboarding teams exist. So, for those looking for the best snowboarding colleges specifically, rather than for skiing colleges, they're certainly possible to find.
One more thing to look for, especially when seeking the best skiing colleges, is to check if the skiing programs offered are Nordic or Alpine ski team, or both. Some colleges only have one or the other, so ski buffs would do well to check first.
Some great ski schools that didn't make our ranking include:
Montana State University
Colorado Mountain College
Western State Colorado University
Sierra Nevada College
Can I Get a Scholarship for Skiing or Snowboarding?
As many ski colleges have skiing as an official college sport, it's possible to earn a scholarship for colleges with skiing. If there's a ski team, there's likely a ski scholarship. In addition, general sports scholarships can also apply to skiing and snowboarding as well.
So, applicants seeking a skiing or snowboarding scholarship should also take some time to see what other scholarships can help them get into the best skiing colleges or the best snowboarding colleges in the country. As these sports have a high level of competitiveness, some of the larger universities may even have recruiters actively looking for skiing and snowboarding athletes.
Applicants should also look through the websites of the top skiing colleges or the best snowboarding colleges to see if the universities themselves offer scholarships or information about scholarships that can help someone enroll. The NCAA itself offers scholarships to student athletes, which makes it a good place to start looking.
When seeking colleges with snowboard teams, applicants may have a harder time trying to find scholarships specifically for the sport. Once again, a general sports or student-athlete scholarship may work. Not all colleges with snowboard teams take part in college snowboarding at a national level. Scholarships for college snowboarding do exist. The best colleges for snowboarding may also list scholarship opportunities on their websites or by contacting their recruiters.
Are There Any Colleges with their Own Ski Resorts?
Many colleges near ski resorts are out there, but are there any colleges with their own ski resorts? Yes. Some colleges own a ski resort, or are located in a ski town where they have their own ski area. Michigan Technological University is one such school, and so is Dartmouth. However, colleges near ski resorts and ski towns tend to have discounts and deals specifically for students, as well as frequent and easily accessible transportation to local ski resorts.
For example, Brigham Young University has around 15 nearby ski resorts resorts within a two-hour drive or less surrounding it and the University of Utah has seven or eight ski resorts within 40 minutes in any direction. Applicants can seek these schools based on which resorts sit closest to them, if they have a resort preference. Some of the most popular ski resorts are only a short distance away from many of these colleges.
The top skiing colleges and snowboard colleges have multiple ski resorts surrounding them. By necessity, these schools, especially the ones that compete nationally, would need these resorts for training, practicing, and competing.
Related:
Best Colleges & Universities in the West