Duke University90, Harvard University91 and Vanderbilt University91 are considered to be top schools for academic rigor. However, these are also schools represented in the National Basketball Association by some of today's top players. Schools with strong academic reputations typically do not coddle their athletes; degrees earned from prestigious colleges and universities take effort, intelligence and passion – especially when the demands of the school basketball season (with all of its distractions) are taken into consideration.
Recommended Online Degree Programs
Contact schools for more information on enrollment, tuition, and aid
Academic Rigor and Athletic Ability – Together!
NBA players suffer the same perspective as many athletes – the image of the "dumb jock" who only knows how to throw a ball into a net. "Jock courses" allow the student athlete to maintain grades in order to be eligible to compete in the game. In a recent NCAA scandal, a major university was found to offer a course with no attendance or academic requirement for passing. There are exceptions that contradict this stereotype, however. As with any sport played at the highest level, there is a lot more going on during the course of a game than a casual fan can grasp. For example, players who are observant and quick-minded will do well in the transition game; athletes who understand the overall game plan and intricate strategies will contribute to their team's wins and develop into impact players.
Many top academic schools are represented in the NBA; here is a sampling of the top ten current NBA players who met both academic requirements and athletic demands.
1. Jeremy Lin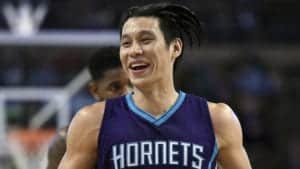 Jeremy Lin, American pro basketball player, is probably best known for setting off "Linsanity". A global craze generated by Lin's unexpected winning turn around with the New York Knicks in 2012, Lin's spontaneous rise to fame created a rollercoaster of a journey for the player – a journey that included a 2013 film titled "Linsanity" which chronicled the rise and victories of the basketball star. The first man of Chinese/Taiwanese descent to ever play in the NBA, Jeremy Shu-How Lin was born on August 23, 1988 and grew up in the San Francisco Bay area. During high school, Lin maintained a grade point average of 4.2, which was high enough to meet Harvard University's91 rigorous academic standards. Despite his impressive high school basketball career (which included being captain of the Palo Alto High School basketball team during a 32-1 record which upset the nationally ranked Mater Dei, 51-47, for the California Interscholastic Federation Division II state title), Lin did not receive any athletic scholarship offers. There was a concern among Harvard coaches that Stanford93 would offer him a scholarship, but this never came, resulting in Lin needing to "settle" for a roster spot at Harvard. Lin attended Harvard University91 from 2006 through 2010, maintaining a 3.1 GPA and earning a Bachelor of Arts in Economics. This degree choice was a smart move for Lin, as it must certainly have come in handy seeing that the player earned a reported $11.48 million in salary (2016).
School: Harvard University91
Image Source: CBS Sports
2. Mason Plumlee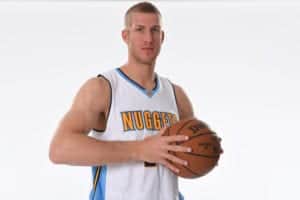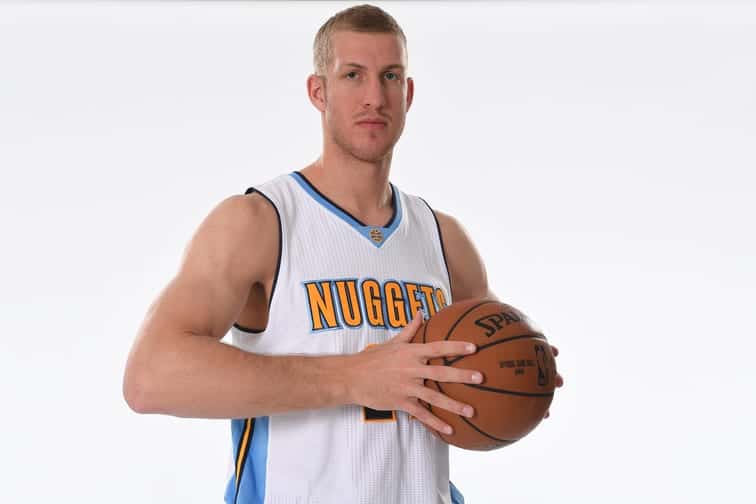 Power forward and center for the NBA's Denver Nuggets, Mason Plumlee is an excellent example of both athleticism and academic commitment. Born on March 5, 1990, the 28-year-old player attended Christ School in Arden, North Carolina – a boarding school – along with his older brother Miles, also a professional basketball player for the Atlanta Hawks. During his teen years, Plumlee helped lead his high school team to three North Carolina High School Athletic Association state championships and a record of 99-8; he was named a McDonald's All-American in 2009 after averaging 15.3 points, 10.1 rebounds, 3.3 assists, and 2.5 blocks per game. Plumlee also earned a silver medal with the 2008 USA U18 National Team at the FIBA Americas Under-18 championship. After high school, Plumlee went on to attend Duke University90, an institution well known for both its rigorous academic standards and its successful basketball program. As The Sportster commented in its list of the Top 20 Smartest NBA players, "Plumlee is a perfect representative of the school's reputation in both regards." During his time at Duke, Plumlee dual-majored in psychology and cultural anthropology; was a part of the national championship-winning team in 2010; and was twice named an Academic All-American.
School: Duke University90
Image Source: NBA.com
3. Festus Ezili
Nigerian pro basketball Festus Ezeli, former player for the NBA's Golden State Warriors (2012-2016), is currently a free agent. Born in Nigeria to academically-minded parents, Ezeli concentrated hard on his studies, graduating high school at the tender age of 14 years. He aspired to be a physician and in 2004 was sent to live in Yuba City California with his pediatrician-uncle. It was his uncle who encouraged Ezeli to take up basketball, mainly because of the youth's height (6' 8" at age 14 – Ezeli would grow up to reach 6' 11"). Initially, Ezeli struggled with learning basketball due to his lack of experience in organized sports. He persevered, however, beginning with a low-level AAU (Amateur Athletic Union) team and working his way up to a high-level competition on the AAU circuit in 2007 where he averaged 10 points, 11 rebounds and 3 blocks per game. It was after this, in July 2007, that Ezeli was invited to the Reebok All-American Camp.
During his early years in America, Ezeli enrolled at Yuba Community College part-time at the age of 16. By studying only part-time he was able to make time to practice and play on the AAU team. After his debut on the AAU circuit's high-level competition, Ezeli was sought after by many schools for recruitment. He narrowed his list down to University of Connecticut76, Boston College83, Harvard91, and Vanderbilt91. Though his parents strongly preferred Harvard, Ezeli was convinced that Vanderbilt University91 was his best option based on its solid academic reputation and the basketball program's recent experience with international players. Though he began pursuing a degree in biology, he eventually changed his major to economics to stay focused on his basketball career.
School: Vanderbilt University91
Image Source: The Undefeated
4. Jaylen Brown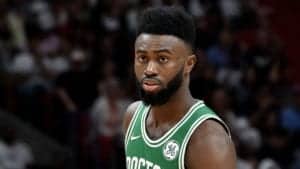 As ridiculous as it sounds, professional basketball player for the Boston Celtics, Jaylen Brown was once at risk of not making the NBA draft because he was considered "too smart." Born on October 24, 1996, the 21-year old athlete attended Joseph Wheeler High School, located in Marietta, Georgia. During his high school career, Brown helped to lead his team to victory in the Georgia High School Association (GHSA) AAAAAA State championship; was rated as a five-star recruit; and was ranked as the fourth-best recruit in his class by ESPN. In 2014, as a member of the USA Basketball Men's U18 National Team, Brown won gold in the FIBA America's Championship and in 2015 was selected to play in the McDonald's All-American Boys Game. Brown committed to play for the University of California, Berkeley88's Golden Bears under the leadership of Coach Cuonzo Martin. While attending UC Berkeley, Brown studied magnet chemistry taking a master-level class during his first semester at Berkeley's Cultural Studies of Sport in Education. One of the best members of the Berkeley Chess team, he also achieved a level of fluency in Spanish, declaring that it was his intention to learn three more languages before turning 25 years old. Brown has made it evident that basketball is merely one of his many interests; he has also focused on studying history, meditation, and philosophy. His ambitions go beyond basketball and he has been criticized as being "too smart" to play in the NBA. In 2016, CBA ran an article urging the NBA not to overlook Brown "simply because he was intelligent." This concern turned out to be unwarranted as Brown was chosen during the first round of the NBA draft as pick #3.
School: University of California, Berkeley88
Image Source: NESN.com
5. Russell Westbrook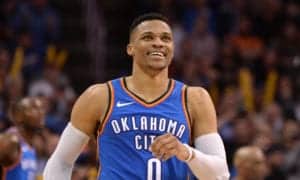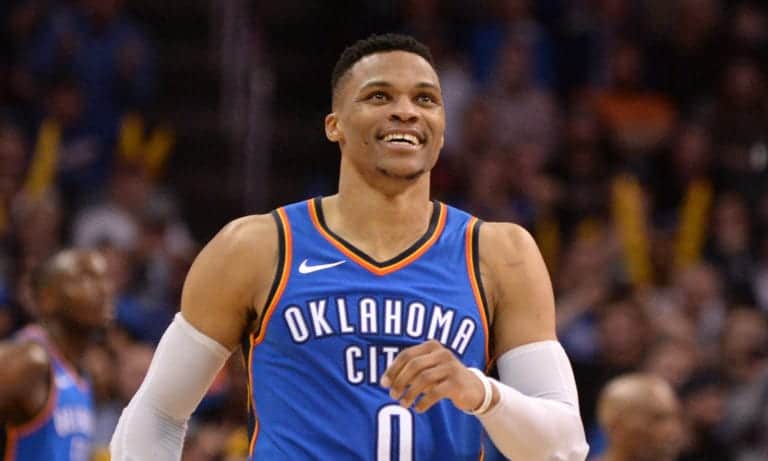 Russell Westbrook is a pro basketball player for the NBA's Oklahoma City Thunder. A seven-time NBA All-Star and two-time NBA All-Star Game Most Valuable Player, Westbrook has represented the United States national team twice, winning gold in the 2010 FIBA World Championship and in the 2012 Olympics. He was selected for the NBA 2008 Draft as the fourth overall pick by the Seattle Supersonics. However, just six days later, he was relocated to Oklahoma City where he currently plays point guard for the team. The 29-year-old athlete (born November 12, 1988) attended Luezinger High School, playing the point guard position despite his height of just 5' 8". Westbrook eventually grew to be 6' 3" and started playing on the school's varsity team during his junior year. He received little attention from the top basketball programs until head coach Ben Howland of the UCLA Bruins offered Westbrook a scholarship to play for the team. Westbrook, whose favorite subject is reportedly math, was originally inclined towards Stanford93 and his academic record of a 3.9 GPA was strong enough to be accepted by the University. However, Stanford93 never recruited him for basketball and Westbrook decided to accept Coach Howland's offer and attend the University of California, Los Angeles89.
School: University of California, Los Angeles89
Image Source: USA Today
6. Tyler Zeller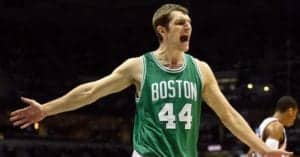 Tyler Zeller is an American professional basketball player for the Milwaukee Bucks of the NBA. Born on January 17, 1990, the 28-year-old, 7'-tall athlete was born in Visalia, California but grew up in Washington, Indiana. Zeller attended Washington High School where, during his freshman and senior years (2005 and 2008), his basketball team won state Class 3A championships and four sectional titles. Zeller averaged 33.1 points and 11.0 rebounds per game during his senior year. Athleticism runs in the family, as Zeller's uncle was former NBA player Al Eberhard and two of his brothers, Cody Zeller and Luke Zeller, are fellow NBA players. He was named "Mr. Basketball" of Indiana following the 2008 season, which is the state's highest honor for high school players. Zeller received this award three years after his brother Luke honored by the title, and three years before his brother Cody was earned it as well. In addition to demonstrating his skills on the court, Zeller has also proven his intelligence and commitment to academics. While attending The University of North Carolina, Chapel Hill88, he majored in business administration, posting a 3.62 GPA in 2012. This score earned him the Academic All-American honors for the second consecutive year.
School: The University of North Carolina, Chapel Hill88
Image Source: celticslife.com
7. Kelly Olynyk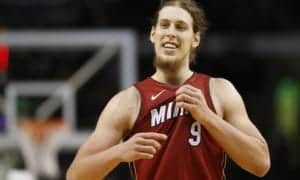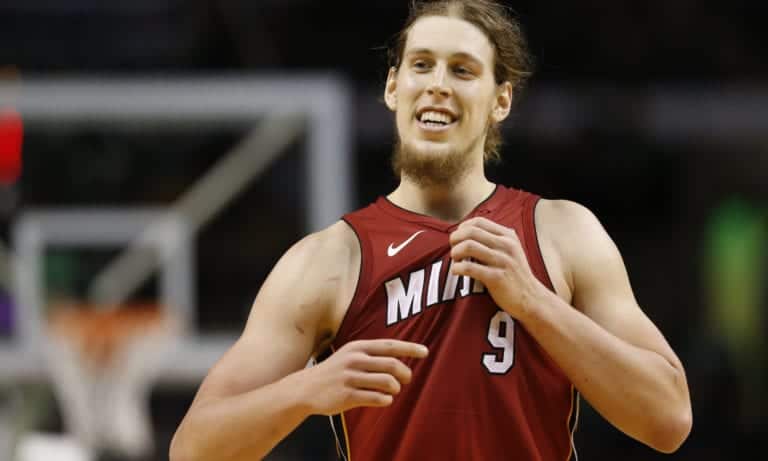 Kelly Olynyk is a Canadian professional basketball player, wearing jersey #9 for the NBA's Miami Heat and playing power forward and center position. Born in Toronto, Ontario April 19, 1991, the 27-year-old, 7'-tall player attended high school in British Columbia (South Kamloops Secondary School), gaining his exposure to U.S. competition and coaches through playing on provincial teams. During his high school years, Olynyk competed at AAU (Amateur Athletic Union) and non-AAU tournaments in the United States and played on the Canadian junior national team. He was heavily recruited coming out of high school and offered scholarships by schools such as Syracuse University75, Providence College66, and North Carolina State University. In the end, Olynyk chose to attend and play for Gonzaga University65, in part to be closer to home. Redshirted during his sophomore season (meaning he would practice with the team, but not play), Olynyk demonstrated a strong commitment to academics. He worked hard to complete his bachelor degree in accounting and was just two semesters short of earning a Master of Business Administration (MBA) before opting to go for the NBA draft in 2013. His efforts earned him the Academic All-American honors. After going for the 2013 NBA draft, Olynyk was selected during the first round as pick #13 by the Dallas Mavericks. However, he was immediately transferred to the Boston Celtics, for whom the athlete still plays.
School: Gonzaga University65
Image Source: Hoops Hype
8. Gordon Hayward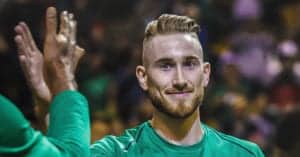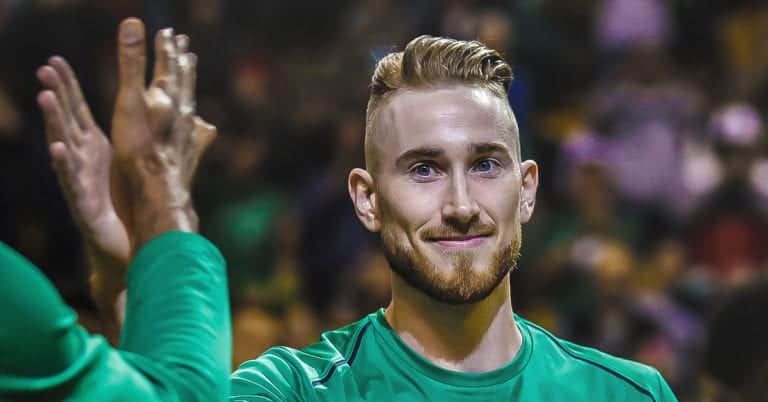 Gordon Hayward is an American professional basketball player for the NBA's Boston Celtics. An Indiana-native, Hayward attended Brownsburg High School in Brownsburg, Indiana where he was an active participant in athletics. Though basketball was his first love, he also competed in tennis with his twin sister, Heather, and once considered leaving basketball to focus exclusively on tennis. The son of very average-height parents (both 5' 10"), Hayward was never expected to grow beyond 6' and as a result, his father, in particular, pushed him to develop a strong guard's skill set. Remarking on Hayward's unique skills, sports commentator, Pat Forde, referred to Hayward as, "The guy who learned to play like a guard but now has the size of a power forward." Before reaching his growth spurt which resulted in him reaching 6' 8", Hayward didn't believe he had any real chance with basketball, saying, "I looked at the future and figured playing basketball in college wasn't realistic." It was his mother who persuaded him to stick with his favorite sport. In high school, Hayward was named first team All-State and led his school to the Indiana Class 4A state championship. He was offered three scholarships from Purdue, IUPUI, and Butler62. He ultimately chose to attend Butler62 and play for the Butler Bulldogs largely in part because the 6:30 am basketball practices would not interfere with his studies. Hayward's commitment to his studies and academic smarts are evidenced in his chosen major of computer engineering as well as the priority he placed on learning. Since joining the NBA in 2010, Hayward has been named an NBA All-Star (2017) and has gained a league-wide reputation for being a smart and savvy player.
School: Butler University62
Image Source: clutchpoints.com
9. Rajon Rondo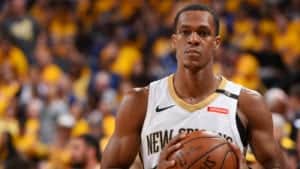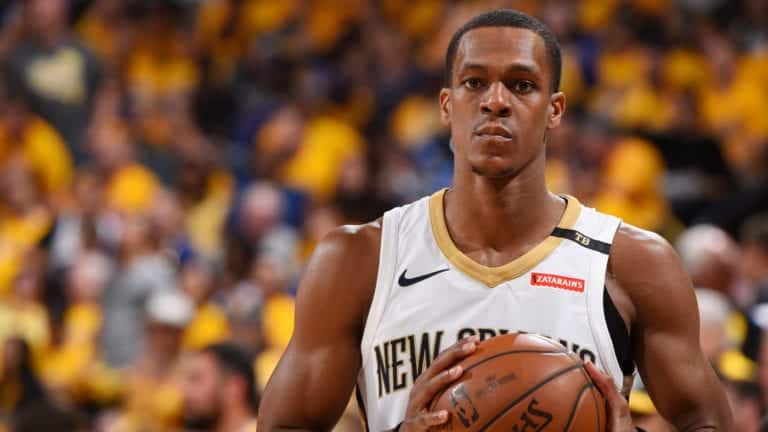 One thing that has never been questioned about Rajon Rondo is his intelligence. American professional basketball player for the NBA's Los Angeles Lakers, Rondo has been butting heads with coaches ever since his early years, largely in part because he may just be "too smart for his own good". Born February 22, 1986, the Kentucky-native attended Eastern High School where he averaged 7 assists per game and over 27 points as a junior. In the Louisville Invitational Tournament, Rondo led his high school basketball team to the championship. In 2004 Rondo was named a McDonald's All-American before enrolling at the University of Kentucky59 where he led the team to multiple wins with victories over Louisville47, South Carolina, and Central Florida66. Rondo left school in 2006 for the NBA draft where he was selected as 21st overall by the Phoenix Suns. One reason which led to his somewhat early departure for the NBA was the fact that he frustrated coaches at every level. Kentucky head coach Tubby Smith compared working with Rondo as teaching a class of thirty children. He remarked, "They don't all learn at the same level. And when you have one that's just so superior – 'Hey we've got to find other work for him to do.' Really, that's the way Rajon was. That is a challenge for coaches to be creative, just like it would be for a teacher in a classroom." It wasn't just in basketball that Rondo displayed his smarts. Former teachers have referred to him as "a horrible student" yet one of the smartest they'd ever taught; his former math teacher was said to have designed special tests for Rondo to take just to keep his active mind engaged. Math is still a favorite subject for the athlete and he's been known to teach algebra classes while touring schools, "just for fun."
School: University of Kentucky59
Image Source: The Undefeated
10. Victor Oladipo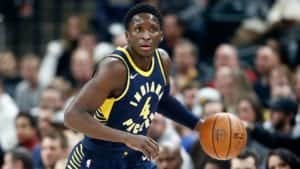 Victor Oladipo, wearing jersey #4, is a Nigerian-American professional basketball player who currently plays for the NBA's Indiana Pacers in the point guard and shooting guard positions. Born on May 4, 1992, to a father who worked as a public health executive and was a native of Blama, Sierra Leon and a Nigerian mother who worked as a nurse, Oladipo was raised in Upper Marlboro, Maryland. He attended DeMatha Catholic High School in Hyattsville, Maryland before attending Indiana University. Oladipo turned down offers from Notre Dame90, Maryland, Xavier and others before signing on with Indiana University. Speaking of the environment at the University, he said, "It's like a basketball atmosphere everywhere you go… That's perfect." While clearly committed to the sport, Oladipo also placed a high priority on his studies. He graduated with a degree in sports communication before signing on with the NBA. During his final semester, he took on a whopping 19 credits in order to finish the degree, all while playing for the Indiana Hoosiers and leading the team to a conference championship. Oladipo the named the the Co-NABC Defensive Player of the Year, the first-team All-American by the USBWA and 'Sporting News', and the 'Sporting News' Men's College Basketball Player of the Year. In addition to these honors, the athlete was also awarded as the winner of the annual Adolph Rupp Trophy, which is granted to the NCAA Division I's top player in men's basketball. In 2013 he was drafted as the second overall pick by the Orland Magic and went on to play for both the Oklahoma City Thunder (2016) and the Indiana Pacers (2017-current).
School: Indiana University
Image Source: Sporting News