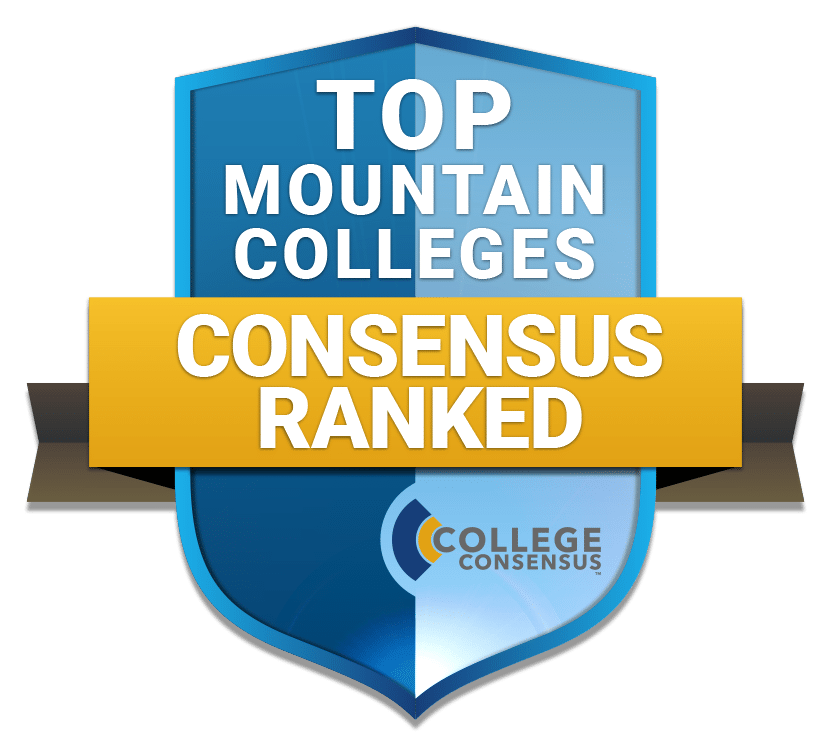 There's something about the mountains that have always drawn a certain kind of people: the fearless, the hardy, the intrepid – even the hardheaded and eccentric. Where are the colleges for those people, the ones who want to blaze their own trail, find their own way, or just study where they're surrounded by the majestic and untamed? From the lush Appalachians in the East, to the rugged Rockies in the West, innovators and iconoclasts are drawn to the mountains, and there are mountain colleges all across the Union that are making a place for them. For the outdoor enthusiasts, hikers and bikers, climbers and skiers, College Consensus has ranked the 25 Best Mountain Colleges.
What Makes the Best Mountain Colleges?
Historically, mountain regions have been remote and rural, and colleges have had to work extra hard to bring mountain residents the knowledge and skills they need. But that has its positives, and one of the best aspects of the best mountain colleges is community engagement; because they've had to work harder to bring education to the people, mountain colleges tend to have a strong sense of place and community, whether in the form of service, partnerships, or outreach. Many of the schools featured in the Best Mountain Colleges ranking are known for the culture and opportunity they bring to their regions, from preserving local folk culture to impacting social mobility and employment (even helping students pay for their education).
Of course, one of the main features that draw students to the best mountain colleges is the potential for outdoor adventure recreation. If there's one thing that the distinct and unique colleges in the mountains have in common, it's that almost all of them have well-developed outdoor programs. Some are student led, some are officially sanctioned, and some have incorporated outdoor recreation and activities directly into their curriculum with majors and degrees in areas like Outdoor Recreation and Adventure Leadership (things you can't do with an online degree). Whether students want to spend their weekends blowing off steam hiking and kayaking, or to see snow-capped mountain peaks from their dorm room windows, the best mountain colleges are very much situated in place. They're not just colleges in the mountains – they're mountain colleges.
Ranking the Best Mountain Colleges
The 25 Best Mountain Colleges span the continental United States (sorry, Hawaii and Alaska, but it's a numbers game), because mountains span the US as well. East and West, South and North, there are mountains, mountain communities, and mountain colleges, and the College Consensus method is all about finding the best-ranked and best-reviewed. There are certainly patterns to be seen; colleges in the mountains of NC, and mountain colleges in Colorado, keep cropping up as standing tall among the very best mountain colleges, for good reason: those are both states that have developed exceptional public university systems, and have a lot of mountains. For example, the University of Colorado and Colorado State University systems are world-renowned.
The editors would note that this ranking cannot be considered entirely objective; no such ranking can be. The first step in making the Consensus ranking is to have a Consensus rating. To be considered, colleges and universities must have enough reputable publisher rankings and verified student reviews to generate a Consensus score. Schools that do not have a Consensus score were not considered, which left out some fine mountain colleges. From there, our editors selected colleges and universities that are not only near or in the mountains, but that have incorporated outdoor recreation, mountain culture, and ecological preservation directly into their student life and curriculum. Schools are ranked according to their Consensus score, generating a ranking that balances the educational reputation with a strong dedication to the mountains.
Why Should I Go to College in the Mountains?
If you are wondering about the benefits of attending colleges in the mountains, some of them are as follows:
Smaller Class Sizes: One of the top benefits of attending universities in the mountains is that they are known for smaller class sizes. Since the best mountain colleges are often smaller universities, this means you will automatically have smaller classes than those at traditional colleges. In addition, smaller classes allow students to have more meaningful interactions with both professors and their peers.
Scenic Views: Another significant benefit of attending colleges near mountains is that they come with highly picturesque views. This is because being surrounded by mountains automatically provides you with an almost infinite number of angles and views to take in daily. These views are great for everything from inspiration for drawings and paintings to taking pictures for social media and professional profiles.
Lower Tuition and Cost of Living: Attending NC mountain colleges can allow you to pay lower tuition and living expenses. This is because smaller colleges are known for smaller classes and lower costs. Additionally, living in a smaller city means you will not have to pay the increased costs associated with living in high-traffic locations.
Activities: Attending colleges in the mountains of NC makes it possible to enjoy a wide array of outdoor trips and activities all year round. For instance, you can enjoy activities such as biking, hiking, snowboarding, skiing, and more. In addition, unlike colleges in traditional settings, colleges in the mountains of North Carolina have outdoor activity options the entire year over.
Stronger Sense of Community: Moreover, attending a college in the mountains can give you a stronger sense of community. Living in the mountains allows you access to various organizations, clubs, and philanthropic opportunities. Therefore, you will have many opportunities to commune with those around you.
Specialized Majors and Curriculums: Although schools in the mountains have many of the same classes and programs as traditional colleges, they also have specialized college courses that can be exclusive to those who live in mountainous locations, such as environmental sciences. For instance, Outdoor Industry MBAs are often obtained at such colleges.
Why is Hiking a Great Activity for College?
Attending colleges in the Appalachian Mountains can be great for outdoor activities. For instance, hiking is enjoyable and refreshing when living in the mountains. Moreover, hiking can also provide you with the following benefits:
Learning to be More Mindful: Hiking can help you become more mindful and able to be present at the moment. Since hiking can allow you to observe nature while limiting your ability to interact with your smartphones and other devices, this can make you more present. Again, this applies to hiking and can change how you view and interact with the world.
Appreciate the Outdoors: Hiking can also give you a greater appreciation for the outdoors. Being outdoors is great for mental health as it can help relieve issues such as stress and anxiety. By taking the time to hike regularly, you can reduce your stress and anxiety levels, giving you a natural way to manage negative emotions.
Boosting Well-Being: Lastly, attending colleges in NC mountains can promote your well-being overall. This is because hiking gives you a fun way to stay active and in shape. Over time, it can become one of the best workouts within your workout regimen.
Many mountain colleges offer hiking as one of their athletic programs.
Are the Appalachian Mountains or Rocky Mountains Better for College?
If you are wondering whether the Appalachian or Rocky Mountains are better for college, it depends on various factors. However, prospective students will find the advantages of attending schools in the Appalachian Mountains are:
It's a Quiet, Secluded Place: Attending college in the mountains is excellent because it can provide great peace and quiet. When living in mountain ranges, you can enjoy living in an area that is more excluded, which, in turn, allows you to enjoy lots of peace and quiet. This can be great for your studies.
Focus on Studies: Since you will not be in close proximity to most of the city's attractions, you will be better able to focus on your studies rather than constantly venturing into the city.
Living in Paradise: Lastly, there are plenty of benefits to living in a location where many people vacation. Namely, you get to enjoy the fresh air and scenic views on a daily basis.
Related:
Best Colleges & Universities in the South
Best Colleges & Universities in the West
10 Best Degrees for Nature Lovers
25 Best River and Lake Colleges