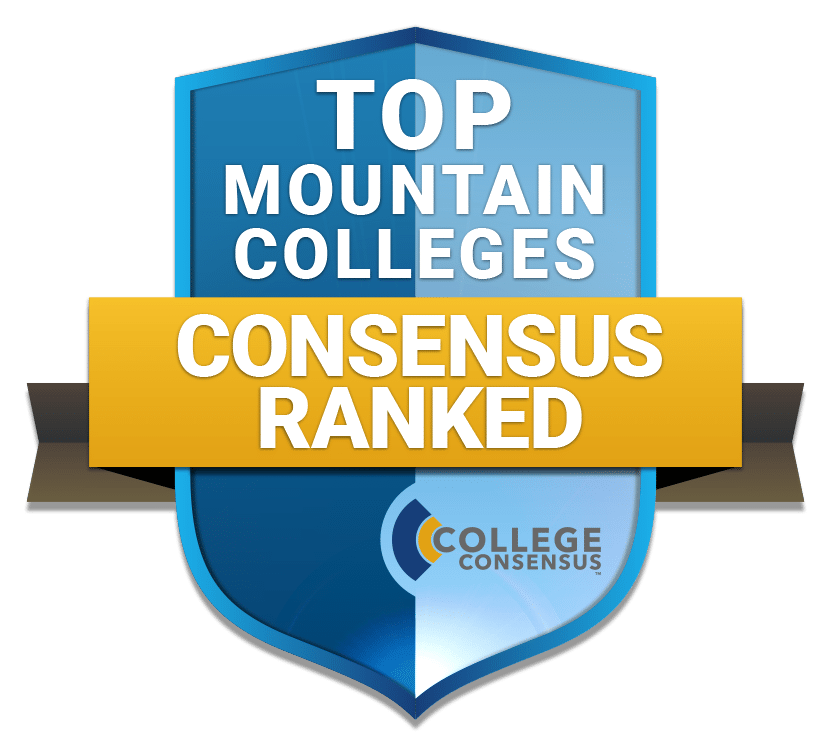 There's something about the mountains that have always drawn a certain kind of people: the fearless, the hardy, the intrepid – even the hardheaded and eccentric. Where are the colleges for those people, the ones who want to blaze their own trail, find their own way, or just study where they're surrounded by the majestic and untamed? From the lush Appalachians in the East, to the rugged Rockies in the West, innovators and iconoclasts are drawn to the mountains, and there are mountain colleges all across the Union that are making a place for them. For the outdoor enthusiasts, hikers and bikers, climbers and skiers, College Consensus has ranked the 25 Best Mountain Colleges.
What Makes the Best Mountain Colleges?
Historically, mountain regions have been remote and rural, and colleges have had to work extra hard to bring mountain residents the knowledge and skills they need. But that has its positives, and one of the best aspects of the best mountain colleges is community engagement; because they've had to work harder to bring education to the people, mountain colleges tend to have a strong sense of place and community, whether in the form of service, partnerships, or outreach. Many of the schools featured in the Best Mountain Colleges ranking are known for the culture and opportunity they bring to their regions, from preserving local folk culture to impacting social mobility and employment (even helping students pay for their education).
Of course, one of the main features that draw students to the best mountain colleges is the potential for outdoor adventure recreation. If there's one thing that the distinct and unique colleges in the mountains have in common, it's that almost all of them have well-developed outdoor programs. Some are student led, some are officially sanctioned, and some have incorporated outdoor recreation and activities directly into their curriculum with majors and degrees in areas like Outdoor Recreation and Adventure Leadership (things you can't do with an online degree). Whether students want to spend their weekends blowing off steam hiking and kayaking, or to see snow-capped mountain peaks from their dorm room windows, the best mountain colleges are very much situated in place. They're not just colleges in the mountains – they're mountain colleges.
Ranking the Best Mountain Colleges
The 25 Best Mountain Colleges span the continental United States (sorry, Hawaii and Alaska, but it's a numbers game), because mountains span the US as well. East and West, South and North, there are mountains, mountain communities, and mountain colleges, and the College Consensus method is all about finding the best-ranked and best-reviewed. There are certainly patterns to be seen; colleges in the mountains of NC, and mountain colleges in Colorado, keep cropping up as standing tall among the very best mountain colleges, for good reason: those are both states that have developed exceptional public university systems, and have a lot of mountains.
The editors would note that this ranking cannot be considered entirely objective; no such ranking can be. The first step in making the Consensus ranking is to have a Consensus rating. To be considered, colleges and universities must have enough reputable publisher rankings and verified student reviews to generate a Consensus score. Schools that do not have a Consensus score were not considered, which left out some fine mountain colleges. From there, our editors selected colleges and universities that are not only near or in the mountains, but that have incorporated outdoor recreation, mountain culture, and ecological preservation directly into their student life and curriculum. Schools are ranked according to their Consensus score, generating a ranking that balances the educational reputation with a strong dedication to the mountains.