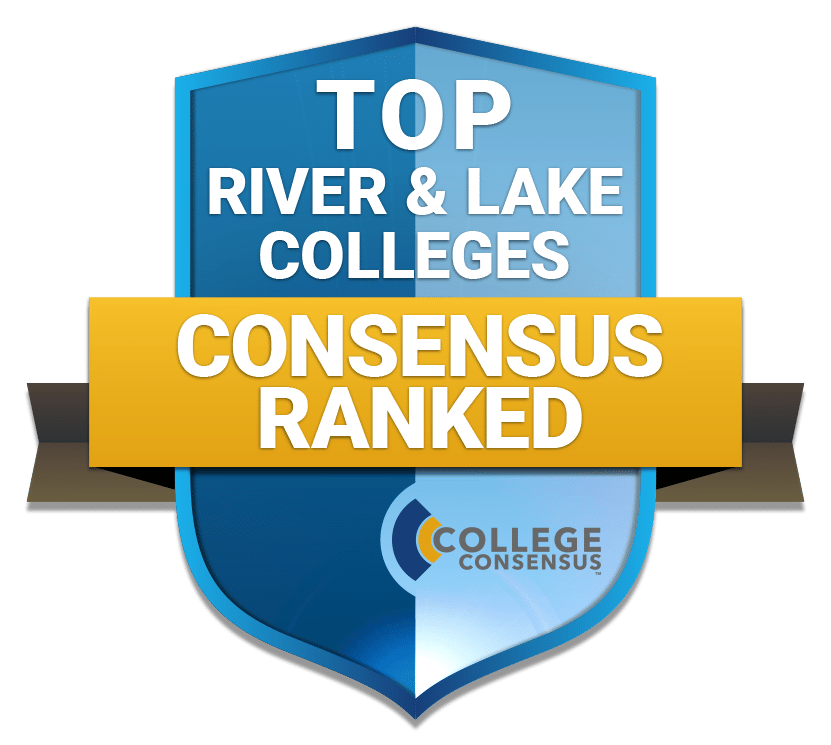 Rivers and lakes are America's circulatory system – whether it's the Mighty Mississippi and the Great Lakes, or the streams and creeks and ponds that give the map its patches of blue. Throughout history, cities have grown up around lakes and rivers, for transportation, drinking water, and fun, so it should come as no surprise that some of America's best colleges and universities are also on the banks of our rivers and lakes. For students who love the freshwater life, College Consensus has used the Consensus method to compile the top Consensus-ranked schools near lakes and rivers.
What Makes River and Lake Colleges Great?
Looking at the best river and lake colleges shows that being close to a body of water has an impact on a college. The colleges and universities that are the closest to a river or lake seem to have a strong connection to the region, and to the community; they can't be insular when there's water flowing all around. Many of the lake and river colleges College Consensus has ranked have a deep relationship with the bodies of water, from researching and studying the wildlife, plants, and geography, to actively working to preserve, protect, and restore rivers and lakes that have been damaged from human activity and neglect. That often means a powerful sense of civic responsibility, and a lot of community service from students and faculty. They're also some of the best places to study areas like biology and environmental science, or even more unusual degrees like nautical archeology.
But lakes and rivers aren't just a source of clean water and biodiversity; they're a place for fun and recreation. If hiking and biking are fun, they're all the better by a lake or river; if camping is fun, nothing makes a campout like the sound of a rolling river, or frogs singing on the lakeshore. After all, not much is better for college stress relief than the outdoors. Most of the colleges and universities on the Best River and Lake Colleges ranking have their own, often extensive, recreational facilities, from boat houses and beaches to trails and arboretums. Even if they're not directly on the water, students have easy access to attractions nearby – perhaps a short ride into town, or to a national or state park.
Ranking the Best River and Lake Colleges
The Best River and Lake Colleges span the entire continental US, from the coasts to the Heartland, and encompass a whole range of geographical features: man-made lakes built by dams for electricity, natural lakes formed by glaciers thousands of years ago, rivers that run through major cities and remote, rural rivers barely touched by civilization. Whether in the Rockies or the Appalachians, East Coast or West, subtropical or frozen north, rivers and lakes touch people's lives everywhere.
In the interest of clarity, it's important to note that no ranking like this can be entirely objective. To be considered for the Best River and Lake Colleges, colleges and universities have to have enough publisher rankings and student reviews to generate a Consensus score; therefore, schools that may have a fantastic lake or river, but not a Consensus score, were not in the running. From the initial pool – Consensus-ranked schools that are near a lake or river – our editors selected institutions that incorporate the water into their life, through recreation, research, and conservation. The institutions are put in order according to their Consensus score, creating a list that accounts for both quality of education, and quality of life.