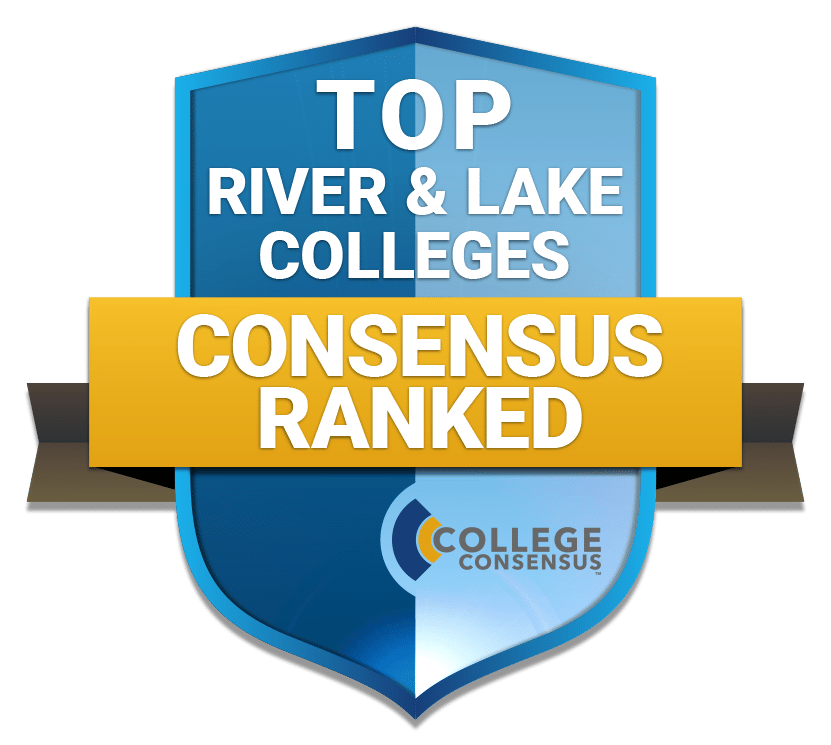 Rivers and lakes are America's circulatory system – whether it's the Mighty Mississippi and the Great Lakes, or the streams and creeks and ponds that give the map its patches of blue. Throughout history, cities have grown up around lakes and rivers, for transportation, drinking water, and fun, so it should come as no surprise that some of America's best colleges are also on the banks of our rivers and lakes. For students who love the freshwater life, College Consensus has used the Consensus method to compile the top Consensus-ranked colleges for outdoor enthusiasts.
What Makes River and Lake Colleges Great?
Looking at the best river and lake colleges shows that being close to a body of water has an impact on a college. The colleges and universities that are the closest to a river or lake seem to have a strong connection to the region, and to the community; they can't be insular when there's water flowing all around. Many of the lake and river colleges College Consensus has ranked have a deep relationship with the bodies of water, from researching and studying the wildlife, plants, and geography, to actively working to preserve, protect, and restore rivers and lakes that have been damaged from human activity and neglect. That often means a powerful sense of civic responsibility, and a lot of community service from students and faculty. They're also some of the best places to study areas like biology and environmental science, or even more unusual degrees like nautical archeology.
But lakes and rivers aren't just a source of clean water and biodiversity; they're a place for fun and recreation. If hiking and biking are fun, they're all the better by a lake or river; if camping is fun, nothing makes a campout like the sound of a rolling river, or frogs singing on the lakeshore. After all, not much is better for college stress relief than the outdoors. Most of the colleges and universities on the Best River and Lake Colleges ranking have their own, often extensive, recreational facilities, from boat houses and beaches to trails and arboretums. Even if they're not directly on the water, students have easy access to attractions nearby – perhaps a short ride into town, or to a national or state park.
Ranking the Best River and Lake Colleges
The Best River and Lake Colleges span the entire continental US, from the coasts to the Heartland, and encompass a whole range of geographical features: man-made lakes built by dams for electricity, natural lakes formed by glaciers thousands of years ago, rivers that run through major cities and remote, rural rivers barely touched by civilization. Whether in the Rockies or the Appalachians, East Coast or West, subtropical or frozen north, rivers and lakes touch people's lives everywhere.
In the interest of clarity, it's important to note that no ranking like this can be entirely objective. To be considered for the Best River and Lake Colleges, colleges and universities have to have enough publisher rankings and student reviews to generate a Consensus score; therefore, schools that may have a fantastic lake or river, but not a Consensus score, were not in the running. From the initial pool – Consensus-ranked schools that are near a lake or river – our editors selected institutions that incorporate the water into their life, through recreation, research, and conservation. The institutions are put in order according to their Consensus score, creating a list that accounts for both quality of education, and quality of life.
What Should I Look for in the Best Outdoor Colleges?
Students who thrive on adventure and the great outdoors, with an interest in earning an academic degree, must understand how the location of the school's campus impacts their learning experience and overall satisfaction as a student. This is because relevant studies have shown that spending time in nature reduces stress, especially when students choose to use their time in nature to reflect, contemplate, and grow as a person.
As a result, a school's location is an essential strategic element that should be included in a college decision. Are there national parks nearby? Appalachian State University and Warren Wilson College, for instance, are near the Appalachian Trail and Blue Ridge Parkway. Want to visit Sequoia National Park or Redwood National Forest on the regular? Look for which university offers outdoor programs. Some even have outdoor gear to rent or borrow.
Some national parks near colleges include:
Rocky Mountain National Park
Olympic National Park
Acadia National Park
Green Mountain National Forest
North Cascades National Park
Medicine Bow National Forest
River Canyon National Preserve
Breathtaking surroundings offered by colleges on lakes or mountains are likely to have a larger impact on your educational experience than you think. Remember that to thrive during college, the school and the location of the campus on which you choose to study must be comfortable and supportive of your academic efforts.
It doesn't matter whether a student prefers rock climbing, skiing, hiking, fly fishing, mountain biking trails, sea kayaking, nordic skiing, ice climbing, or surfing ocean swells; their love of the outdoors and adventure should be a part of their decision when selecting a great outdoor school from a list of the best outdoor colleges. Do you want to take mountain bike trips, hiking trips, or rock climbing trips? Go scuba diving in the Pacific Ocean? Explore the natural world in mountain ranges? Is there a renowned university that offers both summer and winter activities?
Luckily, there are a large variety of universities and colleges (of all sizes) located near, or even walking distance, from some remarkable beaches, lakes, national trails and parks, rock walls, rowing, and whitewater rafting – all ready to embrace outdoor adventurers' extracurricular passions or college-level ambitions. Many of these colleges near lakes are located across the country – from the northern border with Canada and as far south as Texas.
Some more of the best outdoor colleges include:
Green Mountain College
Western Washington University
Humboldt State University
Boise State University
Montana State University
Middlebury College
Colorado Mountain College
What Makes a College a Great Hippie College?
The idea of a "hippy" conjured up images of young unwashed people walking about in their Birkenstocks and a tie-dye shirt, munching on granola, and downing a probiotic drink? Listening to Phish?
But 21st-century hippiedom isn't about turning on and dropping out. These students are the ones who are usually highly engaged in campus political and public-benefit causes. They are also often vocal about asking others to join their cause. And they're keeping the spirit of activism and justice alive on campus.
While the 21st-century hippy still aligns with the "peace and love" mentality – established by the original hippies in the 1960s Beat Generation, contemporary hippy colleges are now a mix of new-age hipsters that are also ecologically-minded activists. If a school offers major like natural resources management or environmental science in addition to outdoor opportunities like a hiking club, they're the right one for you. Take full advantage of the off-campus facilities available to you!
The modern version of hippies includes a breed of intelligent, free-thinking, and motivated individuals who are ready to fight for those causes in which they believe. Many hippies, which tend to be liberally minded, are beach lovers, so it is more likely than not you will find great hippy colleges on the water – especially in the Pacific Northwest and northern California.
Do River and Lake Colleges Offer Crew and Rowing?
Rowing, which is often called collegiate crew, is a long-standing and proud sport that dates to the mid-1800s. The sport of rowing began the year Yale University challenged its rival school, Harvard University, to a boat race. And since 1864, this annual race (with only a few exceptions) has been held on in New London, Connecticut's Thames River.
This crew competition between Yale and Harvard in 1852 is recognized as the first intercollegiate sporting event (of any type). Nearly 18 decades later, rowing or crew is still a popular sport at the college level. It is played at Ivy League schools and often small liberal arts colleges on a lake throughout the country. In rowing, the size of the school (or rowing program) is not as advantageous as it is in other competitive sports.
Many schools and colleges near water offer their students the opportunity to compete at the collegiate level or within an organized extracurricular water sports league.
The IRA (the Intercollegiate Rowing Association) is the professional organization that is tasked with organizing and managing men's varsity rowing at the college level. Those involved in the sport of rowing have the opportunity to compete at the Intercollegiate Rowing Association's national championship – which is recognized to be the nation's oldest rowing competition/championship.
Women who compete at the collegiate rowing level play within the NCAA (a.k.a. the National Collegiate Athletic Association and the IRA national championships.
It is noted that rowing is an unusual sport because rowing clubs are often just as competitive as teams officially sponsored by a college or university. Rowing teams that are not sanctioned by the National Collegiate Athletic Association or the Intercollegiate Rowing Association have the opportunity to compete at ACRA's (American Collegiate Rowing Association) National Championship. The Association (ACRA) National Championship Regatta is recognized among rowing enthusiasts as both an exclusive and prestigious rowing or crew event.
Related:
The Future of Sustainability is in our College Students: A Complete Guide
Ultimate Guide to Sustainable Studies Degrees
Best Colleges & Universities in the South
Best Colleges & Universities in the North
Best Colleges & Universities in the West
Best Colleges & Universities in the Midwest