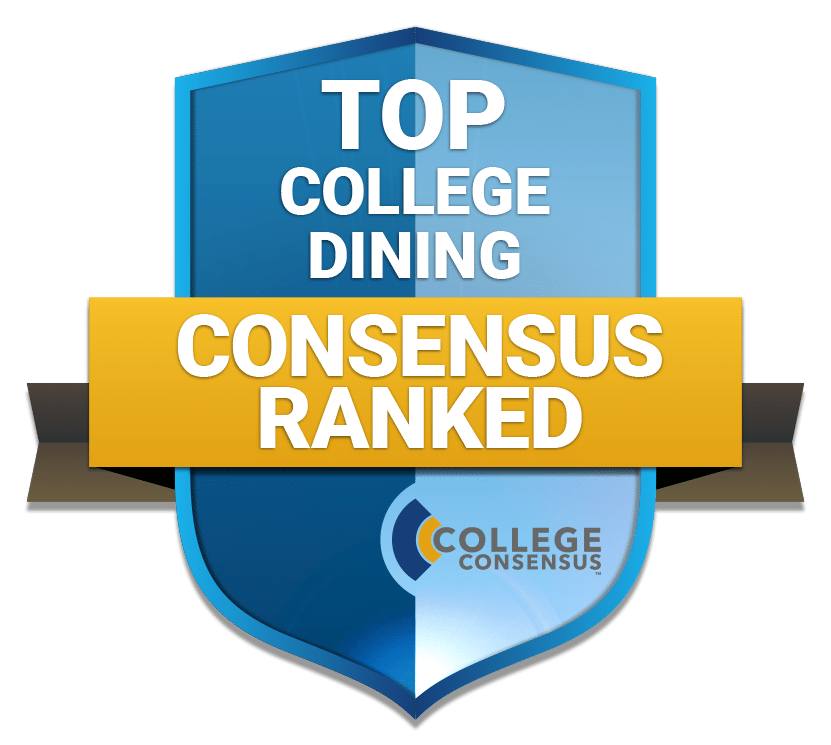 Any ranking of the best college food is bound to bring out the fuddy-duddies who will complain, "In my day, college food was mystery meat in the dining hall, and we had to eat it or go hungry!" Forget all those sour grapes – campus dining in the 21st century is a whole other experience, with fresh, locally-sourced ingredients, sustainable practices, socially-conscious choices, and some of the haute-est of the haute cuisine you'll find anywhere, designed by world-class chefs and kitchen staff. The College Consensus Best Campus Dining Halls ranking points students to the colleges and universities that have upped their food game to 11.
What Makes a Great College Cafeteria?
The name of the game in the best campus dining is health and sustainability. All over the US, colleges and universities are improving student life with renovated dining halls, innovative recipes, and top-notch ingredients. Sure, students may still favor delivery pizza in the middle of an all-nighter, but today, that pizza may be fresh-made dough from a local flour mill, tomatoes grown on a student-run organic farm, and cheese from a sustainable dairy. Many dining systems now offer on-site dietitians for students with allergies, as well as specialized options like vegan, kosher, or gluten-free menus. It's no surprise: just like colleges have focused on making top-ranked college dorms, and world-class recreation centers, campus dining is a crucial part of overall student health and well-being, which, in turn, means success.
In the best college dining halls, health and sustainability go hand in hand, with colleges reaching out to local producers for veggies and fruits, meats, dairy, and more. One of the biggest movements in college dining is waste reduction, whether that means composting uneaten food, or encouraging recycling; some of the best college dining halls even convert their cooking oil into biodiesel! Whether it's reusable take-out containers, biodegradable disposable dishes, or low-energy buildings, colleges have made sustainability central. Community service is key as well, with many institutions donating unused food to local charities to fight food instability. On top of all that, campus dining is a crucial part of making for the best student life, as well as helping students stretch their dollar to pay for college – a real struggle for many students.
Ranking the Best College Dining Halls
Whether they are small colleges or large colleges, public or private, institutions of all kinds are working to revolutionize campus dining. Of course, no such listing can be considered entirely objective. To qualify for the ranking, schools must have a Consensus score generated from their publisher rankings and student reviews. From there, College Consensus editors surveyed rankings of the best college dining halls to find the institutions most deserving of recognition for their innovations and quality in dining. The result is a ranking that highlights the very best colleges and universities, with an emphasis on their dining programs.
Colleges are ranked according to their Consensus score.