When considering intelligence and sports, the stereotype "dumb jock" may come to mind. However, stereotypes are only a caricature of the members of a specific group and may not apply to all participants. In the National Football League, it is easy to forget that nearly all players went to – and often through – college. Certainly it is reasonable to believe that many athletes played four years of college/university football to compile statistics about their play (and win a Heisman Trophy, if possible), but college is a place to learn and prepare a person for their future, whether in an office or a playing field.
Academics and Athletics – Mutually Exclusive?
Generally speaking, the quarterback is considered the most difficult position due to the complexity of the situations they face with each snap of the ball. This reveals a specific kind of intelligence that may not line up exactly with academic endeavors; but specific intelligence is just that – it doesn't always lend itself to comparisons with other fields. A pre-med student may have great knowledge of anatomy and internal organs, but he can't recognize a Nickel Package and verbally change a called play at the line of scrimmage.
When considering intelligence among NFL players, there is a standardized test that all players take prior to playing the game. The Wonderlic Test is a "SAT-like" exam that measures cognitive ability and problem-solving skills. It is not a surprise that quarterback score well in this timed test; of current players' available data, quarterbacks represent 9 of the top 10 scores. The following list represents those active NFL players with the highest scores on this test – regardless of where they went to school.
1. Ryan Fitzpatrick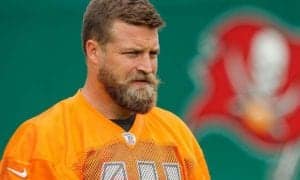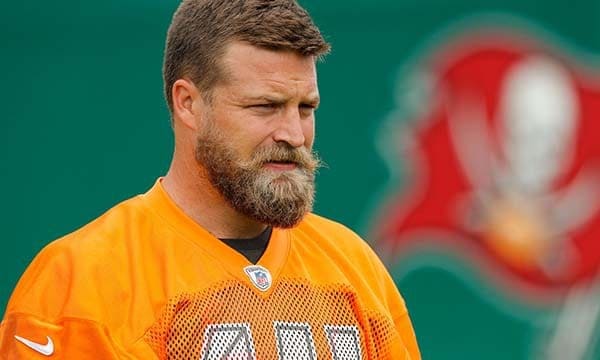 Current quarterback for the Tampa Bay Buccaneers, Ryan Fitzpatrick is one of the few professional football players known almost as much for his academic career as he is for his athleticism. An alumnus of Harvard University91, Fitzpatrick earned his degree in economics, graduating in 2005. The first quarterback in school history rush for over 1,000 yards in a career, Fitzpatrick earned Ivy League MVP honors during his time as a student and was presented with the Asa S. Bushnell Cup in 2004. Upon graduation, Fitzpatrick was drafted by the St. Louis Rams during the seventh round of the 2005 NFL Draft. Since then, his career history has included playing for the Cincinnati Bengals (2007-2008); the Buffalo Bills (2009-2012); the Tennessee Titans (2013); the Houston Texans (2014); the New York Jets (2015-2016); and the Tampa Bay Buccaneers (2017-present).
Named the fifth-smarted athlete in 2010 by Sporting News, Fitzpatrick has been called out on several lists of athletes with the highest intellects both before and since. Demonstrating his impressive brain-power even before getting accepted into Harvard, he scored an impressive 1,580 on the SAT out of a possible 1,600. Nicknamed the "Amish Rifle", "Fitzmagic" or "Fitztragic", the brainy athlete also finished the Wonderlic Test (an entrance exam, used by the NFL since 1970 to predict player performance) in a record nine minutes earning a score of 48 out of a possible 50. Fitzpatrick holds the highest Wonderlic Test score ever earned among NFL quarterbacks to date; the only player recorded to have surpassed Fitzpatrick's score was Pat McInally, former wide receiver and punter for the Cincinnati Bengals.
School: Harvard University91
2. Benjamin Watson, University of Georgia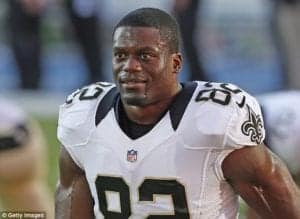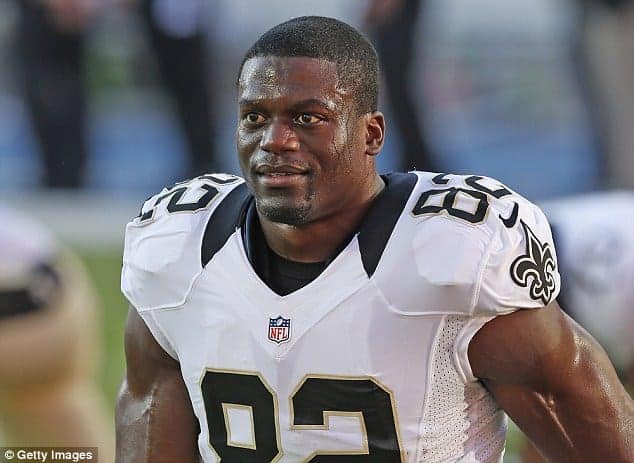 Watson, player for the New Orleans Saints in tight end position, is another example of an athlete whose abilities and recognitions extend beyond the playing field. Drafted by the New England Patriots in 2004, Watson scored an impressive 48 out of 50 on the Wonderlic Test. Watson's high score should come as no surprise, however, given his academic career which includes being accepted into Duke University90 on academic merit. After attending Duke for a time, he transferred to the University of Georgia78, where he graduated with a major in finance. His football career is just as impressive; he went on to win Super Bowl XXXIX with the New England Patriots in 2005, beating the Philadelphia Eagles.
Watson is also the author of the book, "Under Our Skin", part-memoir which addresses the issues of race relations. Released in 2015, in the book Watson discusses the fact that he always felt called upon to prove his intelligence as it was often assumed that he was accepted into Duke on an athletic scholarship, instead of on true academic merit. "[As a black kid,] I was supposed to be good at sports," Watson writes. "I was so primed to assume that a white guy in college would doubt my intelligence, just because I was black, that that was what I heard, even though it wasn't what he had intended," he writes. In his book, Watson explores the idea of how individuals on both sides of the issues, regardless of race or color, can come together overcoming sensitivity and stereotypes and finding peace and forgiveness.
School: University of Georgia78
3. Blaine Gabbert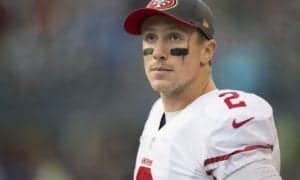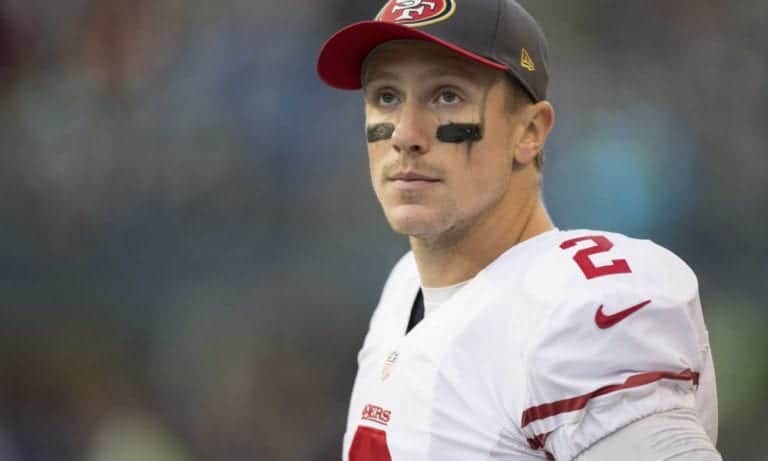 Blaine Gabbert, quarterback for the Tennessee Titans, is known for his decision-making skills and sharp intellect. Born in Ballwin, Missouri on October 15, 1989, Gabbert attended Parkway West High School, playing on the Parkway West Longhorns high school football team. During his high school years Gabbert was a five-star blue-chip All-American and the number 14 national player overall in any position (according to Rivals.com). Gabbert participated in the Elite 11 quarterback camp during the summer of 2007, winning the camp MVP honors over Andrew Luck.
A major college recruitment prospect, Gabbert attended University of Missouri62 from 2008 through 2010. Though he left the University of Missouri62 early during his junior year after he was drafted by the Jacksonville Jaguars in the first NFL draft round (10th overall pick) in 2004, his smarts are clearly recognized. Former Coach Bruce Arians, who's protégés include both Payton Manning and Andrew Luck, said of Gabbert, "Yeah, he's up there… to play at this level in seven offenses is not easy, and he's had success, especially in this offense. But yeah, he's up there with those guys mentally." Center player, A.Q. Shipley, remarked on Gabbert, "He's super smart and you can tell… He's on top of his game, always. Plays with a ton of confidence." Gabbert scored a notably high 42 out of 50 on the Wonderlic Test, which is used by the NFL when considering applicants during the draft.
Schools: University of Missouri62
4. Carson Wentz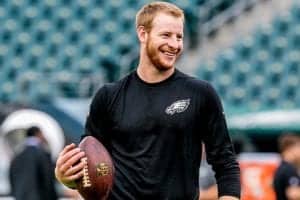 Carson Wentz has not been playing professional football for that long, yet he already boasts some impressive accomplishments. Selected by the Philadelphia Eagles during the 2016 NFL Draft, Wentz was the second overall pick – the highest selection ever for an FCS player. Current quarterback for the Eagles, Wentz was a part of the team when the Philadelphia Eagles won Super Bowl LII against the New England Patriots in February of 2018. A graduate of North Dakota State University, Wentz was honored for excellence in the classroom by the University. Maintaining a 4.0 GPA in health and physical education, Wentz was named by the College Sports Information Directors of America as the NCAA Division I Academic All-American of the Year.
Scoring an impressive 40 out of 50 on the Wonderlic Test, Wentz's score is significantly higher than average among both NFL players and the national average. Designed to help determine aptitude among draft-prospects, the Wonderlic Test is an intelligence test administered by the NFL to applicants which features a set of questions that must be answered within a specific timeframe. Frank Reich, offensive coordinator for the Eagles said of Wentz, "He is off the charts smart. I can't emphasize how smart this guy is. I mean he is off-the-charts-smart, just plain smart. I mean, you know like smart-smart. But then on top of that, the football IQ, and the acumen, is just way-way high. Way high." In addition to his professional and academic achievements, Wentz is also committed to giving back to the community. In 2017 he launched the AO1 Foundation (Audience of One Foundation), a nonprofit dedicated to reaching underprivileged youth, the physically disabled, and veterans.
School: North Dakota State University
5) Alex Smith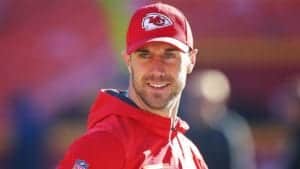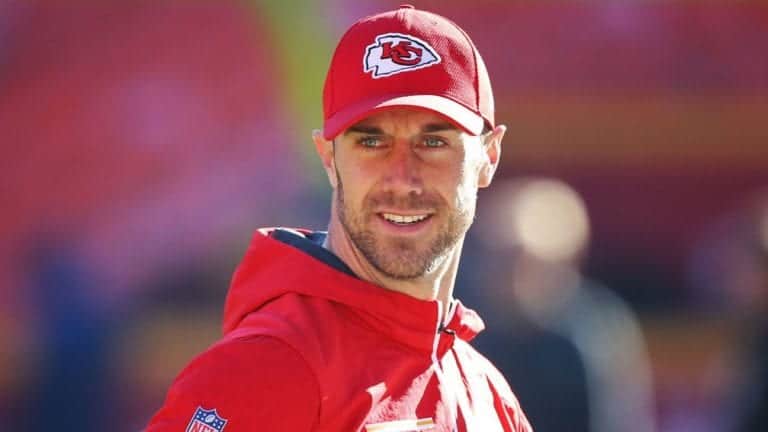 Alex Smith, a quarterback for the Washington Redskins, is no stranger to hard work or working smart. A graduate of the University of Utah67, Smith earned his bachelor's degree in economics in two years with a 3.74 GPA (having matriculated with 64 earned credit hours prior to attending university) and began working on his master's degree before being drafted by the NFL. In 2004, while attending the University of Utah67, Smith was honored as the Mountain West Conference Player of the Year. In 2005 the University, led by Smith finished in the national top-five in the Fiesta Bowl.
In the 2005 NFL draft Smith was selected by the San Francisco 49ers head coach, Mike Nolan as the number one overall pick. Nolan's primary reason for choosing Smith was his assessment that the rookie was "cerebral, introspective, and non-confrontational." Smith's current head coach, Jay Gruden of the Washington Redskins commented on Smith, "One thing about Alex, he is the smartest guy I have ever been around, without a doubt, and he is in great shape. He can move around and he can handle a lot of different things." Gruden's high opinion of Smith's intellect certainly seems to be proven in the player's Wonderlic Test Score (an intelligence test administered to all NFL applicants) – Smith scored an impressive 40 out of 50, a score significantly ahead of the 20-21 test score average.
School: University of Utah67
6. Sean Mannion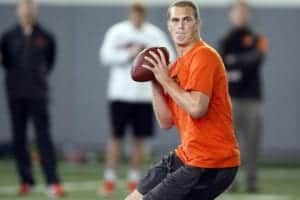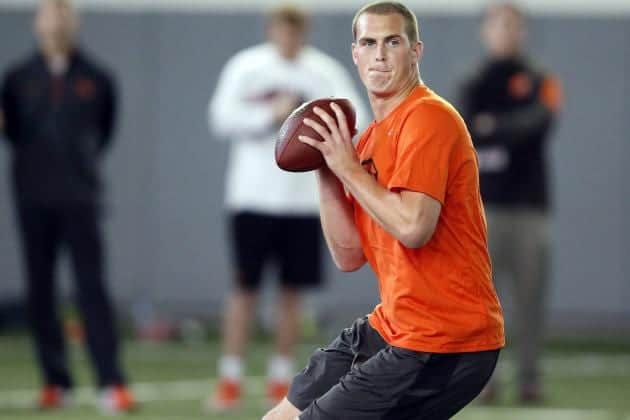 Sean Mannion, current quarterback (player #14) for the Los Angeles Rams, isn't just making a name for himself in the athletic field. Scoring an impressive 40 out of 50 on the Wonderlic Test, the average NFL quarterback score is just 24, putting Mannion more than 20 points ahead. Used to predict player performance, the Wonderlic Test is a cognitive abilities test which features 50 fairly generic questions that must be answered within a twelve-minute timeframe. Only one NFL player is known to have earned a perfect score, Pat McInally, former punter and wide receiver for the Cincinnati Bangles. Mannion's score is also well ahead of the average football player score of approximately 20 points as well as higher than the average score for chemists (31) and computer programmers (29).
Drafted by the Rams during the 2015 NFL Draft, Mannion was selected in round 3 as pick 89. His athletic career began in high school, where he played football, baseball, and basketball while attending Foothill High School in Pleasanton, California. During his first year as the starter on the Varsity high school football team, Mannion played in 12 games, scored 27 touchdowns, and threw for 3,521 yards. Upon graduation, he was a three-star recruit (according to ESPN) and turned down offers from San Diego State, San Jose State, UCLA, and Washington State in order to sign with Oregon State University58. Redshirted as a freshman in 2010, Mannion continued to make a name for himself and was eventually selected by the St. Louis Rams in the third round as the 89th overall pick during the 2015 NFL Draft.
School: Oregon State University58
7. Eli Manning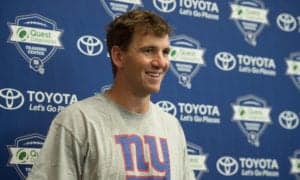 No stranger to awards and recognitions, Eli Manning has earned his place among the most intelligent NFL players. Quarterback for the New York Giants in jersey #10, Manning is a two-time Super Bowl-winning player and was named the MVP of Super Bowl XLII. A member of the Sigma Nu fraternity in college (and named the Sigma Nu Athlete of the Year in both 2001 and 2003), Manning follows in the footprints of his father, Elisha Archibald "Archie" Manning III who was also a member of the fraternity and played football professionally for 13 seasons as an NFL quarterback.
Scoring a 39 out of 50 on the Wonderlic Test (a cognitive ability or intelligence test used by the NFL to assess all applicants for the draft), Manning's score his nearly twice as high as the average NFL player's results of 20-21. A graduate of the University of Mississippi53, "Ole Miss", Manning holds a degree in marketing with a grade point average of 3.44. The alumnus of a school recognized for its ability to produce notable alumni in the areas of academics, research, and public service, Manning has been involved in several charitable causes over the years, including raising funds for the victims of both Hurricane Katrina and the Deepwater Horizon oil spill. He has also hosted the Guiding Eyes for the Blind's Golf Classic since 2008 and helped to construct "The Eli Manning Children's Clinic" at the University of Mississippi Medical Center.
Schools: University of Mississippi53
8. Matthew Stafford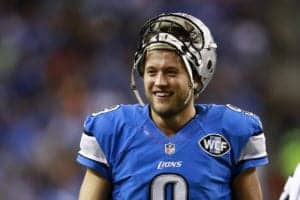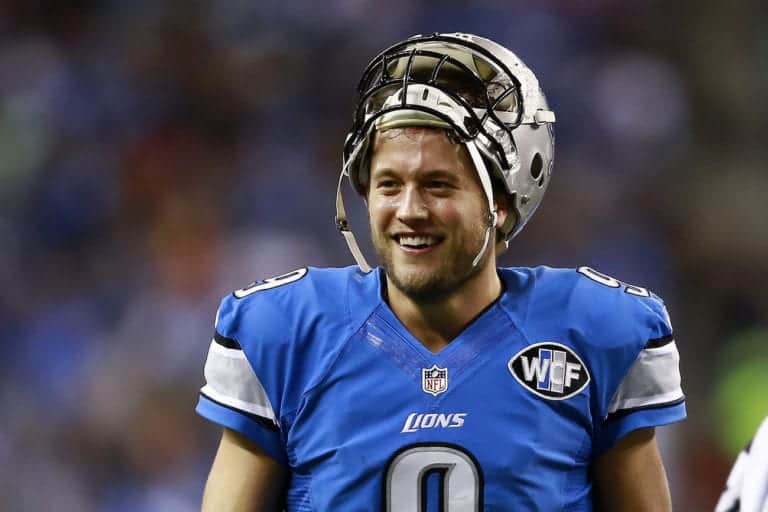 Matthew Stafford, a quarterback for the Detroit Lions, is a man who has been gifted with both a strong arm and a strong intellect. Born in Tampa, Florida on February 7, 1988, and raised in Dallas, Texas, Stafford was marked a favorite for the NFL draft three years before signing on with his current team. In September 2006, football analyst Mel Kiper, Jr. told ESPN Radio to record his prediction that, "Matthew Stafford eventually will be the No. 1 pick in the NFL Draft." Drafted as the first overall pick by the Lions in 2009, the 30-year-old athlete is the fourth quarterback in NFL history to throw over 5,000 yards in a single season and is currently the fastest player to reach 30,000 passing yards in NFL history. In 2017, Stafford became the highest-paid player in NFL history at the time when he signed a $135 million extension with the Lions.
Though he's had mixed success during his first few NFL seasons, Stafford has continued to demonstrate his high level of intelligence with "flashes of brilliance", despite his struggles with turnovers. The quarterback scored a high 38 out of 50 on the Wonderlic aptitude test- a result that is remarkably higher than the average NFL player, quarterback, or U.S. citizen. Stafford attended the University of Georgia78 after graduating early from high school.
School: University of Georgia78
9. Kevin Hogan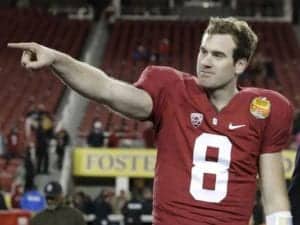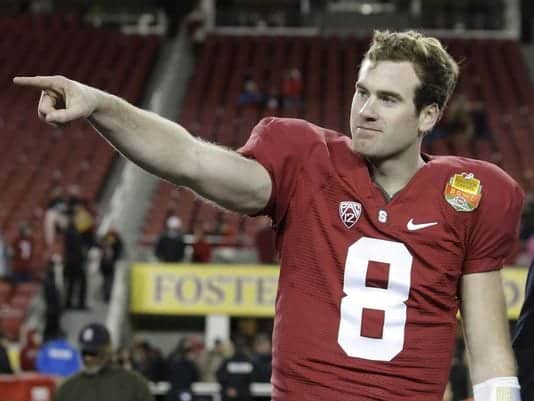 Kevin Hogan is the current quarterback for the Denver Broncos, wearing jersey #9. Born in McLean, Virginia on October 20, 1992, Hogan was selected during the 2016 NFL Draft, round five, pick 162. Even before signing on with the team, Hogan had a remarkable college football career while attending Stanford University93. Playing from the 2012 season through the 2015 season, his college football career ended with a 65,9% completion percentage, 9,385 passing yards, 75 passing touchdowns, and a Stanford-record of 15 rushing touchdowns.
During college, Hogan's focus was not all on athletics. In 2015 the athlete made the decision to return to Stanford as a fifth-year senior. During an interview, Hogan said, "A lot of my decision wasn't necessarily related to the football program." Hogan went on to explain, "It was the school in general. I feel I can further dedicate myself academically and possibly get my master's degree next year. There's no better locker room in the country and I wasn't ready to leave these guys." Education is clearly important to Hogan, who passed the Wonderlic Test with an impressive score of 38 out of 50. The quarterback has been active in a number of charity efforts including Gary Barnridge's foundation, "American Football Without Barriers", whose mission is using sports as a tool to help disadvantaged children reach higher levels of education and live healthy lifestyles.
Schools: Stanford University93
10) Andrew Luck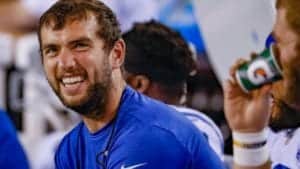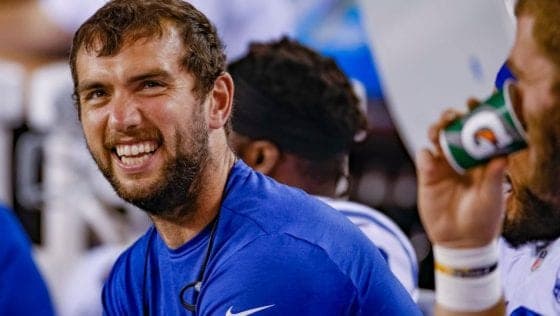 Intellectual, athletic, and a self-proclaimed "nerd" are three ways to describe Andrew Luck, current quarterback for the Indianapolis Colts. Redshirted during his freshman year of college in 2008, Luck was predicted to be the overall first pick during the 2011 NFL Draft. However, this did not happen as Luck decided instead to return to school for his redshirt junior season. Instead, he became the overall first pick one year later, during the 2012 NFL Draft. The choice to remain in college and complete his degree was a natural one for Luck, who has always placed priority on his education. Prior to entering college, Luck was the valedictorian of his high school, Stratford High in Houston Texas.
An alumnus of the prestigious Stanford University93, Luck majored in architectural design, receiving his bachelor's degree at the end of five years with a GPA of 3.48. At the end of his years at Stanford, Luck was presented with the Al Masters Award, an honor given to an athlete each year, "for the highest standards of athletic performance, leadership and academic achievement." Luck further proved his intelligence by scoring a 37 on the 50-question Wonderlic Test, administered by the NFL to all draft-applicants. Commenting on Luck's impressive mental abilities, John Barton, director of the Stanford architectural design program, said, "Other instructors come up to me and say, 'You know, I've had some football players in class before, but Andrew isn't like any of them. He is really, really smart.'"
Schools: Stanford University93