California is one of the top states in the country to live, learn, and work. With top colleges and universities sprawled across its 163,000 square miles, it is no wonder that California houses some of the top business schools with exciting online MBA programs. Each program is sure to offer its students a solid business management curriculum at a pace to fit into even the busiest professional's schedule.
California became a state in 1850, and gain precedence during that time for the California Gold Rush. After that economic boom, other business trends have come to the economic forefront, like entertainment, real estate, and technology. The state is currently ranked as #4 for economy, and the city of Los Angeles has the fourth-largest economy in the country. California is also among the best states for health care and natural environment.
Much has been written and said about the ideal climate and magnificent coastlines, forests, and deserts to be found in the state of California, and few other states conjure up such a romanticism about the weather and lifestyle that California does. For decades the state has been a muse for recording artists to wax sentimental about how the state makes them feel and what Californians are like. Some of the most famous rock and hip-hop songs about the Golden State include the Eagles' "Hotel California," Led Zepplin's "Going to California," The Mamas and the Papas "California Dreamin," and Tupac Shakur's "California Love."
The Online MBA
While much can be said about the Golden State's being an inspirational place for the production of songs, much more can be said about the excellent business degrees offered in some of California. The online MBA can be found at some high-quality business schools throughout the state. These degrees allow graduate students to sharpen their management skills and accomplish a degree that employers will find impressive. With several factors, including online format, a GMAT waiver, and tuition price coming into play, we have ranked the top five online MBA programs in California.
Methodology
To narrow in on the the best Online MBA programs in California, over 570 online MBA programs were researched. The top California-based programs were then ranked on their affordability, reputation, and convenience.
Affordability
The base tuition was calculated for each online and hybrid MBA program. It was figured for the whole degree without fees, books, or lodging included. All information was collected from each university website. The Affordability Score is the tuition inverted and put on a 100-point scale.
Reputation
The reputation for each online MBA in California was configured by referencing national MBA ranking sources: Bloomberg Businessweek, US News and World Report, and The Economist. These rankings were converted to scores and then averaged to find a balanced consensus. This averaged Reputation Score was placed on a 100-point scale, and it attributes to 33% of the final ranking score.
Convenience
Each distance-based MBA was ranked on their overall convenience for the student. The criteria was if it can be completed 100% online and if the GMAT/GRE application requirement was waived or omitted. This Convenience Score attributes to 33% of the final ranking score.

1
California State University, ​San Bernardino
Jack H. Brown College of Business and Public Administration

The best online MBA in California can be found in the Jack H. Brown College of Business and Public Administration at California State University, ​San Bernardino. This 12-course online MBA is the second-most affordable degree within this ranking with a tuition rate of just over $35,000. Marketing Management, Data Driven Decision Making, Managing the Supply Chain, Organizational Theory & Behavior, Corporate Strategy in a Global Economy, Advanced Managerial Communication, Financial Theory & Corporate Finance, and Information Systems & Technology Management make up some of the core courses included in this best of the best online MBA program. There is absolutely no GMAT requirement associated with the admissions component of this degree, freeing some students from having to take the placement test or report a score to the business school. California State University, ​San Bernardino has been delivering a solid higher education to students since 1965. Currently, there are 20,238 students seeking degrees at the university.
Affordability Score: 91.68
Convenience Score: 100.00
Reputation Score: 8.11
2
University of Southern California
Marshall School of Business


An online MBA is offered through the Marshall School of Business at the University of Southern California. The tuition rate of this 51-credit hour degree is the highest from this ranking, but the quality of the degree is seen at every angle. The AACSB-International endorses the business school at the University of Southern California with its business accreditation. Distance learners will be exposed to camaraderie and rigor one would expect through one of the very best business schools in the nation. The online MBA degree pairs a comprehensive curriculum with powerful virtual tools. Every class a student enrolls in is designed from beginning to end specifically for a distance format and led by several faculty members of the Marshall staff. Each course of the 51-credit hour online MBA uses modern, real-world scenarios that help graduate students develop abilities that today's employers desire to see in executive-level leaders. The areas of decision-making through metrics, effective virtual and remote collaboration, and efficient communication are at the heart of this exemplary online MBA.
Affordability Score: 28.59
Convenience Score: 50.00
Reputation Score: 100.00
3
California State University, Stanislaus
College of Business Administration

California State University, Stanislaus' College of Business Administration delivers one of the top online MBA programs in California. The program offers a general business focus or a Finance specific focus within its top-notch curriculum. It is a priority of the business school to meet the needs of busy business executives and working professionals who may not have the opportunity to travel to Turlock, California for an evening MBA or attend the business school's Saturdays-only Executive MBA classroom meetings. The OMBA is high on convenience and flexibility by allowing distance learners to study from anywhere anytime to advance their professional qualifications and fully prepare them for leadership positions in business. One of the best parts of an online MBA like this one is that students can remain in their current job positions and continue to meet family responsibilities. The 30-units of this online MBA have been divided between nine units of electives and 21 units of core courses. Management Accounting, Business Organization, Integrated Business Strategy and Culminating Experience, Theory and Behavior, Managerial Finance, Marketing Management, and Computer Information Systems are just some of the core courses students will be exposed to while working through this online MBA.
Affordability Score: 100.00
Convenience Score: 50.00
Reputation Score: 8.11
4
University of California, Irvine
Paul Merage School of Business


The University of California, Irvine's Paul Merage School of Business provides distance learners with a hybrid MBA with specializations in Urban Development and Real Estate, Digital Transformation, Innovation and Entrepreneurship, and Health Care Management and Policy. The AACSB-International offers the Paul Merage School of Business its exemplary business accreditation. The program's designers have prioritized the graduate student's ability to think creatively about the issues and opportunities that arise from emerging technologies in modern business. Graduates of this hybrid MBA will be encouraged to foster a new set of skills needed to lead organizations of all sizes with confidence. The Paul Merage School of Business' top-ranked FEMBA degree has been crafted for working professionals interested in an MBA, provided in a flexible, work-friendly course structure. The inclusive environment that is a characteristic of this degree welcomes a diverse student body that includes many military personnel. Courses like Dynamic Times, Operations Management for Managers, Thinking Strategically in Organizations, Managerial Finance for Managers, Organizational Behavior for managers, Financial Reporting for Managers, Microeconomics for Managers, and Statistics for Managers are just some of the 21 courses included in this high-quality distance degree.
Affordability Score: 29.70
Convenience Score: 50.00
Reputation Score: 73.58
5
Saint Mary's College of California
School of Economics and Business Administration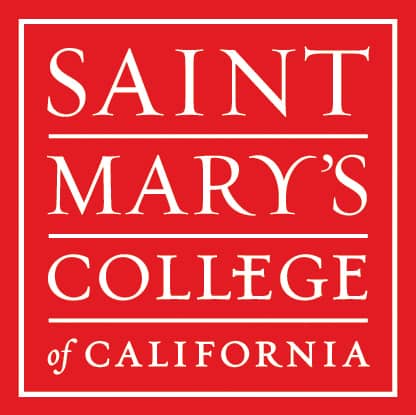 A hybrid Executive MBA is featured at Saint Mary's College of California's School of Economics and Business Administration. With a tuition rate of just under $75,000 for the executive MBA and less than $70,000 for the global executive MBA, this program is right in the middle of affordability compared to other programs in this ranking. The program designers have made it a priority within this distance degree to help graduate students evaluate strategic implementation plans, develop business opportunities, and communicate effectively as a manager and leader through the means of verbal and written communication. Graduates of this flexible hybrid MBA will be able to present analysis, justify recommended actions, and gain support from others. The art of negotiating and collaborating with others who have different objectives and interests will also be covered throughout the program's top-shelf curriculum. Managing & Leading Organizations, Global Marketing, Leadership Communication, Goal-Centered Finance, Applied Economics, Data Analytics for Executives, Accounting for Executives, and Supply-Chain Management are courses delivered throughout this program.
Affordability Score: 53.64
Convenience Score: 75.00
Reputation Score: 8.11
What Kind of Jobs Can I Get with an Online MBA from California?
The state of California features many highly respected colleges and universities that offer degrees like the online MBA. This convenient and flexible degree takes business professionals who have attained some business experience and makes them excellent problem solvers, critical thinkers, and communicators. Many online MBA degrees can be completed in just two years by taking courses as a part-time student with just one course each term. While the online MBA is accessible, it is also a vital degree for professionals looking to become managers across the spectrum of business opportunities. Here are just a few of the most popular positions available to online MBA graduates.
Online MBA Graduates Can Become Financial Managers
The financial health of an organization is overseen by financial managers. These coordinators of teams must keep an eye on budgets and spending while also figuring out how to keep an organization successful in meeting its goals each quarter. Financial managers are responsible for creating financial reports, developing long-term financial strategies, and directing investment opportunities for a corporation. Many financial managers have a background in accounting and finance and may have worked in banks or insurance companies in the past. These professionals are often as good with numbers as they are with people since they are responsible for communicating with teams to make a company's vision become a reality. The pay for a financial manager is lucrative, with the national average being over $125,000 per year. An excellent degree to attain if interested in becoming a financial manager is the online MBA.
Online MBA Graduates Can Become Independent Consultants
Independent consultants can work in virtually any segment of business. There are consultants in finance, production, IT, and the list goes on and on. What all of these positions have in common is that they are filled by workers who act as contractors that are responsible for all the aspects of business leadership. Consultants are responsible for marketing themselves, setting their workload, invoicing, and more. They have much in common with entrepreneurs in this way, and as there are some inherent risks with becoming an independent consultant, there are also some high rewards. Consultants do not have the luxury of getting comfortable with an organization and working in the same office with the same staff for years because they move from organization to organization as they are needed. Yet consultants have the freedom to set their own hours and often earn a high income based on their specific skills. Online MBA graduates looking for the chance to travel, meet new people, and solve many problems for many customers throughout a career may want to consider becoming an independent consultant.      
Online MBA Graduates Can Become Brand Marketing Managers
A marketing manager may also be known as an advertising or promotions manager. At the root of this position is the responsibility of leading a team, or a group of teams, in marketing a product or service for an organization. Marketing might be regional or across the globe, depending on the size of the organization. Marketing managers work with financial staff members, sales agents, and art directors in order to streamline a brand's marketing campaign. The growth for this sector of employment is higher than the national average, and the national average for salary is listed as over $130,000.