While much can be said about the Golden State's being an inspirational place for the production of songs, much more can be said about the excellent business degrees offered in some of California. The online MBA can be found at some high-quality business schools throughout the state. These degrees allow graduate students to sharpen their management skills and accomplish a degree that employers will find impressive. With several factors, including online format, a GMAT waiver, and tuition price coming into play, we have ranked the top online MBA programs in California.
Online MBAs in California
California is one of the top states in the country to live, learn, and work. With top colleges and universities sprawled across its 163,000 square miles, it is no wonder that California houses some of the top business schools with exciting online MBA programs. Each program is sure to offer its students a solid business management curriculum at a pace to fit into even the busiest professional's schedule.
California became a state in 1850, and gain precedence during that time for the California Gold Rush. After that economic boom, other business trends have come to the economic forefront, like entertainment, real estate, and technology. California is also among the best states for health care and education.
Much has been written and said about the ideal climate and magnificent coastlines, forests, and deserts to be found in the state of California, and few other states conjure up such a romanticism about the weather and lifestyle that California does. For decades the state has been a muse for recording artists to wax sentimental about how the state makes them feel and what Californians are like. Some of the most famous rock and hip-hop songs about the Golden State include the Eagles' "Hotel California," Led Zepplin's "Going to California," The Mamas and the Papas "California Dreamin," and Tupac Shakur's "California Love."
Methodology
This consensus ranking of the best Online MBA programs in California lists the most prestigious programs from the Golden State. We collected data from five leading MBA and business school rankings:
The scores were averaged and placed on a 100-point scale to find the Consensus Score. The base tuition of each California Online MBA program was used as a tie-breaking in the event of a tie.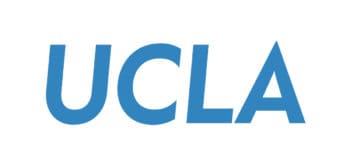 One of California's best online MBA programs is offered through the Anderson School of Management at the University of California, Los Angeles. For over a decade, UCLA Anderson has proudly provided an innovative, hybrid option. This program blends online and on-campus learning environments. UCLA's hybrid schedule option makes it easy for working professionals wanting to earn an MBA but can't visit a college campus weekly. Four campus visits per quarter (once every three weeks) are required. In between residency weekends, learning happens via an online platform. This practical, easy-access solution is perfect for students with considerable career and personal commitments or lengthy commutes.
All hybrid courses blend on-campus immersion with online lessons. The curriculum features interactive group work and web-assisted tools. Residency classes meet each quarter on Saturday and Sunday. The hybrid schedule allows students outside the LA area to travel to campus on Saturday morning and return on Sunday evening. Distance learners commute from different states and countries outside of California and worldwide. There is a lot to appreciate about this online MBA in California.
Admissions Email: [email protected]
Admissions Phone: 310-206-3411
AACSB Accredited: YES


An online MBA is offered through the Marshall School of Business at the University of Southern California. The tuition rate of this 51-credit hour degree is among the highest from this ranking, but the quality of the degree is seen at every angle. The AACSB-International endorses the business school at the University of Southern California with its business accreditation.
Distance learners will be exposed to camaraderie and rigor one would expect through one of the very best business schools in the nation. The online MBA degree pairs a comprehensive curriculum with powerful virtual tools. Every class a student enrolls in is designed from beginning to end specifically for a distance format and led by several faculty members of the Marshall staff. Each course of the 51-credit hour online MBA uses modern, real-world scenarios that help graduate students develop abilities that today's employers desire to see in executive-level leaders. The areas of decision-making through metrics, effective virtual and remote collaboration, and efficient communication are at the heart of this exemplary online MBA.
Admissions Email: gradadm.usc.edu
Admissions Phone: 213-740–1111
AACSB Accredited: YES


The University of California, Irvine's Paul Merage School of Business provides distance learners with a hybrid MBA with specializations in Urban Development and Real Estate, Digital Transformation, Innovation and Entrepreneurship, and Health Care Management and Policy. The AACSB-International offers the Paul Merage School of Business its exemplary business accreditation.
The program's designers have prioritized the graduate student's ability to think creatively about the issues and opportunities that arise from emerging technologies in modern business. Graduates of this hybrid MBA will be encouraged to foster a new set of skills needed to lead organizations of all sizes with confidence. The Paul Merage School of Business' top-ranked FEMBA degree has been crafted for working professionals interested in an MBA, provided in a flexible, work-friendly course structure. The inclusive environment that is a characteristic of this degree welcomes a diverse student body that includes many military personnel.
Courses like Dynamic Times, Operations Management for Managers, Thinking Strategically in Organizations, Managerial Finance for Managers, Organizational Behavior for managers, Financial Reporting for Managers, Microeconomics for Managers, and Statistics for Managers are just some of the 19 courses included in this high-quality distance degree.
Admissions Email: [email protected]
Admissions Phone: 949-824-4611
AACSB Accredited: YES

The Graduate School of Management at the University of California, Davis, provides one of California's best online MBA programs. UC Davis Graduate School of Management is more than a business school—it's a transformational experience where students develop new ways of thinking about innovation and business. The online MBA program is MBA@UCDavis. This stellar degree offers students an interactive virtual campus that brings a culture of collaboration to them. Distance learners discover an energetic network of professionals and globally recognized instructors eager to change the world.
The program features a close-knit community online and in person. Instructors empower you to collaborate with a group of diverse professionals. All enrolled students are challenged to be their best. The popular part of the MBA@UCDavis online experience is the live online classes. All enrolled students participate in spirited, face-to-face conversations on the technology platform. The excellent online MBA will take you places.
Admissions Email: [email protected]
Admissions Phone: 530-752-0650
AACSB Accredited: YES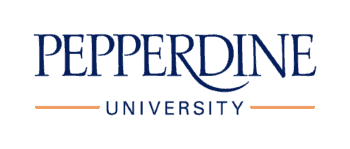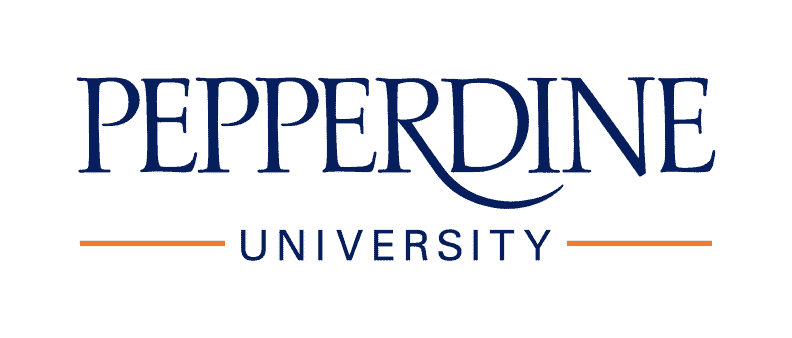 An excellent online MBA program in California is at Pepperdine University's Graziadio Business School. Program leaders help students lead with integrity and drive innovation. The online Master of Business Administration at Pepperdine's Graziadio Business School is an elite program. The intentional curriculum combines education in technology, strategy, and values-driven leadership. Distance learners are empowered to drive meaningful change at work and in the world.
Enrolled students solve real-world business issues for popular brands like Coca-Cola and Adobe. The business school features its Education to Business program. The curriculum's core courses are the foundation for choices students can make with one of seven specializations. This top-tier business education will jettison a working professional to new heights in their careers. Graduate students are prepared for today's business while being transformed into professionals who drive innovation and lead with integrity. Students grow and are empowered to make meaningful connections with classmates. Pepperdine's online MBA is applied, relational, experiential, and learner-focused.
Admissions Email: [email protected]
Admissions Phone: 310-568-5535
AACSB Accredited: YES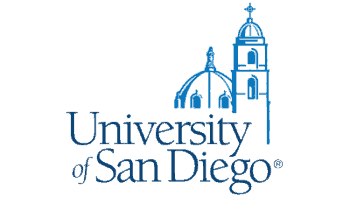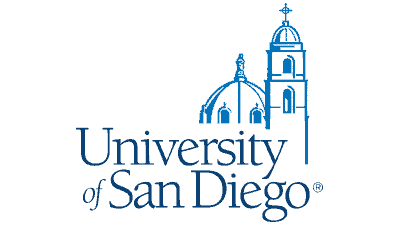 The University of San Diego's School of Business features an online MBA program in California. Many working professionals are interested in pursuing an MBA degree. They are busy balancing the demands of work, family, or both. The Knauss School of Business understands the issue. Its Flex MBA features identical course content, prestige, and value traditional students enjoy from the business school's highly-ranked MBA. Enrolled students meet at the San Diego campus one weekend per month and complete most coursework online. You can apply today and start this spring with no GMAT required.
USD Flex MBA students get to know their classmates and instructors in a way that's difficult to replicate in entirely online MBA programs. Knauss gives students access to the same curriculum with six concentrations. World-class professors teach all courses. The three of the business school's formats feature access to networking, professional development, and extracurricular opportunities offered by the Knauss School of Business. This online MBA in California is a gem.
Admissions Email: [email protected]
Admissions Phone: 619-260-4524
AACSB Accredited: YES
Claremont Graduate University's Peter F. Drucker and Masatoshi Ito Graduate School of Management features an excellent online MBA in California. The Drucker MBA is a flex program. It gives professionals the fundamentals of management framed by the business school's core values. The curriculum stresses purpose-driven leadership. Organizations are the foundation of a better society. Enrolled students take a human-centered approach to management. People are the most vital resource in any organization. Distance learners enjoy this program's flexibility. Goals and needs shift for working professionals.
This stellar program's transdisciplinary approach reveals how the best solutions are found by talking to people with differing viewpoints. Flex MBA students have six years of full-time professional or equivalent work experience. Online MBA students looking for an accelerated pace can complete the degree in one year. They speed up or slow down when their work and personal commitments change. An online MBA in California that allows students to shift from full-time to part-time as needed is an incredible asset.
Admissions Email: [email protected]
Admissions Phone: 909-607-7811
AACSB Accredited: YES


One of California's best online MBA programs is offered at the College of Business Administration at California State University Long Beach. This online MBA program helps students develop balanced quantitative and qualitative skills. Program graduates tackle today's fast-paced and changing business environment. All enrolled students can work on exciting business issues across disciplines. They can start their businesses and learn to succeed in diverse business environments.
Program architects designed an online MBA that gives students a healthy work-life balance while enrolled in graduate school. Distance learners develop as business leaders. The entirely online program means students never travel to the college campus. A cohort-based approach to learning gives graduate students access to relationships that will last their careers. A full-time track is perfect for students with no time restraints. The program's part-time track allows working professionals and those caring for family members to gain this incredible business leadership credential in California.
Admissions Email: [email protected]
Admissions Phone: 562-985-5471
AACSB Accredited: YES

The School of Business and Public Administration at California State University, Bakersfield, provides one of California's best online MBA programs. This elite Master of Business Administration offers the critical preparation needed by today's professionals for exciting business careers. Competing in the rapidly changing business and public sector environment is challenging. It requires the values, knowledge, and skills this online MBA degree provides. The CSUB MBA program assesses and evaluates itself while providing advanced business knowledge. The curriculum prepares professionals for the global marketplace. Many enrolled students have business backgrounds. Candidates from all industries and areas of study are welcome to apply.
CSUB's online Master of Business Administration program advances current business knowledge and updates the student's continuous learning foundation. All MBA courses provide additional depth and breadth through identifying relevant learning materials and faculty interaction. Enrolled students enjoy collaboration with peers. This stellar MBA program includes nine core classes and three electives. The convenient night, weekend, and online courses meet the needs and schedules of working professionals.
Admissions Email: [email protected]
Admissions Phone: 661-654-6113
AACSB Accredited: YES


California State University, Stanislaus' College of Business Administration delivers one of the top online MBA programs in California. The program offers a general business focus or a Finance, Human Resource Management, or Digital and Social Media Marketing specific focus within its top-notch curriculum.
It is a priority of the business school to meet the needs of busy business executives and working professionals who may not have the opportunity to travel to Turlock, California for an evening MBA or attend the business school's Saturdays-only Executive MBA classroom meetings. The OMBA is high on convenience and flexibility by allowing distance learners to study from anywhere anytime to advance their professional qualifications and fully prepare them for leadership positions in business. One of the best parts of an online MBA like this one is that students can remain in their current job positions and continue to meet family responsibilities.
The 30-units of this online MBA have been divided between nine units of electives and 21 units of core courses. Management Accounting, Business Organization, Integrated Business Strategy and Culminating Experience, Theory and Behavior, Managerial Finance, Marketing Management, and Computer Information Systems are just some of the core courses students will be exposed to while working through this online MBA.
Admissions Email: [email protected]
Admissions Phone: 209-667-3070
AACSB Accredited: YES
What are the Major Industries in California?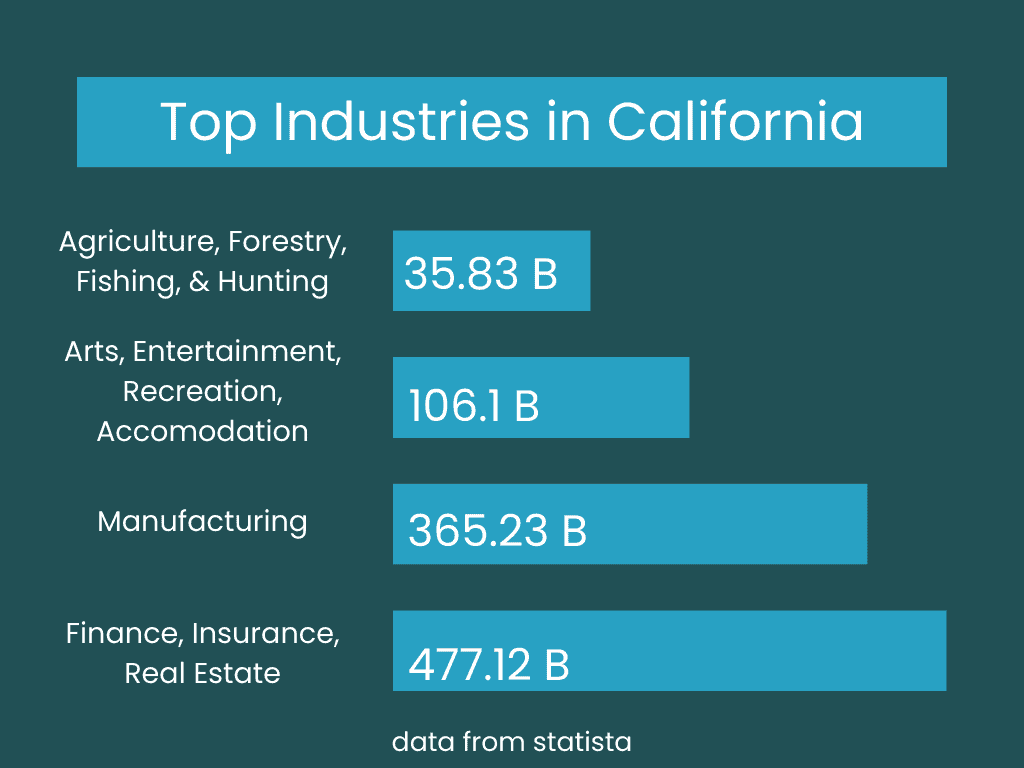 If California were its own nation, it would have the fifth-largest economy worldwide. The Golden State reports an annual GDP of nearly $3.6 trillion. That number puts California between the United Kingdom and Germany. Thanks to Silicon Valley, manufacturing, its robust agricultural industries, and glamorous Hollywood, California is one of the top economic engines that keep the United States humming. Over four million small local businesses on the West Coast state employ nearly half of the state's workforce. Many contributing factors drive the economy. California's most prominent industries span the gamut.
Let's highlight a few industries.
Agriculture
California's agriculture industry contributed $47.1 billion to the state's economy. Considering that number, the amount was the largest for any U.S. state. California provides over 12 percent of the agricultural production for all 50 states, surpassing Texas and Iowa by a long shot.
Television and Film
Have you ever wondered why the movie industry established itself in sunny California? There is more than one reason behind the fact. The over three hundred days of sunshine make for an optimal filming location. A few more factors are at play behind one of California's largest industries.
Travel and Tourism
It goes without saying that travel and tourism are California's most essential engines for economic growth. The economy is fueled by transportation advances and defined by ambitious and innovative ideas. California has been an influential leader in the industry, drawing tourists from other states and worldwide.
Online MBA Programs in California
An online Master of Business Administration (MBA) is one of the most coveted degrees available for those looking to impact the business world. The advanced business degree prepares leaders to move up the career ladder into some of the best positions in today's competitive market.
The state of California features many highly respected colleges and universities that offer degrees like the online MBA. This convenient and flexible degree takes business professionals who have attained some business experience and makes them excellent problem solvers, critical thinkers, and communicators. Many online MBA degrees can be completed in just two years by taking courses as a part-time student with just one course each term. While the online MBA is accessible, it is also a vital degree for professionals looking to become managers across the spectrum of business opportunities.
Some MBA programs focus on specific themes. This is the case with the Responsible Business Online MBA at CSU, Monterey Bay. This educational approach helps students direct their training toward the facets of business they intend to pursue. Other programs feature a broad-scope, generalized curriculum. In either case, make sure your program of choice offers courses and study opportunities that align with your goals. Contact business school admissions experts for guidance if you need clarification on your plan.
What Kind of Careers Can I Get with an Online MBA from California?
This highly marketable academic credential makes graduate students eligible for several top-shelf careers in supervisory and managerial positions. A California MBA program reveals to prospective employers that you have management skills and extensive experience and knowledge in your field.
Jobs for California online MBA graduates vary. The factors include an individual's interests, credentials, and career goals. Here are just a few of the most popular positions available to online MBA graduates.
Online MBA Graduates Can Become Financial Managers
The financial health of an organization is overseen by financial managers. These coordinators of teams must keep an eye on budgets and spending while also figuring out how to keep an organization successful in meeting its goals each quarter. Financial managers are responsible for creating financial reports, developing long-term financial strategies, and directing investment opportunities for a corporation.
All businesses need financial managers with a wealth of financial skills and economic experience. Due to the role's highly critical and sensitive nature, elite financial managers are paid attractive salaries and benefits. The U.S. Bureau of Labor Statistics (BLS) reports the mean annual wage for financial managers in 2023 was $140,000. These numbers varied by industry.
Many financial managers have a background in accounting and finance and may have worked in banks or insurance companies in the past. These professionals are often as good with numbers as they are with people since they are responsible for communicating with teams to make a company's vision become a reality. The pay for a financial manager is lucrative An excellent degree to attain if interested in becoming a financial manager is the online MBA.
Online MBA Graduates Can Become Independent Consultants
Independent consultants can work in virtually any segment of business. There are consultants in finance, production, IT, and the list goes on and on. What all of these positions have in common is that they are filled by workers who act as contractors that are responsible for all the aspects of business leadership. Consultants are responsible for marketing themselves, setting their workload, invoicing, and more. They have much in common with entrepreneurs in this way, and as there are some inherent risks with becoming an independent consultant, there are also some high rewards.
Consultants do not have the luxury of getting comfortable with an organization and working in the same office with the same staff for years because they move from organization to organization as they are needed. Yet consultants have the freedom to set their own hours and often earn a high income based on their specific skills. Online MBA graduates looking for the chance to travel, meet new people, and solve many problems for many customers throughout a career may want to consider becoming an independent consultant.
Online MBA Graduates Can Become Brand Marketing Managers
Marketing is the lifeblood of many businesses. This reality is particularly evident in the retail and service industries. Online MBA students in California MBA find little resistance to becoming marketing managers. Highly effective marketing managers are in demand. These professionals can make or break an organization's bottom line.
A marketing manager may also be known as an advertising or promotions manager. At the root of this position is the responsibility of leading a team, or a group of teams, in marketing a product or service for an organization. Marketing might be regional or across the globe, depending on the size of the organization. Marketing managers work with financial staff members, sales agents, and art directors in order to streamline a brand's marketing campaign. The growth for this sector of employment is higher than the national average, and the national average for salary is listed as over $130,000.
Business executives working as marketing managers lead marketing teams and oversee marketing campaigns. These professionals also analyze business ideas, assess product profitability, and design strategies that increase sales and attract customers. This business leader's expertise benefits their company and their bottom line.
Online MBA Graduates Can Become Information Technology (IT) Managers
IT management has become one of the most vital requirements in any business. Cybersecurity threats increase every year. Well-trained IT managers are also called computer and information systems managers. These professionals usually have a wealth of experience in computers, networking, and communications. They possess a high level of leadership and business skills.
The addition of an online MBA in California gets many IT professionals out of the windowless server room and into the top-floor boardroom. These managers help plan and implement highly effective IT strategies. California IT managers are critical thinkers. They work within the top three IT brands in the Golden State and beyond. IT managers possess solid analytical skills and the know-how to bring teams together. These professionals report a mean annual salary of $165,000 and a salary range by industry in 2023. IT management is a lucrative career across the board in California.
Online MBA Graduates Can Become Healthcare Managers
Healthcare management is often considered a great business management job for several reasons. There are ample opportunities for career growth and job security in healthcare management. Healthcare management offers various career paths and opportunities to specialize in hospital administration, health systems management, long-term care management, health informatics, and more. This diversity allows individuals to explore their interests and find a role that aligns with their skills and passion.
Working in healthcare management allows individuals to make a meaningful impact on people's lives. By ensuring smooth operations, optimizing resources, and improving patient care, healthcare managers contribute to patients' overall well-being and health outcomes. It's a rewarding field where professionals can see the direct results of their efforts.
Healthcare management combines the principles of business and management with the unique challenges of the healthcare industry. As a healthcare manager, you'll need a strong foundation in finance, operations, strategic planning, human resources, and healthcare regulations. This multidisciplinary approach allows professionals to develop a versatile skill set that can also be transferable to other industries. Healthcare management positions often come with competitive salaries and benefits due to the high level of responsibility and specialized knowledge required. This can provide financial stability and attractive career prospects.
Does California Have any Top Business Schools?
When considering a career in business, it is vital for aspiring b-school candidates to find the best-suited online MBA program for them. Potential California MBA students narrow down business schools using factors like tuition, class size, acceptance rates, test scores, and concentrations.
An online business degree upgrades workers' skillsets and gives them the confidence to take on the ever-evolving demands of corporate America. Here are some of the state's best business schools in California to help you start your educational journey:
California's business education system includes these public segments: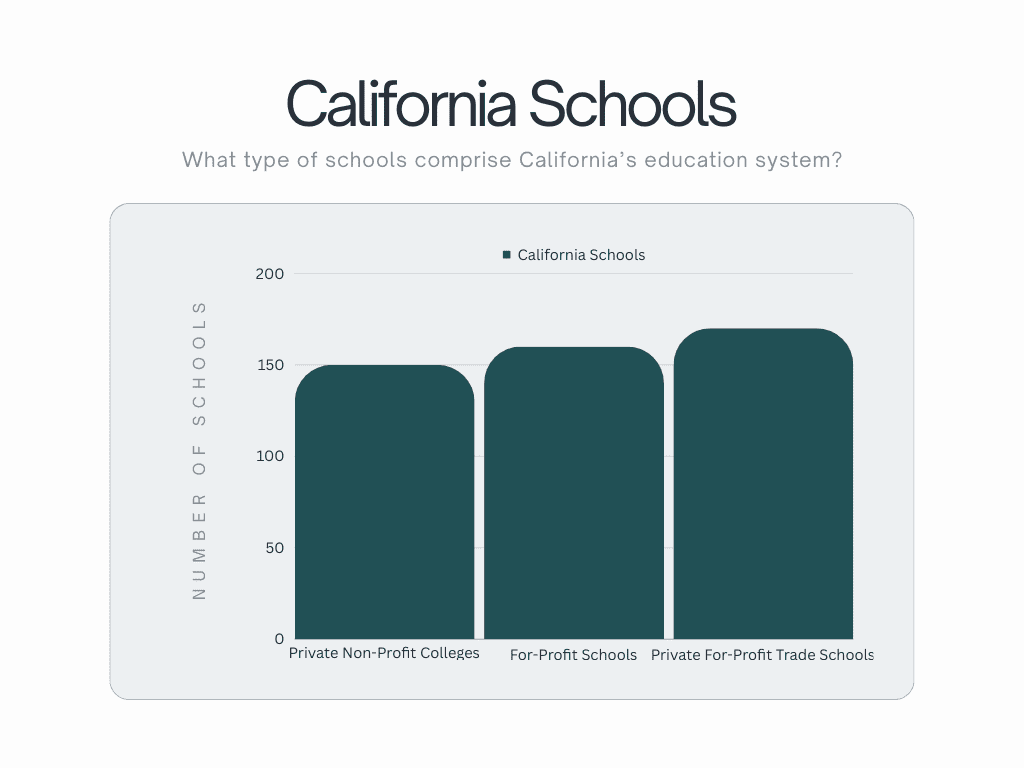 There are over 150 private nonprofit colleges and 160 for-profit schools in California. The state's universities enroll three million students annually. Another 170 private for-profit trade schools in the Golden State annually enroll approximately 30,000 students. These institutions offer vocational certificates instead of degrees.
There are some interesting facts about California's school system. Eighty percent of California college students attend public institutions and over fifty percent are in community college. California private nonprofit colleges enroll more students than the University of California. Enrollment numbers have been declining.
California has no coordinating body for higher education. The leadership and structure make goal-setting and coordination an issue. California adheres to the 60-year-old Master Plan for Higher Education.
What Will I Spend on an Online MBA in California?
Online MBA programs offer a convenient way to generate and boost careers. Graduate students can increase earnings while gaining knowledge. The goal for some is to start a new venture or move up the corporate ladder. Some MBA students transition into new and more rewarding careers. Top business schools in California offer many ways to make it possible at varying price points.
Thanks to advances in technology, pursuing an online MBA in California is no different from sitting in a campus classroom. As the demand for business programs grows, so do the energy and resources that universities are pumping into them. Most schools assert their regular faculty are heavily involved in online offerings. Thanks to video conferencing, even in-class mainstays such as cohorts are readily available to remote learners.
All programs in California are not created equal. Online MBA degrees in California vary in cost, length, customization options, requirements, and career outcomes. Choosing the right California online MBA means comparing and contrasting assets of all programs to find the very best fit.
Affordability of Online MBA programs in California
The top online MBA programs in California are readily available for around $20,000 to over $100,000.
| School | Affordability |
| --- | --- |
| University of California, Los Angeles | $$$$$ |
| University of Southern California | $$$$ |
| University of California, Irvine | $$$$ |
| University of California, Davis | $$$$ |
| Pepperdine University | $$$$ |
| University of San Diego | $$$ |
| Claremont Graduate University | $$$ |
| California State University Long Beach | $$ |
| California State University, Bakersfield | $ |
| California State University, Stanislaus | $$ |
This is a list of the top Online MBA programs in California and the affordability of their base tuition. $ = $0-$19,999; $$ = $20,000-$49,999; $$$ = $50,000-$99,999; $$$$ = $100,000-$129,999; $$$$$ = $130,000+
The Most Affordable Online MBA Programs in California
There are several affordable online MBA programs in California. Here are a few options to consider:
California State University, Monterey Bay: The Online MBA program offered by CSUMB is known for its affordability and flexibility. It provides a comprehensive business education with a focus on strategic management and leadership.
California State University, Dominguez Hills: CSUDH offers an Online MBA program with affordable tuition rates. It is designed to accommodate the needs of working professionals seeking to advance their careers.
California State University, Stanislaus: CSU Stanislaus offers an Online MBA program that provides a solid foundation in business management. It is a cost-effective option for those seeking a quality MBA education.
California Baptist University: CBU offers an Online MBA program that focuses on strategic leadership and management. The program provides a well-rounded business education with courses in areas such as finance, marketing, and global business.
University of La Verne: The University of La Verne offers an Online MBA program that is known for its affordability and flexibility. The program emphasizes ethical leadership and responsible business practices.
These are just a few examples of affordable online MBA programs in California. It's important to research and compare different programs to find the one that best fits your budget, career goals, and educational needs. Additionally, consider factors such as accreditation, faculty qualifications, curriculum, and student support services when making your decision.
Why Should I Consider an Online MBA in California?
Earning a California online MBA requires time and money. In return, it delivers many benefits. Online MBA B-schools offer chances to develop management and business skills applicable to all industries. Graduates qualify for diverse careers and earn much higher salaries than the average United States worker.
Online MBAs in California Earn Attractive Salaries
MBA graduates qualify for careers that earn substantial salaries. Sales managers earn a median salary of $130,000 every year. Compensation and benefits managers make $131,000 annually.
Online MBA Programs in California Form Broad Skill Sets
Pursuing an online MBA develops versatile, broadly applicable skill sets. Business students learn communication, management, leadership, interpersonal skills, and general business knowledge.
Online MBA Programs in California Gain Career Opportunities
California online MBA programs prepare graduate students for exciting, lucrative careers in finance and business. These professionals work as top executives, human resources managers, and training and development managers.
Online MBA Programs in California Features Benefits Unavailable in Other States
These professionals gain access to many schools with online programs, thriving networking opportunities, and plentiful career opportunities after graduation.
California features nearly 450 postsecondary institutions. That amount is more than any other U.S. state. The Golden State houses prestigious private and public universities that offer online and in-person programs at many price points. The state's track record of offering high-quality distance education means students find the online MBA program they want in California. In 2020, over half of state students participated in online learning.
What Do California's Best Online MBA Programs Have in Common?
Higher education institutions across the state provide many experiences and opportunities. Each top business school in California offers its own culture, course selections, resources, and ways to interact with the community. Quality B-schools tend to share several common characteristics:
Accreditation
Business schools that have earned accreditation from third-party agencies are recognized for offering a top standard of education. California's best business schools are accredited by one of the following bodies: the Association to Advance Collegiate Schools of Business (AACSB), the International Accreditation Council for Business Education (IACBE), and the Western Association for Schools and Colleges (WSCUC).
Affordability
Students may be eligible for various forms of financial aid to help with the cost of education. FAFSA helps determine the allocation of state and federal aid. Each college and university determines its own institutional aid.
Academic Excellence
Business schools fostering a student-focused approach to academics consider the student learning experience and quality of education. Business programs with smaller class sizes tend to offer a more personalized graduate student experience.
Reputable and Robust Experiences
High-quality online MBA programs feature selective admissions and impressive student outcomes. Consider the percentages of graduate degrees against online enrollment, acceptance, and graduation rates to find the program in California right for you.
Related Resources:
Best No-GMAT Online MBA Programs
Best MBA Programs in California
Best EMBA Programs
Best 1-Year Online MBA Programs