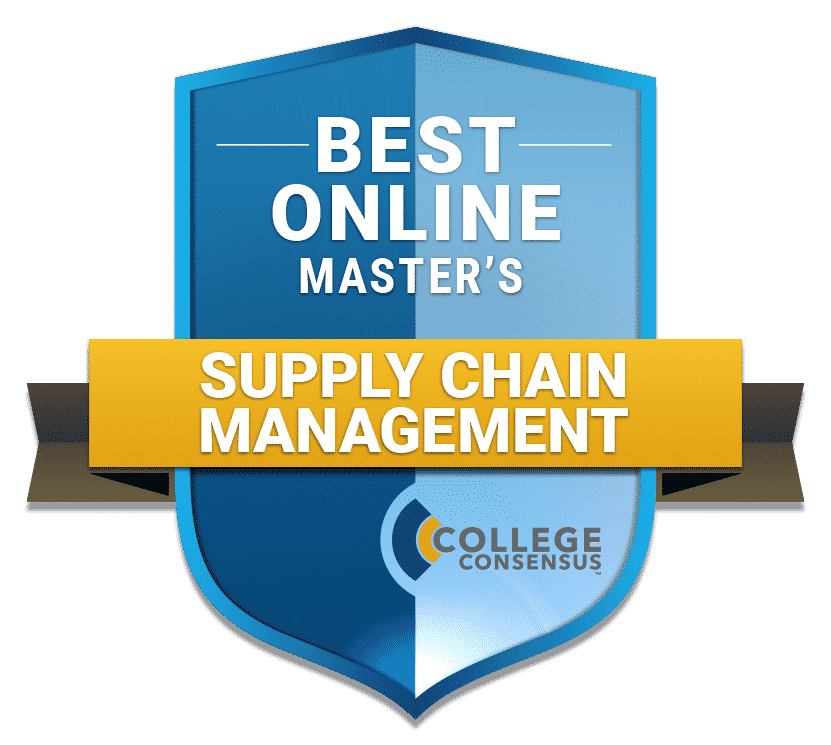 Some of the best colleges and universities in the nation now offer Online Master's in Supply Chain Management. These programs allow working professionals the unique opportunity to learn more about their field of study and apply principles acquired in the classroom directly to their work environments in real-time before they even graduate. Better still, distance learners enrolled in online graduate programs often have the opportunity to complete all course assignments through the internet without ever having to visit a university campus.
Supply chain management, commonly referred to as SCM, is the activity and process of sourcing components and raw materials, an organization needs to create a service or product and then deliver that service or product to customers. The goal of elite supply chain management is to improve every aspect of supply chain performance.
Accurate and timely supply chain information allows manufacturers to manufacture and ship only as much product is needed to sell. Effective supply chain systems and leadership help both manufacturers and retailers work more efficiently by reducing excess inventory. The result is a decrease in the cost of producing, insuring, shipping, and housing unsold products.
Supply chain managers play a crucial part in the operations of an organization. These upper-level leaders are responsible for overseeing the purchasing, transport, and receiving the supplies and raw materials that are then used to manufacture the goods and successfully run their business. The demand for qualified and adequately trained supply chain professionals, with the skills and knowledge that an online graduate program in supply chain management offers, is in constant demand. A degree like this one saves time and money while making a working professional more marketable to future employers.
As global operations continue to become increasingly sophisticated, and more corporations need to maintain a tighter inventory than ever, organizations the world over are scrambling to hire supply chain managers and specialists. Here are 25 of the nation's best Online Master's in Supply Chain Management.
Methodology
To find the best Online Master's in Supply Chain Management programs, schools offering either hybrid or online master's degrees in supply chain and logistics management were examined. These online programs were ranked in this list upon their reputation, convenience, and affordability.
Reputation
To find a consensus of each degree's reputation and prestige, data was combined from US News and World Report, The Princeton Review, and each school's College Consensus Score. Each school's information was averaged and placed on a 100-point scale. This data became the Reputation Score, which attributes to 33% of the ranking score.
Convenience
The convenience of each online program was measured by if the test score requirement is waived or omitted during the admission process and whether it can be completed in a 100% online format. This Convenience Score attributes to 33% of the ranking score.
Affordability
Each program's base tuition was calculated for the entirety of the degree. The tuition data for each program was taken directly from the university's website. The tuition was inverted and placed on a 100-point scale. This Affordability Score attributes to 33% of the ranking score.
Supply chain management (SCM) is the maintenance and oversight of resources, raw materials, services, information, and finances as they shift from supplier to customer. Professionals in supply chain management primarily oversee the complete lifecycle of a product from how it is acquired and distributed to its finally being allocated and delivered. Many significant industries, manufacturers, retail outlets, tech brands, manufacturing organizations, and even the federal government, daily depend on qualified supply management leaders. Supply chain management is one of the most in-demand fields of business in today's modern marketplace.
Opportunities within the area of business leadership range from day-to-day, on-site management of products and people flow to office-type roles in charge of supply chain management. Inventory control and demand forecasting play integral roles in SCM. Professionals who thrive in an ever-evolving work environment, as well as those looking for a rewarding career option, will feel at home within this position. An online graduate degree in supply chain management is the best way for prospects in this field to find a position in the marketplace. It will allow them to command an attractive starting salary, while also potentially negotiating a massive signing bonus.
Online programs are set apart from their traditional counterparts in many ways. The most significant difference between a traditional graduate degree in supply chain management and its online counterpart is where a student attends class. Online education has made it possible for students to live anywhere in the world and be able to meet with professors and fellow students in the virtual classroom through a reliable internet connection. Sometimes classes are offered in real-time, synchronous classes, which gives students a chance to video conference call. Many universities maintain a course library of presented lectures that students can access and view at any time day or night, asynchronous classes. Both options speak into the flexibility and convenience of an online master's degree.
There are also remarkable similarities between the two degree formats. Researching graduate school candidates will do well to make sure that the curriculum delivered within an online program is the identical material traditional students have access to. While tuition prices are a huge factor for students looking to continue their education, many business schools across the nation make it clear that online students are subject to the same tuition rates than in-state students are responsible for paying. Another helpful bit of information that a business school will share with potential graduate students is the fact that the diploma granted to online master's degree students is the identical diploma awarded to traditional students. Online learners will often feel better about a program knowing that the distance degree is in no way inferior to the brick-and-mortar education offered at the college.
What are Some Specializations Offered Within the Online Master's in Supply Chain Management?
It may seem painfully obvious, but the most common concentration for an online supply chain management degree is supply chain management or operations. Combining leadership and business skills with decision-making, problem-solving, coordination, and planning, a supply chain operation focus prepares graduate students for a leadership career in the field. Career choices for students seeking this specialization include operations supply chain manager, warehouse manager operational analyst, supply chain administrator, quality assurance specialist, and operations consultant.
Logistics is another concentration students can mate to an online master's in SCM. An online logistics program centers more on the science and theory of supply chain management than the day to day realities. Logistics is often fused with practical supply chain management realities for a well-rounded education. Specialists with a degree in logistics can go on to become master schedulers, logistics consultants, research analysts, industrial engineers, and supply chain managers.
Graduate students desiring to travel and perhaps live in a foreign country may be interested in emphasizing global supply chain management while pursuing a degree in the field. Specializing in global supply chain management gives students the chance to focus on the fascinating and complicated world of international trade, global logistics strategy, and industrial shipping. Graduates with a degree in this concentration are qualified to become international supply chain managers, supply chain management analysts, and international logistics consultants.
What Curriculum is Delivered within the Online Master's in Supply Chain Management?
Like most graduate degrees offered throughout the nation, individual courses will vary among online graduate programs in supply chain management. Some business schools take a more business-intensive approach to their curriculum, while others concentrate on the science of supply chain management. One topic students are sure to encounter within an SCM degree is Supply Chain Management. Most schools will feature several core requirements on the topic of supply chain management. These introductory to advanced courses center on how to combine supply and demand oversight for optimal business results and profit. Case studies will often be used to inform students of the supply chain management framework.
Operations Planning is an instrument topic of SMC. A substantial aspect of supply chain management involves keeping all of the operations running smoothly. Online students learn the various strategies for managing logistics operations within this area that is akin to organizational theory courses.
Business Law is particularly important to international industries as it helps to determine the effectiveness of global supply chain management. Students in these courses will learn the ethical and legal requirements needed for importing, exporting, and more.
Logistics/Transportation Analysis deals with resources like ships, trains, and trucks. Transportation resources are imperative to supply chain management as they make up the conduit for how goods and services are delivered first to manufacturers and then to the customer base. Online master's in supply chain management students must understand how to analyze and evaluate current transportation and logistical systems to optimize them for efficiency better.
How Long Will it Take to Complete an Online Master's in Supply Chain Management?
The two most significant factors to consider when estimating just how long an online supply chain management degree will take are the total credit hours of a degree and the format by which a degree is delivered. Some programs are taught entirely online and feature no residencies or campus visits from start to finish. Hybrid master's degrees will feature a percentage of distance learning with some campus visits. An admissions office may require that program candidates visit the school's campus during the interview process. Business schools offering a hybrid program might want students to enroll in a new student orientation at the start of the coursework or come meet with course instructors and fellow students once a month throughout the duration of the degree. Short residencies may seem inconvenient, but they do offer the chance for students to grow their professional networks and get valuable face to face time with program leaders. Master's degrees in supply chain management that are exclusively online use technology in creative ways to allow students to stay connected to each other and course instructors. Video chat rooms are often used to help students work on group projects together.
One of the fastest ways to progress through a master's degree in supply chain management is to attend classes in tandem through in-person and online means. Students with the margin of time that allows them to take more than one course each term can breeze through a degree. Graduate students will often use weekends and evenings to complete assignments. As U.S. News and World Report states, most online graduate degrees will consist of 30 or more credit hours and take approximately two years for most students to complete.
As a final note to consider, the Online Master's in Supply Chain Management will continue to be a solid degree choice for the working professional desiring to ramp up their career in an exciting job market. Cost-effective, flexible, and high-quality online programs are spread all over the country. Research the many characteristics of this excellent degree and find one that is the right fit.