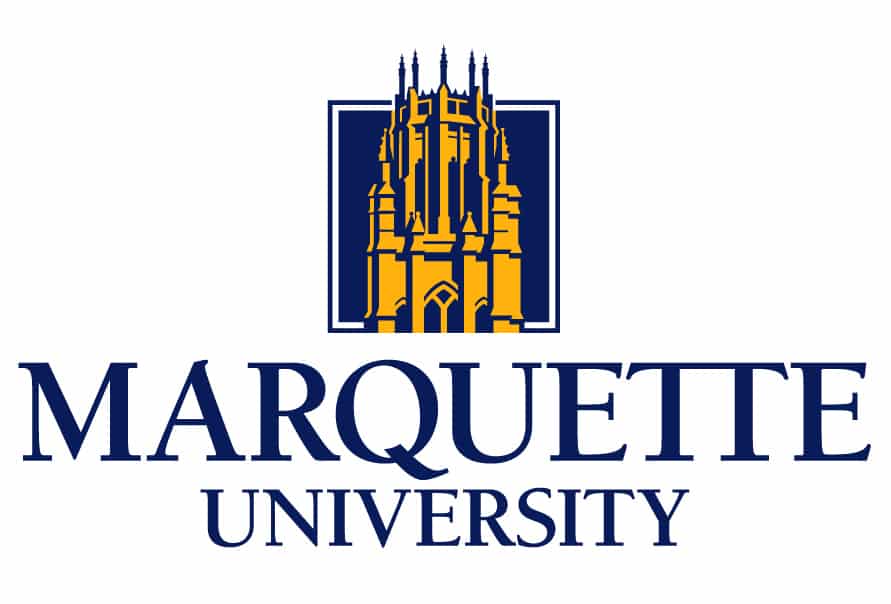 Accreditation
AACSB, Higher Learning Commission
Marquette University is a Catholic university that challenges students to "Be the difference." U.S. News and World Report's 2020 edition places Marquette 84th among America's Best Colleges, and 55th in Best Value Schools. Marquette can also be found on the Princeton Review's list of the "Best 384 Colleges" and within the category for "Best Midwestern Colleges." Many of the business programs within the AACSB accredited College of Business Administration have also garnered recognition. U.S. News and World Report ranks the EMBA 13th in the nation and among the top 50 part-time MBA programs.
Education
Undergraduates can start their dynamic business career path with a major in Accounting, Business Analytics, Business Economics, Entrepreneurship, Finance, Human Resources, Information Systems, International Business, Marketing, Operations and Supply Chain Management, and Real Estate. The curriculum for the Applied Investment Management program meets the requirements to partner with the CFA. Finance students are able to designate a track in Investments and Private Equity or Banking. The Applied Procurement course consists of one in-class lecture per week and two days spent in the field applying the skills they've learned. Master's programs are offered in Accounting, Applied Economics, Corporate Communication, Management, and Supply Chain Management. Students can also earn a Master of Business Administration or an Executive MBA. The MBA can be earned in conjunction with Law, Political Science, or Communication. Specializations are available in Economics, Finance, International Business, and Marketing. Students in the MBA program meet one evening per week, and EMBA students meet for the full day every other Saturday, as well as three residency weeks. The MBA curriculum can be completed by full-time students in 1.5 years, or about two years by part-time students, while the EMBA takes 17 months.
Student Life
CoBA is home to just over 1,500 undergraduate students and 300 graduate students. There are many experiential learning opportunities outside of the classroom, so students can put theory into practice. Students can strengthen their marketability through an internship, study abroad experience, or service-learning project. The Applied Global Business Learning organization connects students with developing countries through projects to help their economies flourish. Distinguished Women in business share their knowledge through the June and Herman Loebl Women Business Leaders Speaker Series. The Business Leaders Forum has featured notable speakers, such as CEOs of Best Buy, ConocoPhillips, and the Federal Reserve Bank of Chicago. The Center for Applied Economics, Applied Investment Management, Center for Real Estate, Commercial Banking Program, and the Center for Supply Chain Management host lectures, conferences, and events. The Student-Run Business Program offers paid opportunities for students to work collaboratively on ventures ranging from coffee shops, online book services, to small farms. There are also 13 business organizations on campus, such as Women in Business, Go-Getters, and the International Business Student Organization.
Online Programs
The highly respected online Master of Business Administration is a team-based program, which helps students learn to communicate with their peers effectively. Students will enroll in two courses each semester and graduate in 28 months. Students vote to determine the electives offered each term.
SEE ALSO