An online Master's in IT Management is a graduate degree program focused on the intersection of information technology (IT) and business management. It blends technical knowledge with business and leadership skills, preparing students for leadership roles in managing IT departments or projects. The online Master's in IT Management program offers flexibility, industry-relevant coursework, and networking opportunities, making it an appealing choice for IT professionals looking to advance their careers in the ever-evolving field of information technology.
Many IT managers work behind the scenes. They play a critical role in the overall performance of an organization. Their days are full of troubleshooting complicated technological problems, training junior IT team members, or navigating the rapidly evolving technology world. This career is a linchpin in all business organizations. For those wishing to advance into this type of role, an online Master's in IT Management could be a good route. This guide will show what to expect from an online Master's in IT Management and how it can prepare you for an exciting career.
Recommended Online Programs
Explore our featured online programs to find the right match for you today.
What Is IT Management?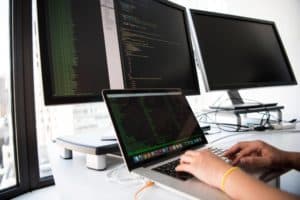 IT management employs highly competent business professionals. These managers are skilled with technology but spend much time hosting on-the-job meetings with management professionals supporting organizational goals. They determine an organization's present and future technology needs.
As business grows, many companies expand internally or go global. Growth means technology needs will inevitably change. IT managers are the experts who make technology transitions and development seamless for employees and their customers. Information technology managers meticulously establish and update an organization's computer systems. They work to protect servers from hackers and other malicious attacks. These business managers also meet with vendors to negotiate the best rates for technology programs and software.
Solid leadership skills are of the utmost importance. IT managers supervise support staff. They may oversee software developers, computer analysts, and information systems analysts. Smaller firms employ IT managers to wear many hats. They handle anything related to the company's technology. Large firms employ multiple IT managers. Some of the most common designated roles are IT security managers, chief information officers, chief technology officers, and IT directors.
Management careers have been around for many years. However, information technology is a relatively new niche in the business arena. The first computers used in business took up an entire room. These behemoths were essentially giant calculators. They were costly. Only large organizations invested in these machines for most of the 20th century.
The 80s is considered the birth decade of IT Management. Companies got excited about the personal computer. Finance departments were the first to gain access to the new technology. They created spreadsheets and ran accounting software. The active accountants were responsible for too many tasks. They could not handle computer maintenance. Technical specialists were onboarded to solve issues as they presented themselves. IT and business have always shared a strong link due to the early connection with finance departments.
Early IT departments for companies were very small. They, many times, consisted of one person. The group reported to the finance department. The tech needs of companies quickly stretched well beyond the finance department. These needs included email communications, network security, and internet connectivity. More employees within organizations gained access to computers. Additional IT experts were added. IT managers to supervise the IT departments were added. Decisions made by IT managers today will drive how innovative businesses will be tomorrow.
What is an Online Master's in IT Management?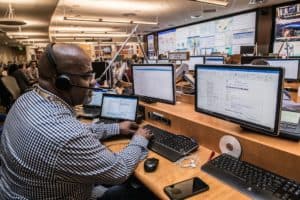 Some entry-level IT positions only require a bachelor's degree for qualified employees. Undergraduate degree options include computer and information science. These programs have a heavy emphasis on the technical skills needed to be successful. Candidates for management positions will be required to earn a Master's in Business Administration or a Master's in IT Management degree.
IT managers typically have five to ten years of IT experience. Those with management aspirations should begin graduate studies several years into their careers to speed up the process. It is common for MBA and online master's students to juggle work responsibilities while attending business school.
Online Master's in IT Management focus on management skills. They emphasize the more intricate business side of Information Technology. Many master's programs offer industry-relevant specializations in Technology, Business Intelligence, Cyber Security/Information Security, and Information Technology. US News and World Report highlights Technology jobs because of the increasing demand for the specialty. Technology is a vital element in the business world.
The need for business professionals who understand business and technology has influenced top universities like NYU to create tech-focused master's and MBA programs. Master's programs emphasize hands-on learning. There are ample opportunities to practice coding and technical skills through projects and immersion experiences. Courses within these programs include Managing Information Systems, Big Data Analytics, and Emerging Technologies for Business.
What Can I Do with an Online Master's in IT Management?
IT Managers work a 40-hour workweek. They frequently work additional hours when a technology crisis occurs at their companies. Computer systems design is the most substantial sector for employee IT managers. Information, manufacturing, finance, insurance, and management of companies are also popular directions to point your education. Some of the top tech companies to work for include:
DocuSign,
Salesforce,
Facebook,
Google,
HubSpot, and
LinkedIn.
These organizations' characteristics include exciting projects, positive work culture, caring management, and employee development.
The median salary for Computer and Information Systems Managers in 2022 was nearly $165,000 per year or $78 per hour. The top-paying industries include: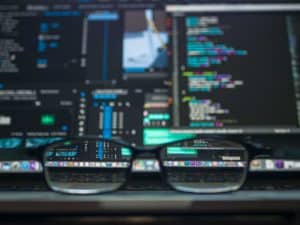 Manufacturing,
Information,
Management of companies,
Computer systems design,
Finance, and
Insurance.
The highest 10% in the field made nearly $240,000. Even the salary for the lower-paid managers was impressive. The bottom 10% earned less than $97,000.
IT managers cracked the top ten among US News and World Report's 100 Best Jobs. Standout features are an attractive salary, an exceptional job market, and many opportunities for future growth. The unemployment rate is less than 2%, making it easy for recent graduates with qualifying work experience to land a position. IT management is a dream job for business leaders with a knack for modern technology.
Ambitious IT managers can be promoted to IT directors and chief technology officers. They can even work their way to the top of the food chain as chief information officers. These jobs come with substantially higher salaries, prestige, and leadership responsibilities.
Top 10 IT Management Jobs
Why is Earning a Master's in Information Technology a Great Idea? IT experts are needed across many industries. The field is expected to continue expanding. The US Bureau of Labor Statistics reports computer and information technology jobs are on the rise. They are projected to grow 15% from 2022 to 2032. This rate is faster than the national average for all jobs.
Pursuing an online Master's in IT Management gives graduate students an in-depth understanding of how their specialty area interacts with business management. They graduate with enhanced credibility and expertise in information technology. These professionals enjoy more flexibility in selecting their next career opportunity.
What Will I Learn in an Online Master's in IT Management?
A Master's in IT Management is an excellent program. It may consist of only ten courses. The topics covered within this degree can be:
Fundamentals of object-oriented programming,
Enterprise data management,
Software design & integration,
Systems security management,
Business foundations of IT, or
Information security risk management.
Graduate students earning a master's in information technology gain many technical competencies. They design and develop information systems that connect technology to people and processes. These distance learners also gain a greater technical depth in IT areas.
The curriculum covers cybersecurity, data science, cloud computing, and more. This program is built for customization. Master's in IT Management students can select from interest areas to direct their learning. Coursework is relevant to information technology career goals. Available focus areas may include some of the following topics:
| | |
| --- | --- |
| Information Systems Management | This specialization emphasizes concepts and technical skills in data science. Graduate students learn topics like natural language processing, big data, data visualization, and data analytics. |
| Information Technology Security | This focus includes concepts and technical skills of network forensics, cybersecurity, information assurance, security analysis, and database security. Courses students complete throughout this program could consist of a project-driven curriculum with a hands-on approach to gaining practical skills in a chosen specialty. |
You might be asking yourself, "Do I Need Experience in Programming Languages?" Experience with programming languages is vital for success in an information technology master's program. Preferred languages are Linux, Java, JavaScript, and Python. Incoming students must demonstrate their understanding of the foundational principles of databases, programming, and networking.
What Are Admissions Requirements for an Online Master's in IT Management?
Different programs feature unique requirements. Here are three incredible distance degrees in IT management with admissions requirements included: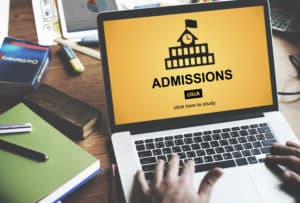 MS in Information Technology Management from Grand Canyon University
Grand Canyon University (GCU) accepts applicants 16 years old and older for admission. The University seeks future graduates with diverse perspectives, interests, and experiences. Program leaders appreciate candidates wanting to capture academic opportunities with enthusiasm and creativity. GCU does not discriminate on gender, age, race, color, national origin, disability, or any other classification protected by law.
The University desires to integrate Christian faith and practice within all aspects of campus life. No statement of religious affiliation is needed for prospective students.
All incoming business students submit acceptable high school or college transcripts to be considered for admission into the University. Applicants unable to meet the GPA requirements with their transcripts could have test scores or college GPAs that meet admission requirements. These incoming students may be eligible for full admission.
Candidates can apply online or call Admissions Counselors. A non-refundable, non-transferable $50 application fee is posted on the current application upon enrollment. This fee is waived for qualifying service members and military spouses. Verifying documentation is required to show military status.
Applicants can fax or scan unofficial college transcripts. Unofficial transcripts are used for acceptance purposes with a transcript request form submission. Applicants mail official college transcripts as sealed, unopened copies. Admission requirements include an accredited bachelor's degree with a 3.0 for good-standing admission.
Online MS in Management Information Systems from The University of Arizona
Admission Requirements include an undergraduate degree GPA of 3.00. Domestic students must have a bachelor's degree from an accredited college or university. International students must have a US comparable bachelor's degree.
Applicants must also have two years of work experience, not including internships. A proper application features a completed Graduate College application with a $90 processing payment. Required documents include copies of transcripts. Official transcripts are sealed documents from all institutions attended. Candidates send their official transcripts to the business school.
A current resume includes education, employment history, awards/honors, and memberships in professional organizations. A Purpose of Graduate Study states the applicant's goals and objectives for gaining the degree. Candidates say how obtaining the degree will impact their career paths. Three letters of recommendation round out the application.
How Much Does an Online Master's in IT Management Cost?
There are many advantages to pursuing an online Master's in IT Management. Traditional programs can include extra expenses. Commuters juggle vehicle maintenance, parking fees, and travel expenses. Online students enjoy the benefit of continuing in their current jobs. They are not saddled with peripheral costs typical to on-campus experiences.
We are all familiar with the term "time is money." This statement is true of a master's degree. Choosing a master's program with an accelerated graduation time is helpful. These degrees keep costs down during the duration of the study. They help professionals find high-paying positions in a shorter amount of time.
How Long Does It Take to Get an Online Master's in IT Management?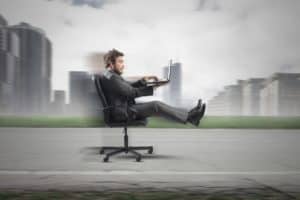 Let's take a look at a couple of programs to see how long an Online Master's in IT Management will take to complete.
The University of Alabama at Birmingham's Collat School of Business features an entirely online Master's of Science in Management Information Systems. This nationally-ranked program is supported by the business school's exemplary business AACSB accreditation. This program boasts an asynchronous course schedule. Enrolled students can complete assignments at their leisure. There is 24-hour course access. This degree can be completed in one year.
A high-performing degree in IT Management is at the University of Texas-Dallas within the Naveen Jindal School of Management. This 36-credit hour online Master's of Science in Information Technology and Management includes 18 credit hours of core courses. There are 12 elective credits and six elective credits—most students of the highly flexible program finish in one and a half to two years.
Is Getting an Online Master's in IT Management Worth it?
There are some reasons to consider a Master's in IT Management. The field of technology and computer science continues to grow quickly. Organizations rely on well-trained managers to oversee the maintenance and development of technological systems at all levels. IT Managers continue to enjoy a high rate of demand. They also experience a low rate of unemployment. This career draws an attractive annual salary.
But what is the best way to pursue an IT management degree? There may be some advantages to seeking a traditional classroom degree. An online Master's in IT Management offers benefits that its brick-and-mortar counterpart cannot. This degree is flexible with course scheduling and sometimes considerably cheaper.
Earning an online Master's in IT Management means setting coursework assignments around graduate students' professional and personal schedules instead of the other way around. Distance learners do not need to relocate entirely to another city or state. They do not have to leave a position within an organization. These professionals can study and work on projects within the comfort of their own homes.
The Best Schools Offering Online Master's in IT Management Degrees
Below is our list of the top online Master's in IT Management programs. These degrees hail from the top business schools. The online programs are listed in alphabetical order.


One of the nation's best online Master's in IT Management programs is offered at the LeBow College of Business and College of Computing & Informatics at Drexel University. Technological advances are constantly developing. Business and IT units see how these advances affect an organization's growth. Inefficiencies hinder an organization's growth and success. Enrolled students are the bridge that connects business and IT.
Drexel's Master of Science in Business Information Technology (MS BIT) is STEM-designated. This program is the go-to resource every organization needs to operate at a higher level. The interdisciplinary degree equips students to lead IT projects with an eye toward business goals. Graduates can also become IT expert who leads the business. Graduate students are prepared to meet business goals, solve organizational issues, and manage the innovation necessary for success. There is a lot to love about this online IT program.
Accreditation
AACSB, Middle States Commission on Higher Education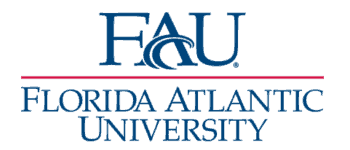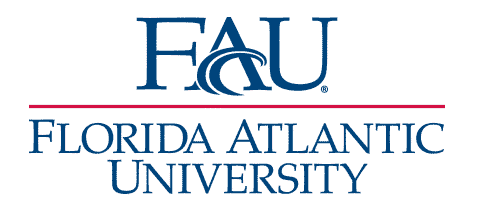 The College of Business at Florida Atlantic University provides one of the nation's best online Master's in IT Management programs. FAU's IT Management graduate degree prepares students to bridge the gap between Business and Technology. Highly skilled graduates of the program navigate these two areas of the corporate landscape. Program designers equip distance learners with theory and application. Students are exposed to cutting-edge IT developments and trends. They are prepared for professional careers in Big Data, Information Technology (IT), Computer Forensics, Business Analytics, and Cybersecurity.
The Professional Master in IT Management is perfect for working professionals in on-campus and online formats. The options allow for convenience and flexibility. Business students can concentrate in Information Technology or Business Analytics. Industry-leading instructors teach all program courses. Incoming applicants can hold bachelor's degrees from any discipline. This entirely online program takes one year to complete. There is no GMAT/GRE required. The excellent online Master's in IT Management is worth a second look.
Accreditation
AACSB, Southern Association of Colleges and Schools, Commission on Colleges
3
Florida Institute of Technology
Nathan M. Bisk College of Business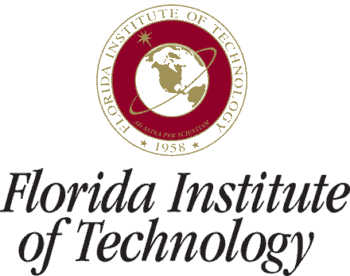 An excellent online Master's in IT management degree program is at Florida Institute of Technology's Nathan M. Bisk College of Business. This Master of Science in Information Technology provides essential strategic technology and business management courses. Enrolled students develop as well-rounded professionals. They gain the technical and management knowledge to maintain security strategies that protect a company's information and technology assets. Graduate students seeking the information technology master's program learn how to lead projects from a 21st-century information technology perspective. Distance learners develop information systems as strategic tools to highlight competitive advantages.
Bisk College of Business students learn to adapt to new technologies quickly. They discover how to thrive in the global environment. This online MS in Information Technology is valued by employers needing professionals with advanced educational qualifications. The curriculum covers practical leadership abilities and a technical understanding of emerging technologies in the IT sector. This stellar online IT degree is worth its weight in gold.
Accreditation
IACBE, Southern Association of Colleges and Schools, Commission on Colleges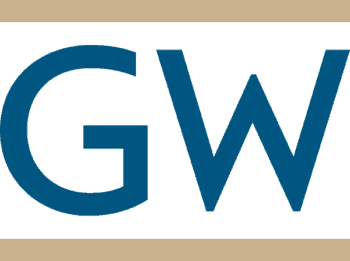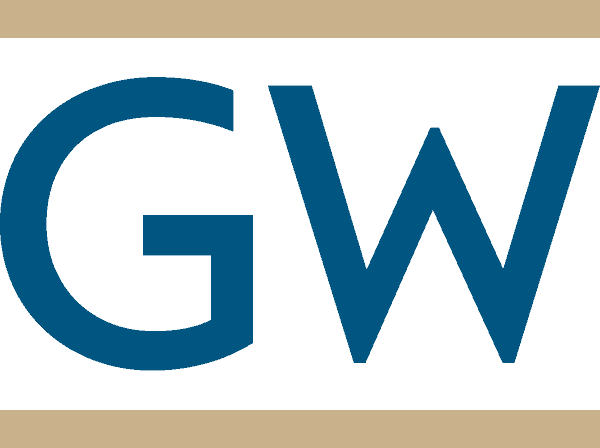 George Washington University's School of Business features an online Master's in IT Management program. The Online Master of Science in Information Systems Technology teaches today's technology and tomorrow's management skills. GWU's MSIST program was established in 1980. It is one of the longest-running programs in Information Systems. The program has earned a reputation for equipping graduates since its creation. Enrolled students gain a thorough understanding of information systems. The curriculum covers relevant management, decision-making, and communication skills. GWU's Online MSIST was introduced in 2013. It continues the tradition of academic excellence and reaching students nationwide and worldwide.
This online IT program features a suite of dynamic, applicable laboratory online classes. Graduate students learn to integrate information systems technology knowledge. The program's management lessons guide learners to implement business solutions effectively. This advanced technical knowledge, management skills, and proven business strategy help OMSIST graduates succeed. Enrolled online IT management students enjoy access to seasoned instructors and a top-shelf curriculum.
Accreditation
AACSB, Middle States Commission on Higher Education

Grand Canyon University's Colangelo College of Business features an excellent online Master's in IT Management. The Master of Science in Information Technology Management at Grand Canyon prepares students to pursue potential IT management leadership positions. Graduates are qualified to work in corporations and organizations across industries. This program is the crown jewel of the Colangelo College of Business. It covers foundational knowledge and skills through technology and management courses.
This STEM degree can enable distance learners to delve into the details of topics. Enrolled students learn about organizational behavior, strategic management, business process analysis, and IT project management. The online MS in IT management degree is perfect for business leaders with an information technology background. Optimal candidates want to position themselves for potential leadership roles or aspire to fulfill entrepreneurial ambitions. Grand Canyon University hits a home run with this online Master's in IT Management.
Accreditation
ACBSP, Higher Learning Commission
Recommended Online Programs
Explore our featured online programs to find the right match for you today.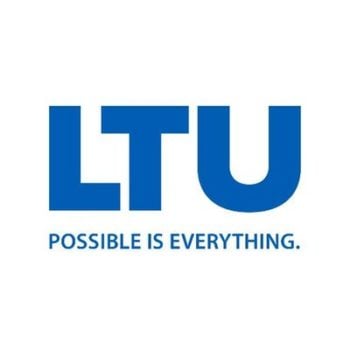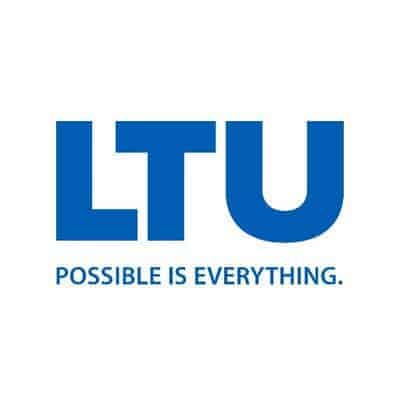 Lawrence Technological University's College of Business and Information Technology offers an online Master's in IT Management. Program architects realize we live in an information-driven world. Leading teams and organizations while solving technological issues is vital to IT professionals' career success. LTU's online Master of Science in Information Technology teaches distance learners to combine technical knowledge with problem-solving skills to grow careers. Enrolled students can build on their technology expertise while exploring topics. Finance, engineering, logistics, and manufacturing are part of the curriculum. The program includes lessons on testing innovative information and data transfer ideas across systems. All graduate students can study online while continuing to work.
Earning an online Master of Information Technology from LTU is convenient. Graduate students study when and where they want. Distance learners enjoy the fast-paced program completed in two years or less. The collaborative curriculum had students learning alongside professionals from the largest companies in the region. Tomorrow's business leaders get equipped with this online Master's in IT Management.
Accreditation
AACSB, Higher Learning Commission


The University of Georgia's Terry College of Business offers an excellent online Master's in IT Management. Georgia's online Master of Business and Technology reinforces graduate students' IT skillsets and complements them with project management and leadership experience. This program operates at the intersection of business management and IT. Graduates of this program are prepared to lead teams that develop technology-based solutions. These professionals are highly sought after by employers. All graduates entertain employment offers after completing the program.
This high-ranking online graduate (non-MBA) business degree offers many benefits. Working professionals enjoy the online Master of Business and Technology program. It is delivered through an online format of self-paced and scheduled coursework. Enrolled students earn a master's degree in two years. Business school leaders offer the innovative online Master of Business and Technology degree. It focuses on business and technology by addressing the business strategy and technical know-how gap. Online graduate students needing professional development will appreciate the IT management degree.
Accreditation
AACSB, Southern Association of Colleges and Schools, Commission on Colleges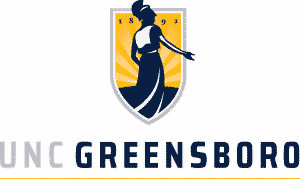 The Bryan School of Business and Economics at the University of North Carolina at Greensboro features one of the nation's best online Master's in IT Management programs. This is a high-ranking Online Graduate Computer IT Program by US News & World Report. The Bryan School's MS in IT and Management program is for those wanting to learn recent and relevant information technology skills and enrich their business careers. Concentrations include Business Analytics, Supply Chain Management, and Cyber Security.
Online students can decide how to structure their training for career excellence best. Each of the specializations is available as a certificate program. The business school offers graduate IT Development, Enterprise Resource Planning, and IT Management certificates. Applicants completing a certification receive a GRE/GMAT waiver for entry into the master's program. The online MS in IT & Management is a STEM program. This online IT management program is one of the best you can choose.
Accreditation
AACSB, Southern Association of Colleges and Schools, Commission on Colleges

The Naveen Jindal School of Management at the University of Texas at Dallas features one of the nation's best online Master's in IT Management. This Online Master's in Information Technology Management features a flexible twelve-course/36 semester-credit degree plan. Enrolled students work through courses at their own pace. Graduate students take core courses and have over twenty online elective courses. Program designers allow students to network with other business professionals throughout the coursework.
The business school advertises a GRE/GMAT waiver that makes program acceptance easier. The Master's in Information Technology Management offers today's IT management students excellent value. Distance learners looking for quality IT foundation classes will thrive within the experience. This online Master's in IT Management program is among the best choices.
Accreditation
AACSB, Southern Association of Colleges and Schools, Commission on Colleges
The Walker School of Business and Technology at Webster University offers an excellent online Master's in IT Management. Enrolled students become information technology leaders with the IT master's degree from Webster under their belts. IT touches all business aspects. Its effective management enables quality communication and efficient operations. Master's in Information Technology Management professors train students to work as integral leaders in any organization. The curriculum helps distance learners gain a foundation in emerging information technology. Graduate students add management skills to an impressive resume with this business credential.
The Master's in Information Technology Management program offers flexibility. It is perfect for working adults. Individuals taking one class every nine-week term will complete the program in 30 months or two and a half years. Students taking more than one class each term will finish sooner. The program can be completed in 18 months by students taking two classes every nine weeks without interruption. This online Master's in IT Management will direct their careers forward.
Accreditation
ACBSP, Higher Learning Commission
Getting your Online Master's in IT Management
What if you could learn from a seasoned staff of respected technology and business experts from one of the nation's top-ranked business schools? What if you could enjoy networking opportunities with current students, business school instructors, and alums? These elements are realities for today's graduate students seeking online Master's in IT Management degrees.
Some of the best programs available nationwide are featured through online curriculums. An entirely online program delivered by a business school's world-renowned faculty means not bogging your education down with campus visits and expensive residencies. However, programs can differ in their amenities. Future business students must research the features business schools offer.
Careers as an IT manager can be rewarding and lucrative. The BLS projects growth to be 15% for computer and information systems managers between 2022-2032. This rate is much higher than for other professions.
A fresh start in a developing career field may excite you. Now might be the perfect time to pursue a career in IT management. Undergraduate students get their start with an IT bachelor's degree. These professionals are primed to earn an online Master's in IT Management. It is great for those technical students with work experience ready to accelerate their careers by entering a master's program with a technology-related focus. IT management is a great field to pursue. Start today.
Related Resources:
Highest Paying Online Tech&Computer Degrees
Online Information Technology MBA Ranking
Best Online Master's in Management Programs