A Bachelor's in Accounting degree opens the doors to many accounting and finance positions within small businesses, corporations, and even large organizations. A Bachelor's in Accounting degree not only prepares students for the accounting profession by building the foundational math skills needed for a career in financial services but also the problem solving and critical thinking skills that are essential to keeping businesses running efficiently. Graduates from a Bachelor's in Accounting program are well on their way to becoming accountants and CPAs.
What is the difference between a CPA and an Accountant?
Both accountants and Certified Public Accountants (CPAs) work in a variety of fields such as corporations, small businesses, or government agencies. But while all individuals who choose to become a CPA are accountants, not all accountants are qualified to practice as CPAs. CPAs must pursue strict testing and licensing requirements. This is because there are more responsibilities that a CPA can handle because of their training, like handle audits and reviews of financial statements. Many professionals who complete their Bachelor's in Accounting go on to earn their Master's or Doctorate in the field, because those who continue their education often meet the requirements to become a CPA. Earning a bachelor's degree or higher in accounting prepares graduates for and advanced career as a CPA, as well as positions in management accounting, auditing, or forensic accounting.
The History of Accounting
An Italian monk named Luca Pacioli shifted the bookkeeping structure and created the groundwork for modern accounting in the 15th century. Pacioli is frequently referred to as the father of accounting. In his textbook called "Summa de Arithmetica, Geometria, Proportioni et Proportionalita" he showed the benefits of the double-entry system for bookkeeping. This method created a balance sheet that had both debits and credits. While this was a slight shift, it made bookkeeping significantly more efficient and provided a clearer insight into a company's overall financial state. Initially, this record was only for the business owner who hired the bookkeeper, and the general public had no access to such records.
Railroads played an influential role in the transformation of the accounting and bookkeeping industry in America. Once the railroads were completed, systems were needed to keep track of supplies and getting people to their destinations. Bookkeeping transitioned from keeping ledgers to providing the services that are now a part of accounting, such as creating operating ratios, financial statements, cost estimates, production reports, and more so that businesses are able to keep track of all areas of their organization. Railroads also significantly increased business's reach and helped create uniform systems that encouraged investments. This, in turn, raised the need for accounting services. Today accountants are a vital part of successful businesses and organizations. This is partially due to the railroads' ability to quickly connect people and products across the nation.
What can I do with a Bachelor's degree in Accounting?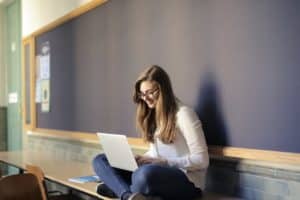 Those with a Bachelor's in Accounting are qualified for many positions within the realm of finance. A few of the common positions include accountant, bookkeeping, auditing clerk, cost estimators, tax examiners, and financial managers. Those who choose to study for the CPA exam may also either find advanced CPA positions or start their own firm within this field. The Bureau of Labor and Statistics shows that some of the top-earning positions in accounting include financial managers with an average salary of $129,890, management analysts who make around $85,200 per year, and budget analysts with an annual salary of about $76,500.
What courses are needed for a Bachelor's in Accounting?
Those planning to complete their undergraduate in accounting can do so in several ways. A few of the options generally available are Bachelor's of Science in Accounting, Bachelor's of Business Administration in Accounting, or Bachelor's of Arts in Accounting. A Bachelor's of Science is the most common accounting degree. All three types are completed in around four years and include a variety of basic courses before students move into major-specific content.
After basics are complete, the focus shifts to preparing students for entry-level positions in the accounting industry with courses such as intermediate financial accounting, business law, auditing, ethics in business, economics, and principles of management. The Bachelor's of Science options typically have more math or accounting-related courses. A Bachelor's of Business Administration in Accounting will have the same fundamentals but with an emphasis on overall business knowledge and analytical thinking skills. And a Bachelor's of Arts will also cover the fundamentals, but with more flexibility for electives, minors, and double majors.
Resources for those working towards their Bachelor's in Accounting degree
Podcasts, books, and websites are excellent for those who are low on time and additional funds to find out more about the accounting and finance industry. The following books, podcasts, and websites offer helpful information to students and professionals in the accounting, finance, and CPA field. Even if you recently started working towards your degree, professional development is always a prudent investment!
On Dave Ramsey's top-ranking podcast, Dave shares the microphone with many of his network contributors like Anthony O'Neal, Chris Hogan, Dr. John Delony, and Rachel Cruze. Every week several podcasts are released that discuss all things related to finance like retirement planning, building a business, investing, taxes, leadership development, money management, and more. This podcast is sure to enlighten accounting majors on both personal financial goals and keeping up with current trends in the business world. A unique twist on this show is that listeners can call in to have their questions answered. There are currently more than 800 episodes that typically last around 30 minutes, making them a great listen for a commute to school or work.
On the Rich Dad Radio Show, Robert Kiyosaki offers advice to listeners on a variety of topics within the accounting and finance realm. Recent topics have included investing, personal finance, personal development, business, and the state of the economy. Kiyosaki shares his own experiences on the show and brings in professionals to share their knowledge of finance and business at a professional and personal level. Episodes typically run between 30 minutes to about an hour, with new interviews airing each week. The Rich Dad website also includes free courses, access to coaching, and a blog. The blog offers easy-to-digest articles on relevant subjects like three types of income, Bitcoin investing, financial intelligence, and more.
The Accountant's Guidebook: A Financial and Managerial Accounting Reference has 20 reviews and an average 4.5-star rating on Amazon.com. The Accountants Guidebook is designed to help accountants simplify everyday accounting tasks such as GAAP for common transactions, accounting procedures, payroll management, collection tactics, producing financial statements, and budgeting. The book is 577 pages and covers a multitude of accounting topics that would be great for students, new accountants, and seasoned accountants who may need to advance their knowledge of a specific area. At less than $40, this is a valuable reference guide that would make an excellent gift for any accountant in your life.
Students and professionals who are preparing to take the CPA exam should consider purchasing CPA Exam For Dummies with Online Practice. The book is less than $30 and can be purchased either in paperback or Kindle version. Content covers AICPA content requirements in the areas of auditing, attestation, business environment, financial reporting & accounting, and regulation. Those who purchase the book also get one month of free access to the CPA Online Test Bank, which includes over 4,000 CPA exam questions with detailed answers and 164 CPA exam simulations. The website also tracks strengths and weaknesses for all areas of the exam. With nearly 200 positive reviews, this book is a cost-effective study guide option.
Adobe Blog
The Adobe Blog offers tools that are helpful for accountants. The blog includes information pertaining to how to best utilize adobe products and important company updates, as well as exclusive insights on leadership, trends & research, creativity, analytics, automation, building community, and more. These skills are helpful to accountants who own their own firm or those working within companies and organizations. There are many articles posted each month that discuss success stories in a variety of industries like business, nonprofits, government work, financial services, technology, and healthcare. For more blogs that would be great for accountants, check out our 50 Best MBA Blogs of 2021.
Business Insider creates informative and inspiring content about business, news, and lifestyle. Journalists contribute from all over the world, including New York, London, San Francisco, Los Angeles, and Singapore. The website's business-related articles provide valuable information with a focus on strategy, tech, intelligence, finance, advertising, markets, and careers. Each section is conveniently broken into the categories of "Top" and "Latest" stories. This blog is a one-stop shop for breaking news in business, media, sports, science, and politics. Readers can also see updated numbers for the S&P 500, DOW, and NASDAQ 100 indexes, on each page, making it convenient for accountants to keep track of the stock market. Recent top stories include COVID-19 news, global stocks at a record high, climate change, Iconiq Capital, Bitcoin discussions, and Tesla stock.
Where is the best place to earn a Bachelor's in Accounting?
Quality business schools and programs carry accreditation through either the AACSB, IACBE, or ACBSP. AACSB accredited schools are considered the top 5% of business schools worldwide. The AACSB also includes an additional Accounting Accreditation which requires schools to meet higher standards specific to the field of accounting. There are actually less than 200 programs worldwide that meet both criteria for AACSB Accounting Accreditation.
The next thing to consider when deciding where to complete your Bachelor's in Accounting degree is the cost and delivery method. Those who are on a budget and those who have many other responsibilities but need a convenient and cost-effective option to begin their studies may want to look into online learning options such as those listed on our Best Online Bachelor's in Accounting ranking. Lastly, think about the possibility of pursuing an Associate's in Accounting and then moving to a Bachelor's in Accounting. Frugal students looking for a budget-friendly and local option might consider completing an associate's degree first. Some bachelor's degrees offer the opportunity to complete your associate's degree first and then transition directly into the four-year program. Wherever you choose to earn your degree, make sure that it holds accreditation, has a price point that works for your budget, and includes class options that can work with your lifestyle.
Next Steps
Those who complete a Bachelor's in Accounting generally have more opportunities for positions with higher pay in the business and finance industry. The average salary for those with a Bachelor's in Accounting is $79,520, according to the Bureau of Labor and Statistics. This is significantly higher than most positions available to those with only an associate's degree. The job outlook for accountants is good, with an expected 4% increase between 2019 and 2029.
Suppose you are already involved in a bachelor's program in accounting and considering completing your graduate degree. In that case, check out our Best Online Master's in Accounting ranking. And to learn more about what it takes to become a CPA, check out our Ultimate Guide to the CPA Exam.
Accountants will remain in demand due to the complex nature of taxes, globalization, and growing economies. In fact, the need for accountants is often closely aligned with the health of the national economy. As more companies grow and become public, there is an increase in the demand for those who can handle necessary financial documentation. Earning a Bachelor's in Accounting is a foundational step that can lead to many academic, personal, and professional development opportunities. If you have been considering earning your Bachelor's in Accounting, we hope that this guide will give you the tools to find the right program to meet your needs.
Related Resources:
Online Accounting MBA Ranking
Online Master's in Accounting
Online Bachelor's in Accounting
Best Free Online Accounting Courses
What is an Associate's in Accounting Degree?
What is a Master's in Accounting Degree?
What is a Doctorate in Accounting Degree?
Highest Paying Accounting Careers
Ultimate Guide to the CPA Exam