Accountants with a doctorate are often candidates for top positions in their field because they have reached the highest level of education they can get. During Ph.D. programs, students conduct original research that advances their skills in a variety of areas. Graduates can hold positions in research, as accounting professors at leading universities, CFO's, management, or financial positions in government agencies and private organizations. According to the Bureau of Labor Statistics, accounting professions offer lucrative salaries and growth opportunities. The average salary for those with a minimum of a bachelor's degree is $71,550, with the top 10% of accounting positions making $124,000 or more. This positive outlook makes pursuing a Doctorate in Accounting a great option for elite accountants today.
What positions are available for those who pursue a Doctorate in Accounting?
An Accounting Doctorate opens the door to a variety of career opportunities. After earning their Ph.D., accountants are qualified for tenured positions in academia, conducting research, teaching future accountants, and publishing scholastic works. Doctoral programs also prepare accountants for high-level positions in financial management, research, and policy. Graduates may also work as CFOs for large organizations setting policy or serve in managerial positions within accounting firms. Many programs offer job placement assistance, including support for the academic job market. After graduation, those with their Ph.D. in Accounting hold a terminal degree in their field. Because of this, graduates are uniquely qualified for many of the most advanced positions in the accounting field. In any market, candidates who have completed a Ph.D. in Accounting will benefit from increased competitiveness.
Free Resources for Doctoral Accounting Students
The following podcasts, blogs, and websites offer information that is relevant to those pursuing their Ph.D. in Accounting. These resources are free and offer insight into the field of business, accounting, leadership, and professional development, which are all skills to be utilized in top positions within the accounting industry.
Tim Ferriss is a well-known and highly respected entrepreneur. Ferriss is also a best-selling author and widely recognized as one of the most influential leaders in business and audio. The Tim Ferriss show is top-ranked and the first business interview-style podcast to reach 100 million downloads. New episodes are posted every Wednesday with a typical run time between one and two hours. Students working on their Doctorate in Accounting will find this show helpful as Tim shares about the systems, routines, lessons, resources, and methods that helped him find success. These tools help build personal and professional skills in the areas of general business, management, leadership, perseverance, innovation, and more. Recent and past interviews have included a variety of all-star guests like CEOs, Olympic athletes, and well-known celebrities like Jamie Foxx, Matthew McConaughey, Maria Sharapova, and Hugh Jackman. To check out more podcasts, be sure to go to our Best MBA Podcast for 2021 ranking.
Accounting students will find many valuable lessons from the We Study Billionaires podcast. The show studies the life journeys of billionaires and the financial decisions they made along the way to reach this status. The We Study Billionaires Podcast dives into investment strategies that billionaires use with the stock market and then breaks down what they have learned to their listeners. Episodes are hosted by Preston Pysh and Stig Brodersen, who also created The Investor's Podcast Network. Pysh and Brodersen also have extensive investment and financial knowledge themselves. The podcast interviews investment experts and famous billionaires, like Warren Buffett and Howard Marks. Recent topics covered were the value of lumen, value investing, the intrinsically balanced portfolio allocation, Bitcoin fundamentals, negotiations, inflation, current market conditions, and real estate investing. With over 300 episodes, there is always something new to learn. New episodes release about two times per week and range from 45 minutes to two and a half hours long, with most timing in at an hour or less.

The College Grants Database offers an extensive database for funding your education. The site is easy to navigate with a section designated to doctoral scholarships and grants, as well as tabs specifically for minority groups and female students. Students can find information on FAFSA applications and specialty funding through agency-specific grants like the Housing and Urban Development Agency on the doctoral student page. Fulbright Grants are also discussed, which can pay up to $37,500 for the partial living cost to students in their first year of research within the U.S. at an eligible institution. There are also many grants and scholarship opportunities that are demographically focused, such as the Hispanic Scholarship Fund and the United Negro College Fund. The site additionally gives direct links to several private foundations like the Eileen Blackey Doctoral Fellowship, KPMG Foundation, and the Ford Foundation Fellowship Program.
The AICPA is the largest professional organization for accountants and those in the field of accounting. There are over 400,000 members across the world. The AICPA also sets ethical standards for the profession and develops exams for accountants. The website offers a variety of tools for those in the accounting and finance industry. Their scholarships page provides an easy guide for finding extra funding for your degree. The AICPA Foundation awards over one million dollars in grants, scholarships, and fellowships each year. A few of the relevant awards listed include the AICPA Fellowship for Minority Doctoral Students, which awards $12,000 per year, the William Ezzell Scholarship that offers $10,000 per year to CPA's pursuing a doctorate in accounting, and the AWSCPA Scholarship Award for women majoring in accounting or accounting-related fields. Those who join the AICPA can also benefit from exclusive member resources, newsletters, scholarship opportunities, networking events, professional development, and more.
The AICPA provides direct insight on news and the latest information to the AICPA Insights blog. The Blog is written by AICPA staff and accounting experts. AICPA Insights offers relevant information on a variety of topics, such as passing the CPA exams and the tax and accounting impact of natural disasters. You can search for information by categories like cybersecurity, management accounting, personal financial planning, ethics, infographics, and more. Those who are already CPAs can even apply to be guest bloggers.
The Accounting Web offers many resources specific to the accounting profession. Articles and easy-to-read guides cover up-to-date topics such as exploiting your niche in accounting, the top eight issues in taxes of 2020, reducing pandemic-related fraud risks, and six ways accountants can be managing consultants. Information is broken down into easy-to-use sections like taxes, practices, A&A, technology, and white papers. Readers can subscribe to have the latest articles sent right to their inbox or attend live and virtual events that are hosted throughout the year. Questions can also be submitted through the Ask Accounting Web section, and the editorial team will look into finding answers.
What are the admissions requirements for Ph.D. in Accounting programs?
Most programs have a set of prerequisites that are required in order to apply. A few of the standard prerequisites for Doctorate in Accounting programs are a Master's degree in Accounting, some level of professional work experience in the field of accounting, acceptable GPA, and optional CPA licensure. Applicants should also be prepared to submit documents such as a detailed educational history, statement of purpose, transcripts, two to three letters of recommendation, possible GMAT/GRE scores, and application fees.
However, some programs may waive certain requirements or grant provisional admission to candidates based on their overall application. Students who feel they meet the majority of application requirements should consider contacting a program advisor to learn more. Specific requirements vary by program. Because of this, applicants should be prepared to plan to spend quite a bit of time compiling their applications. Some programs may require additional steps like working with an admissions counselor during the application process. Applicants should also plan on applying to several programs in order to increase their chances of acceptance. This will also allow them to consider the best options for receiving financial aid opportunities, such as fellowships, grants, and assistantships.
What can I expect from a Doctorate in Accounting program?
Each Ph.D. in Accounting program offers a unique experience and set of benefits for students. Participants are often able to take specialized course offerings that tailor to their specific area of interest. Some programs create their own curriculum, but in general, students can expect to take courses like Theory of Accounting, Advanced Topics in Accounting, Accounting Literature Survey, and Quantitative Methods for Accounting. Most terminal accounting degrees also include a dissertation component where students must research, write, and defend their theories. Doctoral students often work directly with faculty to create their dissertation and then present it to a panel of professors. This process generally takes 90 to 120 credits and between four to seven years for full-time students to complete. Some students may complete their degree earlier by taking additional classes each semester or choosing an accelerated program. Additionally, some students may choose to earn their degrees on a part-time basis. This format allows working professionals and those with family obligations to balance school with other responsibilities.
Where is the best place to earn a Doctorate in Accounting?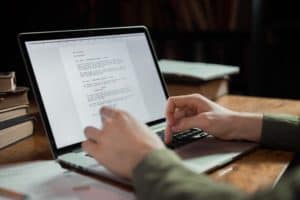 As with business schools for undergraduate or master's level work, it is essential to pay attention to the accreditation status of Ph.D. programs. The top 5% of business schools worldwide carry AACSB accreditation. Two other accreditation agencies that are notable in business education are the ACBSP or IACBE. However, the AACSB is the only accreditation agency with a separate accounting designation. In fact, there are only 185 AACSB Accounting accredited programs in the world. A few of these schools include Arizona State University, Baylor University, Boise State University, California State-Fullerton, and Central Michigan University. The next aspect of the program you should consider is how you plan to complete your degree. Earning a Ph.D. is a long and intense process. It is important to decide what format and timeline will work best for your current lifestyle and future goals. Each structure comes with a variety of benefits. Earning a Doctorate in Accounting from a high-quality program provides many opportunities for growth both personally and professionally.
Next Steps
While a Doctorate in Accounting is a terminal degree, education for accountants never stops. Our business world is constantly evolving, which means all our processes and professionals must learn to grow and adapt as well. After completing a Ph.D. in Accounting, many professionals take the next step in their career by taking additional tests for positions like Certified Public Accountant, Certified Management Accountant, Certified Fraud Examiner, Chartered Financial Analysis, or Certified Bank Auditor. Accounting students also benefit from participating in professional organizations. There are many options, but a few of the most well-known are the American Institute of CPAs, National Society of Accountants, International Federation of Accountants, and the American Association of Finance and Accounting. Those with terminal degrees in accounting have a definite resume boost when it comes to applying for top positions as account managers, finance managers, accountants, CFOs, or accounting professors. 
Another great next step for accounting professionals is to stay up-to-date on trends and developments in the field in order to maintain a competitive advantage. Automated accounting software like QuickBooks will continue to influence the accounting industry. Keeping up with current technology is an integral part of any accountant's future plans.
CPAs and accountants perform many tasks that require high-level analytical thinking skills. This is mainly because of the proliferation of information across industries. There are many data analytics applications for accountants, bookkeepers, and financial advisors to utilize. Auditors use analytics to enable processes such as auditing and continuous monitoring. Accountants can use big data to identify patterns in the behavior of consumers and target markets, leading to higher profits and more investment opportunities. Modern accountants will continue to develop an analytical mindset and keep up with technology trends in the industry to remain a competitive part of the industry.
Related Resources:
Online Accounting MBA Ranking
Online Master's in Accounting
Online Bachelor's in Accounting
Best Free Online Accounting Courses
What is an Associate's in Accounting Degree?
What is a Bachelor's in Accounting Degree?
What is a Master's in Accounting Degree?
Highest Paying Accounting Careers
Ultimate Guide to the CPA Exam