Everywhere you look these days, the benefits of nursing careers on the entire community are obvious. Front line healthcare workers have literally never been more important in a peacetime era in the United States than at the time of this writing. As Covid-19 leaves some communities more impacted than others, nurses everywhere remain one of the most essential workers in the country.
Besides having the skills and resources to pitch in with this huge, all-out struggle against a microscopic virus, as well as having the training to handle uncertainty, nurses are always in demand. A good nurse will never wonder if their skills are relevant, or their job certain. Nurses can work anywhere, and the more experience they have, the more money they can require for their expertise. Nurses often have great health insurance, retirement plans, and sometimes even pension plans. More than ever, nursing is being understood for its necessary place in this society. Nurses are respected.
Nursing Student Essentials
There are many things about being a nurse that can't be taught. Being loving and devoted to the care of others is one of these things. The kind of work ethic that gets you through days filled with big sickness and bad attitudes, is another. Showing up every day, regardless of the weather, the season, and what deadly disease is waiting for you, is beyond hard working. It is heroic and nurses are heroes.
There are also skills that can and must be taught. This is one of the main reasons why nurses need higher education. One day in the not too distant in the future, Covid-19 will not be the only thing on the news. We will have learned a lot, and lost many. Nurses who sacrificed their lives to care for the sick, will have also collected the crucial data that will continue to care for the sick long after this dark time. This data is what medical researchers need to prevent epidemics in the future, or fight back against CoronaVirus, God forbid a second wave. But first, how do you even know a nursing school is legit? The answer is nursing school accreditation.
Accreditation for Nursing Degree Programs
Without a way to standardize and measure the training new nurses are receiving, it would be impossible to know that patients are receiving the best care possible. Setting and enforcing those standards across the country, is the job of a few different accrediting bodies. Without this work, some regions in the country may miss new information about how to save lives, or prevent illness and injury. As the CoronaVirus has shown in 2020, just as the Titanic showed when it went down over 100 years prior, when there are not enough resources for the number of people present (back then lifeboats, in New York City respirators), a great loss of life is likely. Nursing school accreditation ensures that nurse training will continue to be one of the abundant strengths in that system.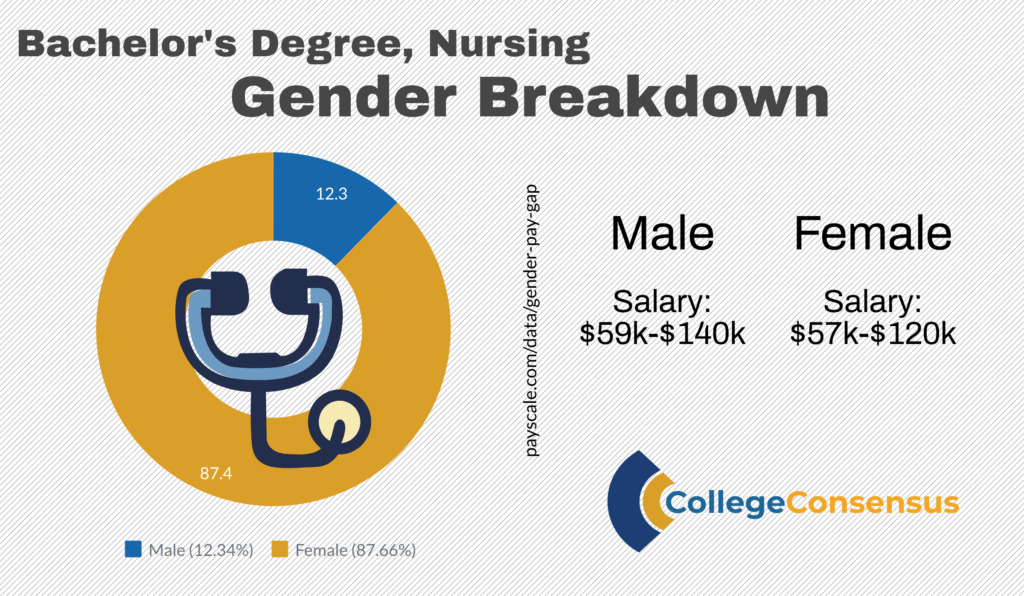 Colleges and Universities are accredited institutionally, typically by regional accrediting bodies. The national body that is responsible for overseeing the work of these accrediting bodies is called the Council for Higher Education Accreditation or CHEA. Their primary mission is to serve the public and students and ensuring that schools are capable of offering a quality education to everyone who attends, through leadership and advocacy. The regional accrediting bodies that do the next step in the process are,
New England Commission of Higher Education (NECHE)
Northwest Commission on Colleges and Universities (NWCCU)
Accrediting Commission for Community and Junior Colleges (ACCJC)
Western Association of Schools and Colleges (WASC)
Middle States Commission on Higher Education (MSCHE)
WASC Senior College and University Commission (WSCUC)
Higher Learning Commission (HLC)
Southern Association of Colleges and Schools Commission on Colleges (SACSCOC)
Who Handles Nursing School Accreditation?
In order to have the privilege to teach the next generation of Nightingales, nursing schools must jump through a few hoops, and rightly so. The process of stamping this seal of approval on an undergraduate or graduate nursing program is called nursing school accreditation. Accreditation basically ensures prospective students that this nursing school or nursing program cares enough to offer a high-quality education.
To earn nursing school accreditation, programs must be up to date in the coursework they are offering, the instruction equipment and/or technology must be instructional grade, and the instructors must be trained and educated well, among other things. Accredited schools must maintain accreditation through re-evaluations every few years.
The Commission on Collegiate Nursing Education (CCNE) was formed officially in 1996 solely for the purpose of providing nursing school accreditation. This is one main accrediting body for undergraduate and graduate students in the United States. They exist as a voice of post-secondary nursing education by creating and enforcing the high standards mentioned previously, by encouraging the constant evolution of the industry to follow the advancement of medicine and technology, and promoting nursing as an essential profession, attracting the best and the brightest.
Nursing School Accreditation: What to Look For
The CCNE is essentially the autonomous accrediting arm of the American Association of Colleges of Nursing (AACN). Founded in 1969, the AACN is a national membership organization, with its membership base consisting of every accredited nursing program in the country. They are tasked by the U.S. Department of Education with ensuring that nursing programs are operating at the highest standard possible.
The CCNE describes two types of accreditation in their Standards of Accreditation manual, professional and institutional. The document later goes on to say that institutional accreditation is focused on the college, university, or institution as a whole, and how well it meets the stated goals of the mission and how closely they can predict and stick to goals. Professional accreditation is how well that institution meets the stated goals of that particular program. Both of these are taken into account when determining the CCNE accreditation standards.
If your profession also leaves you floating in a sea of three and four letter acronyms, and you are a bit confused between CCNE vs. ACEN, then you are not alone. An easy way to remember that ACEN is the larger organization, founded back in 1969, and CCNE is the accrediting arm, founded in 1996, the "A" in ACEN comes before the "C" in CCNE. It's that simple. The ACEN is the oversight body, while the CCNE is only concerned with nursing school accreditation. When looking for a nursing school accreditation what to look for depends on what you want out of your education. A CCNE accreditation is the gold standard in nursing
What are the different levels of nursing?
Someone who is completing high school and knows they want to go to college for nursing may look into an associate degree in nursing. These are 2-year degrees that teach a nursing student the practical or applied basics of being a nurse. With only two years of coursework, however, some of the more theoretical approaches to nursing, as well as the business aspects and in-depth legal elements of their education, are forgone.
This same student may alternately be interested in earning a Bachelor of Science in Nursing, which is a 4-year degree. The most basic certification for nursing is a Certified Nursing Assistant (CNA). While not a licensure program, this is a great program of study to learn the most basic procedures. Typically at home attendants, and nursing home workers are required to gain this certification before beginning to work.
Getting into the 4 year degree range, nurses can earn a Bachelor of Science in Nursing degree. There are three main paths toward this end, the traditional BSN, where students come in as freshman and focus on Nursing as a major the whole way through. Another option is for those who already have an undergraduate degree in another field, and transfer in all non-nursing credits, on an accelerated course of study. This is called a second-degree bachelors or accelerated BSN program.
Finally, there is the bridge nursing degree, which takes someone who already holds an RN license, is working as a nurse, and is interested in more advancing their career. This "bridge" can be from RN to BSN, RN to MSN or beyond. The key to the online option is that the nurse is actively working, and can apply their work to the practical requirements of their course of study.
Advanced study in nursing will lead students down the path of nursing will progress to a Master of Science in Nursing (MSN), a Doctor of Nursing Practice (DPN), and a Doctor of Nursing Philosophy (PhD). We have more on this
Getting Started in a Nursing Program
The first level of nursing licensure is the LPN or Licensed Practical Nurse degree. This is a two-year associate degree in nursing that allows graduates to sit for the NCLEX, which stands for National Council Licensure Examination. Pass this and you are on the way to having a Registered Nursing license. To be licensed fully, RNs must also pass a state board of nursing exam. Upon completion of all of the required basics, graduates will earn a pre-licensure RN (Registered Nurse) certification.
At this point nurses can sit for the National Council Licensure Examination, or NCLEX exam. It is a nationally standardized test that each state nursing board uses to identify that students have taken the necessary actions to become a capable entry-level nurse. Since nurses are licensed by each state to work, where regional accreditation verifies that the school or university meets a high standard, and specialized accreditations from CCNE verifies the same for the nursing program in question, the NCLEX verifies this for the nurse themself.
The NCLEX offers two different exams for the two different entry-level options for nurses.
NCLEX-PN: Is for those 2-year nursing degree holders who are not interested in further education before they begin working. Nurses in this position technically are Licensed Practical Nurses or Licensed Vocational Nurses (LPNs/LVNs). This is the most basic and entry-level nursing position.
NCLEX-RN: is for those nurses who have received their registered nurse license through a four-year nursing degree or another form of education beyond LPNs/LVNs.
How to Pick a Nursing Concentration
Nursing is one of those jobs that people come to from every walk of life, every background and upbringing, and every age. Depending on what you have had time to accomplish so far when you come to will determine where you start your nursing journey. There are also different nursing degree requirements, that will slightly vary the coursework a nursing student has to accomplish in order to get licensed.
Students can tailor their coursework to ensure that they come out of school with a handle on their intended career focus. One of the most important things to consider when deciding what to choose to study includes, things you like to do, things you are good at, and programs you can afford. These areas of specialization can include:
Nurse-Midwifery
Nurse Practitioner
Nurse Anesthetist
Psychiatric Nurse
Neonatal Nursing
Pediatric Nursing
Geriatric Nursing
Emergency Room (ER) Nurse
Neuroscience Nurse
Certified Post Anesthesia Nurse (CPAN)
Holistic Nurse
Licensed Practical Nurse (LPN)
Nurse Executive
Public Health Nurse
Registered Nurse
Intensive Care Unit (ICU) Nurse
Nurse Educator
Emergency Room (ER) Nurse
School Nurse
Surgical Nurse
Certified Gastroenterology Registered Nurse
Case Management Nurse
Certified Nursing Assistant (CNA)
Occupational Health Nurse
One of the benefits of nursing degrees at and beyond the associate's level is the opportunity to advance your education online. The reason many nursing degrees are available beyond the LPN level online is that much of the course work in the first two years is applied and hands-on. These initial educational components require in-person labs, strict oversight, frequent tests of comprehension. They generally prepare a nurse to work in a hospital, clinic, or other healthcare facilities.
Those nurses who get their 2-year RN license and begin working, but later decide on a more advanced degree, can go for their RN-BSN degree online, or opt for their RN to MSN degree. This second option allows working nurses to complete a Master's degree while they apply their job as a practicing healthcare worker. This kind of flexibility means that nursing leadership can expect a 12% growth in these kinds of jobs by the year 2028.
Different Chapters of a Nurse's Education
Many of the theoretical components of nursing, including history, philosophy, best practices, administration, the introduction of nursing specializations, and business elements of the profession, are taught in the following two years of study and beyond. This depth of education needed for a Bachelor's in Nursing anchors someone's nursing practice in something more than a series of repetitive actions. It shows to make nurses better at their jobs, as well as giving them the skills in leadership that are required of nursing supervisors and educators. 
The best online nursing programs are those that can offer something more than just the basics needed to earn a BSN. Remember, the first two years are practical, therefore there are rarely options to attend online associate nursing programs or online LPN nursing programs. There are, however, many options for online nursing degrees for nonnurses. These options are often called second-degree BSN, and they come in accelerated versions for very serious nursing students. Make no mistake, any online BSN nursing programs will be difficult. With focus, dedication, and perseverance, any good nursing student will make it through. They will also show they have what it takes to be a great nurse.
Accelerated, Executive, and Other Non-Traditional Formats
Because online BSN degree options are so prevalent, very smart people have streamlined the educational process to a science. These degrees are designed for working professionals who are already in the field. The flexibility of the online classroom gives them the opportunity to maintain their job, while advancing their career. Digital workspaces in nursing education are very sophisticated and mimic real-life classroom settings. There are several non-traditional formats for receiving a BSN online. A few of them are:
Online RN to BSN
A very common online nursing degree, where a two-year degree holding registered nurse can earn the next level of credential completely online. The course work is most often in the non-applied or theoretical elements of the profession.
Accelerated RN to BSN (Online or Hybrid)
Accelerated nursing programs are often also called a second-degree bachelor's degree, where the four years of study in the student's original four-year degree counts toward the BSN degree. Accelerated nursing programs online introduce much of the hands-on elements of study that can be accomplished through internships set up by the student, and therefore the school is completely online. This degree is also incredibly common.
Online MS in Nursing
The Master of Science in Nursing allows a nurse to become leaders in their work environment, and earn a substantially larger salary in most urban markets. They have many more option in career specializations, as well as where they work. MSNs earn through their education the ability to shape the nursing profession through the way the manage nurses who report to them.
Online MS in Nursing Education
Nurse educators are just as in demand as nurses themselves. With no decrease in the desperate need for frontline healthcare workers, those who teach these nurses how to be great nurses are needed as well. The main difference between this degree and the others on this list is the amount of education coursework graduates of this track are required to complete.
Online MSN in Executive Nurse Leadership Programs
A master's degree in Executive Nurse Leadership will allow a nurse leader to influence the nursing profession even more with the opportunity to become nursing managers, directors of clinics or supervisor of nurses at a hospital. The American Organization of Nurse Executives offers a licensure credential for nurses who complete Certified in Executive Nursing Practice (CENP).
Online Doctor of Nursing Practice (DPN)
For those nurses who want to go all the way in their nursing practice, the terminal degree in nursing for the practical side (as opposed to the educational or research, more on that later), the Doctorate in Nursing Practice. A DNP is a degree for nursing leaders or those who are engaged in multiple areas of healthcare. For the most part, DPNs interact with patients and are supervise other nurses and care teams. There are also those nurses who work in the patient care field, and then use that experience and become nursing union leaders, or lobbyists in Washington, D.C.
Online Doctor of Nursing Philosophy (PhD)
The online PhD in Nursing is a degree for those nursing students who are extremely passionate about nursing. Or, perhaps, they are extremely passionate about education, but likely it is both. These degree holders are almost always working as nursing educators in nursing schools or college and university settings. These nursing leaders typically split their time between teaching students, sitting on boards and committees, personal and professional research, and overseeing clinical rotations of nursing students to some capacity.
What Will I Learn in a Nursing Degree Program?
You have to think of nursing degree requirements as the building blocks for your professional life. The coursework that seems the hardest, could also be seen as what saves your butt in the workplace. Complaining about the things you are not yet good at can have a negative impact on your ability to learn the material. If you were already supposed to know everything you learn in class, it would completely defeat the purpose of going to school. Working hard and seeing even the tough stuff as an opportunity can help in the long run. It is not like you are getting out of it, anyhow.
While researching which school and program is best for you, you might find the nursing course list on the website. Common nursing degree requirements include prerequisite courses like:
Psychology
Statistics
Biology
Human Anatomy and Physiology
Medical Microbiology
Chemistry
Nutrition
English
College Algebra
Each school is a little different than the next in terms of the things that they require nursing students to bring to the table. They may require more or less than any other school. Prerequisites are simply those courses the nursing program hopes a new student will have a mastery of before beginning their nursing education.
Just like most other concentrations, there are scholarships for nursing students available at all levels of nursing education. These nursing scholarships remove barriers for lower-income students and ensure that the best nurses can get a great education. Many scholarships require the applicant to submit a few things to be considered. A common need for scholarships for nursing majors includes a scholarship application form, an essay, and often a resume or work history. Scholarship committees may also ask for a letter of recommendation from educators and supervisors. The essay often requires students to go beyond their perceived limitations and explain more about who they are.
Scholarships for nursing majors can cover many aspects of the nursing education process. Nursing students need things like books, equipment, and uniforms which are often very specific kinds of scrubs. Students also must pay for things like transportation to and from school, and sometimes childcare. Nurse scholarships and grants can help cover some of these financial burdens so that students can focus on learning.
What if I Can't Write an Essay?
If an essay is something you would like to stay away from, there are also no essay nursing scholarships. Be advised, however, that increasingly, nurses must write long and detailed reports. Sometimes these reports are narrative-based, some are persuasive recommendations to doctors, and some are formulaic. Almost all are very similar to writing an essay. Getting that practice by pushing yourself, and putting your best foot forward will undoubtedly pay off in the long run. Besides, no essay scholarships for nursing students typically pay less than those that require things like a writing sample, or a scholarship recommendation letter. With nothing else to base their selection on, oftentimes these are lottery based.
Many people think that applying for as many scholarships as possible is the right choice. They go for scholarships for nursing majors, scholarships for science majors, and scholarships for women, for example. That way, even if you are not selected for one, there are more opportunities to be selected for another.
Related Content: