Completing an Associate's in Management degree is a meaningful first step towards a career path with endless possibilities. This introduction to management degree prepares students for the written and oral communication skills that are essential to helping both large and small businesses run efficiently. These associate programs can be found in colleges and universities in cities across the country. And the frugal students might choose a more affordable program at a nearby community college. Associate's in Management programs are not only accessible and affordable for new college students, but they are also versatile in nature to allow for many career opportunities.
Office management is an excellent position for those who have completed their Associate's Management degree. This position prepares graduates to carry out responsibilities such as managing office facilities, coordinating operations between departments, maintaining records, and more. Some office managers choose to continue their education and work towards their Bachelor's, Master's, or even Doctorate. Managers play a vital role and work for a variety of entities such as nonprofits, small businesses, corporations, government agencies. Earning a bachelor's degree or higher prepares students for positions in corporations, local government, entrepreneurship, and more. 
The History of Management Careers
Before the Industrial Revolution, there was not much of a need for management positions. Only owners of businesses and resources would be responsible for completing tasks like planning and managing all aspects of an enterprise. With technological and travel restrictions, the scalability of an organization was fairly small. Thus a large staff was uncommon. Beyond a few types of organizations such as churches, the military, and agriculture-based businesses, there was not a need for positions that we would now recognize as management.
The Industrial Revolution disrupted many systems that had previously been self-sufficient. With new means of production, organizations also gained the ability to scale. Management positions were created to help larger organizations coordinate their endeavors. The focus was entirely on the execution of the specialization of labor, quality control, workflow planning, standardized processing, and basic accounting. In today's businesses, managers are still in charge of many of these same aspects. Still, they must also navigate complex issues such as human resource complaints, improve performance, and create cultures of respect and motivation.
What can you do with an Associate's in Management?
An Associate's in Management provides students with foundational skills and knowledge that can be used as a stepping stone for entry and mid-level positions in a variety of industries. Of 155,000 jobs analyzed by Rasmussen University, there were ten positions commonly found with a preference of an Associate's in Management. These included administrative assistant, relationship banker, customer service associate, assistant store manager, sales support specialist, store manager, executive assistant, retail sales worker, sales consultants, and sales supervisor.
It is also important to note that a management degree can be beneficial within any sector of business. The possibilities for stable employment and promotions are greatly improved by the commitment to earning an associate's degree. From there, many students choose to earn their bachelor's degree. Still, it is also important to remember that years of service and job performance are frequently considered for management positions as well. Earning an Associate's in Management prepares your resume and your skills set for advancement in the retail industry, office management, insurance agencies, healthcare, restaurant management, and more.
What classes are required for an Associate's in Management?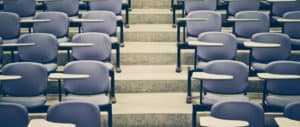 Associate degree programs in management are generally two years or 60 credits in length with a curriculum encompassing general education courses and management-specific classes as well. General education requirements are often referred to as basics. Basics include fundamental skill sets such as history, science, English, and math. If there is a particular subject that is difficult for you, don't be discouraged because there are often a variety of options that can meet the required criteria.
Major specific courses for managers will help students master the basics of business, communication, and economics. Most associate degrees transition easily with bachelor's degrees in business or management. There may be some school-specific requirements that require the need to complete a few additional courses, but college counselors are an excellent resource to help walk you through the transfer process.
Where Resources are Available for Associate's in Management Students?
The following podcasts, books, and websites are free/low-cost options that can benefit individuals who are working towards earning their Associates' in Management. Professional and personal development is essential in all fields, but those entering into management have a responsibility to stay up to date on the latest trends in managing teams. Personal development is also crucial because managers set the tone for their staff and office environment. The following resources are easily accessible and easy to fit in the busiest student's schedule.
Podcasts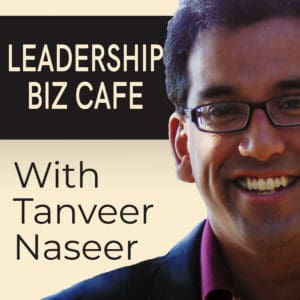 Leadership Biz Cafe – Tanveer Naseer
Leadership Biz Cafe is hosted by Tanveer Naseer. He is a leadership expert and internationally acclaimed speaker and writer who shares management lessons through easy to relate stories. Episodes within this podcast range in length from 10 minutes to an hour, depending on the topic. This makes them an easy listen for busy students or those who are already in the field. Listeners can tune in on all major platforms, including Stitcher, Spotify, Google Podcast, Apple Podcast, and more. The show discusses many of the challenges facing leaders in today's fast-paced world. A few notable guests have included Stephen Covey, Liz Wiseman, Tim Sanders, Guy Kawasaki, and Doug Conant. The tone is casual as these industry leaders discuss topics like gaining value from failure, understanding the power of mindset, science-backed strategies for promoting motivation, and curing toxic workplace culture. There are currently more than 70 episodes with new releases about every two weeks.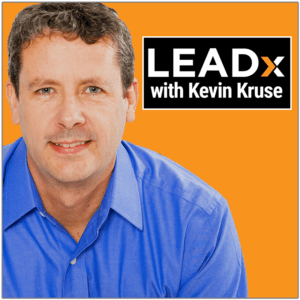 Kevin Kruse is a New York Times Bestselling Author and an Inc. 500 Entrepreneur. His podcast, The LEADx Show, interviews up-and-coming leaders who offer tangible advice and a challenge to get "1% better" by applying what they learned from the show. To date, there are nearly 375 episodes with new content coming out weekly. The show lasts between 20 minutes to an hour, which makes it an easy listen for commuting or gym sessions. The list of guests on The LEADx Show is diverse and includes well-known entrepreneurs, monks, teenage authors, and more. Each conversation sheds light on important topics for anyone in business. In recent episodes, mindfulness, collaboration, productivity, and accountability have all been discussed. Out of close to 500 reviews, the show holds an impressive 4.9-star rating on Apple Podcasts and boasts many reviews that mention how valuable the information would have been for managers who were early in their careers.
Books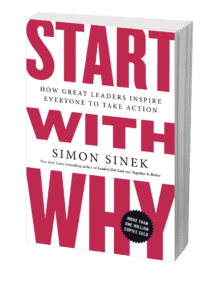 Start With Why is a part of the three books series written by Simon Sinek. The book is 250 pages and can be purchased on Kindle, Audiobook, hardback, or paperback. Written in 2011, Start With Why has gained traction and now has more than 15,000 reviews on Amazon with a 76% rating of five stars. The book is based around Sinek's viral TED Talk, which has become the 3rd most popular TED video of all time. Start With Why discusses the everyday habits and mindsets that great leaders possess and gives examples of frameworks for organizations that thrive.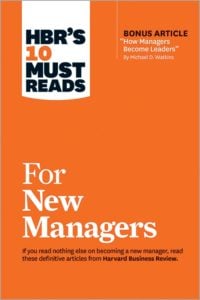 HBR's 10 Must Reads for New Managers
The format of HBR's 10 Must Reads for New Managers is unique. The writing team searched through 100's of Harvard Business Review articles and compiled 10 of the resources that they felt would be most impactful for new managers. The reports were chosen to cover essential topics like developing emotional intelligence, assessing your team to improve performance, making decisions with the big picture in mind, helping teams to balance work and personal obligations, and networking effectively. The book is 224 pages and can be purchased in all formats. Out of 223 global reviews on Amazon, HBR's 10 Must Reads for New Managers holds 4.6 out of 5 stars and has many reviews that praise its insightful content.
Websites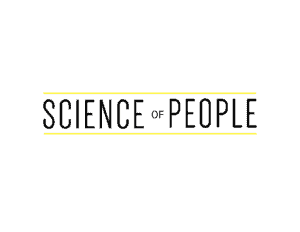 The Science of People focuses on business leader's valuable emotional-intelligence skills. There are blog posts, articles, and videos from entrepreneurs who have sharpened their leadership skills and share what they have learned from their mistakes by offering guidance about how to overcome challenges. This website and its resources are a must-read for anyone who is looking to be a knowledgeable leader within their organization. The topics and articles discussed on the site are broken down into easy to navigate categories like body language, behavioral psychology, career, communication, motivation, and more. Guides are also available on useful subjects such as working remotely, making a great first impression, dealing with anxiety, and social skills.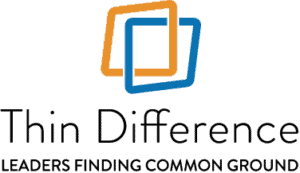 The Thin Difference blog is geared towards new leaders and focuses on sharing experiences and ideas to solve problems. This blog is working to close generational gaps in the workplace. They use lessons learned in the past to improve leadership fundamentals. There are a variety of stories and experiences shared by leaders who solve many of the problems that face the world of business today. Readers can learn more about creativity, generations, leadership, and inspiration through a variety of articles on the site. You can also join their exclusive Facebook community. A few of the article topics include routines for thriving during change, self-care, leading as an introvert, and creating inclusive spaces for maximum productivity.
What is the best place to earn my Associate's in Management?
Looking for accreditation is the first step of finding the best business school. Quality business programs will carry accreditation through either the ACBSP, AACSB, or IACBE. AACSB accredited schools are the top 5% of business schools in the world. After accreditation, the next important point to consider is cost. High-quality community colleges often offer very comprehensive programs at affordable tuition rates. This aspect of planning is particularly important for those who are on a tight budget, not sure if they will move on to complete their entire undergraduate degree, and those who have many responsibilities outside of school and need a cost-effective option to begin their studies.
Planning for your bachelor's degree can start at this stage as well. Many universities offer the opportunity to complete your associate's degree first and then transition directly into a four-year program. Whether you choose to complete your Associate's in Management at a community college or through a university, earning a management degree is a great way to work towards your goal of a career supervising staff, running teams, and leading organizations.
Next Steps
Earning an Associates in Business Management can help improve both job prospects and earning potential for graduates. A study done by Rasmussen University used software to analyze 1.6 million business job postings from 2020. The data showed that those with an associate's degree were eligible for at least 100,000 more jobs than those who had only completed a high school diploma.
In addition to more job prospects, associate's graduates typically earn a higher income as well. According to the BLS, in 2018, associate's degree earners made an average of $6,864 more than high school graduates. A few of the salaries listed on the Bureau of Labor and Statistics in this bracket are lodging managers at $56,670, property or real estate managers at $59,660, and food service managers who earn about $56,590 per year.
Completing an Associate's in Management is a decision that can change the trajectory of your career. It is a foundational movement that can lead to many academic, professional, personal development opportunities. A unique aspect of an Associate's in Management is that it is applicable to many diverse industries and provides opportunities for many positions that would not be available otherwise. If you have been considering earning an associate's degree, looking into options within the field of management is an excellent choice. We are hopeful that this guide will give you the tools to support your next education and career goals.
Related Resources:
Best Online Master's in Management
Best Online Master's in Leadership
Best Online MBA Programs
Best Online EMBA Programs
What is a Bachelor's in Management Degree?
What is a Master's in Management Degree?
What is a Doctorate in Management Degree?
Best Free Online Management Courses