An Online Master's in Leadership program is a great way to gain the knowledge and skills to take on leadership roles in various organizations. It provides a comprehensive education in the areas of communication, problem-solving, decision-making, and team building. Students can choose from business leadership courses that focus on topics such as organizational behavior, strategic management, and change management. With an online program, students can learn at their own pace while still having access to experienced faculty that provide guidance and support throughout their studies.
With the rise of online education, there are now a variety of options when it comes to pursuing an online Master's in Leadership. In this article, we will be exploring some of the best online Master's in Leadership programs available today.
Recommended Online Leadership Programs
Visit schools for more information on enrollment, tuition, and aid
What is an Online Master's in Leadership?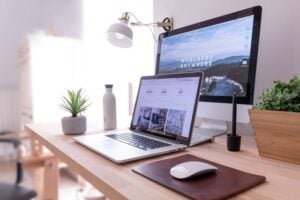 Online Master's in Leadership programs offer a unique opportunity for business students to learn from experienced professionals and gain valuable insight into the complexities of leading a team or organization. These courses cover topics such as organizational behavior, communication, problem-solving, decision-making, conflict resolution, project management, and more. By completing an online program, students will be well-equipped with the necessary knowledge and skills to lead effectively in any environment.
A Master's in Organizational Leadership remains one of the most popular distance degrees a working professional can attain. The leadership master's degree equips graduate students with skills to manage people and organizations.
It is not like a traditional or online MBA degree. This program's educational approach is unique. It emphasizes qualitative and skills-based experiences more than the MBA. Do not think that it means this degree is any less robust or suffers from a lack of substance.
The nation's best online Master's in Leadership degrees feature rigorous coursework. This type of business leadership curriculum helps distance learners. They attain all the knowledge and skills they need to drive an enterprise. Graduates of these programs become well-rounded leaders of tomorrow.
What Kind of Skills Can I Expect to Attain During an Online Master's in Leadership?
A degree in leadership helps business managers develop skills like:
Developing strategic goals
Conflict resolution
Business-place ethics
Community development
Corporate social responsibility
Organizational culture and organizational structure
Leading organizations with proper communication
Organizational behavior and organizational contexts
Business decision making
Managing conflict in real-world situations
Strategies for motivating employees
Global leadership
Organizational leadership students learn the art and science of management. These learners become well-rounded professionals. They can encourage others to maintain a healthy, inspired workplace.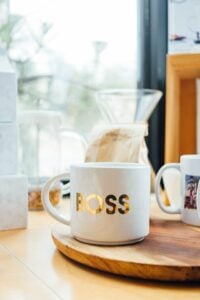 This degree gives students the skills and knowledge to manage organizational culture and change. The degree curriculum works to sharpen students' strategic thinking and innovation skills.
Most business schools offer specializations or concentrations. They allow executive leadership students to focus their education on a specific career field. Specializations you can add to a leadership degree include:
Data analytics
Ethical business practices
Legal and ethical issues in business management
Healthcare management
Strategic human resources management
Strategic organizational leadership/strategic planning
Supply chain management
Identifying future innovations
Exposure to these topics prepares active professionals for various career opportunities in all types of job markets. Business students learn the essential skills needed to work with diverse groups.
Why Should I Consider an Online Master's in Leadership?
The U.S. Bureau of Labor Statistics (BLS) reports that the average United States worker earns $45,000 per year. Professionals in business management positions earn about 2.5 times that amount. According to growth rates from the BLS, growth for management positions matches and typically exceeds projected growth rates for other jobs.
Workers filling computer systems management positions report some of the most attractive salaries of all managers. Those positions will continue to be in high demand for the foreseeable future. All types of organizations of all different sizes utilize well-trained, competent managers. They can impact the people and programs around them.
The dynamic and broad landscape of nonprofit organizations, government agencies, and businesses thrive, especially under the guidance of competent, highly trained administrators and leaders. These professionals provide direction and support for their organizations.
What are the Advantages of Earning a Master's in Leadership Online?
Today's graduate students can choose their Master's in Leadership from many business schools. They choose to pursue a degree within a traditional on-campus setting or entirely online. Working students increasingly choose the popular online format. It is less disruptive to their professional and personal situations.
Many students went into the workforce after completing their bachelor's degrees. This is where an online degree shines. These professionals can now immediately apply their education and benefit from lessons learned daily. Both online and on-campus programs offer the same coursework. Both are effective in preparing students for exciting careers in organizational leadership.
Pursuing a degree on-campus or online lets students capitalize on networking opportunities. They also gain exposure to a diverse group of peers and instructors. These programs include guided internships or capstone projects. All business schools offer some type of job placement assistance.
What Jobs Do I Qualify for with an Online Master's in Leadership?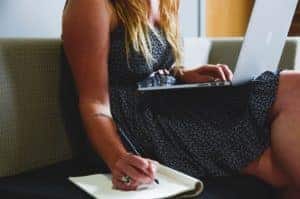 An online Master's in Leadership prepares graduates to thrive in many managerial and administrative positions in organizations. Leaders in these roles must demonstrate organizational knowledge and people skills. A Master's in Leadership equips graduates with the tools needed to become influential leaders. The career options below are some opportunities available to graduates with an online master's degree in leadership:
Human Resources Manager
Administrative Services Manager
Training and Development Manager
Computer and Information Systems Manager
Top Executive
Human Resources Manager
Human resources managers oversee the recruiting, interviewing, and hiring of staff members. These professionals communicate regularly with upper management. They ensure they select the best employees for their organization. These workers maintain much of the administrative support for these employees.
Median Annual Salary: $126,000
Administrative Services Manager
Administrative services managers plan and coordinate a company's supportive services. These managers maintain daily operational tasks like office upkeep and facilities maintenance. They also do record keeping and mail services.
Training and Development Manager
Training and development managers plan, direct, and monitor the professional development and improvement of a company's staff members. Training and development managers monitor company changes, including new technology adoption. These business leaders create programs to help workers. They develop the skills and knowledge needed to understand new organizational policies and technology systems.
Median Annual Salary: $120,000
Computer and Information Systems Manager
Information Technology (IT) managers are planners, coordinators, and directors of companies' computer activities and infrastructure. The evolving role of secure computer technology in all business areas creates a growing need for well-trained IT managers. Their salaries are competitive based on their need.
Median Annual Salary: $160,000
Top Executive
Top executives lead the development of strategies and policies. They help organizations achieve their purpose. These professionals plan, monitor, and direct all operations. The most successful top executive leaders have years of experience in various capacities and extensive education.
Top Leadership Jobs
Graduates from Online Master's in Leadership programs have many careers they can pursue. While some might have their sights on the C-Suite, there are many positions in leadership outside of executive roles. These are the best leadership jobs and their median pay as reported by Payscale.
How do I Choose an Online Master's in Leadership Program?
Here are essential factors to consider when researching programs:
Schedule
Curriculum
Price
Accreditation
Program Admissions
Schedule
It is essential to select an online master's program that best supports your schedule and career goals. You must first consider how much time you can devote to the program. Understanding how soon you'd like to earn your business credential is vital. This determines whether you earn your degree part-time or full-time.
Online programs offer more flexible course schedules. They still require some type of practicum or internship. Online students can typically fulfill these obligations locally. Online programs allow master's students to maintain their positions while they attend school.
Curriculum
Review each prospective program's course requirements given the various options available. Your next step will be to consider which concentrations best align with your career goals. Some business schools offer many concentration choices. Smaller programs may provide the basic degree program exclusively.
Price
Program researchers should carefully analyze each program's tuition rates. A program's overall cost doesn't reflect the price graduate students have to pay. Some schools offer many financial aid options. These options cut down on student expenses. Distance degrees are also more affordable than on-campus programs.
Accreditation
A business schools' accreditation status is a critical factor students must consider. Accreditation is an authentication of a program's reputation, quality, and integrity. Ideally, your institution of higher learning should have regional accreditation. This can be from one of the regional accreditation agencies noted by the U.S. Department of Education and the Council for Higher Education Accreditation.
Program Admissions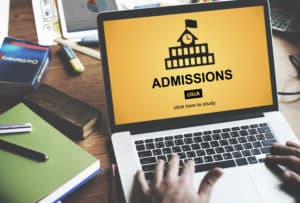 The application process for an online Master's in Leadership program is like an on-campus program. Applicants should start their application process early. They need ample time to gather the needed materials by the deadline and choose their prospective schools.
Applying to nine or ten exciting programs is the way to go. At this point in the process, do not let cost intimidate you. Business schools with higher tuition prices often offer financial aid. Submit most of your applications to programs that are reasonably likely to accept you. Then apply to some more competitive programs.
What are Some of the Nation's Best Online Master's in Leadership Programs?
Here are 12 of the best Online Master's in Leadership programs offered from top business schools. These are entirely online and hold AACSB accreditation. Schools are listed in alphabetical order.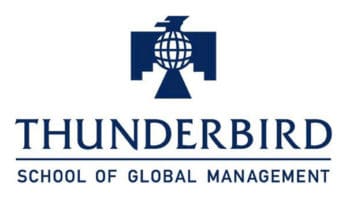 Arizona State University features an excellent online Master's in Leadership at the Thunderbird School of Global Management. The business school's online Master of Leadership and Management delivers mastery in leadership and management principles and practices. It prepares business leaders to take on managerial responsibilities in global organizations.
This management program stresses cross-cultural communication, finance, and data analytics. Students learn about marketing and leading diverse, global teams. The real-world curriculum combines Thunderbird's tradition of graduate education with modern technology. The business school delivers a transformative graduate degree.
Accreditation
AACSB, Higher Learning Commission


The College of Business at Clayton State University offers an excellent online leadership program. The business school's online Master of Strategic Leadership Development degree equips students with the knowledge and skills to lead teams.
Students within the program grow as inclusive leaders who inspire commitment as they navigate challenges. This curriculum identifies skills gaps vital to employers' soft' skills. The MSLD serves to expand the talent pool locally and regionally. Distance learners are exposed to strategic planning, design thinking, and negotiation. Clayton State is the right place for today's online graduate students.
Accreditation
AACSB, Southern Association of Colleges and Schools, Commission on Colleges

Creighton University's Heider College of Business offers a noteworthy online Master's in Leadership. Everyone knows the meaning of leadership is committing to thoughtful decision-making, handling adversity, understanding and managing organizational challenges, and promoting change.
All business leadership is for the greater good. Creighton University's MS in Organizational Leadership aims to develop ethical and moral leaders. Students in this program use their skills to promote social justice and organizational change. Don't sleep on this excellent online master's degree in organizational leadership.
Accreditation
AACSB, Higher Learning Commission

Jacksonville University features an excellent online Master's in Leadership. Students take their careers to the next level with the Davis College of Business & Technology. This Master of Science in Organizational Leadership degree mixes business, communication, and social sciences. There is a focus on management and leadership.
The online MSOL program is an alternative to a Master of Business Administration. A key difference is organizational leadership foregoes intense quantitative studies of economics and finance. This is an excellent business degree.
Accreditation
AACSB, Southern Association of Colleges and Schools, Commission on Colleges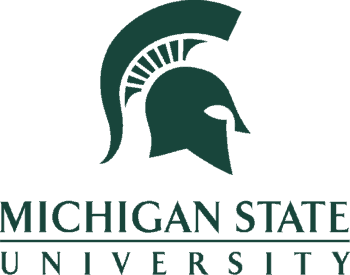 Michigan State University's Eli Broad College of Business offers a top-notch online Master's in Leadership. Broad's online Master's in Management, Strategy, and Leadership program combines professional experiences with theory and real-world applications.
The two-year Master's program challenges active managers. They develop forward-thinking solutions and enhance their unique styles. The curriculum empowers students to manage teams confidently and effectively lead organizations. This online Master's in Leadership puts the student in the driver's seat. Eli Broad College of Business is serious about business education.
Accreditation
AASCB, Higher Learning Commission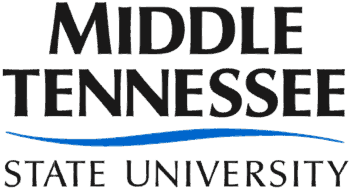 Middle Tennessee State University's Jennings A. Jones College of Business has an excellent online Master's in Leadership. This online Management, Organizational Leadership MS program has a lot to offer. Influential leaders must be task and relationship oriented. People with special skills create and preserve a structure within an organization.
Solid leaders put team needs before their own. This degree teaches many valuable lessons. It is available entirely online. Jones College of Business leadership demands the students' best, but the effort is worth it.
Accreditation
AACSB, Southern Association of Colleges and Schools, Commission on Colleges

The Smeal College of Business at Penn State features a quality online Master's in Leadership. Penn State's online Master's in Strategic Management and Executive Leadership develops tomorrow's leaders. Students think strategically and embrace the strategy language and process. Distance learners form and implement effective strategies while ensuring buy-in across an organization.
This specialized master's program builds on extensive experience and previous education. Students transition to executive leadership as they rise above day-to-day operations. This career-focused program develops strategic thinkers and will get you on track for business success.
Accreditation
AACSB, Middle States Commission on Higher Education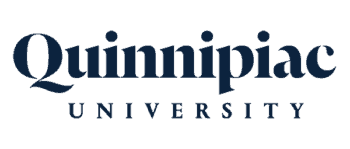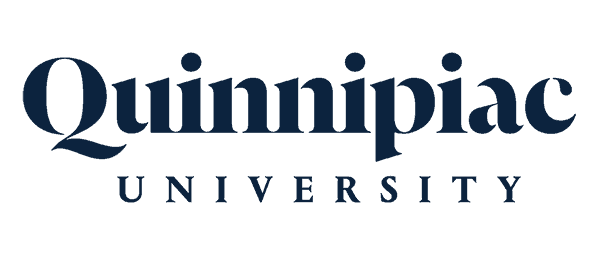 Quinnipiac University has an excellent online Master's in Leadership at the School of Business. This degree is designed for working professionals. The online master's program gives students tools to inspire change. They motivate their teams and produce solid bottom-line results in all business environments.
This MS in Organizational Leadership program prepares transformational leaders. They can shape a strong business culture and guide sustainable, long-term strategies. The core of the 30-credit program explores skills needed to lead diverse organizations. It is one of the best in leadership training.
Accreditation
AACSB, New England Commission of Higher Education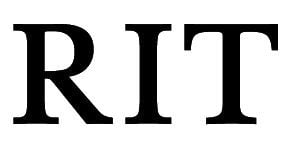 The Saunders College of Business at Rochester Institute of Technology has an excellent online Master's in Leadership. This dynamic organizational leadership program prepares students to analyze and identify a company's ability to innovate and evolve.
The curriculum is perfect for those interested in influencing people and implementing innovation dynamically. Program graduates can impact their organizations at the highest levels. Organizational leadership is paramount to one's ability to lead in today's hi-tech business environment. Rochester Institute of Technology offers a lot to today's business students.
Accreditation
AACSB, Middle States Commission on Higher Education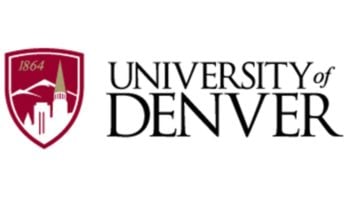 The Daniels College of Business at the University of Denver features an outstanding online Master's in Leadership. This Master's in Digital Leadership is cutting-edge and entirely online. Distance learners gain the three skillsets critical to leading an organization. Lessons include digital disruption and transformation.
Graduates position themselves to excel in their careers. The MSDL curriculum integrates leadership through digital transformation with courses to develop technical knowledge. Students completing this degree earn a Specialized Graduate Certificate in Digital Transformation.
Accreditation
AACSB, Higher Learning Commission

The C.T. Bauer College of Business at the University of Houston offers an online Master's in Leadership. It is featured entirely online. Bauer's M.S. in Management and Leadership offers ultimate flexibility while still giving the networking and industry exposure of an in-person program. Students study full-time or part-time from anywhere worldwide.
Distance learners gain from Tier 1 tenure-track faculty and experienced practitioners. These instructors bring decades of knowledge into the classroom. This stellar program features organizational behavior, management, ethical leadership, and critical reasoning.
Accreditation
AACSB, Southern Association of Colleges and Schools, Commission on Colleges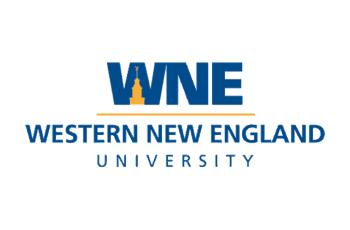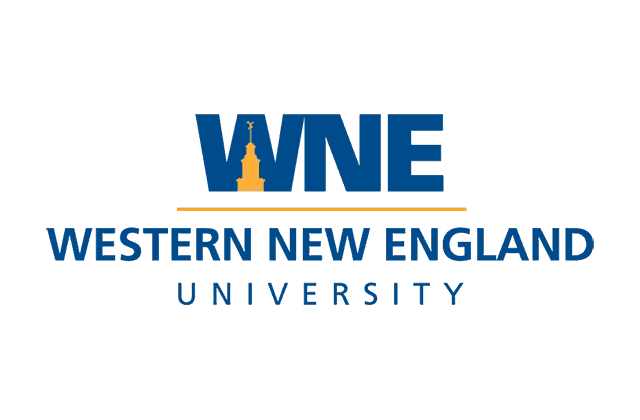 Western New England University's College of Business offers an excellent online Master's in Leadership. This online MS in Organizational Leadership prepares students to assume managerial and leadership positions. These professionals will influence the success of an organization.
Emerging leaders can find themselves in a position to impact critical transformations. The curriculum has lessons to lead change, make decisions, and manage others. Distance learners use ethical judgment to become influential leaders. These skills are cultivated within the Organizational Leadership program. This online MS is an excellent choice.
Accreditation
AACSB, New England Commission of Higher Education
What are the Prerequisites and Factors Involved with Entering Business School?
You Need a Bachelor's Degree
Virtually all business schools require things. One is an earned bachelor's degree for admission to an online Master's in Leadership program. Some elite schools waive that requirement. Incoming students with excellent experience in the field gain acceptance.
Professional Experience is a Plus
Some competitive schools need graduate students to have one to three years of professional work experience to attend. Many business schools will admit students lacking professional experience. It is important to note if experience is required or just preferred.
Keep an Eye on the Minimum GPA
The more attractive your undergraduate GPA, the more schools you'll have available. Competitive business schools require a 3.0 to 3.5 GPA. Others may need a 2.5 grade point average.
The admission materials for a business school applicant will also include:
Online or Written Application Form
Under the best circumstances, applicants will find that applying to graduate school takes time and planning. Programs like CommonApp hurry the application process for undergraduate programs and graduate schools.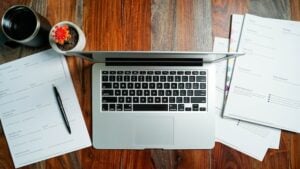 Transcripts
At the beginning of the process, business schools ask for unofficial copies of your transcripts. Later, admissions officers may request official copies. Official copies of your transcripts allow admissions reps to verify your GPA and analyze course type and rigor for the completed classes. Contact your prior school's office of the registrar to request transcripts. Some universities share the first few transcripts for free. Most will charge a small fee per transcript.
All business schools feature unique recommendation letter requirements. Become familiar with the rules for each of your prospective programs. Admissions counselors do not accept letters of recommendation from family or close friends. They are more interested in hearing from previous employers and instructors.
Placement Test Scores
Most graduate schools need qualifying scores on the GMAT or GRE. These test scores work on forecasting your likelihood of succeeding in business school. Every school has its preferred score range. Reach out to the admissions office for more details.
Application Fee
Business schools charge application fees ranging from $50 to $75. Some online schools waive the fee entirely. Highly competitive schools charge $175 or more.
What Will I Learn in an Online Master's in Leadership?
Course offerings in online Master's in Leadership degrees vary based on the business school. The following courses are standard for many programs:
Foundations of Organizational Management
Human Resource Management
Strategies in Organizational Leadership
Communication and Leadership Ethics
Leading Organizational Change
There are many different concentration options that could be included in an Online Master's in Leadership degree. Options can include:
Public Administration
Public administration includes the analysis and implementation of government policy. Concentration courses focus on public sector ethics and public policy and government. They cover public financial management. All levels of government agencies rely on competent public administration leaders. This includes urban planning, law enforcement, local government administration, and utilities management.
Project Management
Project management is distinct from management of an organization's ongoing operations. This business field involves every step of a project's planning, implementing, and evaluating processes. Demand for these professionals increases as globalization and virtual collaboration become more popular. All industries benefit from project managers. The fundamental skill set and job title remain similar across sectors. Students attaining the Certified Project Management Professional title earn about one-fifth more than those without the credential.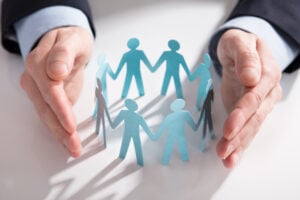 Human Resources Management
The HR management concentration is popular. HR professionals are needed in all industries. This track helps students develop competence in recruiting, motivating, equipping, and keeping productive employees. Course topics include employee pay, policies, and benefits. HR management jobs include recruitment and placement manager, training and development manager, benefits manager, and labor relations specialist.
Nonprofit Management
There are management similarities to for-profit businesses for these workers. However, nonprofit organizations present unique issues for managers and leaders. This concentration emphasizes nonprofit organizations' financial, ethical, and behavioral aspects. Working professionals seeking an online degree in this concentration learn to serve at all levels of nonprofit management in educational, religious, and community organizations.
Public Health Management
Public health management functions as a nonprofit management occupation. The primary focus is on health and safety instead of revenue. The field involves an emphasis on public policy. It establishes criteria priorities for public health management. Graduates of public health management programs find jobs through local, state, and federal health agencies. Large industries and nonprofit organizations, including clinics and hospitals, need public health managers.
How Long Will It Take to Earn an Online Master's in Leadership?
As you pursue an online master's degree in leadership, you'll find varying lengths of time to complete the degree. Program design influences how quickly you'll complete the program. Some schools format their Master's in Leadership as a 30-credit program. Other business schools may require up to 39 credits. Choosing a specialization (or multiple concentrations) will add more credit requirements.
Some b-schools structure their courses according to semester schedules. Others deliver classes in six or seven-week terms. Some schools permit students to progress through programs with a cohort of peers. In a cohort model, business students gain deeper networking opportunities. They sacrifice some flexibility regarding program pace. Most schools format their programs so that full-time students can graduate in 18 to 24 months. Some programs are shorter. Part-time students take longer to complete their programs as they take less coursework each semester. Extending your program over more terms may cost more.
What Can I Expect to Pay for an Online Master's in Leadership?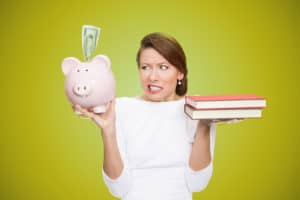 Tuition and degree-related expenses vary by business school. An online Master's in Leadership can cost $30,000 to $120,000 in tuition alone. Costs range from $400 to $1,800 per credit. Many b-schools charge higher tuition rates for out-of-state students. Some schools do so even if students complete their program through distance education. Books and fees will incur additional expenses.
Competitive, prestigious universities are the most expensive. Today's online graduate students can find quality programs at lower costs. But remember that you will want to ensure that the business schools you like hold the proper institutional and programmatic accreditation.
What Certifications and Licenses are Available to Online Master's in Leadership Students?
The Institute of Certified Professional Managers offers this credential. It helps verify to clients and employers you are competent in leadership and management. While one's degree will meet the educational prerequisite for this certification, prospects also need some work experience. Applicants must pass three assessment exams during the certification process.
The Project Management Institute administers the PMP certification. This certification can significantly improve one's earning potential compared to project managers lacking PMP certification. In addition to a degree, certificate holders need 4,500 hours of work experience leading and directing projects. A passing score on the certification exam is also required.
The Project Management Institute provides certification for people working as scheduling professionals. Projects and teams are becoming more global and virtual. The value of a PMI-SP distinction creates opportunities for professionals focused on complex scheduling issues. This certification requires a passing exam score and 3,500 hours of scheduling experience.
What now?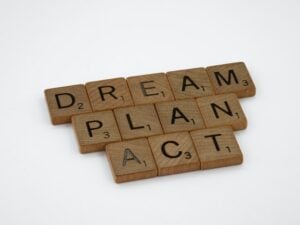 Are you interested in advancing your career by gaining the tools needed to lead and mentor employees? Do you see yourself doing this in a nonprofit, business, or governmental setting? Are you struggling to imagine yourself committing to an MBA degree?
Business leadership is imperative to an organization's viability. An online Master's in Leadership offers a lot to today's graduate students.
Now is the time to dream, plan, and act. Where do you really want to go? What is a good plan to get you there? Now, act!
Related Resources
Online Doctorate in Leadership Programs
Best Online Business Schools
Guide to Business School