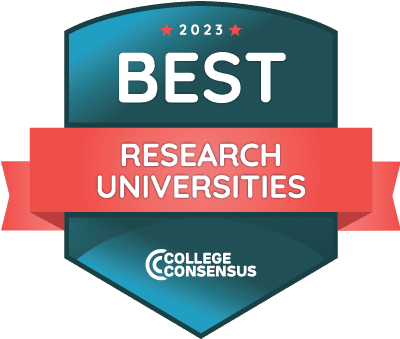 Students who want a place at one of the best research universities are in the right place with College Consensus. With the Top Consensus Ranked National Research Universities for 2023, College Consensus brings prospective college students all they need to know about the best research universities nationwide. For future professionals, researchers, scientists, and scholars, College Consensus gathers data from national and international ranking agencies and verified student reviews for a complete view of their educational options.
How Did We Rank the Best Research Universities?
College Consensus rankings combine the results of the most respected college ranking systems with the averaged ratings of thousands of real student reviews from around the web to create a unique college meta-ranking. This approach offers a comprehensive and holistic perspective missing from other college rankings. Visit our about page for information on which rankings and review sites were included in this year's consensus rankings.
The National Research Universities category is limited to schools with a national or international reach offering a broad range of undergraduate, graduate, and doctoral-level programs and a demonstrated commitment to research. These are schools designated Doctoral Universities by the Carnegie Classification.
The top research universities include some of the most prestigious and world-renowned names in higher education. We define national research universities as institutions that draw a student body from across the US and world, rather than a primarily regional population. These are universities that are classified by the Carnegie Foundation as research universities: R1 (Highest Research Activity), R2 (Higher Research Activity), or R3 (Moderate Research Activity). These designations include well over 300 universities nationwide. National research universities are dedicated not only to teaching, but on creating new knowledge through scientific, social scientific, and humanities research.
What's Different About the College Consensus Ranking?
The difference between College Consensus and other ranking sites is the difference between Rotten Tomatoes and your favorite movie reviewer. College Consensus is comprehensive. It's not just one voice stating an opinion – it's many, many voices, computed objectively and equally. Students who are actually there day to day have as much say about their college as experts who have never visited. And all of those perspectives mean an even playing field for every college and university, from the richest and best-known university to the smallest and hardest-working regional college.
This ranking focuses on the best nationally-recognized, major research universities. For students who are interested in the more traditional atmosphere of a small college, College Consensus has also ranked the Best National Liberal Arts Colleges. For the full, comprehensive ranking of all American colleges and universities, regardless of size or class, see the Best Colleges and Universities. For online schools, see the Best Online Colleges & Universities.
The Top Consensus Ranked National Research Universities are listed in descending order by their Consensus score. In the event of ties, schools are ranked in alphabetical order with the same rank number.
Why choose a research university? The best research universities offer opportunities for students to engage with faculty who are expanding their fields. Because professors are making new breakthroughs all the time, the learning environment is charged with excitement and students are able to learn about the latest studies before the results make it into their textbooks.
In addition, attending a research university often affords students opportunities they would not have at other schools. For example, they may have access to internships and have opportunities to do research with experts in their fields. They may even be invited to networking events with well-known professors, which could introduce them to valuable contacts and mentors.
What Makes a University a Research University?
So what is the difference between a research university vs. a teaching university? A focus on research is what makes a university a research university. The definition of a research university is a university that is committed to furthering our collective body of knowledge through research. 
Unlike teaching universities, which put teaching above everything else, research universities place a higher importance on research. This does not mean that the teaching at a research university is sub-par, however. At the best research universities, professors who are excited about their research often carry their enthusiasm into the classroom. They ignite passion in their students by sharing the results of their research with their classes.
If you're looking for the best research universities, look through our research university rankings. We have carefully considered each school's strengths and weaknesses and compiled a list of the top research universities in the country. Our research university rankings will help you choose the right university for you.
What is the Relationship Between Government Funding and Research Universities?
Government funding to universities is currently around 60% of the total R&D budget. This is down from a high of 73% in the late 1960s. However, in inflation-adjusted dollars, the amount has actually increased from around $8 billion per year to over $30 billion in spite of the lower percentage. This indicates that, adjusted for inflation, R&D budgets at research universities have grown over the past few decades.
Still, federal research grants to universities account for over half of the R&D funding for these schools. However, since federal funding covers less of the costs than it has in the past, schools have had to cover a larger share of their R&D budgets themselves. The percentage paid by the schools was less than 10% in the late 60s, but has risen to more than 20% today.
Since government funding to universities now covers a smaller percentage of research costs, many universities have responded by charging higher tuition and fees to make up the difference. However, public outcry against the burgeoning student debt crisis is forcing research universities to come up with an alternative way to make up for the reduced federal research grants to universities.
Many research universities have come up with new ways to gain additional funding or reduce expenses. These include partnerships with corporations and cooperative agreements with other schools that allow for expanded research efforts at all of the partner schools. Some schools are also engaging in their own development projects in order to raise additional funding.
Top Research Universities by Funding
Looking at the top research universities by funding, Johns Hopkins University receives more than twice as much federal funding as the #2 school. Around $2 billion of Johns Hopkins's $2.3 billion R&D budget comes from the federal government. The school is followed by the University of Washington in 2nd place ($960.6 million), the University of Michigan in 3rd ($756.1 million), Stanford University in 4th ($679.6 million), and the University of California, San Diego in 5th ($643.0 million).
Are Research Universities Only for STEM Majors?
Although the best undergraduate research universities include the best science colleges in the world, research universities are not just for STEM majors. In fact, a recent study by Drexel University found that non-STEM students are just as likely to benefit from undergrad research experiences as STEM students.
The results were based on a survey of students who participated in the STAR (Students Tackling Advanced Research) program at Drexel University, one of the best science colleges in the world. Students indicated that they felt that the research benefited them in all areas of study, not just in STEM subject areas.
Some of the benefits students reported included improvements in their ability to work independently, feeling more comfortable discussing concepts or explaining projects to people outside of their fields, and gaining hands-on experience that they feel will help enhance their resumes.
At the best research universities, students have plenty of opportunities to participate in research. Regardless of major, being involved in a research project increases the chances that the student will remain in the program and eventually graduate. This effect is stronger when the research is conducted earlier in the program.