Higher education has been a major priority in New Jersey for well over 200 years. The state's oldest university is Princeton University located in Princeton, New Jersey. In fact, New Jersey sits in the #2 spot for education, according to US News and World Report. And one degree that students shouldn't miss while researching programs within this state is the Online MBA.
Many know of New Jersey as "The Garden State," and it officially became the third state in the US in 1787. The state of New Jersey features over 130 miles of Atlantic Ocean coastal shoreline, and people flock to the state's resort cities, historic landmarks, and upper-north coast beaches. Historic locations like Asbury Park and Cape May help to make the state an interesting part of American history and a travel destination for tourists each year.
United States President, Glover Cleveland was born in New Jersey as well as singers Whitney Houston, Bruce Springsteen, and "old blue eyes" himself, Frank Sinatra. New Jersey leads the United States in population density with a ratio of 1,030 people every square mile of the state. Urban settings are the most popular place to live, as 90% of New Jersians live in cities. In addition to education, US News and World Report also ranks the state in the top ten in the areas of health care, opportunity, and crime & corrections. The culture in New Jersey is ripe for leaders and managers, and what better way to forge your path, than with an online MBA.
The Online MBA
One of the most reputable degrees a graduate student can pursue in the state of New Jersey is the online MBA. This program is a perfect fit for the working business professional seeking to get ahead in the world of business. The flexibility and convenience of an online MBA is unmatched. To help you find a degree that is right for you, here are the five best online MBA programs in New Jersey.
Methodology
To find the best Online MBA programs in New Jersey, over 570 online MBA programs in the country were researched and ranked based upon their location in New Jersey, and then their affordability, reputation, and convenience.
Affordability
All tuition information was collected directly from each university's website. The base tuition was calculated for the entirety of the online MBA degree, not include fees, books, or lodging. The base tuition was then inverted and placed on a 100-point scale. This Affordability Score attributes to 33% of the final ranking score.
Reputation
The reputation for the top online MBA programs in New Jersey was calculated by collecting data from leading national MBA ranking sources: Bloomberg Businessweek, The Economist, and US News and World Report. Rankings for each online MBA were converted to scores and then averaged to find a balanced reputation consensus. This averaged Reputation Score was placed on a 100-point scale and attributes to 33% of the final ranking score.
Convenience
Each MBA program's overall convenience was based upon if the degree can be completed in a 100% online format with no on-campus residencies, and if the GMAT/GRE application requirement is completely omitted or waived. This Convenience Score attributes to 33% of the final ranking score.

1
Montclair State University
Feliciano School of Business

New Jersey's best online MBA is found at Montclair State University's Feliciano School of Business. The curriculum is offered with a focus in Digital Marketing, Project Management, Human Resources Management, Marketing, or as a general MBA. The general online MBA consists of 36-credit hours. Students interested in choosing a focus need to add three credit hours to the program, making it a 39-credit hour degree. It is the Feliciano School of Business' priority to empower graduate students to succeed in today's modern business environment. The online MBA is a well-balanced mixture of academic theory and practical application within a well-rounded curriculum. This exemplary distance education provides graduates with an immediate competitive advantage at the program's conclusion and will continue to bolster their lifelong learning skills. Most students complete all requirements for the general online degree in just two years, while those who add a specialization will typically graduate in 27 months. This degree offered by the Feliciano School of Business is the most-affordable program within this ranking of New Jersey's best online MBA degrees with a tuition rate of just over $25,000.
Affordability Score: 100.00
Convenience Score: 75.00
Reputation Score: 100.00
2
Fairleigh Dickinson University
Silberman College of Business

A top online MBA is delivered by Fairleigh Dickinson University at the Silberman College of Business. The tuition rate of less than $30,000 is bested by only one other program within this ranking. The Silberman College of Business is accredited by the prestigious AACSB-International. Students with the proper academic experience can waive the GMAT requirement during the application process and waive up to 12 credits of leveling courses. There are 18 credits of this online MBA that are included as core courses, including Strategic Marketing, Information Systems for Managers, Organizational Behavior and Leadership, Managerial Economics, Society, Ethics & Legal Environment of Business, Corporate Finance, and Operations and Supply Chain Management. This online MBA is rounded out by 10 credits of discipline enhancing courses and a capstone experience which accounts for two credits at the program's end. All coursework and projects associated with this stellar online MBA are provided online, and there is never a need for MBA students to visit the campus in Teaneck, New Jersey at any time during the program's duration.
Affordability Score: 97.02
Convenience Score: 75.00
Reputation Score: 100.00
3
Rohrer College of Business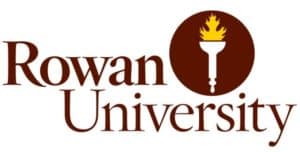 Rowan University's Rohrer College of Business provides an online MBA. This third most affordable degree in this ranking comes in at just over $30,000 in tuition, allowing students to find a great value when considering an online MBA. The business school has created the curriculum for this degree to emphasize critical thinking as students will be called upon to make difficult decisions throughout their careers in business. Quantitative analysis is also a major theme of this online MBA, and students can expect to be exposed to technological and international facets of business during the program's duration. Marketing Management, Issues in Management Information Systems, Managerial Decision-Making Tools, International Business and Society, Managerial Accounting, Managing Organizational Strategy, Financial Decision Making, and Professional, Legal, and Managerial Responsibilities are all courses housed within one of the best online MBA degrees in the state of New Jersey. While the GMAT is a listed admissions requirement, the business school does offer a GMAT waiver for qualified candidates.
Affordability Score: 89.04
Convenience Score: 75.00
Reputation Score: 100.00
4
College of Business Administration

The College of Business Administration at Rider University offers an online MBA with Business Analytics, Finance, Forensic Accounting, and Global Business specializations. A GMAT waiver is becoming a very popular attribute for an online MBA program as more students see the value in not spending time and money preparing and taking the test. Business schools also understand there are many more aspects of a candidate's application that will speak into the potential for a student to be successful throughout the program's duration besides the placement test results. Qualified applicants can apply for a GMAT waiver during the acceptance process of this 33-credit hour program. Besides the concentration-focused courses included in the online MBA, classes like Managerial Economics, Legal & Ethical Aspects of Business, Advanced Organizational Behavior, Information Technology Management, Global Supply Chain Management, Strategic Accounting, and Applied Corporate Finance are core courses included in this high-powered online MBA. The tuition rate of Rider University's online MBA sits just over $40,000.
Affordability Score: 76.68
Convenience Score: 75.00
Reputation Score: 100.00
5
New Jersey Institute of Technology
School of Management

An online MBA with excellent emphases in Management Information Systems, Finance, and Marketing, or with certificates in Management of Technology and Management Essentials is provided at the School of Management at New Jersey Institute of Technology. A distance learner can enroll in this impactful online MBA for just over $50,000 in tuition. The top-notch core courses accessible to students include Management Accounting, Competing in Global Markets, Managerial Economics, Information Systems Principles, Corporate Finance I, Management Consulting, Organizational Behavior, Decision Analysis, New Venture Management, and International Business. The School of Management has made it a high priority to equip motivated, tech-savvy business leaders with the professional expertise and technical knowledge they will need for success in today's modern global business landscape. The program is backed by the business school's extraordinary business accreditation through the AACSB-International. All 48-credit hours of this degree can be completed 100% online with no campus visits needed.
Affordability Score: 66.48
Convenience Score: 75.00
Reputation Score: 100.00
What are the key features to look for in an online MBA in New Jersey?
There are some important aspects of any university, and business school, to research when considering where to apply for a degree like the online MBA. A program of this magnitude is an important choice for any business professional looking to get ahead within an organization they already work for, or in order to make them more marketable for other organizations that may be looking for well-trained managers. While it may seem like a daunting task to consider all the characteristics that make up a business school and a degree like the online MBA, the main reason a ranking like this one is so important is that it presents how programs match up against one another. Here are several factors to always consider when trying to choose what online MBA will be right for you as a student today and a leader in business tomorrow.
Reputation of an Online MBA in New Jersey
A program's reputation can hinge on several factors. The university which offers the master's degree in business carries with it a reputation based on academic performance of its students and the grade of its administration and teaching staff. Some other factors, like how much fundraising a university can achieve each year or how successful a school's sports programs are, also affect how one might consider the reputation of a school. Publications like US News and World Report and Bloomberg Businessweek actually rank university business schools from across the country and are able to do so by looking at the quality of education that gets offered at a school and assessments from peers and students. When it comes to the reputation of an online MBA, you will want to look at what accrediting body grants the business school its business accreditation. The AACSB-International remains the most reputable accrediting entity for business schools.
Cost of an Online MBA in New Jersey
The price a student is required to pay for a graduate degree may be the largest deciding factor when it comes to where to pursue a degree like the online MBA. As more and more students are flocking to online education, it is wise for business schools that want a competitive edge when attracting students to work at keeping tuition expenses low. US News & World Report shares that in recent years, more than six million college students are enrolled as distance learners, and many are taking classes within online MBA programs. When researching an online MBA degree, be sure to contact the business school admissions office and find out what you may expect to pay in tuition. Some business schools have made it a priority that online MBA students can get the same tuition rates as in-state students who seek degrees on campus, and they may also offer scholarships and grants available to online MBA students.
Curriculum of an online MBA in New Jersey
The curriculum presented in a degree like the online MBA is important because it is the actual content a student will be responsible for working through over the course of the degree. This is an area where a business school's accreditation will once again shine through. Many online MBA programs allow students to see what courses are offered in the syllabus and read a description of what each course covers. While some programs that offer general business MBA programs that can be applied to any sector in business, many will offer specialized curriculum for a certain job type or field.
The time it takes to research and pursue a top online MBA degree might seem significant, but the advantages of the hard work and investment for each graduate can be felt throughout their entire career.