Comedians sometimes play dumb, but they are typically highly intelligent people. It takes a lot of brain power to be able to dissect politics and culture and make people laugh while doing so. Many comedians were on track to becoming very successful lawyers, teachers, and other professionals, but to their parents' dismay they threw it all away to chase something they loved doing. Fortunately for their parents, it ended up working out. Here's a list of comedians who could have been anything they wanted but realized making people laugh was all they wanted.
10. Jerry Seinfeld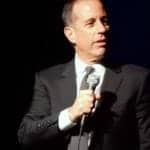 Jerry Seinfeld graduated from Queens College, CUNY55 with a bachelors degree in communications and drama. Twelve years later he ended up writing and starring in the most popular sitcom of all the time and would go on to be number one on Forbes's list of the world's highest paid comedians. Jerry Seinfeld is most likely the most successful communications major in this country. It was in college that Jerry started using his communications skills to put together iconic routines at open mic nights at a New York comedy club called To Catch A Rising Star. His work at To Catch A Rising Star quickly led to an appearance on Rodney Dangerfield's HBO special and an appearance on The Tonight Show.
Jerry Seinfeld, besides being one of the most successful comedians of all time, is also one of the most influential in the world of stand up. Seinfeld's comedy, unlike the other great comedians of his time, wasn't about politics or socioeconomic themes. His comedy put more attention on the trivial nuances of our day to day plight. His clean, witty, observational style of stand up comedy hit well with audiences in ways that no other comedian had done before. His sitcom didn't have any heartwarming moments or life lessons, it just provided people an outlet to laugh at the awkward scenarios that we encounter on a day to day basis. He made a mark on the comedy world by inventing a new genre of "observational comedy": the type of comedy that doesn't seek to change anyone's mind or provides some higher message, just point at things we experience on day to day and ask "What's the deal?"
9. Whitney Cummings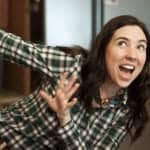 Whitney Cummings graduated magna cum laude from the University of Pennsylvania89 in 2004 with a bachelors in communications she earned in 3 years. The hard work didn't stop when she graduated college, though. Cummings started stand up in 2004 and by 2007 was on Variety's list of top ten comics to watch. Just a year later Whitney was making movie and TV appearances. It's clear Whitney is a prodigy in many fields who enjoys accomplishing hard tasks in half of the time it's supposed to take. Her work ethic continued to show in 2011 when she got two sitcoms picked up by broadcast networks and was an executive producer on both shows.
Whitney Cummings' drive to work hard has its roots in her troubled childhood. Whitney's mother was an alcoholic who wasn't very involved in her life and she often found herself walking long distances from school because her mother was too drunk to pick her up. This burden of not being able to depend on her parents at a young age forced Whitney to depend on her wit and work ethic for survival.
Whitney Cummings isn't the only prodigy to come out of the University of Pennsylvania89. This private Ivy League research university has produced many successful alumni including two U.S presidents, 33 state senators and eight signers of the U.S Declaration of Independence. Whitney's mark on show business definitely earns her a rightful place at the famous alumni table.
8. Bill Maher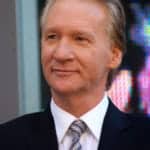 Bill Maher graduated in 1978 fromCornell University91 with a double major in English and History. It was only after he graduated from college that Bill confessed his lifelong dream of being a comedian to his parents. After that Bill began working his way up the ladder from doing stand up at Chinese food restaurants in upstate New York, to becoming the house emcee at the famous New York comedy club To Catch A Rising Star. Shortly after becoming a regular at To Catch A Rising Star Bill started getting spots on the Tonight Show. Bill quickly became known for his strong brand of unique satirical humor.
Bill Maher's satirical commentary landed him a role as a host of a late-night political talk show called Politically Incorrect. The show lasted for eight seasons and was the first of its kind because it managed to mix politicians and entertainers together in an effort to air all points of view, even the ones that might be deemed too controversial. Pushing the envelope quickly became Maher's trademark and he continued to push it with ease when he got a new talk show on HBO, Real Time With Bill Maher. The show has the same format as Politically Incorrect and it attracts the same level of controversy.
Even with an HBO show, Maher still regularly performs stand up, with a least 50 dates a year in Las Vegas and other major cities. He has also written three books. Clearly, the high expectations and demanding work-load at Cornell University91 made an impact. Whether you agree or disagree with his views, you have to admit that Bill Maher is a hardworking, talented man who worked hard to secure his place in the collective media psyche as one the most influential talk show hosts of all time.
7. John Hodgman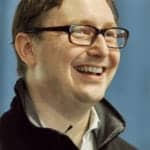 John Hodgman graduated from Yale University93 in 1994 with a bachelor's degree in literature. Most people wouldn't have guessed that John would become a comedian. He spent his time at Yale studying the works of Shakespeare late into the night. John actually had no intention of becoming a comedian himself, he merely wanted to write short stories, but a lot his short stories kept accidentally turning out to be pretty funny. He eventually started writing jokes because, according to him, "Jokes are the shortest stories." John's debut into comedy began when he wrote a book called The Areas of My Expertise, a satirical almanac that contains almost no factual information.
John made his television debut appearing on The Daily Show With John Stewart to promote his book. His appearance was a huge success and John was a fan of the book. After his first appearance, Hodgman became a reoccurring guest on the show, often playing characters like the "deranged millionaire." His Daily Show appearances helped get him recurring roles in several television series like FX's Married, HBO's Bored to Death and Cinemax's The Knick. John has even performed at a TED conference, as well as for the president of the United States.
John represents a new wave of comedic talent from Yale University93. Historically when it came to humor in Ivy League schools,Harvard University91 took the cake. Harvard has produced numerous writers for Saturday Night Live and other television shows. However, recently Yale has produced its own batch of comedic competitors, such as John Hodgman, Demetri Martin, and Lewis Black. It looks like Harvard and Yale may have another rivalry on their hands.
6. Ellie Kemper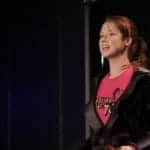 Ellie Kemper graduated from Princeton University93 in 2002 with a bachelors degree in English. She then went on to attend the University of Oxford, where she studied at Worcester college towards a graduate degree in English. Her interest in comedy began at Princeton when she joined Quipfire!, Princeton's oldest improv comedy group, and the Princeton Triangle Club, a touring musical theater comedy group. After school, she moved to New York to focus on her comedy and acting career. She quickly found a home at the Upright Citizens Brigade and started performing one-woman shows there.
Kemper's first big break was participating in a K-mart commercial about tents where a spider crawls across her face. Since the spider performance Ellie has gone on to appear in roles on shows like the Colbert Report and The Office, and she is the main character of the Netflix original comedy series The Unbreakable Kimmy Schmidt. Along with numerous television credits, she has quite the writing resume as well, regularly contributing to The Onion and The Huffington Post.
5. Conan O'Brien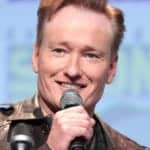 Conan O'Brien, the esteemed talk show host, writer and comedian, graduated from Harvard University91 magna cum laude with a B.A. in History and Literature. He got his start in comedy writing for the The Harvard Lampoon. Conan worked his way up to becoming the president of the Lampoon.
After graduation, Conan left for Los Angeles, where he got a writing job on an HBO show called Not Necessarily the News. Conan honed his comedic talents writing for television and performing improv, eventually catching the eye of Saturday Night Live producer Lorne Michaels. In 1988 Conan became a writer for SNL, creating famous sketches like "Mr. Short Term Memory " and "Girlwatchers." The SNL writers won an Emmy that year. Conan left SNL in 1991 to join the writing staff of The Simpsons. He would be an essential writer on the show, and eventually worked his way up to Supervising Producer.
In 1992 Johnny Carson announced he would retire from late night television, leaving some huge shoes to fill. When NBC chose Jay Leno over David Letterman, a spot was open for a host of late night talk show that would compete with Leno. Although Conan was talented and hilarious, he didn't appear to have the confident gregarious qualities that traditionally exist in a late night host, but the network took a chance on him. Conan used his tall, lanky, awkward presence to his advantage, regularly making self-depreciating jokes at his own expense. He would become a new breed of late night host. Not a smooth-talking comic we all look up to, but a tortured clown trying to get through the day. Conan's career spans the entire entertainment industry, and some of the funniest shows of the 20th century, but it all started writing wacky magazine articles in college.
4. Demetri Martin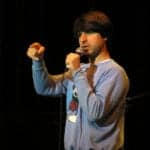 Demetri Martin graduated from Yale University93in 1995 and went on to study law at New York University81 on a full scholarship. Unlike most comedians, Martin didn't have a secret burning desire to be a comic from a young age. He actually decided at the age of 11 that he wanted to become a lawyer, but his passion for law faded quickly once he was actually in law school. Martin ended up dropping out of law school after two years. His father had passed away around that time and according to Demetri it was a "stark, dramatic reminder about how short life is." Demetri decided not to spend his life doing something he wasn't truly passionate about and ended up finding his true passion in comedy.
Martin began performing stand up comedy at the Boston Comedy Club in New York doing bringer shows (shows where you have to bring a certain amount of people to get stage time). After years of grinding it out in New York City, he was featured on the Comedy Central showcase Premium Blend. In 2003, Demetri began writing for Late Night with Conan O'Brien, and a year later got his own Comedy Central Presents special. Martin would go on to get his own television show on Comedy Central called The Important Things With Demetri Martin.
Demetri Martin's success is largely attributed to his smart, unconventional style. His stand up usually consists of him using a series of one-liners and large pads with comedic drawing on them, as well as playing the guitar and numerous other instruments. He cites comedian Stephen Wright and Gary Larson, the cartoonist who wrote the Far Side Gallery, as the inspiration for his comedic approach. After appearing in eight movies, writing three books, and producing his own TV show, it seems Martin can rest easy about his decision to drop out of law school.
3. Greg Giraldo
Greg was recognized as an intellectual prodigy at a young age. He grew up to earn a bachelor's degree in English from Columbia University in 1987. After graduating from Columbia he was admitted to Harvard University91 Law School after achieving a near-perfect score on his Law School Admission Test. Greg received a degree from Harvard Law in 1990 and worked as a lawyer for eight short months before realizing he didn't enjoy being a lawyer at all. When asked by family and friends why he left the law practice, Greg said "I always wanted to do something creative. I've always had real trouble knowing what my actual desires and goals are. I've just been dragged along by fate. I can't even tell you why I thought to go to law school."
Greg began something creative by starting to do stand up comedy in 1992, inspired not by the great comedians but by the bad ones. After watching bad comedians perform in New York he would think to himself "I could do better than that", and he did. Giraldo became a regular at the famous Comedy Cellar in New York, got two Comedy Central specials, and appeared on numerous roasts for Comedy Central. His comedy was definitely influenced by his education. Giraldo's style consisted of bringing a lot of surreal and intelligent observations to the stage. Comedian Jeff Ross described Greg's brain as "a machine that's always producing good ideas." His presence in the comedy world even validated the idea of being a comedian to other comedians according to Jeff Ross who said, "if this Harvard lawyer wants to be one of us maybe we're doing something right!"
2. Lisa Lampanelli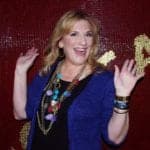 Lisa Lampanelli studied journalism at both Boston College83 and Syracuse University75. She went on to do a graduate program at Harvard University91 as well. Lampanelli worked as a copy editor at Popular Mechanics and an assistant at Rolling Stone. Eventually Lisa grew tired of reporting on celebrities and chose to become one instead. She started performing stand up in the 1990's. Her stand up was heavily influenced by the Dean Martin roasts she watched growing up as a kid, and she quickly became known as the "Queen of Mean" for her crass brand of insult humor.
Lampanelli got her first big break performing at the roast of Chevy Chase at the New York Friars Club. She went on to appear in roasts for Denis Leary, Pamela Anderson, Jeff Foxworthy, Flavor Flav, William Shatner, David Hasselhoff, and Donald Trump. She released her first comedy special on DVD entitled Take It Like A Man in 2006. Lisa's jokes have stirred up a lot of controversy during her career. Lisa addressed the controversy on a radio show once saying "I can get away with it because I'm a nice person, I have a warm personality, and my intention is good behind it. The thing is, people sense when you have the least bit of anger or hate towards a group. That's why you never make fun of people you don't like."
1. Lewis Black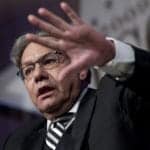 Lewis Black is the master of the angry comedic rant. However, his heart wasn't always filled with rage. It used to be filled with a love for drama and plays. Lewis Black went to the University of North Carolina88 to study play-writing. After graduating in 1970, he went on to study at Yale University93 and received a master's degree in Drama in 1977. He began his career working as a playwright and an associate artistic director of Steve Olsen's West Bank Cafe Downstairs Theatre Bar in Hell's Kitchen in New York City. His first stand up performances were done at the theater to warm up crowds before plays.
By the mid-1980s Lewis Black was a comedian on the rise and got his own Comedy Central half hour in 1988. Black became known for his unique style of angry, mostly political comedy. On stage he played a character who has been pushed to the limits of his sanity by the absurdities of life. Black described his comedy as "being on the Titanic every single day and being the only person who knows what is going to happen." Audiences loved him, and he blew up in the 2000's releasing another Comedy Central special, recording 2 HBO specials, and winning a Grammy for Best Comedy Album in 2007.