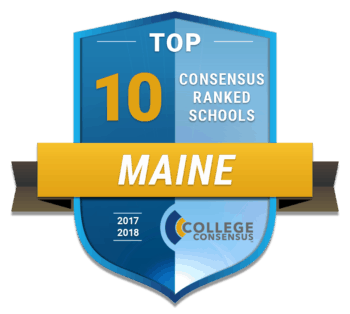 To identify the Best Colleges in Maine for 2017-2018 we averaged the latest results from the most respected college ranking systems with thousands of real student review scores from around the web to produce a unique College Consensus rating for each school. You won't find a more comprehensive ranking of the top colleges and universities in Maine anywhere. Read more about our rankings methodology and sources at our about page.
Colleges & Universities in Maine
The best colleges and universities in Maine are a diverse, highly innovative and idiosyncratic group, made up of public research and regional institutions, pioneering liberal arts colleges, and highly specialized, experimental and experiential institutions that cause experts to reconsider how higher education should look. Maine's only public research university, the University of Maine 55 is the flagship of a strong public higher education system that includes a top regional liberal arts college in Farmington , and a unique bilingual French-English institution at Fort Kent 57 , in the Saint John Valley. Another public college, the Maine Maritime Academy , is one of the leading sea and shipping-centered institutions in the world, preparing students for the Merchant Marine, maritime engineering, and careers in shipping and transportation.
Maine, of course, is part of New England, and if New England is known for anything, it's world-class liberal arts colleges, and Maine is no exception. Institutions like Bowdoin College 84 , Bates College 80 , and Colby College 77 have reputations that place them in the company of the Ivy League, and histories that count them as some of the most pioneering institutions in the nation for women and minorities. The College of the Atlantic 64 and Unity College have also pioneered, representing two of the first colleges in America to focus entirely on sustainability and the environment, and earning a reputation not only for excellence, but ethical responsibility. All together, Maine's best colleges and universities represent the best of New England's farthest reaches.
Here are the top colleges and universities of the Pine Tree State.