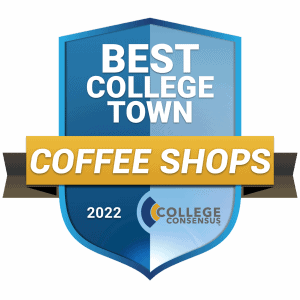 Popular culture has created many stereotypes about college students and their well-known habits and choices. Some of these stereotypes are debatable, except one – coffee – the caffeinated substance that fuels most college-age students each day. And while caffeine can be consumed in a variety of forms – like soft drinks, tea, or potent energy drinks, a National Institutes for Health study revealed that the primary reason college students imbibe caffeine is to become more awake, with a greater ability to focus and concentrate.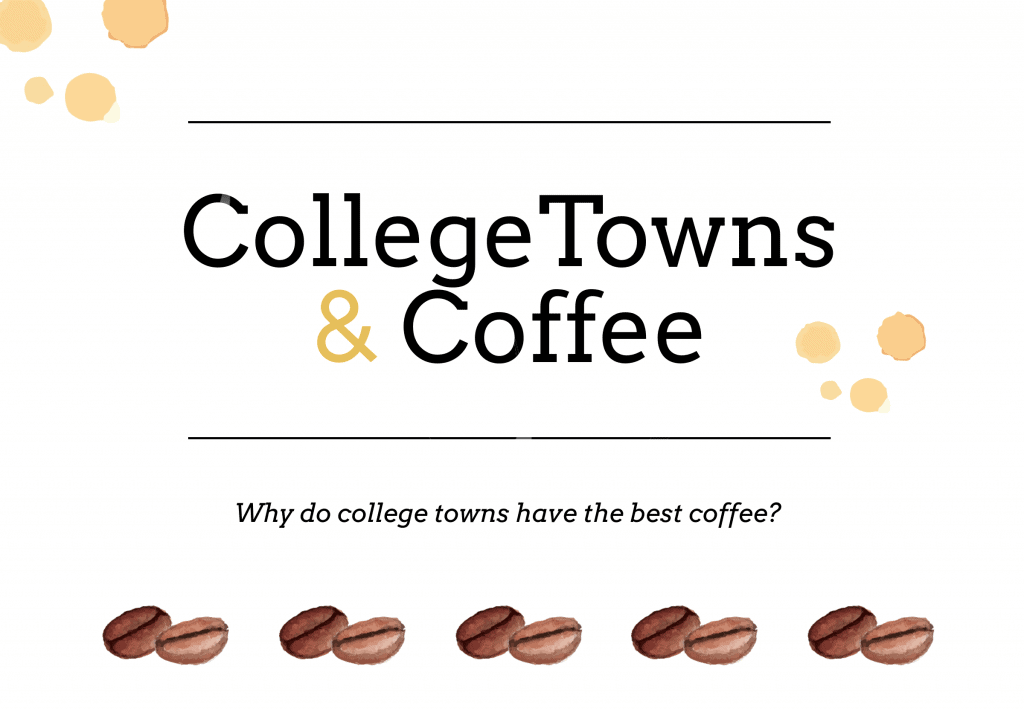 Why Do College Towns Have the Best Coffee Shops?
However, there are other patterned reasons as to why college students choose to drink coffee on a regular basis. These reasons include –
To reduce stress & fatigue
The taste is enjoyable.
To improve concentration and overall mood.
To partake in a social scene.
To improve their physical energy, to name a few.
These reasons (and likely a few more) are the fundamental primary reason why one finds the best coffee shops in the USA are usually located in, on, or close to college campuses and related campus facilities.
Smart proprietors of these best coffee shops know that college students provide a consistent demand for coffee (and its accouterments) around the clock. They also recognize that a coffee shop in a college town is a popular social hang-out.
Coffee shops are as unique as the campuses they serve. Let's review fifteen of the best college town coffee shops in the country where a cup of Joe is an art form.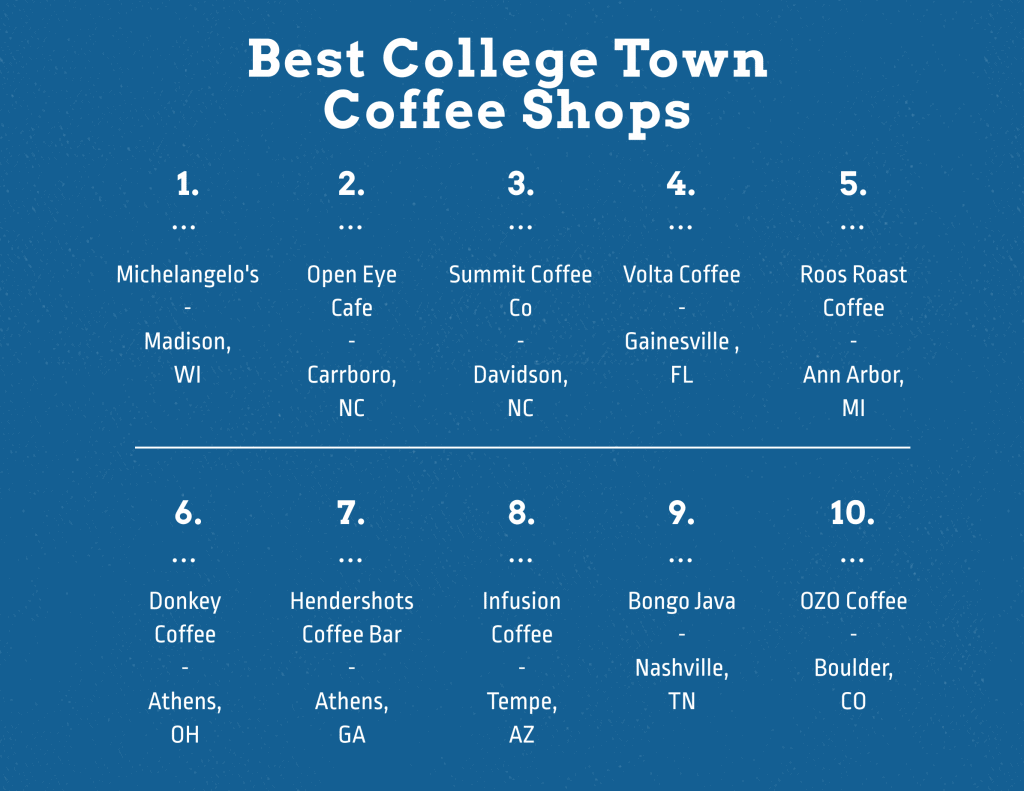 1. Michelangelo's – Madison, WI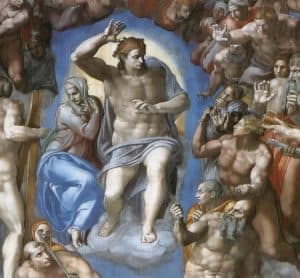 Since 1997, Michelangelo's has been the University of Wisconsin students' favorite independent coffee shop, serving up coffee sourced from fair-trade & socially responsible traders. The owner, Sam Chehade, remains true to Michelangelo's Coffee House's tagline – The Home of the Small Batch Brew, and its strong customer service commitment. Michelangelo's is located a few paces from the state capital building on the square. It offers delicious, responsibly sourced coffee and some of the best eats in downtown Madison and beyond. If you are on Madison's square (or are in need of a delivery), check out Michelangelo's delectable pastries, lemon or peanut butter bars, brownies, scones, cookies, turnovers, and muffins. Additionally, Michelangelo's Coffee House offers smoothies, specialty mochas, cheese or chocolate cakes, seasonal drinks, and hand-crafted panini sandwiches –
Breakfast Sandwich
Salami, Pesto & Cheese
Ham or Turkey & Cheese
Chipotle Black Bean Burgers
Vegan Hummus, to name a few.
Drop Michelengo's Coffee House a note by email or call them at 608-251-5299. Follow Michelangelo's on Facebook for updates & special offers to learn why it is one of the best coffee shops in the USA.
2. Open Eye Cafe – Carrboro, NC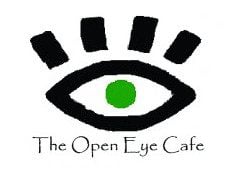 The Open Eye Café, Carrboro's award-winning restaurant, is one of the l best coffee shops in the USA, located within a stone's throw of the Chapel Hill campus at the University of North Carolina. Open Eye Café has served nearly 4,000,000 students, area visitors, and coffee lovers since its inception about two decades ago. The Open Eye Café, located on Greensboro Street, is open every day (until 6 PM). Catch us at the annual Carrboro Music Festival and other community events in and around Carrboro.
In addition to coffee & tea alternatives made to order, the Open Eye Café also offers catering services for small and large parties or events. We offer a convenient online ordering system for our delectable coffee and beverage options, plus delicious food options like macaroons, danish, croissants, muffins, scones, and cookies, etc.
If you wish to contact the Open Eye Café, they can be reached by email, online, or by telephone at 919-968-9410. Click here for Open Eye Café's updates.
3. Summit Coffee Co – Davidson, NC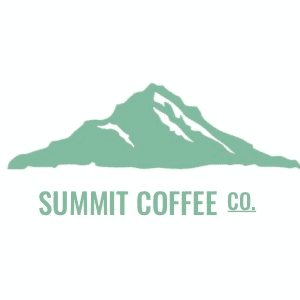 The Summit Coffee Co., established in 1998, is located in pastoral Davidson, a southern North Carolina location on the shores of Lake Norman. Summit Coffee Co. serves the residents of Davidson, plus the students attending Davidson College, a highly selective liberal arts institution of higher education known as the Princeton University of the South, and for its strict honor. The Davidson location of Summit Coffee is the flagship location and one of seven North Carolina locations serving the best in –
Coffee – available in 12 ounces, 2-pound, and 5-pound packages. Check out our new instant coffee options.
Rishi Tea – organic and direct-trade Valerian Tea, Earl Grey or Turmeric – Ginger Tea.
Summit Coffee Co. Gear – including proprietary T-shirts, hats, travel mugs, ceramic mugs, and Summit Coffee Co. stickers.
Monthly Coffee Subscriptions – never run out of coffee by signing up for Summit Coffee's one, three, or six-month home-delivery service of freshly ground coffee beans, ready for brewing.
Stay in touch with Summit Coffee by email or by telephone at 701-895-9090, or follow Summit Coffee on Instagram or Facebook.
4. Volta Coffee – Gainesville, FL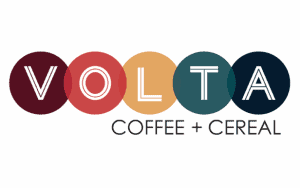 For those in the know, Volta is the only coffee house for serious coffee fanatics in the north-central area of Florida – known for the best espresso in Gainesville and perhaps all of North Florida. Volta Coffee also serves the more than 55,000 students attending the University of Florida, one of the best publicly run institutions of higher learning in the country. Summit Coffee Co. delivers the perfect location to unwind or to study quietly while sipping these delicious favorites and options –
Coffee Selections – from Bolivia, Brazil & Rwanda, among others.
Volta Iced Coffees
Espresso
Limited & Rare Teas
Classic & Herbal Teas
Chocolates
Egg Creams
Desserts
Chai Teas
Volta delivers a wide variety of specialty roasted coffees and carefully selected teas & chocolate. And visit the display case to see what freshly baked treats are up for grabs.
Do you have a question about one of Volta's products or services? Please reach out by telephone (352-271-4361) or email. Follow one of the best coffee shops in Gainesville on Facebook, Twitter & Instagram.
5. Roos Roast Coffee – Ann Arbor, MI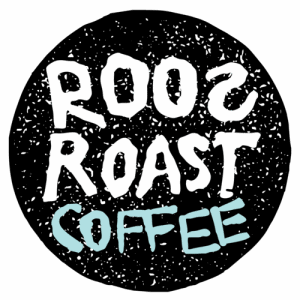 With two Ann Arbor, Michigan locations, Roos Roast Coffee is a University of Michigan's campus favorite, born from an artful & delicious idea by Ann Arbor native – John Roos. Roos Roast Coffee offers a variety of menu options –
Coffee – from roasts to bulk to subscriptions and single origin coffee.
Teas & Hot Chocolate.
Food – Burritos, chocolate protein balls, coffee cake & pastries, among others.
Gifts
Bulk Gift Orders
Cold Brew – ginger lemon tea, coffee, decaf coffee, and – AVAILABLE FOR PICK-UP ONLY.
Gear – apparel, coffee making options, or mugs/cups that align with the funky, trendy side of life.
Roos Roast can be reached at their solar-powered headquarters at the Rosewood Street location (734-222-9202) or their downtown Liberty Street location at 734-369-2492. Bulk orders can be placed by email. For updates, specials, or gift cards from Roos Roast Coffee, follow us on Facebook, Instagram, and Twitter. They also appear at the Farmer's Market on Detroit Street in Ann Arbor every Saturday – all year round, and Wednesdays from May through December.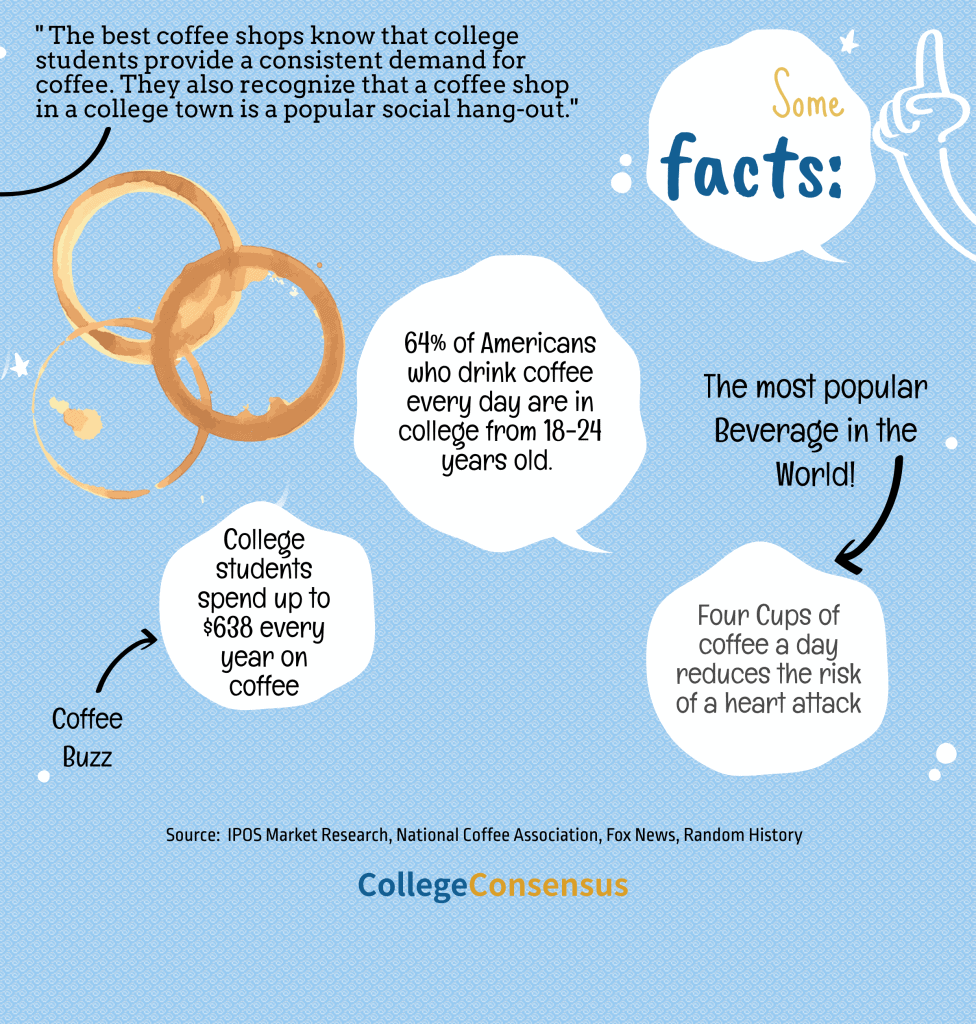 6. Donkey Coffee – Athens, OH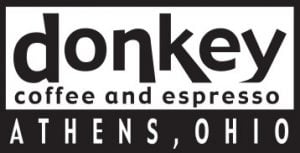 From its historic Athens downtown district, Donkey Coffee, Coffee & Espresso offers exceptional fair-trade coffee with a welcoming vibe of art and live music. Students & faculty members from the nearby University of Ohio, one of the ten oldest public higher learning institutions in the country, with an Athens student enrollment that exceeds 25,000 students. Donkey Coffee offers these delectable coffee, tea, and treats –
Hot Beverages & Other Drinks
Cold Beverage Options
Snacks & Pastries
But Donkey Coffee is more than an inviting place to relax or catch up with a friend. Donkey Coffee offers weekly events for local artists and musicians. In the market for some funky gear, check out Donkey Coffee's online store.
Customers and fans can reach out to Donkey Coffee online, by email, or by phone at 740-594-7353. For updates about products and upcoming performing artists at Donkey Coffee, join the mailing list or follow them on Facebook and Twitter. Donkey Coffee supports a variety of organizations in support of social justice & the arts.
7. Hendershots Coffee Bar – Athens, GA

Hendershots, the Everything Spot in Athens on Prince Street was established in 2010 by Seth Hendershot, an Athens' native and well-known location drummer and singer. Already a local favorite music venue (with seating for 150), bar & coffee house, Hendershots was originally built on what was once an automobile service station but moved several years later to a repurposed bottling plant. Our high-quality coffee and beverage options are delivered with exceptional customer service and compostable cups/lids.
Online shopping at Hendershots offers these popular items –
The Big Athens Box Subscription or One-Time Purchase– your choice of coffee plus a curated box of items from Athens' favorite spots, plus a 7" viny single form local artists.
Cans of Coffee – seven varieties.
Gift Cards – from $5.00.
Masks
Hendershots Koozies
Hendermints, plus a variety of t-shirts and tank tops.
Hendershots Coffee Bar offers an online ordering system for pick-up orders in Athens. Give them a call at 706-353-3050 or drop a note via email.
Follow Hendershots Coffee Bar online on Twitter, Instagram, or Facebook, or book them for a private party or event.
8. Infusion Coffee & Tea Crafters- Tempe, AZ
Infusion Coffee & Tea Crafters, from its East 8th Street location, was founded by Patrick O'Malley, a world traveling coffee consultant and connoisseur on a mission to bring the best coffee (and other products) to the Tempe area and the coffee loving students at Arizona State University. Infusion roasts their own coffee and offers those that work, live, and study in Tempe a truly artisanal coffee or tea experience.
If you are in the Tempe vicinity, stop by Infusion's café to sample their delectable options. Coffee aficionados (or wannabes), check out Infusion's coffee education options, Infusion's ongoing projects, events & classes, and their SCA-certified coffee lab.
Infusion offers these coffee, tea, and other Infusion gear options –
Coffee Bean – from around the globe.
Tea – loose tea leaves
Gear – brewing gear for coffee mavens and baristas.
Follow Infusion Coffee & Tea Crafters on Google+, Instagram, Facebook & Twitter. For information regarding Infusion's products and services, please call 480-968-2533 or email.
9. Bongo Java – Nashville, TN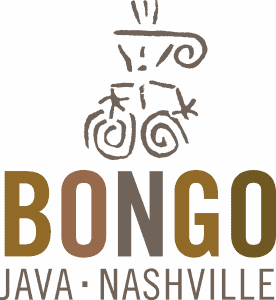 Among the oldest and the best coffee shops in Nashville is Bongo Java, one of the Bongo Roasting Co. locations. Bongo Java is located in Nashville's hip Belmont/Hillsboro Village area, and only a hop, skip and jump from Belmont University. Students from these nearby schools & higher learning institutions have made Bongo Java one of the best coffee shops in Nashville – Vanderbilt University, Lipscomb University, Trevecca Nazarene University, plus four HBCUs.
Bongo Java maintains several locations and an online menu that includes these options –
Coffee of the Month
The Coffee Club
Cooperative Coffees
3 Bag Collections
Employee Picks
Bongo Merchandise, among others.
Bongo Roasting Co. offers online coffee education, brewing guides, and the state's only coffee training lab that is industry-certified. Bongo Roasting Co. partners with wholesalers and encourages fundraisers from nonprofits to sell Bongo Coffee like Girl Scout Cookies.
For additional information about one of the best coffee shops in Nashville (as noted by the Nashville Scene for nearly 2 decades straight!) or by telephone at 615-385-5282, online, or email. Follow Bongo Java online on Facebook or Instagram.
10. OZO Coffee Company – Boulder, CO

Established in 2007 by Justin Hartman, OZO Coffee Company has become one of the best coffee shops Boulder has to offer. Based on the proven principles of quality service, sustainability, and community, OZO Coffee has grown to include five retail & wholesale Boulder locations and a sixth location in Longmont. OZO chooses to use recyclable/compostable packaging for its coffee, often sources as fair-trade and organic.
OZO Coffee offers subscriptions, video tutorials for making the perfect brew, and these products –
Coffee

Featured
Welcoming/Approachable
Distinct & Well Defined
Exotic & Lively

Tea
Merchandise & Gear

Apparel
Vessels/Mugs
Books
Gift Cards & Pre-paid Subscriptions

Brewing

Grinders
Scales
Brewers
Filters

Food Options
OZO Coffee Company's Sale Items
Want to order ahead? Check out OZO Coffee Company's easy to navigate online ordering system with free shipping for all submitted orders more than $25.
If you would like to contact OZO Coffee Company, one of the best coffee shops Boulder has to offer, send them a message using their online form.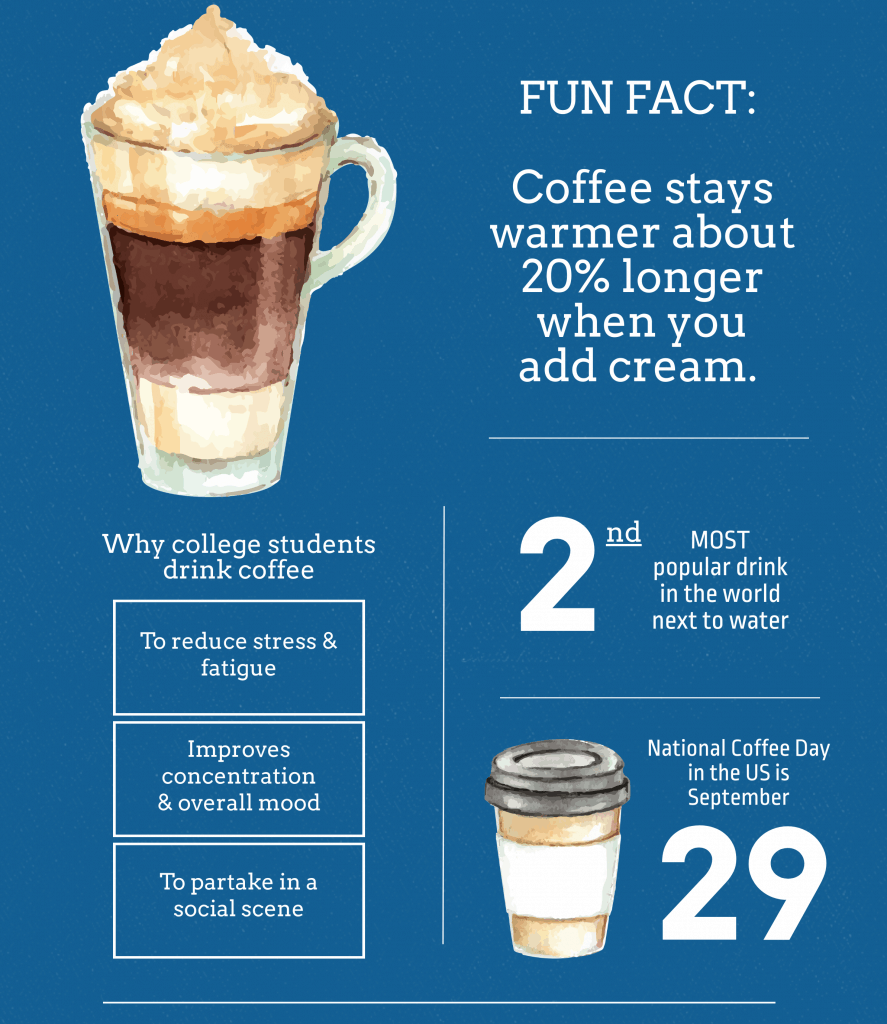 11. Epoch Coffee – Austin, TX

With three locations, Epoch coffee now operates as of the best coffee shops in Austin, where deliciousness meets art on a daily basis. Students from nearby UT Austin (and another dozen higher learning institutions in Austin) have made Epoch a student favorite. Among the many delectable options offered by one of the most innovative & best coffee shops in Austin are these options – which can be ordered online for delivery –
Coffee
Cold Brew – Gallon Jars,

Mojo – Sweet cream and nutty cold brew
Cold Brew/Mocha Combination
Cold Brew

Tasty Treats

Pastries

Pastries
Cookies
Banana Bread
Tamales

Donation or Gift Boxes
Rishi Tea Concentrate
Oat, Soy, or Almond Milk
Equipment

Aeropress Brew Kit
French Press Brew Kit
Thermos

Clothing
Follow Epoch Coffee on Facebook or Instagram for updates and Epoch's special offers. To check out Epoch Coffee's featured and favorite artists, check out their online gallery. Are you interested in Epoch Coffee's gift card? Artists with an interest in showing their work at Epoch should contact them online or by email
12. Pavement Coffee House – Boston, MA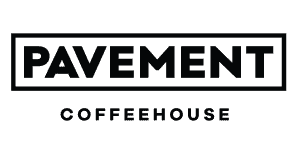 The Multiple locations of Pavement Coffee, among the best coffee shops Boston offers, serve the nearly three dozen institutions of higher learning in and around the greater Boston area. Established in 2009, Pavement Coffeehouse has grown and now serves its carefully sourced coffee from eight locations in Boston and its neighbor – Cambridge, home to MIT & Harvard. Pavement Coffeehouse's menu items include these delicious coffee, healthy options, and treats –
Beverages – Hot or Iced
Coffee
Espresso
Tea
Sweet Delectable
Tasty & Healthy Food Options – vegan substitutions are available on request

Bagels – seven varieties, with cream cheese or vegan spreads
Pavement's fan favorites
Online orders are simple and a smart choice for those pressed for time –
Seasonal Specials
Bagels & Sandwiches
Pastries & Snacks
Hot Beverages
Cold Drinks
Retail Options –

Whole Bean Coffee
Tea
Craft Instant Coffee
Granola
For updates and special offers from one of the best coffee shops Boston offers, follow Pavement Coffeehouse on Instagram, Twitter, and Facebook. Pavement Coffee would love to hear from you – send them a note online.
13. Satellite Coffee – Albuquerque, NM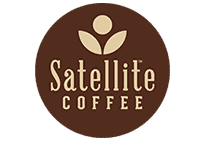 Satellite Coffee, established in 1998, is one of the best coffee shops Albuquerque offers to coffee lovers in New Mexico's largest city near the beautiful Sandia Mountains. In addition to being the location within New Mexico's of its largest and flagship school (UMN), Albuquerque is home to many other institutions of higher education, with students who share spend a lot of time at one of the five Satellite Coffee locations enjoying its delicious beverages and yummy food.
Satellite's coffees are carefully selected and roasted in-house with coffee beans, delicious sandwiches and pastries, and coffee drink options, prepared with the finest ingredients by skilled baristas. Check out the full online menu for Satellite Coffee.
Satellite Coffee satiates the tastes of coffee lovers with these options –
Locally Brewed Coffee
Tea & Specialty Drinks
Seasonal Options
Coffee for a Crowd
Bakery Items
Roasted Coffee
As one of the best coffee shops Albuquerque offers, Satellite Coffee is a great place to grab something to eat, for –
Breakfast
Sandwiches
Salads
Bowls
14. Temple Coffee Roasters – Davis, CA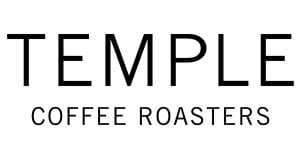 Temple Coffee Roasters is one of the most innovative & best coffee shops in north/central California, especially in Davis, the home of the University of California, a campus with approximately 40,000 students vying for degrees offered by UC Davis, which is recognized as a Public Ivy.
Temple Coffee Roasters seeks to maintain a social, environmental, and economical, sustainable approach typically identified as a Farm to Cup model. We feature these delicious and responsibly sourced options in a continued effort to reduce environmental impacts –
Coffee – eleven varieties and a coffee club subscription. New subscribers, use NEWCLUB25 as a promotional code to save 25% on your first order from Temple Coffee Roasters' coffee club.
Tea – seventeen varieties.
Coffee Brewing Guides.
Coffee Brewing Supplies.
Merchandise

Drinkware
Apparel
Accessories
Gift Cards
On-Sale

Wholesale – contact for additional information.
For questions, job opportunities, or orders, Temple Coffee Roasters can be reached at 916-454-1282. Be the first to see our latest brews and special offers, follow us on Instagram, Facebook and Twitter.
15. Third Rail Coffee – New York, NY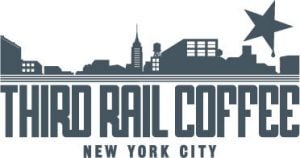 When one thinks of coffee, one thinks of New York. And when in New York, Third Rail Coffee – with two lower Manhattan locations (the east and the west villages) ranks among the best coffee shops NYC has to offer. Third Rail's name refers to the electrified rail, a system of power that is the oldest type used to power a city's subway cars, transit system, or locomotives.
Many quality schools and universities (FIT, NYC, The New School, CUNY, etc.) are within minutes of one of the best coffee shops NYC offers. In addition to Third Rail Coffee's catering options, they offer these NYC favorites –
Coffee, Espressos, Cortados, Macchiatos, Cappuccinos, Americano, and Lattes, to name a few.
Iced Coffee & Tea Beverages
Bakery Items – assorted varieties of scones, muffins, cookies (including GF varieties), croissants, banana quick bread/muffins, to name a few.
Third Rail Coffee also offers these quality online products –
Apparel
Brewing
Gift Cards
Merchandise – cups, and mugs
Follow Third Rail Coffee for updates and our latest news on Facebook, Twitter & Instagram, or our Blog. Check out our online gallery, and for inquiries, please send us a note via email.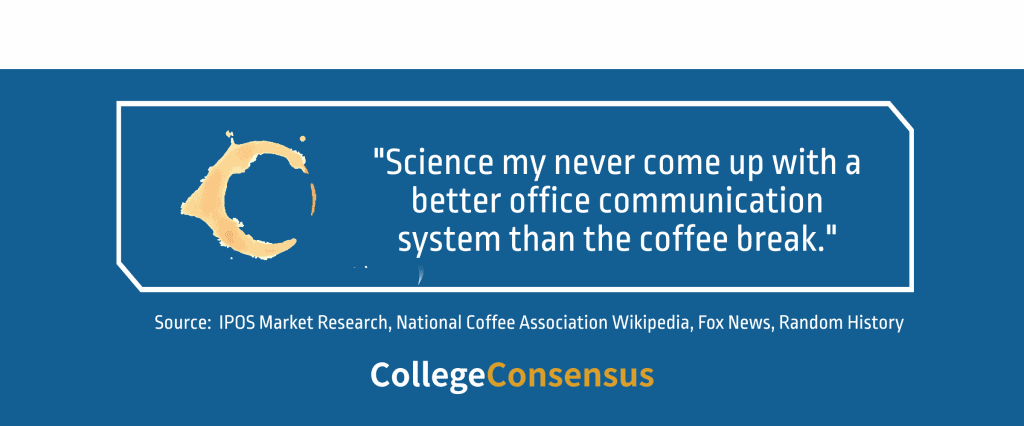 Related: