The best colleges for adults returning to school are part of a sea change in the workforce and in higher education. Competition on the job market only increases each year, and workers who only have a high school diploma are at a disadvantage. The median earnings of workers with a bachelor's degree is 67% higher on average than those with a high school diploma. According to the Bureau of Labor Statistics, the average American man will have 12.1 jobs between 18 and 50, and women will have 11.6.
That's a lot of job changes – and that was for Baby Boomers, who had a much more stable job market than today's Generation X and Millennial workers. Today, at least 4% of the workforce changes to a completely new occupation every year – not just a promotion or lateral move, but a new career. But how do working online students find the best degrees for adults returning to college, such as accelerated degree programs for working adults and fast track associate's degree online programs?
Recommended Online Degree Programs
Explore our featured online programs to find the right match for you today.
Benefits to Returning to College as a Working Adult
Many have the misconception that going back to college as an adult is harder. In reality, working adults bring the benefit of being focused on a goal; they know why they're in school, and what they want to learn, unlike many young freshmen.
Working adults don't have much time so they tend to use it well to make sure their assignments are done timely.
Working adults have experience in the job world and can bring that experience to their coursework.
The coursework will be specific to current employment or a new job, but it will all be related in some way.
The program options are almost endless since there are so many degree options available today. Many degrees can be done completely online which adds flexibility for a working adult.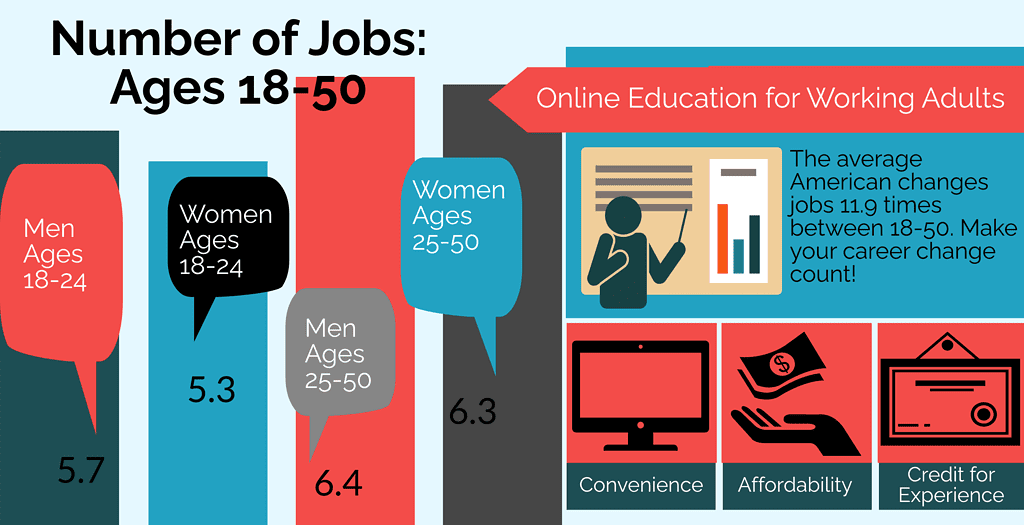 What Should I Look for in an Online College?
There are many benefits of online learning for adults. Working adults have to balance many things from work to family and even social activities and an online degree always them to fit classes into their schedule when it's most convenient for them. With online degrees, students can study from anywhere at any time without the hassle of commuting to class. Online degree programs are often less expensive than traditional degree programs because there are no commuting costs, book fees, or room and board fees. And online courses allow you to keep your job while you get your degree.
The best online college for working adults is one that provides accelerated degree programs for working adults. Working adults can earn a degree in half the time with accelerated online courses. Some colleges allows students to begin a new online course as soon as they finish the previous one, without having to wait for the beginning of a new semester. There are wide variety of online courses from which working adults can choose, the degree they want is easily attainable.
The best online college for working adults will also be one that allows you to earn credit for your work experience. Colleges are happy to attract working adults, who know what they want and know what it is worth, so many have established plans to accept work experience for college credit. The best colleges for adults returning to school take your experience seriously.
Ready to start your journey?
How to Choose the Right Online School as a Working Adult
For working adults, online schools offer a great way to gain the skills and knowledge they need while still being able to work full-time. But with so many online schools available, it can be difficult to know which one is the right fit for you. In this article, we will discuss how to choose the right online school as a working adult by considering factors such as course offerings, accreditation, cost of tuition, and flexibility of scheduling. By taking these factors into account when making your decision, you can ensure that you find an online school that meets your needs and provides you with a quality education.
Accreditation: Accreditation is a way for students to ensure that the college they are considering attending is providing quality education and has met certain standards. It also provides a level of assurance that the college's credits will transfer to other institutions, should the student decide to pursue further education. Accreditation also ensures that students have access to financial aid, and can receive grants or scholarships from state or federal programs. With accreditation, students can rest assured that their degree from an online college will be recognized by employers and other educational institutions.
Tuition Cost: Working adults often find themselves in a difficult situation when it comes to pursuing higher education. On one hand, they need to continue working to support their families and on the other hand, they want to further their education. Low tuition not only gives them the opportunity to pursue higher education but also helps them save money in the process.
Low tuition can help adult students balance work and school, as it reduces their financial burden significantly. With low tuition fees, adult students are able to focus more on their studies instead of worrying about how they are going to pay for it. It also makes it easier for them to take advantage of additional resources such as tutoring or mentoring programs that can help them succeed academically.
In addition, low tuition fees provide access to higher education for those who may not otherwise have been able afford it. This is especially important for those who come from disadvantaged backgrounds or have limited financial resources
Flexible Scheduling: With flexible learning options, adult students can balance their educational goals with the demands of their professional and personal lives. By being able to access lectures, seminars, and other course materials online or on-demand, they can work around their busy schedules without sacrificing the quality of their education. Flexibility also allows them to pursue academic interests that would otherwise be difficult or impossible due to time constraints. With the right degree program in place, working adult students can take advantage of these opportunities and achieve success in both their studies and careers.
How to Earn an Online Degree Fast
Earning an online college degree can be a great way to advance your career and open up new opportunities. With the help of technology, it is now easier than ever to earn an online college degree in a shorter amount of time. In this article, we will explore some ways to earn an online college degree fast and how you can make the most of your time. We will look at accelerated programs, credit transfer options, and other strategies that can help you get your degree quickly.
Accelerated Online Degree Programs
With accelerated online college degrees, students can complete their degree in less time than traditional on-campus programs. This is because the curriculum is designed to be more efficient and focused on core subject matter:
use 8-week courses instead of the standard 16 weeks
focus on 1-2 courses at a time instead of conventional 4-6
use multiple terms throughout the entire year instead of fall/spring semesters
multiple start dates throughout year, often 6-8, rather than traditional fall/spring starts
asynchronous courses so students can study any time of day/week
Students can also take advantage of the flexibility and convenience of online learning, allowing them to study at their own pace and from any location.
Accelerated degrees can be completed in as little as six months or up to two years, depending on the program and the student's commitment. The length of an accelerated degree depends on the type of program and the number of credits required for completion. It also depends on how quickly the student can complete all coursework, exams, and other requirements. By taking advantage of accelerated degree programs, students can get their college degree faster and start their career sooner.
Using Transfer Credits for Degree Completion
Transfer credits are a great way to help you finish your college degree faster. By transferring credits from other colleges or universities, you can save time and money by eliminating the need to take certain classes that may have already been completed at another institution.
Transferring credits can also help you complete a degree in less time by allowing you to focus on the classes that are most important for your major or minor. With transfer credits, it is possible to finish a college degree in as little as two years, depending on the number of credits transferred and the type of degree program.
Transfer credits can come from:
community college courses
completed associate degree
community college diploma
professional certifications
free online courses
Many colleges will also accept courses taken during military service for credit. Other avenues include credit for work or life experience, credit for competency exams, and credit for continuing education courses.
Recommended Online Degree Programs
Explore our featured online programs to find the right match for you today.
Best Online Colleges for Working Adults
Today, there are a wealth of reputable nonprofit and for-profit, public and private, and schools of all sizes and levels offering online degree programs. The best for working adults offer qualities that working adults need: affordability, flexibility, asynchronous classes, tech support, and more.
The following schools are known for giving working adult online college students the support and quality education they need. We present them in alphabetical order, with no particular ranking.
University of Arizona Global Campus
What are the Best Degrees for Career-Changing Adults?
Some of the best degrees for adults returning to college are in the business field. Business administration, which gives students a foundation to gain employment in various settings such as finance and accounting. Students understand the benefits of management, leadership, and communication skills. A business management degree is great for anyone looking to move into business. This degree prepares students for entry level management and gives an understanding of business law.
Medical secretary, or medical insurance billing degrees provide students the opportunity to work from home or in an office. They are in charge of reviewing and understanding claims forms. Medical billers ensure the correct codes are assigned on the forms. Working adults could get a fast track associates degree online for this career path.
Accounting and finance are excellent choices for someone who has already been in a career and who has an understanding of how money works. Some of the most in-demand areas include market research analyst and accountant or auditor as top jobs for adults interested in a career change.
For those that enjoy working with computers, hardware and software, a fast track associates degree online in information technology is the perfect start. If you've been working in a trade, adding computer skills to your skilled trade can be critical – learning electrical engineering for an electrician, for instance, can add authority and new abilities to the skills you've learned in apprenticeship and on the job.
Online Associate's Degree Programs
There are many benefits of online learning for adults. Adults are able to decide what's most important and focus on their goals. Online coursework allows them to work around their life schedule and plan a study schedule that works best for them. An online associate degree is the perfect stepping stone for adult students. In general, an associate degree require 60 credits, and can be completed in half the time it takes to receive a bachelor's degree. This allows the working adult to move quickly into a new position or career path and continue working towards a bachelor's degree.
Some fast track associate's degree online program a student should consider are an Associate of Science in Accounting, an Associate of Science in Business Administration, or an Associate of Science in Criminal Justice.
The National Center for Education Statistics is an excellent source to verify the credentials of any college. A student shouldn't trust what the school states, a student should always verify. The best colleges for adults returning to school is one that will work with the student in terms of scheduling and even financial aid and other resources.
Recommended Online Associate's Degrees
Explore our featured online programs to find the right match for you today.
Online Bachelor's Degree Programs
When working adults are looking at their degree options, they should consider a bachelor online degree. There are accelerated bachelors degree programs for adults online, the fastest online degree completion programs out there. That means a working adult could get a bachelor degree in 12 months, which is much faster than a traditional bachelor degree program. Many colleges accept older college credits and transfer them towards a new degree, which is one way colleges provide accelerated degree programs for working adults. If enough credits are accepted, a students could acquire 6 month bachelor degrees.
However, if a getting a bachelor degree in 12 months (much less 6 month bachelor degrees) sounds like a little too much, there are plenty of online programs that still make learning convenient for working adults, part time or full time. The fastest online degree completion programs might be too fast for your life, but you don't have to get a bachelor degree in 12 months to benefit from the flexibility of online degrees.
Some degrees that student shouldn't overlook in their search for online bachelor degree programs include:
Business Administration – A BBA teaches students to enhance their project management, critical thinking, and leadership skills. If you have experience in trades or construction, a construction management degree can help you take the skills you already have, and add further expertise in business and leadership.
Health Care Administration – A bachelor's in health care administration readies students for many health care jobs by giving them an understanding of the basics of the laws and policies governing health care and how they impact patient care. For workers who began as a medical secretary straight out of high school, for instance, a health care administration degree can help you start moving up the ladder at a hospital.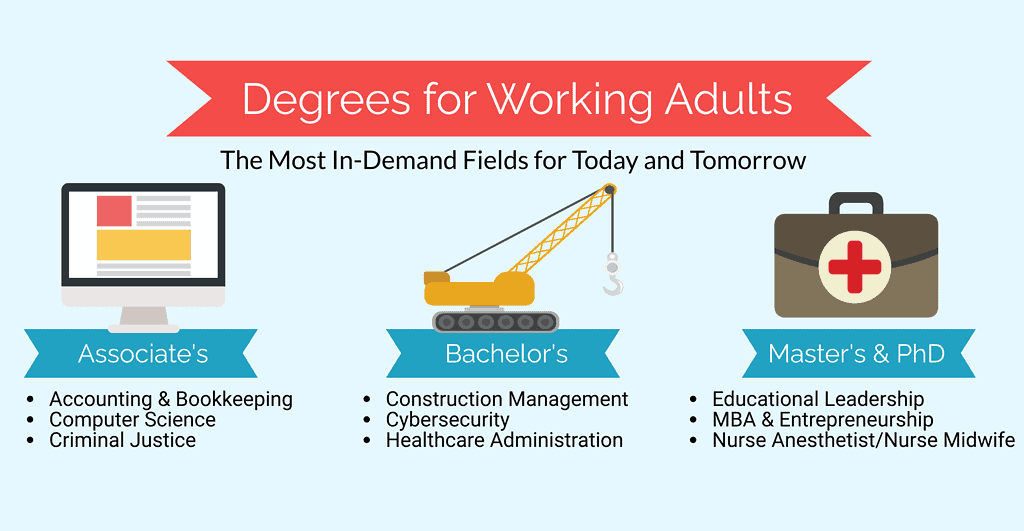 Recommended Online Bachelor's Programs
Explore our featured online programs to find the right match for you today.
Online Master's Degree Programs
Most working adults consider master degrees because they want to enhance their current position, or to get a promotion. Master's programs are challenging, even the fastest online degree completion programs are still competitive. Online master's programs offer working adults the flexibility that they need most. Typically, once a student has signed up for the program, he is given the assignments, lectures, and syllabus and is expected to complete everything by the end date.
The best online college for working adults is the one that offers a wide range of master degree programs. Some professions, like teaching, psychology, engineering, and social work, require a master's degree to receive promotions and higher pay. Some master's degree to consider are an Online Master of Science (MSc) Degree in in-demand STEM fields. Some of these degrees are in computer science, engineering, economics, and finance. There is an Online Master of Arts (MA) Degree which focuses on arts and humanities. Some of these degrees are in visual arts, political science, sociology, and psychology.
Recommended Online Master's Programs
Explore our featured online programs to find the right match for you today.
Online Doctorate Degree Programs
Working adults considering a PhD program should consider online options. Online options allows the working adult to create a coursework schedule that works best. An online PhD could propel a working adult into a higher salary, or provide mobility within his or her current job. According to the Society for Human Resources Management, 79 percent of organizations said they had hired an applicant with an online degree in the previous 12 months.
The best degrees for adults returning to college that offer a PhD program are PhD in Criminal Justice and a PhD in Education. The PhD in Criminal Justice helps students to gain a deeper understanding of areas such as global leadership, law and public policy, and emergency management. Students with this degree can explore employment as a professor, police captain, research consultant, and criminal investigator.
The PhD in Education or an EdD enables students to gain a deeper understanding of areas such as early childhood leadership and advocacy, educational technology and design, reading, literacy, assessment, and evaluation. Students with this degree can explore employment in areas such as a university professor, curriculum specialist, educational consultant, or a training and development specialist.
Recommended Online Doctoral Programs
Explore our featured online programs to find the right match for you today.
Are There Free Online Courses for Career-Changing Adults?
Yes, there are free online courses available to career changing adults. Massive open online courses (MOOC) are a common model for delivering learning content online to any person who wants to take a course, with no limit on attendance. MOOC are typically free and usually are offered by reputable colleges. These are classes and not full degree programs, and for the most part they do not carry college credit – they cannot be transferred to a degree program, in other words. However, these classes are specialized and can help working adults learn new skills and approaches that they can apply to their current job.
Most MOOCs take the form of pre recorded lectures that the student can watch at any time. Often they include additional material for review, quizzes and exams, and essays. Some MOOCs will give students access to message boards or chats as well, so students can interact with other students and the instructor like in a real class. Essentially, a MOOC is like auditing a class at an on-campus college – all of the knowledge, but not the credential.
Advantages and Disadvantages of Online Learning
Online learning has become increasingly popular in recent years, with its advantages for both students and educators. It provides a convenient and flexible way to learn, allowing students to access the same quality education from anywhere in the world. In addition, online learning offers a variety of benefits that make it an attractive option for many.
With lower tuition rates (at most schools) and the ability to tailor your study to your own schedule, many working adults see online learning as a godsend.
| | |
| --- | --- |
| Advantages | Disadvantages |
| cost-effective | lack of in-person interaction |
| ease of use | feeling of isolation |
| flexibility | need for self-motivation |
| tailor learning to individual needs | no immediate feedback |
| accessibility | learning curve for new technology |
Online learning is a convenient way to learn, but it does have its drawbacks. Some students like to have the ability to ask questions and receive feedback from course peers to help form their understanding. This need for feedback can be a challenge when learning online, so it is important to find ways around this issue. Online classes can be isolating, and even cause a feeling of hopelessness for students who don't get the material and feel like they have no one to turn to for help.
At times, instructors may discuss the material in video tutorials or audio recordings and will often provide written responses for more in-depth inquiries. Instructors may also create videos tutorial on relevant topics as a supplement but not a substitute for classroom interactions.
Plus, with so many people wishing they had less screen time in life (especially after the pandemic), spending more time online doesn't appeal to everyone.
Resources, Financial Aid, and Scholarships for Working Adults
There are many resources available to working adults that want to go back to school. The Department of Education has an entire website dedicated to grants, scholarships and aid that's available to an adult student. There are no age restrictions for receiving federal aid. Nontraditional colleges that have online programs are eligible for financial aid and federal loans. Federal loans have lower interest rates and better repayment plans than other loans.
There are many scholarships, which is free money, available for older students. Working adults who come from an underrepresented or minority background should also look into scholarship programs created especially for them. Many organizations have developed scholarships to encourage older people of color to return to school, start professional careers, and start their own businesses, services, and practices.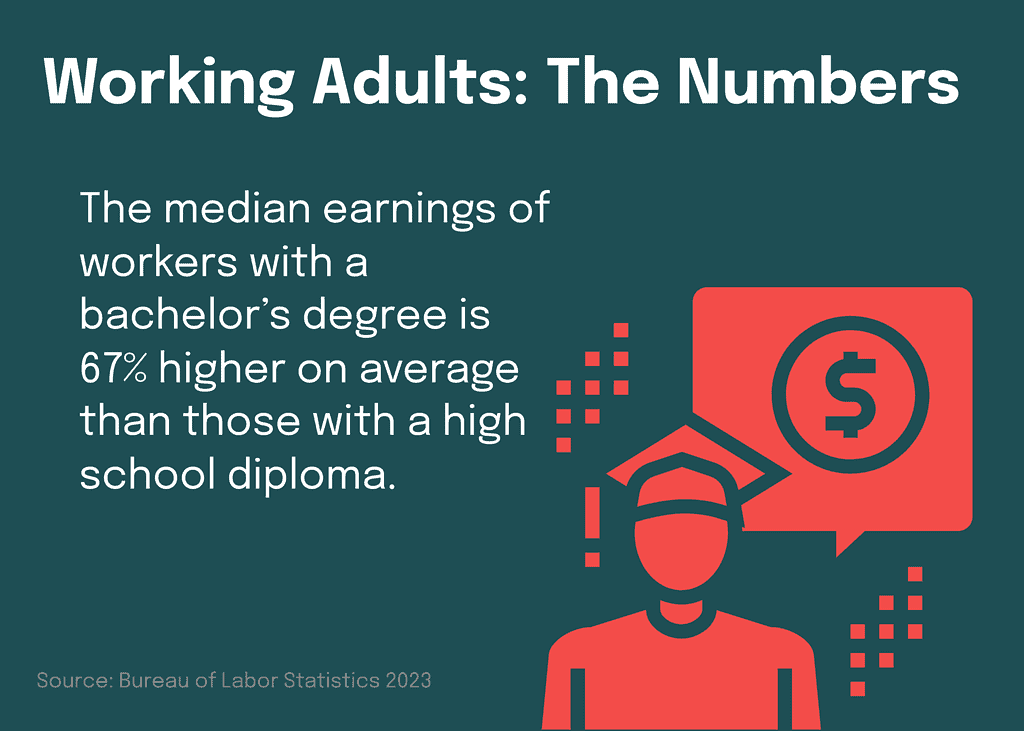 Frequently Asked Questions About Online Colleges for Working Adults
Is going back to school worth it?
Going back to school is a big decision that requires careful consideration. It can be a great way to advance your career, but it also comes with challenges and financial costs. It's important to weigh the pros and cons of going back to school before making a final decision.
Worth It:
new career opportunities
develop new skills
increase earning potential
build sense of accomplishment and confidence
Not Worth It:
challenge to balance work, family, and school
short-term financial losses
difficult to change schedule in adulthood
hard to relate to younger students
For these reasons and more, it is important for adults considering going back to school to understand the potential drawbacks before making a decision.
Can I get a degree and work at the same time?
Many people ask themselves if they can go back to school and work at the same time. The answer is yes, it is possible. With careful planning and a few adjustments, you can succeed in both endeavors. With the right support system in place, you can balance your studies and job responsibilities without sacrificing either one. You will need to prioritize and manage your time efficiently, but it can be done!
Some things that can make it easier to get a degree and work at the same time include:
online programs – no need to go to campus
asynchronous classes – take classes on your own time
study part-time – most degree programs will allow you to take a few classes at a time rather than a full load
use work experience for credit – many schools will count work experience as credit
use your job for internship/clinical hours – if you are already working in the field you're studying, you may get internship or field credit for your current job
Are online degrees cheaper?
With the growing popularity of online learning, many students are wondering if online degrees are cheaper than on-campus programs. In most cases, the answer is yes. Online degrees can be more affordable than traditional on-campus programs in many ways. They usually have:
lower tuition fees
fewer cost of living expenses
no transportation costs
Additionally, they don't require you to pay for expensive textbooks or course materials since they're often provided online for free or at a discounted rate. All these factors make online degrees a much more cost-effective option for students looking to pursue higher education without breaking the bank.
Final Thoughts
Working adults considering going back to school should consider an online degree. There are accelerated bachelor's degree programs for adults as well as associate, master's and PhD degrees available online. Adults should look for an online degree program that meets their needs and is flexible enough to work within the student's schedule. They should also be sure that whatever degree program they choose, it's from an accredited school. Adults shouldn't let the worry of cost stand in their way because there are many scholarships available to working adult students. If there isn't a viable scholarship, there are always federal loans.
Other Guides:
Most Popular Online Degree Majors
Best Online Degrees for Moms
Best Online Degrees for Seniors
Best Online Degrees for a Career