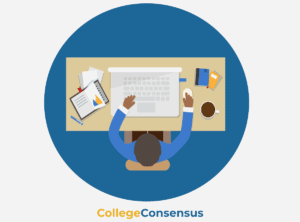 Forget the old stereotypes of The IT Crowd – information technology could not be more central to modern business, government, education, and virtually every other occupational sector.
Is a degree in information technology degree worth it? For a long time, workers in IT and other computer jobs were usually self-taught, or learned on the job, but today, a degree in information technology is extremely valuable – even for those who can learn everything they need to know themselves. Information technology degrees are valuable because they prepare you for IT specialist rules that pay top dollar and offer great job security.
So to decide whether an information technology degree is worth it for you, decide what you want out of your career. Online programs can be relatively expensive, even through a bootcamp. You can get a job with an associate's degree in information technology but the best bang for your buck is to go for a bachelor's or master's degree and choose a specialization.
Most Popular Schools with Online Information Technology Degree Programs
Most In-Demand Careers in Information Technology:
| Occupation | Employment | Average Salary | Projected Job Growth |
| --- | --- | --- | --- |
| Information Security Analysts | 125,570 | $104,210 | 31.6% |
| Web Developers and Digital Interface Designers | 148,340 | $82,370 | 13% |
| Computer and Information Systems Managers | 433,960 | $156,390 | 11.3% |
| Computer Occupations, All Other | 393,160 | $92,410 | 10.2% |
| Database Administrators and Architects | 125,460 | $96,110 | 9% |
| Computer Systems Analysts | 589,060 | $96,160 | 8.8% |
| Computer Network Architects | 152,420 | $115,110 | 5.3% |
Source: 2019 Occupational Employment Statistics and 2018-28 Employment Projections, Bureau of Labor Statistics, BLS.gov.
Most Affordable Online Information Technology Degree Programs
What Can You Do with an Information Technology Degree?
In this section we address:
What can I do with an information technology degree?
What can I do with an IT degree?
Because IT encompasses so many fields, there are a number of possible careers:
You can become a Principal Software Engineer and oversee the technical aspects of there is technology projects and bring home a six-figure salary.
As a Computer and Information Scientist, IT graduates conduct research and deliver computer reports for companies and organizations.
Network Architects design the requirements and capabilities of networks that keep businesses running.
Software Engineers collaborate with other departments and write and test software for internal and external clients.
How Do I Become an IT Professional?
Those who are passionate about Information technology make great companions when you're getting started and great resources throughout your career. So, hang with the geeks. One thing you learn very quickly is that geeks are very cool in IT circles.
One of the first things you have to do if you want to be an IT professional is to get a computer, break it and then fix it — rinse and repeat. if you're not a hardware person, you can do the same thing with software and it's less messy.
Once you learn the basics, challenge yourself to learn new things. this includes not only programming languages but concepts and trends that are new in the industry. As you probably already know, technology moves at the speed of light. So, don't try to keep up with everything at once.
Learn TCP/IP. Networks rely on this protocol and it's a good place to start if you are primarily interested in hardware and how IT systems interconnect. TCP/IP creates the building blocks behind how networks send and receive information.
Find out what part of IT interests you the most and then focus on that. For example, if you are enamored with all things IP get both the A+ and your Network+ certification and then decide what you want to specialize in from there.
Software Engineer
Senior Database Administrator
Java Developer
Computer/Network Support Technician
Project Manager, Information Technology (IT)
Network Architect
Once you get your associates degree you can look for a job as a Technical Support analyst. This can help you decide how you want to specialize before you get your bachelor's degree. It also helps you hone your troubleshooting skills. If you can't find a paying job, look for an internship or volunteer to intern for free in exchange for experience.
A college education is not necessarily a requirement for jobs in information technology. However, it is certainly a great way to get your foot in the door. You also probably make more money.
The information technology field is constantly changing. Those who stick with it have a passion and dedication to learn new things and to continuously improve their work product. Many people in technology constantly say that they are never bored. This is true since there is usually more work than qualified resources. Much of this job is also finding ways to innovate ans automate so that you can move on to bigger and better things.
What Else Can I Do with an IT Degree?
Available jobs for information technology degree are diverse and numerous. Here are some of the roles you can pursue with an IT degree:
Geographic Information Systems (GIS) Analyst
Senior Systems Engineer
Senior Research Scientist, Biotechnology
Computer Programmer
Information Technology (IT) Consultant
Network Engineer
Principal Software Engineer
Computer Analyst
Senior Data Analyst
Information Security Manager
Programmer Analyst
Computer Numerically Controlled Operator/Programmer
Information Technology (IT) Manager
Information Security Engineer
Systems Administrator
Computer Support Technician
Senior Web Developer
Computer/Network Support Technician
Security Consultant (Computing/Networking/IT)
Oracle Database Administrator
Computer and Information Scientist, Research
.NET Software Developer/Programmer
Database Administrator
Information Technology Specialist
Computer Technical Support Specialist
Senior Quality Assurance/Test Automation Engineer
Software Developer
Web Developer
Architect (Computer Software, Hardware)
Computer Support Specialist
Information Security Analyst
Web Designer
Information Security Officer
Senior Software Engineer
With a degree in information technology jobs, you can look for better paying roles in your current position. Jobs for information technology degrees range from entry-level help desk technicians to network architects and CIOs who design and oversee whole systems or departments full of people, respectively.
Jobs with an information technology degree include web designers, database administrators and security consultants. Also, information technology degree jobs transcend industries. So, jobs with a degree in information technology allow you to work in manufacturing for one project and then jump to scientifically based research on another.
Whether you are looking for jobs for an information technology degree that you can get with A+ certificate or plan to get your PhD and teach the next generation of coders, this field has the flexibility needed to grow your skills at any time.
With a master's degree in information technology jobs, You can hone your skills in a high demand niche and dramatically increase your salary. Other jobs for information technology degrees include taking on leadership roles in your organization.
With jobs with an information technology degree always changing, there's always room to move to new specializations. Getting information technology degree jobs is easy for qualified, motivated individuals. Best of all, online learners have as many opportunities for jobs with a degree in information technology as those who attend brick and mortar programs.
Degree Types: Associates, Bachelor's, Master's, Doctoral
Information technology degrees and certifications help you advance in your career. The great thing about it is that you can start with an associate's degree and then get a certification or bachelor's degree to obtain new knowledge and a better paying job.
Online Associates Degrees in I.T.
IT generalists focus on programming, database management and web development. programming and software majors learn how to develop software for smartphones and other devices using Java, C#, PHP, CSS, Javascript and HTML5.
Networking: Explore TCP/IP, which is the basis for all forms of networks, and focus on current industry-accepted practices for troubleshooting and administering Windows-based systems
Other IT associates degree online programs concentrate on networking. Those who want to troubleshoot and administer Mac or Windows-based systems may offer this degree.
With an IT associates degree online program, students can often find work in internships or entry level positions.
Online Bachelor's Degrees in I.T.
With a bachelor's degree in information technology, graduates can often land great jobs in computer science and technology fields. The Bachelor of silence and information technology is a great way to achieve this goal. Graduates emerge ready to resolve real-world computer issues. With an online IT degree, Students can study while they work or raise a family.
With an online information technology degree Such as those mentioned above, students can choose among numerous specializations that fit their talents and personality. Getting an information technology degree online makes learning assessable to those in remote areas or with busy schedules.
Online Master's Degrees in I.T.
With a masters of information technology online, students graduate ready to become early career professionals. Online masters in information technology recipients work in pharmaceutical, electronic and other major industries.
Getting an online IT masters Is a great way to accelerate your career. Hiring managers will pass over other resumes when they notice that you have earned an information technology online masters.
A masters in information technology online shows that you have the discipline to complete degree while juggling other demands. Additionally, an online IT masters Let you specialize or receive a broad education in the latest transit techniques in the industry. Pursuing an IT masters online also prepares you for doctoral studies.
Online Doctorates in I.T.
An online doctorate in information technology prepares students for teaching and leadership roles in the field. With a doctorate in information technology online, Students are in a PhD and qualifies for some of the highest salaries in the industry— well over six figures in many cases.
According to the BLS, 44,000 new computer and information systems manager jobs will open by 2026. Those with an information technology doctorate online degree have the discipline and knowledge needed to succeed in advanced leadership roles.
Walden University has an online doctorate programs in information technology. This program emphasizes principles of programming, system design and enterprise architecture. Students complete leadership courses and learn how to develop security plans.
Northcentral University offers a doctoral program in information technology for scholars who want to conduct research on how computers work together to process information. This foundational perspective leads to a comprehensive education that translates well in the marketplace.
Accreditation
Seeking out accredited online degree programs is crucial to making sure your degree will actually be respected and valuable. The accreditation process helps students be assured that the college, university, and program have met important standards of quality. In computing and information technology, one of the most important accreditations is from ABET.
What is ABET accreditation?
ABET accreditation assures that universities meet quality standards in the information technology profession. This is a voluntary accreditation held by more than 4,100 programs at 812 colleges and universities around the world.
You can find ABET accredited online schools That have met the rigorous standards of this accrediting body. By meeting ABET accreditation requirements, online schools have proven their academic credentials.
ABET accreditation advantages for students include knowing that the faculty and curriculum at the school have been examined in peer reviews. This information technology accreditation gives students the peace of mind that they are attending an academically competent program.
Certifications and Licensure for I.T. Professionals
If you like software start with the A+ certification, which includes different programming languages. If you lean more towards, start with the Network+ certification. some of the best jobs available are in network administration and cybersecurity.
Information technology certifications are highly valued in information technology, almost as much as degrees in some specialties. Here are a few of the top certifications that can garner high salaries.
Certified in Risk and Information Systems Control (CRISC)
Google Certified Professional Cloud Architect (GCP)
Project Management Professional (PMP)
AWS Certified Solutions Architect—Associate.
Certified Information Systems Security Professional (CISSP)
Certified Information Security Manager (CISM)
Information technology certification programs are often highly accessible online. This makes it possible for students to hold demanding IT jobs while completing their information technology certification. Also, information technology certification programs pay for themselves when you land a high-paying, interesting job.
Scholarships for IT Students
Morgan-Stanley Information Technology scholarships focus on internships and career opportunities with the technology-driven financial institution. The program has fellowships and awards targeted at women and minorities. Robert Half Technology scholarships offer similar opportunities.
Scholarships for information technology are widely available online. Find information technology scholarships that uniquely Apply to your goals and experience. Scholarships for information technology help students pay for their bachelor's and master's degrees and some information technology scholarships help with doctoral degrees.
Scholarships for information technology can be specific to a certain region or information technology scholarships may be open to national and international candidates. With scholarships for information technology, online learners can keep their costs down and borrow less money that they have to pay back later.
Related:
25 Highest-Paying Online Tech and Computer Science Degrees
Best Online Information Technology MBAs
Best Online Doctorate in Leadership Programs