If the current social and political climate has you wondering "is Public Health a good career?" we understand why. Public Health, as a career, is one of the most important fields to go into, but only if you have what it takes to try to change the world.
There has never been a more perfect time to add your brilliance and work ethic to the field of Public Health than now. According to the Bureau of Labor Statistics, the public health field is expected to grow 14% by 2028 – and those were projections made before a global pandemic. The social implications are obvious – a global pandemic which is still, as of this writing, desperately in need of a cure; racism which has finally been declared a Public Health crisis, opening a whole new area of Public Health study. It isn't casual and the stakes are high. Luckily, both of these things are possible to defeat, but only if we come together and learn all we can.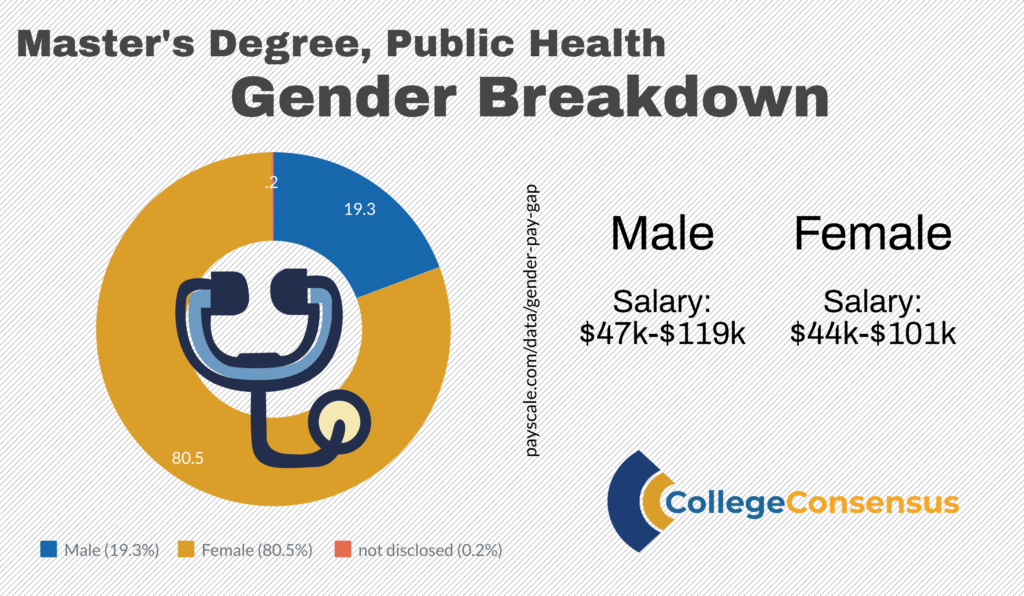 You may not be sure where to start with your career, though, which is where College Consensus comes in. If you're just at the outset of college, you may be wondering "Is a bachelor's in public health worth it?" If you're already working in healthcare and considering a job change, you may wonder "What is a master's in public health." Why pursue a master's in public health if you're considering a career in the field? Why get a master's in public health if you already have a master's degree in another health field? We'll work to answer all those questions and more.
Accreditation: How to Choose a Public Health Program
Just like any program worth considering, Public Health degree programs prove themselves by going through an accreditation process. There are accrediting bodies that approve college programs at many levels.
Zooming out, there is regional accreditation, that shows that the college or university is performing well at an institutional level. Contrary to how its name sounds, regionally accredited institutions are accredited at the highest level. They are called regional because of the 7 regional accrediting bodies, each oversee schools in seven large regions of the US (rather than a centralized federal accreditation). The accrediting bodies are wrangled by the Council for Higher Education Accreditation. National accreditation, ironically, applies to institutions that comparatively serve far fewer students on average. Things like junior colleges, community colleges, Bible schools, trade schools, and vocational programs each may receive national accreditation.
Programmatic accreditation applies to specific programs within the college. Nursing, Accounting, and Optometry programs in colleges, for instance, each receive programmatic accreditation. These accrediting bodies are companies or non-profits that have been given permission by the U.S. Department of Education to oversee these specific programs. Public Health program accreditation falls under this category as well. The accrediting body that ensures the quality of Public Health programs is the Council on Education for Public Health or CEPH. They handle all of the U.S. based Public Health programs that are housed in universities, as well as those that are not housed in schools of public health.
If you are deciding between an accredited program another program, you are likely wondering how important is CEPH accreditation? The truth is, there is no reason that a high quality program that values its reputation would not seek accreditation through CEPH. A degree or certificate program from a school with this regional accreditation can mean a world difference for employers who are looking for the best candidate in a Public Health position. This goes double for a position of leadership, like a Public Health Director of public health or a public health academic.
Public Health Bachelor Programs
Most public health professionals have come to the field after beginning in a related area, such as nursing or social work, making the decision to add a Master of Public Health to their resume and making a career change. But as the field has grown, it's become much more common to find a public health major offered at the undergraduate level, for students who want to start their career in public health from the ground up. The best undergraduate public health programs these days come from institutions that already have an established school of public health and have added a public health bachelor program to their offerings. They have the infrastructure and accreditation already in place and can bring the foundations of public health to their undergrad students.
For a student who already knows they want to go into a public health career, starting with a bachelor's is a strong foundation. Students coming into an MPH program from another field have to learn the basics of public health theory and practice, then add on the highly specialized, higher-order knowledge and skills. Those starting with a bachelor's are more ready to jump into an MPH program. Some of the foundational knowledge students get in a public health bachelor program are:
The workings of the US health system
Data collection and analysis
History and philosophy of public health
Factors influencing public health (such as environmental, socioeconomic, and political factors)
Legal and ethical issues in public health
Luckily for students coming from another background, public health combines primarily the concepts learned in social work and nursing, focusing on many of the theoretical and practical aspects of both of these fields. The typical areas of focus for public health majors fall into one of five major categories. These include:
Biostatistics
Epidemiology
Health Policy and Administration
Environmental Health
Social and Behavioral Sciences
Students already in a health-related field may find the switch to a public health major surprisingly convenient.
A growing number of students in the last few years have been turning to online programs to get their bachelor's degrees. That is especially true of working adults who have started their career with an associate's – a very common career path in healthcare. Fortunately, an online BS in public health is easier than ever to find.
Much of the course work for a public health bachelor can be learned in an online public health degree program. In an undergraduate setting, students who declare as a public health major have an great opportunity to learn about exactly the field they love the most, and want to make a career out of.
With the outbreak of Covid-19 in the U.S., many schools are turning to online education alternatives. As of this writing, there is not much clarity if schools will be able to allow students to return to campus in the fall of 2020. What we are sure of, however, is that online programs, including an online BS in public health, are looking like a wonderful alternative to traditional programs.
Ironically, to learn about public health right now in any other way than distance learning, might be a major public health risk.
The CHEA keeps a list of undergraduate public health programs that have taken the steps to become members and gain accreditation. They also give accreditation to hundreds of universities through their school of public health. The best undergraduate public health programs prioritize these accreditations and take them seriously.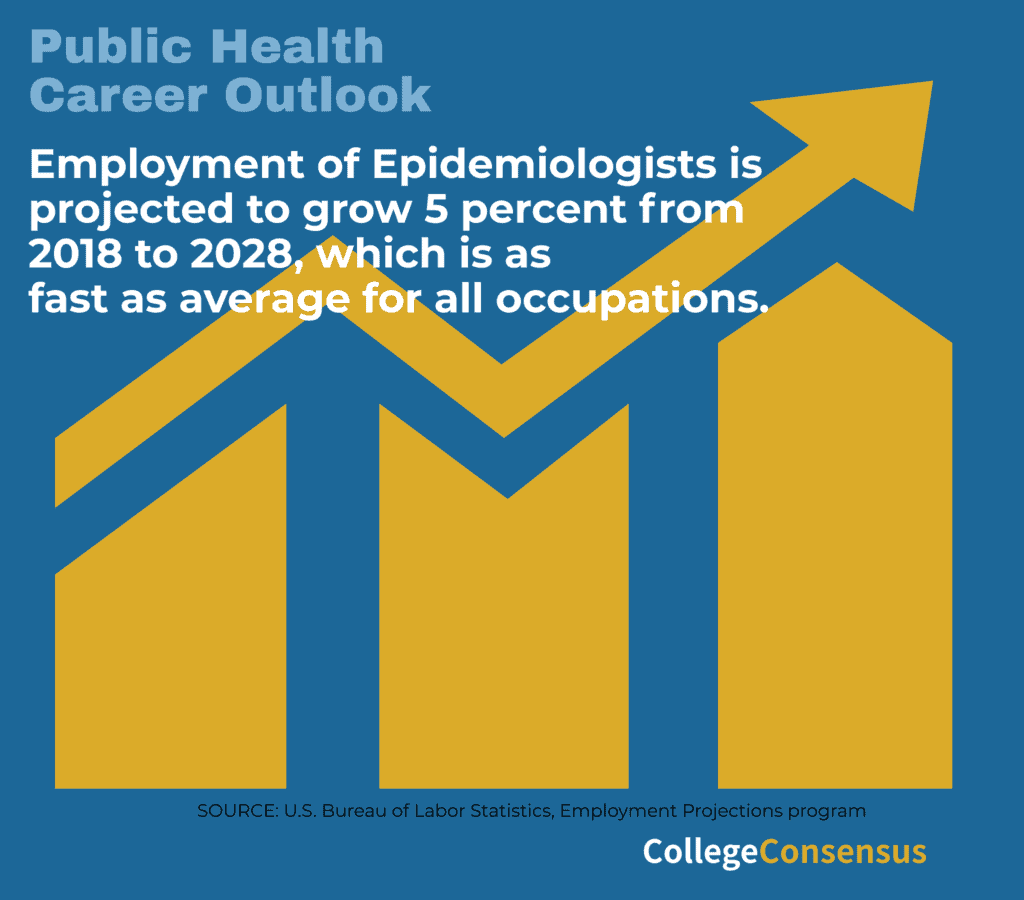 Bachelor's in Public Health Jobs and Salaries
Public health is such a hugely diverse and varied field that bachelor's in public health jobs run a wide gamut. Just a brief list from Indeed for public health bachelor degree jobs shows the variety:
Data Analyst
Health Educator
Infection Control Officer
Lab Manager – Toxicology, Clinical, etc
Nutritionist
Public Health Scientist
Research Assistant
These jobs are all related to public health in one way or another, and a specialized bachelor in public health degree can prepare professionals to take on these and many more roles. There are a few main categories of public health worker jobs that graduates can enter with a bachelor in public health:
Clinical Care
Data
Education
Laboratory
Managerial/Administrative
Research
So, for example, a public health nurse would work in direct clinical care, while a worker with a public health degree in biostatistics might work in data collection and analysis. Many BS in Public Health jobs include public health administrator jobs, because the complexity of the field – and the many organizations and agencies involved – make management a crucial component of public health. So, for instance, while laboratory technicians may get their jobs with just an associate's degree, a bachelor's would qualify professionals for a managerial role in a toxicology lab.
Public health salary expectations can also vary widely, from hands-on positions to management. Public health bachelor degree salary is also affected by:
Experience and seniority
Organization/agency
Location
Level of position
With all those factors in mind, salaries can range as high as over $100,000 a year for public health administrators, while public health nurses and other clinical workers may be in the $50,000 range. An increased reliance on data analysis – and a shortage of qualified, experienced workers – mean that biostatisticians can make anywhere from $75,000 to over $100,000, according to Payscale.
Master of Public Health Degrees
While a bachelor's degree is a good step toward an entry-level or managerial position, a Master of Public Health (MPH) has long been considered the standard for advanced positions – especially leadership positions – in the field. As an advanced professional degree, an MPH prepares professionals already working in public health, as well as recent BPH graduates, for higher positions.
A typical MPH program will build on the five basics of public health (biostatistics, epidemiology, etc) with more in-depth and advanced instruction in management and leadership, research, and teamwork. Collaboration, after all, is fundamental to public health. Nearly all MPH programs will expect students to perform their own original research and to take on practicum experience, usually in the form of internships or clinical practice.
However, what makes the MPH program most important is the high level of specialization students can take on. While every school of public health will have its particular strengths (and most will not offer every possible specialization), some of the most common MPH specializations include:
Biostatistics
Child & Maternal Health
Community Health/Education
Environmental Health
Epidemiology/Infectious Disease
Global Health
Health and Human Services
Nutrition
Occupational Health
Public Health Communications
Public Health Law
Social and Behavioral Science
This is by no means an exhaustive list; there are countless specialities and subspecialties in public health, because what constitutes public health is so vast.
One of the other unique features of the MPH, due to the unique nature of the public health field, is that many public health specializations overlap with other professions, allowing professionals in other fields to make a lateral move into public health. For instance, someone who already works in communications could earn their MPH and enter public health communications, while a professional in environmental sciences could add public health to their expertise with an MPH.
This unusual characteristic of the public health field is why Master's in Public Health online programs have become so common. Online programs allow working professionals to add the skills and credentials of an MPH to their resume without having to leave their careers and go back to school. That continuity ultimately means public health professionals stay more up-to-date and more effective in their careers. For many online programs, students can fulfil their internship or practicum requirements in their current jobs, or with local preceptors.
Online MPH programs have become all but standard, since the University of North Carolina first offered an online program, and the best online MPH degree programs are just as reputable – and fully accredited – as traditional, on-campus programs. Online MPH degrees are offered by some of the nation's most influential public health schools, including UNC, George Washington University, and Tulane University.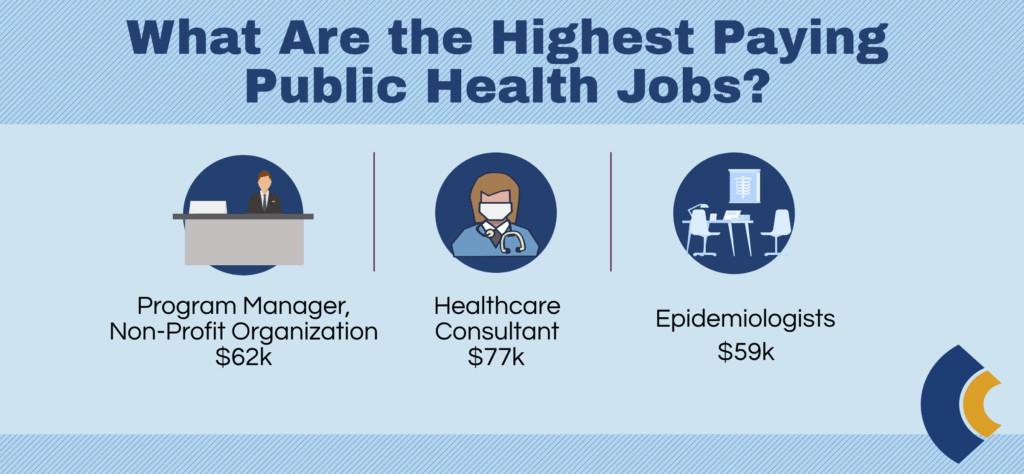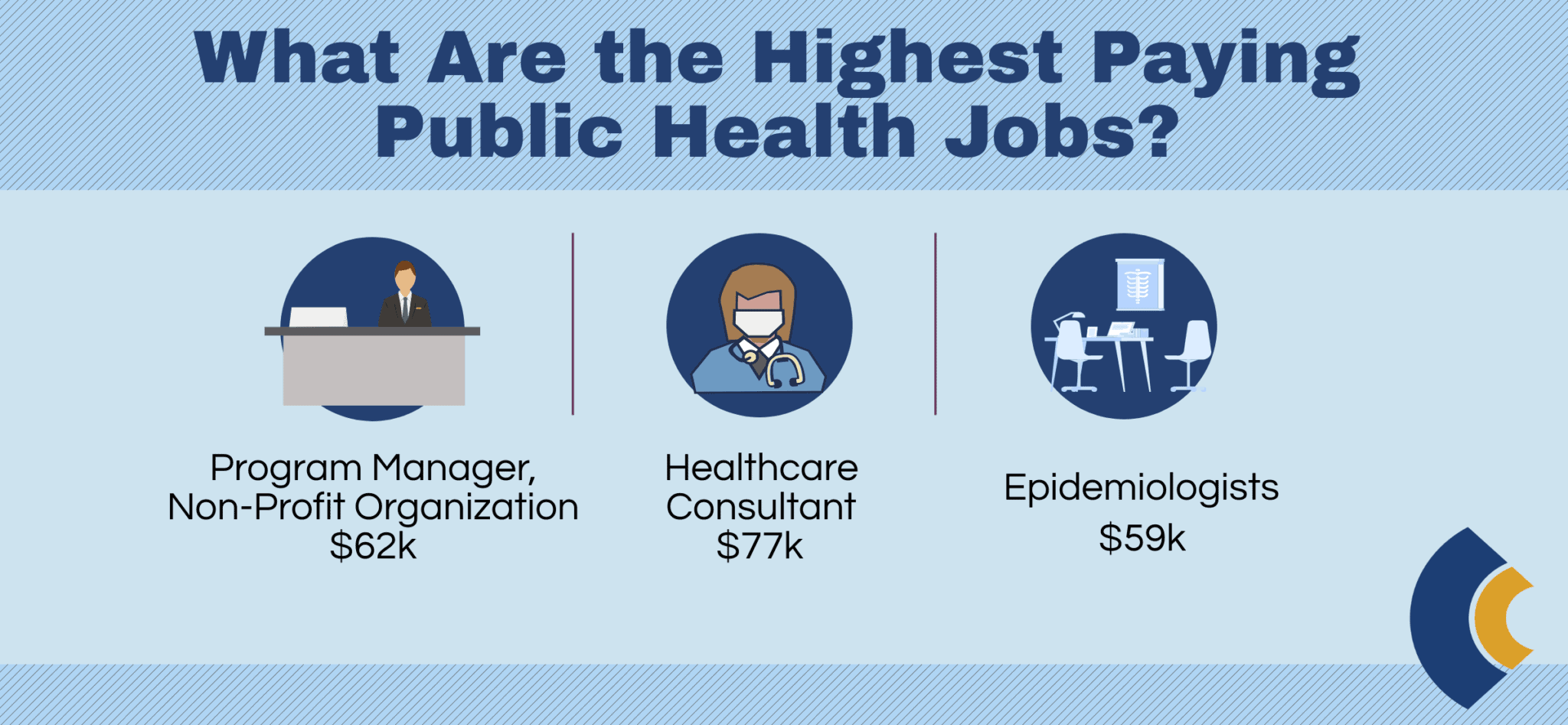 Masters in Public Health Jobs and Salaries
With a Bachelor's in Public Health, professionals can begin their career with entry-level positions, and even rise into managerial roles, but the MPH is still often seen as the natural next progression. With only a bachelor's degree, career advancement in the public health field will be limited.
With an MPH, on the other hand, professionals have the opportunity to choose two basic routes – advanced practice (whether in clinical settings, research, or education), or administration. Just a partial list of Master's in Public Health jobs includes:
Biosecurity/Bioterrorism Researcher
Child Health Specialist
Clinical Research Coordinator
Clinical Trials Analyst
Coordinator in Disaster Preparedness
Correctional Physician
Environmental Health Director
Environmental Scientist
Environmental Scientist Assistant
Epidemiologist
Health Administrator
Health Educator or Consultant
Health and Safety Engineer
Infection Control Officer
Midwife/Women's Health Specialist
Public Health Officer
Water Quality Investigator
Of course, this is far from a comprehensive list, and does not include public health-adjacent careers, such as political appointments and staff positions, or administrative positions in the many, many private, public, and nonprofit organizations and agencies involved in public health.
Just as with a bachelor's in public health, salary expectations for an MPH can vary significantly depending on the corner of the public health field a professional finds themselves. Jobs in nonprofits and government agencies will typically be less than private industry, for instance; direct clinical practice will generally pay less than administration.
In general, though, Master's in Public Health salary is high, due to the more advanced positions MPH holders qualify for. As College Consensus has shown, among the highest-paying MPH jobs are:
Public Health Attorney
Health and Wellness Director
Behavioral Health Program Coordinator
Public Health Veterinarian
Public Health Engineer
All of these jobs post average annual salaries in excess of $90,000, and some well into six figures. Other high-paying public health jobs include epidemiologists, biostatisticians, and sanitarians – highly technical jobs with a shortage of qualified professionals ready to take them on.
The Doctor of Public Health Degree
The Doctor of Public Health degree has existed for over a century, since Harvard University first offered the degree in 1911. However, DPH programs have increased significantly in the 21st century, due to the growing need for unity and leadership in public health.
Because of the nature of the public health system, many public health leaders have a doctorate in another field, such as medicine or law. These professionals earned their doctorates in their field before moving into public health. It is also not uncommon for professionals who already have a doctorate – physicians, for instance – to return to school for an MPH or DPH to solidify their knowledge and commitment to public health. The current surgeon general, Jerome Adams, for instance, has an MD and an MPH.
Earning a public health doctorate does more than simply adding an advanced credential; it signals a deliberate choice to reach the highest levels of the public health field.
As with the MPH, online public health PhD programs have proliferated in recent years as demand from working professionals has grown. It is now possible for people in the public health field to earn their doctor of public health degree without needing to leave their jobs, or even ever visit a campus beyond some orientation or intensive courses.
While doctorate of public health programs will include conventional courses, which are designed to strengthen the student's knowledge and skills, the most significant part of any DPH program is the research project. Whether it is a conventional dissertation, or a hands-on project, the culminating part of the public health doctorate program requires the student to forge forward as an accomplished, self-directed professional. It is extremely intensive and demanding.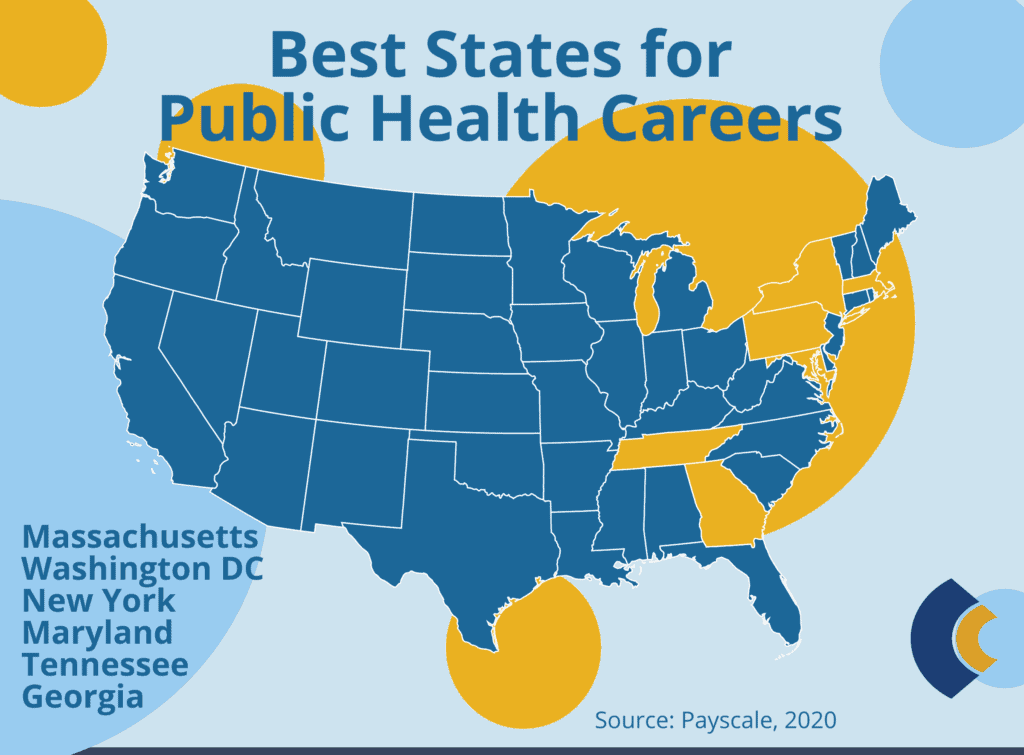 PhD in Public Health Jobs and Salaries
What can you do with a PhD in Public Health? Because it's expected that a PhD or DPH graduate will go into leadership positions, a public health doctoral program will combine advanced skills and further specialization in a particular public health field (such as epidemiology or community health) with the skills necessary to take on high-ranking administrative positions. Many public health doctorate holders will take on leadership roles in their speciality, such as directing a laboratory. Others will go into positions like:
CEO/COO of a Healthcare Facility
College Administration (Chair or Dean)
Director of a Nonprofit Organization or Other NGO
Research Program Director
DPH holders may also find themselves in unexpected roles, such as directing a grants office or even fundraising (public health is expensive). Others may earn influential political appointments, or reach high positions in government agencies like the CDC or the NIH. Still others – the charismatic or photogenic – may even become known as public intellectuals, serving as the face of public health on news programs, in documentaries, and national public health campaigns. (Public health communications would be a good specialization for those who want this kind of celebrity.) C. Everett Koop, for example, became the first surgeon general to become a household name due to his staunch stand against smoking as one of the leading threats to public health. More recently, NIH administrator Anthony Fauci has become well known for his leadership during the COVID-19 pandemic.
Because public health PhD jobs are typically at a very high level of seniority and authority, public health PhD salary tends to be quite high. Some of the highest-paying position titles, according to Payscale, include:
Chief Science Officer – $171,000
Vice President of Operations – $165,000
Environmental Health and Safety Director – $141,000
Clinical Laboratory Director – $108,000
Infection Control Director – $102,000
In the middle of a crisis that has made "unprecedented" the word of the year, leadership in public health has never been more crucial to the future of the US, and of the world. Starting a public health career now, or choosing to pursue a higher degree to advance your public health career, is a challenge well worth taking.
Related Rankings:
Best Online Associate's in Public Health
Best Online Bachelor's in Public Health
Best Online Master's in Public Health
Best Online Doctorate in Public Health
Best Online Doctorate in Leadership Programs