Our 2021 ranking of the Most Affordable Online MBA Programs in Massachusetts will help you find the lowest cost online MBA programs that hail from the best business schools in the state. Professionals all over the state require a high-powered business education and flexible format that can only be found in an online MBA. These degrees are highly respected, fully accredited, and have been designed to equip leaders for success in business management.
Affordable Online MBA Programs in Massachusetts
The MBA continues to become a significant graduate degree in the business field throughout Massachusetts and around the world. It is seemingly now a needed resume attribute for anyone hoping to land a better job position with a lucrative salary. For some professionals, it will be necessary to even qualify for an entry-level job in some organizations. The questions one must ask include, is the online MBA a valuable use of one's time and resources, will the top degrees in Massachusetts take a student where she wants to go, and are there any affordable options for students disinterested in becoming bogged down with the high cost of tuition? The answers are simple: yes, yes, and yes. Here are ten of the most affordable online MBA programs in Massachusetts.
Methodology
This list of the Most Affordable Online MBA programs in Massachusetts is based 100% upon each online MBA's base tuition. This ranking lists the most prestigious programs in ascending tuition order, ranging in tuition from $16,000 to over $77,000. The ranking order is based upon the base tuition amount for the entirety of the online MBA degree, which does not include fees and books. All tuition information was taken directly from each university's website. The Affordability Score provides a snapshot of where each online MBA's cost ranks relative to others on a 100 point scale.
1
University of Massachusetts Dartmouth
Charlton College of Business
The University of Massachusetts Dartmouth delivers one of the most prestigious and most affordable online MBA programs in Massachusetts through the Charlton College of Business. Program designers understand that the key for many online students is finding an exceptional, flexible, and affordable program that fits their goals, budget, and timeline. The program's website includes a form that candidates can complete to begin the conversation with admissions experts to see if UMass Dartmouth's 30-credit MBA is the right fit for them. The online Charlton MBA is responsive to the evolving demands of the technology-driven global economy. Led by seasoned industry professionals and leading business scholars, this advanced business degree offers distance learners the option to specialize in the specific areas of accounting, business analytics (STEM approved), finance, and supply chain management, and information systems. The school also provides GMAT waivers for qualifying applicants. AACSB accredits UMassD's Charlton School of Business. UMass Dartmouth seasoned practitioners deliver all courses to provide high-quality instruction.
Affordability Score
100.00
2
University of Massachusetts Lowell
Robert J. Manning School of Business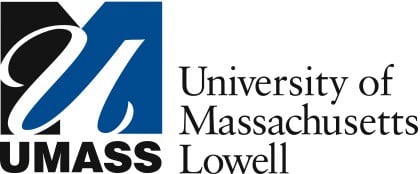 The University of Massachusetts Lowell offers one of Massachusetts' most affordable online MBA degrees at the Robert J. Manning School of Business. This online MBA program offers a flexible schedule for today's active professionals. Distance learners can pursue a general program of study by selecting electives that cover a wide range of business subjects. They can customize their programs by concentrating on a specific business area by selecting one of nine specializations, including Accounting, Business Analytics, Entrepreneurship, Finance, Healthcare, Information Technology, International Business, Managerial Leadership, and Marketing. Graduates of this program will take their careers to the next level by joining the ranks of the next generation of global business influencers with UMass Lowell's online MBA. U.S. News & World Report has called this program the highest-ranked online MBA in New England. The online MBA program is one of the most affordable as it offers the lowest tuition of the top 25 degrees on U.S. News & World Report's Best Online MBAs national rankings for 2020.
Affordability Score
96.33
3
Questrom School of Business
The Questrom School of Business at Boston University offers one of Massachusetts' most affordable online MBA degrees. This program has been designed from the ground up with the global online student in mind. It is rooted in insights gained from thousands of international industry professionals. The BU Questrom Online MBA offers an innovative curriculum focused on the themes that drive business in the modern era. Graduate students can complete this degree in as little as two years. The high quality, engaging, and rigorous MBA is 100% online. Developed and delivered by the same world-class instructors who teach Boston's top-ranked, on-campus MBA programs, the Online MBA allows distance learners to advance critical capabilities needed to make management decisions in today's complex global business ecosystem. Online MBA students are a part of a learning community that is truly global. Questrom School of Business outstanding faculty and staff link students to an international network of over 50,000 talented Questrom alumni and 300,000+ Boston University alumni.
Affordability Score
91.13
4
University of Massachusetts Boston
College of Management
An affordable online MBA is featured at the University of Massachusetts Boston's College of Management. Graduate students can now complete the UMass Boston MBA through a 100% online format. Distance learners enjoy the convenience of an online MBA that is aptly supported by faculty and advisor guidance. This program also offers one of the lowest online tuition rates in the field. Students can choose the standard MBA or select a program with a specialization in Business Analytics, Health Care Informatics, Finance, and Digital Marketing. Interested program candidates can initiate their applications by indicating their interest in the Online MBA on their application. The College of Management's advising team then reaches out with details. Course offerings within this program are subject to change. The business school at the University of Massachusetts Boston also features a one-year MBA and a summer start program. This MBA degree is one of the most affordable online programs currently offered in Massachusetts.
Affordability Score
86.74
5
Western New England University
College of Business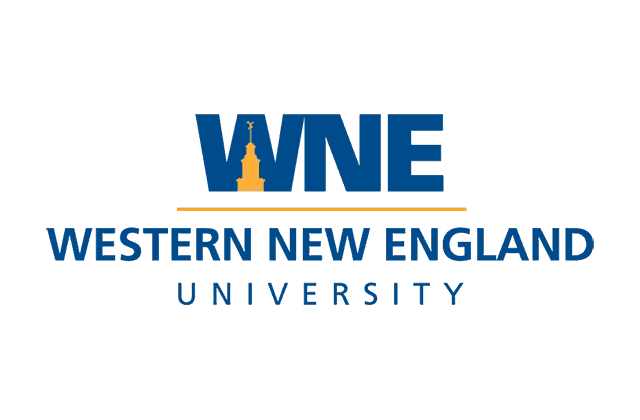 The College of Business at Western New England University provides a high quality and affordable online MBA. Course designers realize that managing change is the most significant issue in our fast-paced business world. Change management is the ability to shift gears, drive innovation, and excel in difficult times. Through the Western New England University MBA program, online students will enhance their critical thinking abilities to define opportunities and generate innovative solutions that turn issues into opportunities. No longer a business luxury, the MBA is now a required credential for business professionals looking to further their careers to the next level. Long known as the region's premier MBA program, the Western New England University, online MBA also earns high marks for flexibility and convenience. Graduate students complete their MBA studies 100% online with the added ability to attend optional evening in-class sessions. This program offers a General Business track or an optional focus in Public Relations, Accounting, Business Law, and Leadership. The 12-course MBA program exists as one of New England's most affordable AACSB International accredited programs.
Affordability Score
80.23
6
University of Massachusetts Amherst
Isenberg School of Management

One of Massachusetts' most affordable online MBA degrees is available at the Isenberg School of Management at the University of Massachusetts Amherst. This online degree program is highly adaptable to today's professionals' needs and schedules. It allows students to earn their degrees without putting their lives on hold. Isenberg School of Management even offers students the chance to take up to two courses (the equivalent of six credits) before applying to the program or while they work to complete their application. UMass Amherst offers an unparalleled educational experience, including superior instruction from expert staff and a flexible, innovative learning format. Program designers understand what today's modern business environment requires of working professionals. Online students complete the same creative and rigorous curriculum as on-campus students at Isenberg. The business school provides a superior education that gives graduate students the cutting-edge knowledge and skills they need to succeed. UMass Amherst's dedicated, approachable instructors offer expertise in their field and bring experience to the classroom.
Affordability Score
77.81

An exemplary online MBA is offered at Suffolk University's Sawyer Business School. During the Suffolk MBA Online, graduate students do not just learn about business; they become part of it. Sawyer Business School's world-class faculty facilitate distance learners' growth as complete professionals and mentor them for business realities today. Students are challenged to experience the Suffolk difference for themselves. In as few as two years, online MBA students can graduate with a robust portfolio of the knowledge and skills employers demand. Graduates will be well-equipped with the ability to define their paths in the business world. Throughout this two-year program, MBA students participate in live interactive learning opportunities with guest professionals and business leaders from premier firms in Boston and worldwide. Graduate students experience firsthand what it is like to communicate, collaborate, and create actionable solutions to real problems from top-ranked organizations. The AACSB accredits Suffolk University's MBA Online. The program is designed to immerse you in real-world business. The business school takes a hands-on and highly interactive approach that results in critical business and leadership skills.
Affordability Score
67.54
8
McCallum Graduate School of Business

An online MBA is currently available at the McCallum Graduate School of Business at Bentley University in Massachusetts. Online students enrolled in this program have the chance to build an MBA based on their specific academic interests and career goals by choosing one of seven concentrations to accompany their degree. Graduate students at McCallum Graduate School of Business also get the chance to select a personalized series of courses that match their passions and specific career needs. Emphases include Accountancy, Business Analytics, Finance, Information Systems and Technology, Law and Taxation, Leadership, and Marketing. Most students within this program have at least five years of professional working experience. Over 95% of graduates of this program find work soon after completing the degree. Interested graduate students can enhance their competitive advantage in the marketplace by pursuing both an MBA and Master of Science dual degree. Students overlap up to four courses between programs to further expand their skill set and obtain two graduate degrees in less time.
Affordability Score
46.17
9
D'Amore-Mckim School of Business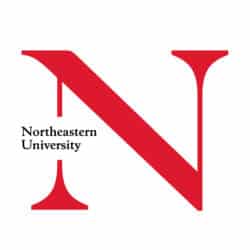 The D'Amore-McKim School of Business at Northeastern University offers a Massachusetts-based online MBA that is one of the top programs in the country. Designed specifically for active executives, this stellar Online MBA immerses graduate students in all business enterprise regions. The online program's rigorous, experiential curriculum challenges distance learners to put classroom learning to the test and helps professionals connect academic theory to real-world realities. This is vital as leaders at D'Amore-McKim School of Business understand that education is more than just studying business facts; learning is doing. Graduate students can choose a specialization from among eight relevant concentrations. Each advanced course included in the program's curriculum utilizes interactive multimedia tools that online students will benefit from. While this program does not include one of the lowest price tags in the list, they include features that save time, fees, and loss of time at work. These features work together to increase the affordability and value of the program for working students. One of the best parts of this degree is that distance learners can continue working at their current positions and graduate with this online MBA in just two calendar years. Northeastern does not require incoming students to post GMAT or GRE scores during the application process.
Affordability Score
36.33
10
Worcester Polytechnic Institute
Robert A. Foisie Business School
Worcester Polytechnic Institute provides an online MBA at the Robert A. Foisie Business School in Massachusetts. WPI's MBA for STEM Professionals has been designed for distance learners ready to leverage their STEM knowledge and work experience to help them achieve the next level in their careers. The blended graduate program helps MBA students expand on their existing skill sets. Robust MBA courses and hands-on projects develop a broader understanding of how business and technical issues are interconnected. Business students gain expertise with management, organization, and leadership resources—both human and financial. Using robust face-to-face interaction and online learning, this master's degree in business administration's format emulates the real world, as graduate students work closely with faculty to form multidisciplinary teams and coordinate action across languages, geographic distances, time zones, and cultural perspectives. WPI's MBA Program for STEM Professionals is student-centric, inquiry-driven, and issue-oriented from start to finish. The MBA course structure provides the flexibility to complete the MBA requirements around students' other obligations. While this MBA program is the most expensive in this Massachusetts ranking list, this flexible schedule combined with its top business curriculum stands as a great value to its working MBA students.
Affordability Score
27.24
The online MBA program is well known for its extreme level of convenience. While many MBA students take at least one class online, more are migrating toward all-online programs. This is ideal for graduate students in Massachusetts who work part or full time and do not have the chance to take classes at designated times for a full schedule during the workday. An online program's beauty is that students can enroll in a business school of their choice and not be forced to relocate even if the school is across the country. Imagine being able to enroll in a top-notch business school that exists within any one of the prestigious and well-respected colleges and universities located in Massachusetts. Some of these schools have been training business leaders for hundreds of years and have equipped many of our nation's most influential leaders in business, industry, and politics.
There are some excellent reasons to consider an affordable online MBA program in Massachusetts.
Are Online MBA programs in Massachusetts Accessible?
Online graduate students can take classes anytime from anywhere. This is a substantial bonus for frequent business travelers. Business students cover the same material online as they would in the classroom and benefit from the practical, real-world experience instructors bring to courses. Another attractive bonus is that online students can continue working at their long-term job positions while earning their MBA degrees, thus applying their course knowledge to work in real-time. Students use their new business and management knowledge without any delay. Conversely, if online students need to move for personal or professional reasons while taking the program, they can avoid the hassle of applying to a new business school and transferring credits.
Are Online MBA programs in Massachusetts Flexible?
Online MBA students can tailor their course schedules around their professional schedules instead of adjusting their lives to fit the program. Whether they are participating in discussions at 11 p.m., 4 a.m., or 9 a.m., it is entirely up to the online student. And if a distance learner can handle only a single online MBA class at a time, that is no problem. The online MBA student typically sets her own pace for program completion.
Are Online MBA programs in Massachusetts Affordable?
An online MBA means graduate students don't have to move, commute, or forfeit their jobs, losing valuable management experience. Plus, some organizations help pay the tuition cost of an MBA. As with their brick and mortar counterparts, the cost of an online MBA program in Massachusetts varies. The overriding factor is student choice; online students have program options and have the freedom to apply to the business school that meets their financial and academic needs.
Are Online MBA programs in Massachusetts Accredited?
Many online MBA programs are offered at top schools and enjoy remarkable accreditation through trusted entities like AACSB and ACBSP. A reliable accreditation means business school candidates can qualify for financial aid, loans, and scholarships. Employers and other business schools look more favorably upon accredited programs.
An online MBA program in Massachusetts is a great option for working professionals wanting to ramp up their careers. When comparing programs, take your time, consider all the factors, and reach out to admissions counselors to gather relevant and current information.