The state of Mississippi is known by many as the birthplace of the blues. Famous musicians Elvis Presley, B.B King, and Bo Diddley all hail from the state that was named after a Native American word translated as "Father of Waters." Many highly-acclaimed colleges and universities hail from Mississippi, and they are also home to many top-notch online MBA programs.
The State
Mississippi was introduced as the twentieth state in the Union in 1817, and is known as the Magnolia State. It is home to multiple industries. It follows only one other state in America in cotton production and raises more pond-farmed catfish than any other state in the nation.
The state was the site for the world's first lung transplant at the University of Mississippi Medical Center in 1963, and a year later, the world's first heart transplant was conducted in Mississippi by Dr. James D. Hardy. Another incredible advancement the state of Mississippi enjoys is the development of some of the best online MBAs in the country.
The Online MBA
A degree like the online MBA can often be judged by the accreditation it is backed by. One of the strongest programs, in regard to academic reliability and structural transparency, is a business degree backed by the AACSB-International. The AACSB is considered by many in business education as the gold standard for business accreditation. Each of the five best online MBA programs in Mississippi receives its business accreditation through the AACSB-International.
Another key feature to look for in an online MBA in Mississippi is affordability. While some MBA programs can feature a tuition rate into six figures, Mississippi business schools do students a great service in providing high-quality programs for substantially lower tuition prices than one might think. One of the state's best online MBA programs costs less than $15,000 in base tuition, yet still delivers a curriculum that will prepare students for success at all levels of business management. These five online MBA programs now offered in Mississippi are sure to give graduate students excellent training in decision making and problem solving.
Methodology
To find the very best Online MBA programs in Mississippi, over 570 online and hybrid MBA programs were examined. The programs were first listed by location and then ranked upon their overall convenience, affordability, and reputation.
Convenience
The convenience for each online MBA was formulated by averaging an online format score and GMAT score. Programs were ranked upon if they can be completed 100% online, as well as, if the GMAT/GRE application requirement is waived or omitted. This Convenience Score attributes to 33% of the final ranking score.
Affordability
The online MBA tuition, collected from each university website, was calculated for the entirety of the degree, excluding the fees, books, and lodging. This base tuition was put on a 100-point scale and then inverted. This Affordability Score attributes to 33% of the final ranking score.
Reputation
To find the reputation for each program, data was collected from national MBA ranking sources: US News and World Report, The Economist, and Businessweek. Rankings and scores were converted to a 100-point scale and averaged to find a balanced consensus for each online MBA. This averaged score was placed on a 100-point scale and attributes to 33% of the final ranking score.
1
University of Southern Mississippi College of Business - Hattiesburg, Mississippi

The University of Southern Mississippi's College of Business delivers an online MBA with a Sport Event Security Management focus or offered as a general MBA. This 100% online MBA has so much going for it. To begin with, the cost of education all over the country seems to increase on a yearly basis, so a tremendous online MBA like this one priced at less than $20,000 affords the business student a wonderful opportunity to receive a top-notch business graduate degree without breaking the bank to do so. Students enrolled in this MBA program will need to complete 33-credit hours of coursework to graduate. These credits have been divided between nine credit hours of electives and twenty-four credits of core courses. Organizational Behavior and Leadership, Global Business Strategy, Marketing Management, Global Business Systems, Analytical Decision Making, Financial Management, Managerial Accounting, and Global Economy are some of the courses included in this best of the best online MBA in the state of Mississippi.
Affordability Score: 97.74
Convenience Score: 75.00
Reputation Score: 35.03
2
Mississippi College School of Business - Clinton, Mississippi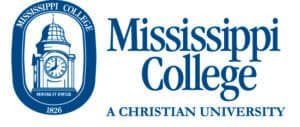 An online MBA with specializations in Finance and Accounting is provided by Mississippi College's School of Business. This flexible program can also be pursued as a general online MBA with no concentration selected. Mississippi College has created this online MBA to consist of 30-credit hours split between six general credits and twenty-four core credits. Each of the twelve courses included in this program takes eight weeks to complete. Accounting Issues in Business Decisions, Policy Formulation and Administration, Managing in a Global Economy, Law and Ethics in the Business Environment, Financial Management, and Quantitative Management are some of the business and leadership relevant courses that program designers have included in this 100% online degree. The AACSB-International is the benchmark accrediting entity for business schools today, and this program has the benefit of being accredited by this stellar organization. Distance learners looking for an excellent value will appreciate this high-quality online MBA that is delivered with a base tuition rate under $20,000.
Affordability Score: 94.88
Convenience Score: 75.00
Reputation Score: 35.03
3
Jackson State University College of Business - Jackson, Mississippi
An online MBA is offered at the College of Business at Jackson State University. The designers of this excellent 100% online MBA have created the program to set students up for success in all functional areas of economics and business. Graduate students can expect to be trained in business research methodology and ready to apply for professional management positions upon graduating from one of the best online MBA programs in Mississippi. This stellar online graduate degree in business is optimal for working adults wanting to obtain a quality management education while still maintaining their current commitments to family and work. From applying to graduating, a distance learner enrolled in this 30-credit hour program can expect no campus visits needed allowing them to take courses virtually anywhere on the planet. Jackson State's College of Business is one of the few business schools in Mississippi that boasts a business accreditation through the AACSB-International.
Affordability Score: 100.00
Convenience Score: 50.00
Reputation Score: 35.03
4
Mississippi State University College of Business - Mississippi State, Mississippi
The College of Business at Mississippi State University provides an online MBA with a general focus or an emphasis in Project Management. Candidates interested in applying for this 100% online MBA must meet certain academic requirements, including the submission of a competitive GRE or GMAT test score. A qualifying GMAT or GRE score is one that has been taken within the past five years. Distance learners looking for a great value in cost will be attracted to this 100% online MBA, which features a base tuition rate of less than $15,000. Twenty-seven credit hours of this program consist of core credits, while three credits are electives of the student's choice. Leadership Skills, Law, Ethics, and Dispute Resolution, Strategic Marketing Management, Management Information Technology & Systems, Economics for Managers, Corporate Finance, and Financial & Accounting Report Analysis are just some of the high-quality core courses students enrolled in this stellar distance degree can expect to have access to.
Affordability Score: 99.06
Convenience Score: 50.00
Reputation Score: 35.03
5
University of Mississippi School of Business Administration - University, Mississippi


The University of Mississippi's School of Business Administration delivers one of the best online MBA programs in Mississippi. Businessweek ranks the School of Business Administration as the 88th best in the nation. Distance learners enrolled in this high-quality 36-credit hour degree will have the chance to go through core courses like Leadership and Ethics, Management of Technology and Innovation, Managerial Economics, Financial Analysis, Project Analysis, Managerial Accounting, Organizational Behavior, Strategic Marketing Management, Business Planning and Entrepreneurship, and Supply Chain Management. The AACSB-International grants the School of Business Administration its excellent business accreditation, making it one of the most prestigious online MBAs in the country. An attractive base tuition of less than $30,000 is associated with this 100% online degree. Adding to the affordability, is the fact that students do not have to ever visit the campus in University, Mississippi for any type of orientation or residency. While many business schools are offering GMAT waivers, the School of Business Administration at the University of Mississippi does require incoming students to report a GMAT or GRE test score during the application process.
Affordability Score: 82.24
Convenience Score: 50.00
Reputation Score: 100.00
What are the Favorite Visitor Attractions in Mississippi?
The state of Mississippi is well-known for being the birthplace of the blues, providing some amazing southern cuisine, and having a rich American culture. Whether you and your family want to spend a day out at the beach or perusing one of the many museums in the Magnolia State, Mississippi will prove to have a lot to offer. Here are just a few attractions that you will not want to miss.
Take a Drive Along the Mississippi River
The Mississippi Great River Road winds down over 3,000 miles of the Mississippi River throughout a total of ten states. All along the way of this scenic drive, tourists have the opportunity to stop by roadside attractions and visit historical landmarks in Mississippi. This day trip will show how the Ol' Miss was used as a thoroughfare for business and travel so many years ago in the state.
Stop and Smell the Roses at the All-American Rose Garden
Located at the entrance of the University of Southern Mississippi in Hattiesburg, this special garden welcomes guests with over thirty rose beds. Walk through the garden and take in the 750 varieties of roses. Be sure not to pick any flowers on your visit, as the Rose Garden strictly forbids it.
Have a blast at the Mississippi State Fair
The fair takes place each October in Jackson, Mississippi and has been running since 1858. Guests can expect all types of exhibits, live music, fun carnival rides, and plenty of fried foods. The fairgrounds on which the Mississippi State Fair takes place is over 100 acres right in the heart of downtown Jackson.
Visit Elvis Presley's Birthplace
Still standing in Tupelo, Mississippi, guests can take in and walk around the small shotgun house that Elvis Aaron Presley was born in on January 8, 1935. The surrounding area displays multiple statues erected in Elvis' honor, and the grounds also contain the small church building that the Presley's attended so many years ago. The Elvis Presley Museum is full of Elvis memorabilia and artwork that cannot be missed by serious music fans.
What are the Main Industries in Mississippi?
The state of Mississippi has gone through changes over the past 200 years, since being brought into the Union as the 20th state. It has seen some hard times from a struggling state economy and has been the setting for racial unrest that boiled over in the 1960s. Today, Mississippi continues to struggle in the areas of healthcare, but the economy yet remains strong in the area of natural environment with one of the best water and air quality ratings in the United States.
Agriculture is An Important Part of Mississippi's Economy
There was a time when the southern states of the U.S. were dominant in agriculture, and today, Mississippi still has an incredible presence in agriculture across the state. Nearly one-third of Mississippi's economy is based on agriculture. The state still sustains over 40,000 farms that produce rice, soybeans, and cotton, among other things.
Manufacturing is an Important Part of Mississippi's Economy
Manufacturing is proving to be the top revenue maker in the state. This type of economic growth helps working professionals at all levels, as factory jobs are available and managers are needed to oversee production. Higher education becomes a huge factor when considering a manufacturing-based economy, and a degree like one of the best online MBA programs in Mississippi is what will train business leaders for management positions.
Agriculture and manufacturing are just two of the areas of the economy in Mississippi that make the state a strong member of the U.S. The state has a lot to offer, and there are many exciting jobs being created each year.