We are living in a true time of uncertainty for almost all things, really. There are big questions about what the world will look like after COVID-19 runs its course. This infiltrates every aspect of our lives including most professional sectors. So many Americans have already been laid off, or in some cases furloughed, and many are unsure if their jobs, that seem to be hanging on by a string, will still be there when the world opens back up.
One thing about the field of education is, we know it will always be an in demand career path. The world is certainly changing right before our eyes, and education might very well change with it, but we know that we will always need teachers. In fact, as parents are trying to homeschool their children in the midst of social distancing, there is a larger appreciation for the roles teachers play in the lives of young people, and also their families. Teachers are one of the groups of unsung heros that are coming into the limelight during the recent events that have surrounded the Corona Virus global Pandemic.
One of the apropos aspects of studying to become a teacher is that many programs are delivered online to accommodate a variety of students. Online learning comes in many shapes and sizes, including options that are designed to be incredibly flexible. Enrolling in an online program might just be the perfect way to spend your time right now, and it also might be a window into the future of teaching and learning?
Let's take a look at the many options for which you can engage if you are considering a degree in education. Maybe you are debating between studying to be an early childhood educator or an elementary school teacher. You might be considering an academic path that will lead you to an administrative career in education, or one that enables you to work on the policy end. We will get deeper about the differences and things to consider as you take the next step in your academic career.
Why Choose an Online Education Degree?
As aforementioned, this guide will take you through the different education degree options and enable you to understand the inner workings of this particular path of study. As a point of process, however, we thought it was important to address online education here. You will see that there are so many education degrees that are delivered in online and hybrid formats. No two programs are exactly the same, even if they engage similar course work and meet the same requirements.
One thing that many programs in this field have in common is that they want to be accessible to a variety of learners, both traditional and non traditional. This means there are many program offerings that are as flexible as possible and can accomodate working professionals. Students will be able to study alongside fulfilling their other life commitments including work and family.
If you need a program that is entirely flexible, they are out there; just know what to look for. For example, many programs offer classes that are delivered asynchronously, which means there are no set login times. Students can access the lectures when it is convenient for them and oftentimes, that comes with discussion boards through the online learning portal utilized by that particular school. For example, some schools use CANVAS for learning management and similar examples include Blackboard and moodle among other options. This is where students can contribute to the class conversations and in some cases add videos or share additional resources. Some programs even allow students to take quizzes and tests in this asynchronous format. The learning management portals will also be where students submit their assignments, and in most cases, engage with their faculty members.
Please note, however, that some online programs make it easy to study from the comfort of your own home, however, they enforce class times and structures that are similar to traditional programs. This type of program delivery is called synchronous learning. In this case, students will have to log in at certain times and often sit together virtually, in real time, to convene class. You will notice that many programs offer a cohort model, which means that students will move through the program together in a group, and stay together through completion, in most cases. Many people prefer to study this way, because there is a certain level of accountability when you are working so deeply in community. Again, this is all a matter of preference.
It is also important to understand that even when studying online, there will be student teaching requirements that historically have meant you will need to have classroom facilitation practice. In order to achieve a teaching certificate there is a student teaching requirement. In the time of COVID-19, many of these enforcements have either been suspended, however, or moved to an online format as well. We will see how this transforms with time.
Let's start at the beginning. This is more like the beginning of a lifecycle, or the first taste of being a student. Early Childhood Education can literally begin as early as birth and go to age eight, but sometimes the considered cut off is five, depending on the program. There are different skills associated with teaching different ages of students, though many are transferable with some additions.
What is Early Childhood Education?
It can get confusing when deciphering the differences between early childhood education versus elementary education, as both address the needs of young children. The two disciplines have a fair amount of crossover, however, elementary education requires an official teaching certification that early childhood does not. Elementary teachers have trained to be the janes (or jacks) of all trades, as they teach all subjects and are often with students throughout the course of an entire school day. They are prepared to work in an elementary school setting, whereas early childhood educators are often working in private daycare or preschool programs. There are many ways to engage in a career in early childhood education, as one could choose to work in a faith based program or prioritize working with children from diverse and low income households by way of Head Start programming, which is offered all over the country. In 1965 the United States passed legislation that brought forward Head Start learning programming, which ensured that all families would have access to developmentally appropriate learning opportunities for young children as a way to set them up for a lifetime of success. The process of Becoming an early childhood educator can take on many shapes, as one can actually enter the classroom as a facilitator with an associates degree in the field.
There are many important skills students will learn when training for a career in early childhood education. Some key elements include:
Creating age appropriate lessons that are flexible and accommodating the the needs of all of the students in the room
Having an understanding of child's health, growth and development that ties into nutrition and holistic family wellness
A comprehensive understanding of assessment practices
An awareness of learning differences and differences in ability and interventions to reach each child
Communication skills that can be utilized when interacting with family and children
Learning strategies that include play based learning
What Can I do With an Online Associates Degree in Education?
An associates degree will definitely get your foot in the door. Many people choose to start with an associate's and begin their career teaching in public or private early education programs. In many cases an associate degree holding educator will start as an assistant and work their way up to a lead teaching role in a Head Start program or something comparable. Many times, however, a graduate of an early childhood associates degree online program will continue working in an early childhood education classroom while attending an bachelors in early childhood education online program. The flexibility of online programming offers a perfect balance to the lifestyle of a professional already working in the field. In many cases, one can use their current position as their fieldwork or student teaching component. While one may choose to stay at the associate's degree level, the salary increase and possibilities for more of a leadership role in the classroom will inspire most early childhood educators to go the extra step in their education and achieve a bachelor's degree in the field.
Can I Get Bachelor's in Early Childhood Education Online?
Absolutely. Many bachelors degree programs in early childhood education are delivered online and act as completion programs. They anticipate that students who have an associates degree in the field will want to easily invest in achieving a higher degree while continuing to work in the field. As previously addressed, studying online will afford students a flexibility that they could not otherwise achieve in a traditional program, and therefore, they will be able to remain in their current teaching position while completing their studies. Many online offerings enable students to gather their general education requirements at a community college, if they do not already have an associates degree, for a significantly less tuition rate and matriculate into the bachelor's degree program to complete the remaining two years of coursework.
Obviously, online learning is not the only way to go. There are many ways to enter a four year traditional early childhood education degree program and achieve a bachelor's degree all in one go. You will have the same student teaching/ experiential learning requirements and be able to work together with peers in a classroom environment that remains consistent throughout the course of your degree program. This has its subsequent limitations including a lack of flexibility, but the pay off is based on personal preference.
Careers for Early Childhood Educators
Most graduates in this field will go into some form of preschool teaching. This can include private preschools with a stylistic philosophy or focus like Montessori or Waldorf, or a faith based approach. Many churches are the home to an early childhood learning center, some of which offer non-denominational education opportunities and others bring a religious component to the table. As previously touched upon, the coursework in early childhood education degree programs should have an element of diversity and inclusion discourse, as many graduates will decide to teach for a Head Start Program or something similar to bring together young people from diverse backgrounds. Coursework around cultural humility can be an asset to teachers in such early learning environments. Many graduates of early childhood education programs will choose a career in professional tutoring that will bring them to a variety of settings. Many students will choose specializations that will inform a career niche that they will pursue. Specializations can include: literacy specialist, special education, and/ or English as a second language.
Early Childhood Education vs Elementary Education Salary
It probably comes as no surprise that an elementary school teacher will inherently make more money than an early childhood educator. There is more experience and education required as well as an official certification. An early childhood educator, at the twilight of their career, can make as much as $42,000 annually, as noted by Payscale. A standard elementary school teacher can easily bring in over $20,000 more with a bachelor's degree education. It shows, however, the higher you go in your teaching education the more your salary potential goes up. School districts have a metric for compensating their educators based on the level of degree they have achieved.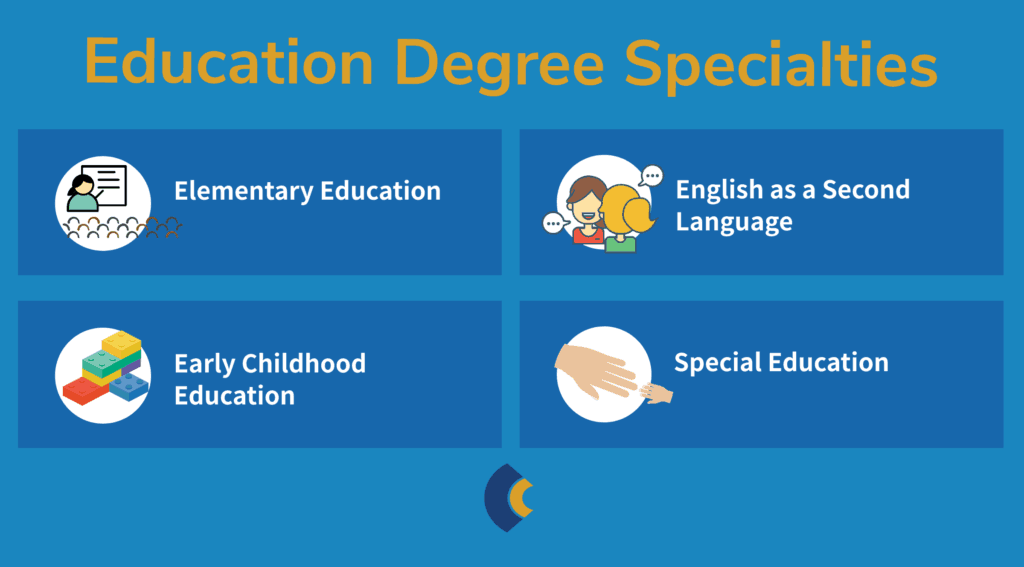 What Education do you Need to Become a Teacher?
This ties into the questions about what makes someone a teacher. Generally, when people are thinking about the teaching profession, they are considering those who have the credentials to work within the school system, whether it be public or private. Most often, people are referring to those who teach K-12th grade. If you are wondering what you need to do to become a classroom teacher that works with this age range, listen up. A bachelor's degree in elementary education is necessary to achieve the appropriate certifications to then teach in your own classroom. To teach in any public school and in most private school environments it is imperative that you pass the PRAXIS tests, which measure your subject content knowledge and ensure that teachers are prepared to be classroom leaders. Elementary educators are required to have a large knowledge base in a myriad of subjects. So, the PRAXIS Elementary Education: Content Knowledge for Teaching assesses the knowledge and skills that prospective elementary educators have prior to certifying them.
Bachelors in Elementary Education Programs
The goal of achieving a bachelors in Elementary Education is generally to achieve a teaching degree and work as an elementary school teacher. The skills required to become an elementary school teacher include:
The ability to adapt a set curriculum to the students who are present
The ability to use assessment skills and strategies, including documentation practices around benchmarks
The ability to work with students who have special needs and different abilities
The stamina to work in a classroom all day with the same children
The ability to create a learning environment that is safe and nurturing for young people to flourish academically and personally
The ability to deliver multi-level curricula
The ability to administer standardized tests when required
The United States Bureau of Labor Statistics projects a 7% growth rate in elementary education for bachelor's degree holders in the field.There are many Online Bachelors in Elementary Education degree programs that enable students to gain these skills and work towards their teaching certificate. Many such online programs can be completed from anywhere in the country and enable the student to fulfill their experiential learning component or student teaching requirement in their hometown. Some programs, however, require students to live in the state for which they are delivered, even if they are online. Sometimes this is the case, because the state itself might have unique requirements for achieving a certification and the programs themselves are working from this methodology.
Similar to the associates degree in education, many bachelors degree students in elementary education will choose to specialize in an element of education that will not only make them more marketable, but also enable them to deepen their teaching practice with their niche field in mind. Some specializations include: special education and immersion practices, reading specialist, English as a second language, among others.
Should I get a Masters Degree in Education?
Many people choose to achieve a masters degree in early childhood education or elementary education to open more doors in the field. There are subsequent pay increases for educators with advanced degrees, so that can be incentive enough. However, many educators are interested in the advanced teaching and classroom management skills that come with a masters degree program. Another aspect of the teaching field to consider is working on the administrative level or policy end of education, which in many cases requires a master's degree. There are many online elementary education masters degree programs that will prepare graduates for a career that can actually enable them to have a significant impact on the field of teaching. Masters degree holders can also take on careers as school counselors and provide guidance to students K-12. There are many opportunities with this degree to have more creativity and actually create curriculum and build on instructional styles. Additional specializations are available for masters degree students in the field of education including options akin to policy, counseling, leadership, and diversity and inclusion.
Teaching Junior High School and High School
A bachelors of education is imperative for students to achieve the proper credentials to teaching in junior high schools and high schools as well. Many times an additional teaching preparation program is also required for these grades. However, oftentimes, a bachelors is achieved in a given subject area, which then gets transformed into the path of a junior high or high school teacher. Older children and teenagers have a different academic structure as their days are often less structured than elementary students, and they have different teachers for each subject, rather than one teacher who facilitates the entire day of learning. In many ways, as an educator, there is a lot less pressure when teaching older kids, as they can dive deep into one subject and make classroom plans with a more singular focus.
Choosing the age group of the students an educator would like to learn to teach is often not a huge challenge. Most teachers feel called towards their population or the structure of the material they would teach to a particular group. This may be because they love a subject so much that they want to teach it, or because they love working with students who have special needs, or they love to sing and read to a group, which obviously makes them more relevant for a early childhood education classroom.
You maybe be wondering:
Will Schools Trust an Online Master's in Education Degree?
This is a good question and is relevant for not only masters degrees, but all degrees. The answer is yes. There are many degree programs that don't even state if the coursework was achieved in a traditional classroom or in a virtual classroom. The requirements are the same with little to no difference in materials, structure, core curriculum, and ultimately the requirement of fieldwork/ student teaching. This of course must still be done inside a classroom, except of course if the parameters change in response to COVID-19.
As you can see, there are many ways to go about achieving the goal of becoming a teacher and working with students from ages birth to 12th grade. Of course there are those who want to teach in post secondary classrooms, which is a whole other ballgame, but no less relevant. Take the temperature of the way you like to study. Do you prefer flexibility or sitting in a room of your peers and faculty members to learn? Are you interested in a certain teaching niche? Is there a subject you are particularly excited about, or are you hoping to develop a skill set that ultimately has the goal of impacting young people? All of these are relevant and important questions that can not only help you determine the age of students you would like to engage, but also any specializations you are interested in building proficiency, and the type of program that would suit you best.
Related Rankings: