The southern coastal state of Georgia is known for many things. It stands as a leading agriculture producer, and it is highly ranked for its fiscal stability, infrastructure, and economy. Georgia also offers some excellent colleges and universities across the state, which provide degrees to business professionals like the online MBA. This distance degree has become one of the most important programs in business leadership training. It covers a wide range of management concepts and equips graduate students for many leadership roles in an array of business settings – what better place to look for this important business degree, than in Georgia.
Georgia was named to honor King George II of England, and today Georgia sits within the top-ten most populated states in the United States. Like other states in the south, Georgia has had a thriving agricultural industry for years and remains to be the largest source in the United States for such crops as pecans, peanuts, and peaches. While Alaska is the largest state in the United States, Georgia holds the title as the largest state in landmass east of the Mississippi River. The city of Atlanta is one of the most popular cities in the state for tourists to visit as it offers attractions like the incredible Georgia Aquarium and the World of Coca Cola.
The Online MBA
The top online MBA programs in Georgia are highly advantageous for Georgians, as well as students around the world. Online MBA programs will provide a solid business foundation experience. They will cover important topics like leadership, critical thinking, problem-solving, communication, and global business. Some distance learners will pursue a general online MBA, which may contain fewer courses, while others are interested in a concentration which sometimes adds three to nine hours of coursework to a graduate degree.
Once completed, a student who has achieved an online MBA is ready to take on a position within an organization that requires a well-trained manager to lead effectively. Since the online MBA is a general business leadership degree, graduates of the program have the potential to work in a number of professional settings and can expect to promote well within an organization. Here are five of the very best online MBA programs in Georgia.
Methodology
To find the best Online MBA programs in Georgia, out of the 570 programs offered around the country, hybrid and online MBAs were examined and ranked based on their affordability, reputation, and convenience.
Affordability
In order to compare affordability, the base tuition was calculated for each online MBA program in Georgia. All information was collected from each university website. The base tuition was found for the whole MBA, which excludes fees, books, or lodging. The Affordability Score is the base tuition inverted and then placed on a 100-point scale. This score attributes to 33% of the final ranking score.
Reputation
The reputation for each MBA degree is taken from a collection of national MBA ranking sources: The Economist, US News and World Report, and Businessweek. These rankings were converted to scores on a 100-point scale. The scores for each online MBA were averaged to find a balanced consensus on reputation. This averaged Reputation Score was placed on a 100-point scale and attributes to 33% of the final ranking score.
Convenience
One of the major key attributes of a distance degree is the overall convenience. Each online MBA's convenience is based upon if it can be pursued in a 100% online format with no campus visits, and if the GMAT/GRE admissions requirement is waived or omitted. This Convenience Score attributes to 33% of the final ranking score.
1
Georgia Southwestern State University
School of Business Administration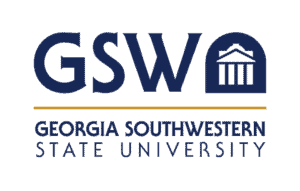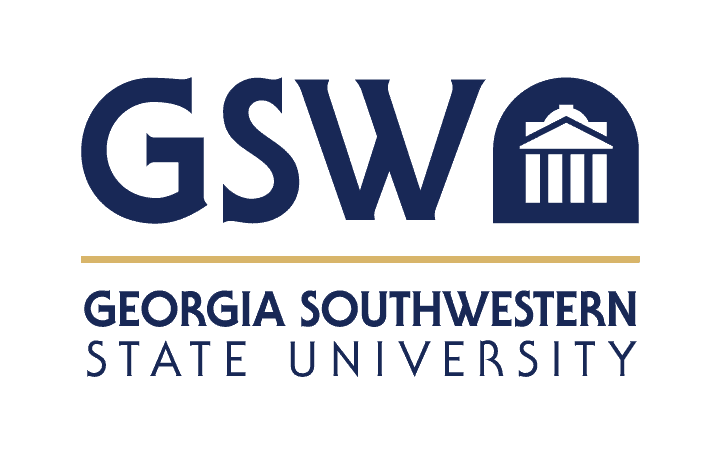 Georgia Southwestern State University delivers an online MBA through the School of Business Administration. An attractive tuition rate of well under $10,000 is associated with this degree from the business school in Americus, Georgia. The university's campus is certainly an impressive one, but distance learners registered for this 30-credit hour degree will never have to visit it, as all contents of the program are delivered 100% online. The curriculum of the online MBA is built on a foundation of strong business training that works to integrate knowledge from various functional areas. The expertise of the business school's faculty will be appreciated by online graduate students just as much as the exposure to real-world experience. The online MBA reinforces strong values, service, and ethics while acknowledging the multicultural influences that drive today's market. This online MBA program is founded on developing key skills and competencies that are sure to build a lifetime of business leadership success.
Affordability Score: 99.13
Convenience Score: 75.00
Reputation Score: 100.00
2
Valdosta State University
Harley Langdale, Jr. College of Business Administration
Valdosta State University provides an online MBA delivered as a general MBA or with an emphasis in Healthcare Administration at the Harley Langdale, Jr. College of Business Administration. If a candidate for this program has at least five years of managerial experience, was able to maintain a GPA of at least 3.0, or has already attained a higher level degree like a master's program, she may apply for a GMAT waiver and avoid having to report the business school placement score to the admissions office during the acceptance process. Every course, assignment, group project, and exam included in this stellar distance degree is provided online. No residencies or visits to the school's campus in Valdosta, Georgia is ever required throughout the duration of the program. The tuition rate of the 30-credit hour WebMBA is just above $20,000 while the 36-credit hour Healthcare MBA is less than. $15,000 in tuition. Valdosta State University began educating students in 1906 and today is regionally accredited through the Southern Association of Colleges and Schools, Commission on Colleges.
Affordability Score: 83.60
Convenience Score: 75.00
Reputation Score: 100.00
2
J. Whitney Bunting College of Business

The J. Whitney Bunting College of Business at Georgia College delivers an online MBA as a general degree (Georgia WebMBA). While the school's campus located in Milledgeville, Georgia is regarded as one of the most beautiful college campuses in the state, students enrolled in this online MBA will never have to visit it. One hundred percent of the program's curriculum is delivered through distance learning. Core courses that students will be exposed to throughout the 10-course program include Human Behavior in Organizations, Operations and Supply Chain Management, Managerial Accounting, Management Information Systems, Global and International Business, Entrepreneurship – New Venture Analysis, Managerial Decision Analysis, Strategic Marketing, and Managerial Finance. The base tuition rate for this stellar online MBA falls well-beneath $25,000. Georgia College's business school enjoys a noteworthy business accreditation through the AACSB-International. The university currently maintains a student enrollment of 6,989 seeking degrees at the undergraduate through doctoral levels.
Affordability Score: 83.60
Convenience Score: 75.00
Reputation Score: 100.00
4
Eugene W. Stetson School of Business and Economics

An online MBA with concentrations in Marketing, Healthcare Management, Finance, Economics, Human Resources, and General Business is provided at Mercer University's Eugene W. Stetson School of Business and Economics. The business school has made it a priority that distance learners within this program develop an understanding of general human attitudes and behavior and develop the skills needed to achieve effective professional and team-building relationships. Mercer makes this 100% online MBA accessible to students lacking an undergraduate business degree. But candidates needing a base of foundational business courses may be subject to nine credits of leveling courses before moving on to the core courses included in the degree. Managerial Economics, Ethical Leadership, Managerial Accounting, Operations Management Science, Issues in Business Law and Corporate Responsibility, Marketing Concepts and Practices, and Corporation Finance are some of the courses included in this 36-credit hour online MBA. While a GMAT test score is associated with the admissions process of this program, qualifying students with the proper academic accomplishments may waive this requirement.
Affordability Score: 77.33
Convenience Score: 75.00
Reputation Score: 100.00
5
James M. Hull College of Business
An online MBA is provided by the James M. Hull College of Business at Augusta University. Distance learners looking for an advanced business education, beyond a business degree at the undergraduate level, which will prepare them to assume professional and management positions in public and private organizations, need to look no further than this epic 30-credit hour online MBA. The program's curriculum has been formulated to provide the breadth of exposure to modern business administration disciplines rather than a specialization in any single discipline of business. This characteristic is a hallmark of any MBA worth its salt. Augusta delivers not only a wonderful degree but also an impressive tuition price of well below $10,000. In fact, this stellar degree offered by the James M. Hull College of Business is the lowest tuition price of any program in this ranking. Couple this low-priced online MBA with a business school accredited by the AACSB-International, and you will discover one of the best online MBA programs in the state of Georgia.
Affordability Score: 100.00
Convenience Score: 50.00
Reputation Score: 100.00
What qualities are organizations in Georgia looking for in managers?
The state of Georgia's economy continues to thrive with industries that have defined the southern state's heritage as well as modern industries that continue to expand the workforce's potential in the state. All types of products and services can be found in the state, and corporations like Coca Cola have made the state their choice for planting headquarters. Some of the top industries in Georgia include the automotive industry, energy, agriculture, entertainment, and tourism. With so many industries to choose from, there are many attractive options for managers looking to find gainful employment in Georgia. Here are just a few characteristics that organizations look for in a potential manager.
Employers in Georgia Hire Motivated Managers
A motivated manager is one who goes the extra mile when others are looking just to get by. Today, organizations are looking for leaders who will practice the disciplines that lead to success and be able to share those principles with employees and team leaders to keep a brand running strong for years. A motivated manager is one who uses time wisely and understands you cannot take someone somewhere you are not willing to go. As more and more millennials define the nation's workforce, organizations are finding that this generation needs to be inspired and engaged while at work to produce the best performance possible. A good manager is one who really gets to know teammates, colleagues, and employees to know best how to inspire and motivate them.
Employers in Georgia Hire Managers who Think Critically
The ability to think critically about an opportunity or issue is becoming a lost art form in modern business. With bottom lines and hurry up offenses being the name of the game, slower and structured thinking has taken a back seat to fast-paced decisions. Author and independent business consultant Steve Siebold has defined critical thinking as the ability to observe the facts of a decision by separating all emotion and prejudice from the scenario to make the wisest choice possible. The problem many see with this process is that it takes time and time is something that fewer and fewer organizations are willing to offer their employees. The ability to be a critical thinker comes from education and experience. Experience often teaches us how to make good choices because we can so often make bad ones. Good managers learn from their mistakes and refuse to repeat them in the future. Education is also important when becoming a critical thinker, and the online MBA is a great business degree to train graduate students in this way.
Employers in Georgia Hire Managers who Communicate Well
Teamwork is a vital part of a solid business. Companies spend millions of dollars each year investing in their workforce, and every time an organization loses a disgruntled employee, they lose capital. A good manager is one who will work hard to communicate well so that priorities are understood, and team members feel valued and appreciated. Good communicators are quick to listen and slow to overreact in a situation. This type of behavior prevents many conflicts from taking place within business environments because of hurt feelings and damaged pride. Another excellent feature of the online MBA is that students are often taught within cohort groups, which encourages good communication and solid teamwork. Even with an online format, students are able to interact with one another and work on business-intensive group projects.
These are just a few of the qualities that organizations are looking for in management positions. A mix of professional experience and the pursuit of a degree like an online MBA will speak volumes to a hiring firm.