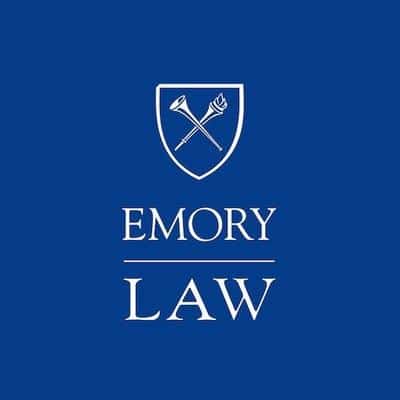 30%
Admissions Statistics | Acceptance Rate
3.8
Admissions Statistics | GPA (Median)
81%
Bar Exam Statistics | School's bar passage rate
72%
Bar Exam Statistics | State overall bar passage rate
79%
Employment Statistics | Graduates employed 10 months after graduation
$115,000
Full-Time Starting Salaries | Private Sector (Median)
$57,000
Full-Time Starting Salaries | Public Sector (Median)
8.3:1
Students & Faculty | Student-to-Faculty Ratio
864
Students & Faculty | Total Students
$57,348
Tuition and Expenses | Tuition
$18,918
Tuition and Expenses | Room and Board
= Average
Founded in the 1916, the Emory University School of Law is one of the most revered law schools in the South with over a hundred year history of educating some of the best lawyers in the country. The original class of students totaled 28 students. Today, the law school enrolls almost 250 students each year and is now considered one of the best law schools in the country. The school is housed in Gambrell Hall, named for a famed Harvard Law graduate who donated the funds to build the school in honor of his parents. The campus is situated in a the Druid Hills neighborhood of Atlanta, several miles north of the downtown center. The school also maintains one of the most important law libraries in the country, housing over 400,000 volumes.
Education
The first year curriculum at the Emory University School of Law is a challenging 32 credit hour offering which includes six core courses from the traditional first year law classes. In their first semester, students also take an introductory course to the legislative and regulatory process as well as a two credit course on legal research, writing, and communications. In their second semester, students continue in their core courses while taking one elective course plus a semester long course in advocacy.
Prior to graduation, students at Emory Law are required to take several additional courses including six credits in experiential education, courses in evidence and trial techniques, and a course in professional responsibility. Graduates must also complete an upper level writing requirement. In their second year, students also complete an internship or externship in their practice area to help narrow their third year focus. During their third year, students work with a mentor to match their final two semesters to their career paths. Students also focus on experiential courses in their final two semesters.
Additional Programs
In addition to its Juris Doctor degree, Emory Law offers a customizable Masters of Law (LL.M) degree which allows students to build on their first law degree with two semesters of additional coursework. Emory Law has several pre-designed LL.M programs: Transactional Law, Law & Religion, Human Rights Law, Vulnerability & the Human Condition, Public Law & Regulation, and Child Law & Policy. Students are also free to create their own program to meet their career and educational goals. The law school offers a joint LL.M degree with the Shanghai Jiao Tong University – KoGuan Law School focusing on comparative law between the United States and the Chinese legal systems.
Emory Law also has a Doctor of Juridical Science degree which is a four year program intended for students who wish to pursue an academic career in the study of law. Along with 8 semesters of course work, students will write and defend their dissertation before receiving their degree.
Finally, Emory Law offers a Juris Master degree for non-lawyers who wish to gain a background in legal theory to bolster their education or careers. The two semester program grounds students in the basics of American jurisprudence.
Career and Career Placement
After graduation, most graduates of Emory University School of Law find full time, long term employment within 10 months of graduation (94% for the class of 2018). Additionally, most of the graduates find jobs that either require a law license or prefer graduates with a Juris Doctor degree (91.5%). Within that subset, the majority of students opted for work in law firms although more students chose law firms with less than 500 lawyers. A large subset of students accepted positions in a government office or in a business role. Although Georgia was the most common place for graduates to work, the state of New York (16%) and California (6.5%) were the next most popular for graduates.
With a staff of eight full time employees, the Career Center at Emory Law offers students a wide range of services to help students both find a job but also tailor their education to cover critical coursework for their chosen practice area. The office organizes on-campus interviews during the late summer and early fall for students in their second and third years. In addition, the Career Center participates in over 20 other additional interview programs. The school also has a dedicated career resource professional to help students secure judicial clerkships.
Experiential Learning/Distance Education
Emory Law offers its students a wide array of experiential learning opportunities including participation in one of their 20 clinical programs, a dedicated curriculum & certificate for transactional legal work, classes in professionalism, a robust study abroad program, and the option for semester long externships in a government or public interest office. Emory Law also offers students the opportunity to participate in the ground breaking Technological Innovation: Generating Economic Results, or TI:GER, program. The program is a collaboration with the Georgia Institute of Technology and focuses on moving innovation from the lab to the marketplace.
Unlike most traditional law schools, Emory Law requires only four semesters of residential coursework which allows for students to finish their final year of law school through remote learning. In addition, Emory Law offers two Masters degrees that are completed through 18 months of online education.
Student Life
Emory Law students enjoy endless opportunities to engage in social and professional life through a host of student run organizations and journals. The law school is housed in the historic Gambrell hall and sits adjacent to the five story law library, one of the most important law libraries in the country. The facility houses a large auditorium and a courtroom that is used for mock trial and moot court.
Emory University is located six miles north of downtown Atlanta, one of the largest cities in the country and one of the most important in the Southeastern United States. The city is full of social life, history, and a rapidly growing film industry. Atlanta's museums are renowned as is its hip-hop music scene.
SEE ALSO