Making the transition from high school to college is a huge rite of passage for any student. It can be an especially steep slope to climb for college students who have learning differences or disabilities. But yes, students with disabilities can go to college and even make it to the top of their class.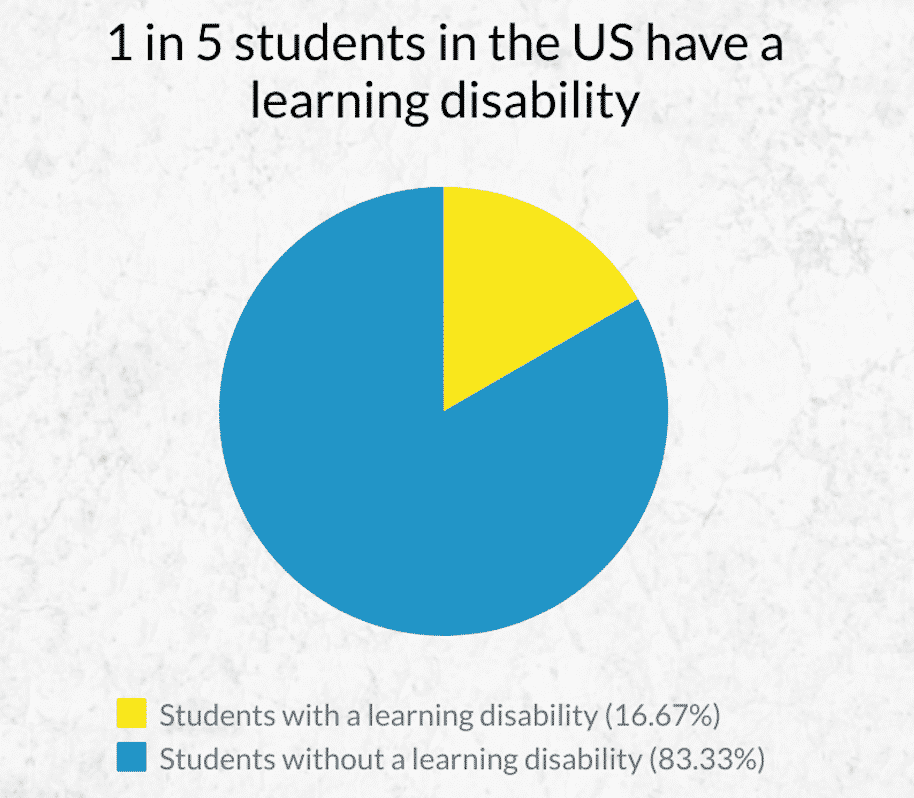 There are so many different kinds of disabilities, but most actually can't be seen on the surface. In fact, a current statistic suggests that one in five youth in the United States has a learning disability, which in most cases is not detectable by sight. College students who are approaching their academic careers in this boat are no less smart than their peers who might learn more easily in a traditional environment. Unfortunately, students with diagnosed disabilities matriculate into four-year institutions of higher learning 50 percent less than their peers, and they complete college only 41 percent of the time. Compared to their non-disabled peers, whose completion is 52 percent, these statistics make it clear that disabled students are not getting what they need to succeed in higher education. Though college for students with disabilities can be a challenge, there are many resources that can make it easier to not only stay in the game but to excel socially and academically.

We created this guide as a toolkit to support students who are navigating college with a disability. Is this you? We hope this set of information and resources helps you find what you need both on and off-campus. College can be such an exciting time, and even with learning differences or a physical disability, there are many ways to embark on a successful academic experience. If you are someone entering or are in college and have a disability, we want you to wear that cap and gown and march to pomp and circumstance, because you got what it takes. We want you to know your rights and what resources are available to you. There are many. Some accommodations might not be the right fit for you and your unique situation. It takes persistence to find the tools that work. Don't give up.
Taking the leap from high school to college is huge. It's not that the safety net shrinks in college, but you might have to work harder to get the support you deserve. The minute you enter college you have to be your own self-advocate in ways your high school was required to do for you. You are also now required to disclose your disability if you want to receive the services that will, in most cases, make your life much easier. Unfortunately, as a result of the stigmas attached to having a disability, many students forgo the process of disclosure and do not receive the accommodations they need to be successful. Sadly, it is only one out of 20 students that actually disclose their disability status in college, for fear of being ostracized. Ultimately, they are the ones that miss out on all of the resources that can make their collegiate experience so much easier and in many cases possible.
Many times students want to start over, and put their disability behind them when entering college and don't disclose until they are bogged down with learning barriers. Generally, they drop out, or they don't disclose and begin receiving services until their second year. In this case, students often struggle to finish their undergraduate degree in under six years. This is why we recommend going through the process to get your needs met before even stepping foot on campus. We hope this guide will make your academic experience a little easier and that you pick a school that you know ultimately has your back.
Legal Resources for Disabled Students
ADA National Network
The ADA National Network brings together 10 regional centers dedicated to educating American businesses, educational institutions, public institutions, and more on the discrimination that disabled Americans face. ADANN works to ensure that all disabled people have the opportunity to work, live, and enjoy life without unnecessary barriers.
AHEAD – Association on Higher Education and Disability
The Association on Higher Education and Disability (AHEAD) brings together educators, scholars, and administrators who are working to provide higher education opportunities to disabled students. In addition to research, data collection, and academic conferences, AHEAD encourages policy change in higher education and legislature.
Black, Disabled, and Proud
Part of the HBCU Disability Consortium and AHEAD, Black, Disabled, and Proud is a listserv connecting educators, researchers, and students to resources. Dedicated to fostering culturally sensitive and appropriate services to black students, Black, Disabled, and Proud wants to ensure that all disabled black students have the access they deserve and the opportunity to graduate.
Collaborative on Postsecondary Education and Disability – UConn
The Collaborative on Postsecondary Education and Disability began at the University of Connecticut in 1984. Originally intended to provide accommodations for disabled students in Connecticut, The CPED is not an internationally-recognized center for education, training, support, and advocacy for college students with disabilities and the educators who serve them.
National Alliance on Mental Illness
The National Alliance on Mental Illness includes more than 600 state and local organizations offering Americans with mental illness programs for support and information. From rights and opportunities for college students living with mental illness, to advice on navigating health insurance for young adults, NAMI is a valuable resource for students.
US Department of Education Office for Civil Rights
Access is a basic right for all disabled Americans, and the Office of Civil Rights is the first place to call for disabled students to learn their rights and file a complaint when their rights are disregarded. The Office for Civil Rights is designed to enforce the terms of the Civil Rights Act in American schools, including racial, gender, and ablist discrimination.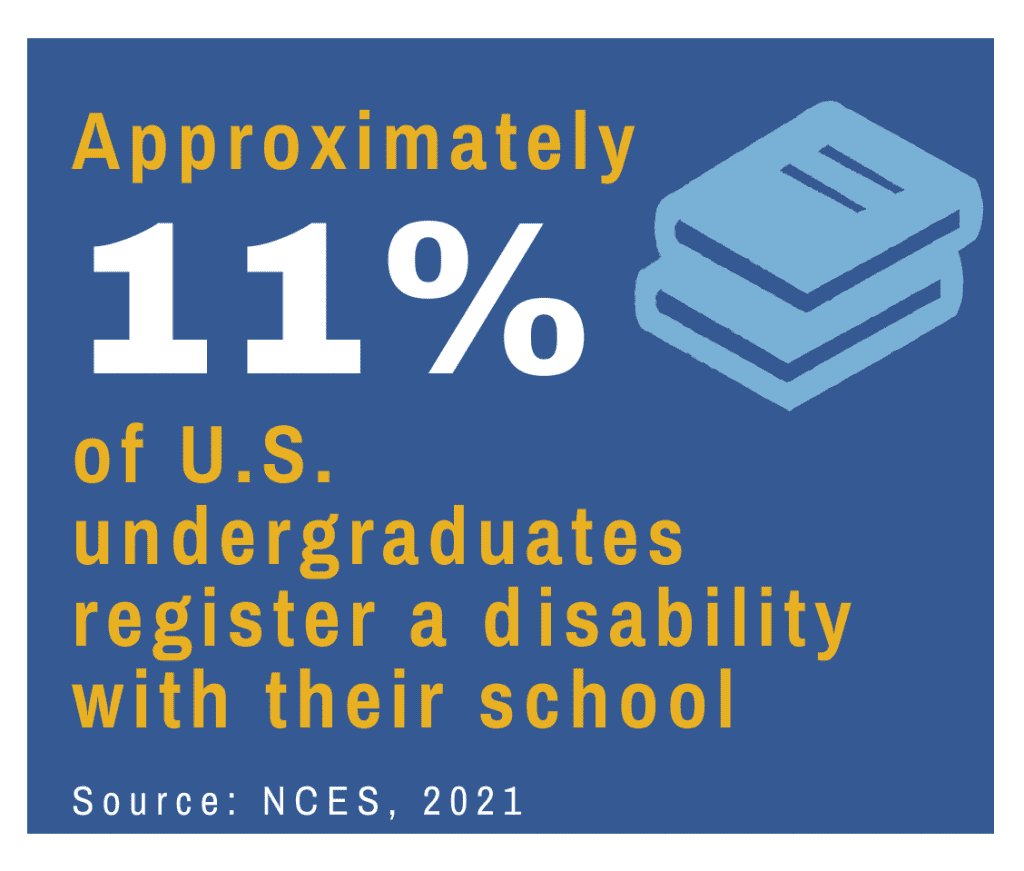 How Disabilities are Legally Defined
There are actually several legal definitions for disabilities. When applying for social security, the definition is pretty specific, though not so helpful for the purposes of education:
The existence of a medically ascertainable physical or mental impairment that can be expected to result in death or endures for a stated period, and an inability to engage in any substantial gainful activity due to the impairment.
Definitions are constantly evolving and changing about disabilities as does research, medical science, and our awareness of how the human body operates. Next year there might be a new definition that fits your experience better.
The Americans with Disabilities Act (ADA) has their own language that states:
The definition of a disability as being: statutory with respect to an individual. Here the term "disability" is taken to mean:
A physical or mental impairment that substantially limits one or more of the major life activities of such individual.
A record of such impairment
Being regarded as having such an impairment
There are many distinct learning disabilities that can impact a student's academic performance. Below are a list of some of the most common among college students:
Auditory Processing Disorder (ADP)- This is sometimes referred to as Central Auditory Processing Disorder and it impacts the way sounds are interpreted by the brain. Someone with this disorder may not recognize where sounds are coming from, or the differences in sounds that have subtle variations. One of the primary challenges of this disorder, as a student, is the ability to block out any background noises, making it very hard to focus in group settings.
Dyscalculia- This is a disorder that makes it challenging to order numbers, make calculations, or do basic equations. People who struggle with this might have a hard time counting or even telling time.
Dysgraphia- This is a disability that impacts the way a person writes and accesses fine motor skills. Handwriting can be a tell-tale sign of this one.
Dyslexia- This is a learning disability that impacts the way someone processes language and reading skills. This can make reading comprehension challenging along with language recall and spelling. Sometimes people with dyslexia struggle to order letters and numbers in the right sequence.
ADD- This can include difficulty staying focused or conversely hyper-focusing
ADHD- Like ADD people who struggle with this have a hard time focusing and staying on task, but the addition of the H (hyperactivity) comes with other symptoms that may include struggles with impulse control and other behavioral issues.
Students with physical disabilities are up against some different struggles, as they have to self-advocate in many cases to ensure their classrooms and other spaces on campus can accommodate their unique physical needs. In most cases, the disclosure process will be a little different because often they are more accustomed to having their disability exposed.
TPSID Program Opportunities
TPSID stands for Transition and Postsecondary Programs for Students with Intellectual Disabilities. You can find TPSID programming in each state in the US. Since they began offering such opportunities on college campuses in 2008, TPSID has invited students to participate in programming on at least 88 college campuses. They have served over 2,800 students with intellectual disabilities.

TPSID was designed exclusively to give academic opportunities to students with intellectual disabilities. These programs live on college campuses, trade, and vocational schools as well as other sites that offer a post-secondary education. One of the primary focal points of TPSID is career and workforce training alongside holistic life and independent living skills. Many TPSID programs are degree or certificate-granting. One of the requirements is that participating students also take part in credit-bearing courses alongside their peers in traditional classrooms. This should consist of at least 50% of their coursework. This rule, however, is not always followed in TPSID programs for a variety of reasons.
When looking into schools for disabled students, exploring TPSID programs first might be a good idea. The fact that TPSID opportunities give students with intellectual disabilities, including Down syndrome and autism, an option to have an immersive experience, can allow for less stigmatization and more possibilities for a normative life and career path in the future.
TPSID programs vary greatly. Some include housing and access to all student life and extracurricular activities. This can even include social clubs and Greek life. Other such programs are less immersive. Below are two examples of differing TPSID program opportunities:
Appalachian State University offers The Scholars with Diverse Abilities Program, which fully integrates participants into the campus community. The program lasts two years and has 11 students at any given time. Fifty percent of the students that have taken part in this program have had paid work while participating. This program results in a Collegiate Achievement Award.
The Bergen Community College offers an opportunity called the Turning Point Program, which is non-residential and also lasts 2 years. This is different from the above program as it is less immersive and more based on vocational training. Students are only in classes with their TPSID peers. All participants will simultaneously engage in volunteer work or have a paid job while getting their education. The outcome of the Turning Point Program is a Certificate of Completion.
Campus Resources for Disabled Students
Access Computing
Access Computing is a joint program from Gallaudet University, Tufts University, the University of California, Irvine, and the University of Washington, dedicated to providing accessible computing to undergraduate, graduate, and other students. In addition to providing resources, Access Computing helps disabled students find internships, professional contacts, and employment opportunities in computing.
Active Minds
Founded in 2003, Active Minds is a peer-to-peer advocacy organization with multiple campus chapters working to destigmatize mental illness and support high school and college-aged students with mental illness. Active Minds is led by student advocates and began as a student club at the University of Pennsylvania; it now reaches more than 600,000 students.
DO-IT – Disabilities, Opportunities, Internetworking, and Technology
The Disabilities, Opportunities, Internetworking, and Technology Center – known as DO-IT – works to provide access to technology for disabled students from K-12 to postsecondary and beyond. Housed at the University of Washington, DO-IT offers programs for students, educators, and administrators.
Mobility International USA
Located in Eugene, OR, Mobility International USA is a global advocacy network dedicated to increasing accessibility for disabled people all over the world. One of MIUSA's missions is international exchange, providing disabled international students the opportunity to study in the US in an accessible environment.
Pacer Center
The Pacer Center is known as "Champions for Children with Disabilities," but their services do not end at childhood. Pacer works to help disabled young adults find the right college for their needs, transition to working life, and live independently with assistive technologies and self-advocacy.
Steve Fund
The Steve Fund offers support and advocacy for young people of color dealing with mental health concerns. In addition to workshops and advice for youth, the Steve Fund provides training and consultation services for schools and colleges, helping educators and administrators learn to better serve disabled students of color.
Think College
Think College promotes higher education opportunities for intellectually disabled young people, including engagement with students and families, working with institutions for policy change, and supporting research.

Associations for Disabled Students
Autistic Self Advocacy Network
The Autistic Self Advocacy Network, founded and run by autistic people, works to promote empowerment for autistic people. Among ASAN's goals is providing support for autistic college students and promoting systemic change at institutional and national levels.
Delta Alpha Pi International Honor Society
The Delta Alpha Pi International Honor Society is a unique honor society founded in 2004 to recognize high-achieving college students with disabilities. With more than 170 chapters, DAP represents both undergraduate and graduate students, and offers scholarships, presentations, and more.
DREAM – Disability Rights, Education, Activism, and Mentoring
Disability Right, Education, Activism, and Mentoring (DREAM) is a national campus-based organization offering exactly what its name suggests – support for disabled students at college. Part of AHEAD and the National Center for College Students with Disabilities, DREAM is student-based and student-led.
Eye to Eye
Eye to Eye is a national organization offering near-peer mentoring, organizations, and online programs for students with learning disabilities and ADHD. Founded and run by people with learning differences, Eye to Eye emphasizes self-sufficiency and advocacy for disabled young people.
National Association of the Blind Students Division
The Students Division of the National Association of the Blind offers advocacy, mentorship, resources, and much more for blind students. Members receive assistance with technology, help advocating for themselves on campus, and training for living independently in college.
National Black Deaf Advocates
The National Black Deaf Advocates organization offers the Collegiate Black Deaf Student Leadership Institute and the Youth Empowerment Summit (Y.E.S.!), two week-long programs for dead black young people to practice leadership, activism, and cultural self-esteem.
National Deaf Center on Postsecondary Outcomes
The National Deaf Center on Postsecondary Outcomes helps deaf young people transition from high school to college or employment at an age when many deaf people fall through the cracks in the system. With personal assistance, online courses, and free resources, the NDCPO works toward Deaf Success.
Youth Organizing
Youth Organizing (YO!) connects disabled young people with volunteer opportunities, mentoring, and self-advocacy through its network of community organizations and resources. Young people who join YO! can access a wide range of resources on disability history, rights, and activism. 
Pursuing Financial Aid
There are many scholarships available that are designed to be used on a college program for students with intellectual disabilities. HEOA is the Higher Education Opportunity Act and has made it so TPSID students, who have an intellectual disability, can now qualify for federal aid that is not loan-based. On the list of non-loan funding options disabled students can often qualify for:
Federal Pell Grants
Federal Work-Study-programming
Supplemental Education Opportunity Grants
Additional Federal and State Grants
On top of this, students with a myriad of disabilities might also be able to access:
Individual training account funds that a One-Stop-Career-Center has set up
Self Support (PASS Plans) given by the Social Security Administration
Medicaid Funding for Community-Based Supports
Federal Loans are also an option to support programs for college students with learning disabilities. There are a myriad of resources that are either disability specific or directed generally towards college students with disabilities that offer funding. Grants are also prevalent that pertain to a variety of circumstances that this demographic might experience.
As far as grants go, disabled college students might also qualify for a variety of federal grant awards. Many of these applications require the prospective students to fill out the FAFSA (Free Application for Federal Student Aid) form online. Some popular grants that may be applicable to college students with disabilities include:

The Supplemental Educational Opportunity Grant
Academic Competitiveness Grant
National SMART Grant
Don't forget, there are specifically colleges for disabled students, which include colleges for students with learning disabilities. Many institutions offer their own funding sources for their student population. For example, Landmark College is on the list, and has been rated by the US News and World Report as one of the Most Innovative Schools in 2020. They have some unique funding opportunities for their students that could tip the scales on whether or not it is a good fit for you.
Scholarships for Disabled Students
1. Boomer Esiason Foundation – Cystic Fibrosis
The Boomer Esiason Foundation offers 15 scholarships of up to $10,000 each to college students with Cystic Fibrosis. In addition to academic quality, character and service, and leadership potential, recipients are chosen based on a written essay.
Deadline: April 2022
2. ABBVIE Immunology Scholarships – Inflammatory Conditions
AbbVie Pharmaceuticals offers a scholarship program for college students living with chronic inflammatory conditions such as Crohn's disease and rheumatoid arthritis. Recipients can receive $5000 for an associate's degree, $10,000 for a bachelor's, and $15,000 for a graduate degree.
Deadline: December 2021
3. American Council of the Blind/American Foundation for the Blind – Visual Impairment
The ACB and the AFB have come together to offer a variety of scholarship opportunities for students with visual impairments. Applicants must be legally blind and students must be enrolled in a technical school, bachelor's program, or graduate program. Awards range from $2000 to $7500.
Deadline: February 2022
4. Council of Citizens with Low Vision International – Visual Impairment
The CCLVI offers the Fred Scheigert Scholarship Program, which provides 3 prizes in the amount of $3000 for college students with low vision. Applicants must provide documentation of their visual impairment as well as transcripts and letters of recommendation.
Deadline: March 2022
5. Disability Care Center – Physical or Mental Disability
The Disability Care Center offers a $500 scholarship for students with any sort of documented disability that affects their daily life. Students must be enrolled in an accredited program and provide a written essay about overcoming the obstacles presented by their disability.
Deadline: August 1 (annual)
6. Guthrie-Koch Scholarship – PKU
The Guthrie-Koch Scholarship, named for two pioneering doctors studying phenylketonuria, is offered for college and technical school students with PKU. The scholarship is available to undergraduate students in an accredited college, university, or technical school.
Deadline: February 2022
7. Lime Connect – Multiple Scholarships
The Lime Network offers numerous scholarship opportunities for students with disabilities through its partnerships with organizations like Google and BMO Capital Markets, as well as their own fundraising efforts.
Deadline: Varies
8. Microsoft Disability Scholarship – General Disabilities
Microsoft offers a Disability Scholarship for disabled students (including cognitize, vision, auditory, and others) planning for a career in technology. Students must be enrolling in a college, technical school, or university and include three essays. Awards are $5000 per year for four years.
Deadline: March
9. Ruby's Rainbow – Down's Syndrome
Ruby's Rainbow offers a unique scholarship for college students with Down's Syndrome who are enrolled in an accredited college, tech or vocational school, or other post-secondary institution. Awards range from $1000 to $10,000.
Deadline: January 2022
10. Sertoma Scholarship for the Hard of Hearing or Deaf
Sertoma has offered a scholarship for deaf and hard of hearing students since 1994. Students must be enrolled in a full-time bachelor's program and have at least 40db hearing loss in both ears to qualify.
Deadline: March 2022
11. UCB Family Epilepsy Scholarship Program – Epilepsy
UCB offers generous scholarship opportunities for college students with epilepsy, their family, and their caregivers. Awards include 30 $5000 scholarships, the $10,000 Epilepsy Leader Scholarship, and the $10,000 Joe D'Souza Memorial Scholarship.
Deadline: March 2022
Navigating Campus Disability Services
This might be the most important section of this guide, as navigating campus with a disability has the possibility of presenting a learning curve in itself. The National Center for Learning Disabilities offers many resources for students and faculty who are collaborating on the support for students with a variety of disabilities. This includes physical and learning disabilities. An amendment to the Higher Education Opportunity Act (HEOA) came from the National Center of Learning Disabilities and is called the Rise Act. The Rise Act was instituted in 2017 in an effort to better the lives and potential to thrive in higher education for non-traditional students. Three distinct issues that are focal points in this official piece of legislation include:
Information- which ensures that students and their parents have all of the necessary knowledge in regard to disability services on campus, making services more accessible and less stigmatized.
Accommodations- This part of the act requires college campuses to take IEPs and 504 plans from students to show evidence of their disability when they are seeking services.
Training- This aspect is for faculty and staff on campus to have access to a technical assistance center that offers learning opportunities on how to support their disabled college students.
The Rise Act came into fruition as a result of the many complaints from students and parents about how hard it was to access services. There were also many expressed frustrations about how unequipped faculty and campus staff were in terms of understanding the necessary accommodations that can aid in the success of students.
The Rise Act has made it easier than it has ever been before for students to have access to the appropriate accommodations and for their support teams to know how to provide the necessary resources. However, there is still work to be done, and students are still required to self-advocate in order to get their needs met.
Some tips for navigating this aspect of your education:
Prior to stepping foot on campus know where the Disability Resource Center is and what they have to offer. It does not hurt to make contact with a staff member at the center, and introduce yourself over the phone. This way when you get to campus, there is someone who is expecting you. This might make it easier for you to sit down with this contact when you arrive and go over a variety of support tools that might apply to your circumstance. There might be some trial and error about what resources are effective for your specific disability, because in college there will likely be different offerings than those that your high school provided.
An interesting statistic is that 94 percent of students with learning disabilities received appropriate accommodations when they were in high school. The staggering counter statistic is that only 17 percent of those same students received accommodations for learning disabilities in their postsecondary education.
The kicker is that 43 percent of the students that did not access the available support services in college relayed back to the study that they regretted not accessing the supports that were available on campus.

Research on Attending College with a Disability
30 years after Americans with Disabilities Act, college students with disabilities say law is not enough
Disabled college students say there are still not enough resources and accommodations for on-campus students with disabilities. NBC News does an investigative report on what things are like on college campuses, and what still needs to change.
Academic Ableism
Author Timothy Dolmage argues for the centrality of disability to the college experience and demonstrates the need for higher education institutions to increase inclusiveness to improve the academic life of disabled and non-disabled students.
Influence of Social Factors on Student Satisfaction Among College Students With Disabilities
In this study, authors Allison R. Fleming, Kathleen Marie Oertle, Anthony J. Plotner, Jonathan G. Hakun determine the importance of the college social experience for disabled students, finding a sense of belonging to be as important as accommodations to student success.
National Center for College Students With Disabilities
The National Center for College Students with Disabilities is a federally-funded research center focused on research and data concerning disabled college students. The NCCSD provides information for students, their families, educators, administrators, and any other interested parties.
Persistence in higher education for students with disabilities: A mixed systematic review
Authors EL Kutscher and ED Tuckwiller study factors that influence educational persistence in disabled students, including factors such as accommodations and social engagement, to provide a quantitative and quantitative basis for policy.
Self-Determination and Academic Success of Students With Disabilities in Postsecondary Education: A Review
Authors Song Ju, PhD, Wen Zeng, MS, and Leena Jo Landmark, PhD, provide a sweeping literature review that discusses published research on academic success for college students with disabilities.
Society for Disability Studies
The Society for Disability Studies is a scholarly organization made up of researchers in the social, political, and cultural issues of disability. They offer a large range of resources as well as a listserv for researchers.
List of Accommodations for Disabled Students
There are so many new developments in adaptive technologies and even progressive legislations to make college easier for students who have a disability. Many learning differences have a success rate for similar accommodations. Some things to consider requesting for ADHD, Dyslexia, and a number of others include: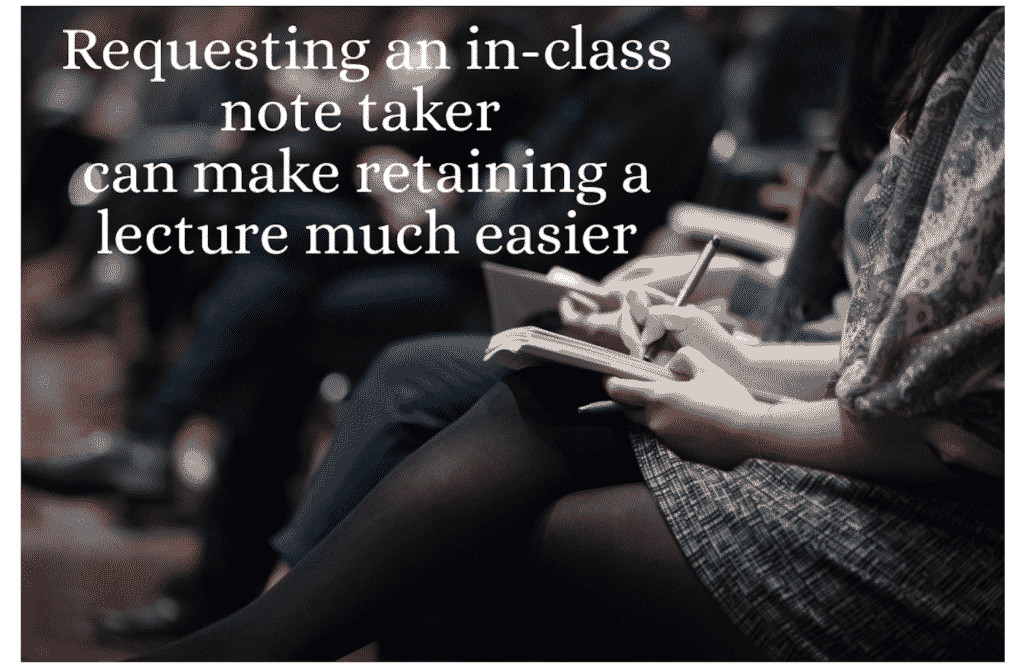 More time on tests- often it is time and a half that students with a variety of disabilities receive on tests. If you are hoping to get this accommodation on graduate school exams such as the GRE, GMAT, MCAT, LSAT, you must already have a record of receiving this during your undergraduate career.
An in-class notetaker- this is an anonymous service, so you don't have to worry that the rest of the class knows you are receiving this support.
An alternative location for testing- this is helpful for students who need complete quiet and minimized distractions while test taking. Some students may need to read the questions out loud, and require privacy to do so.
Having faculty members write out all class instructions
Recording permissions for lectures. This often comes with access to recording equipment from the Student Disabilities Services Office
A reduced course load that can still count as full-time enrollment
Altered test formats that may include oral test taking
More and more there are adaptive tools available for students with autism and other disabilities. Some helpful options include:
A website called Appy Autism designed entirely to explore the different apps and technologies developed specifically for students with autism.
Other assistive technologies include Dragon Dictation which enables students to speak their notes, and even their papers instead of typing them. They can then go back and edit the text accordingly. This is helpful for students with autism as well as supporting students with a myriad of other learning disabilities.
Staying organized is important for any college student, but is especially critical for those who have autism among other learning disabilities. A google calendar is a great resource. It is easy to follow and is also accessible to many students because of the ubiquity of google. The shareability of a google calendar also makes it easy to stay accountable to other people.
Students with autism often have unique relationship to time, and do better when they have a tool that allows them to show time pass. A tool called The Timer is popular among students with autism and other learning disabilities.
A bigtrack trackball is a good resource for students who struggle with motor skills and need something a little more ergonomic than a traditional mouse.
Some disabled college students benefit greatly from communication adaptive software. This can include an assistive learning app called tobbii dynovox
Many disabled students have a hard time reading without listening along. Audible.com is an excellent resource for those who do better listening to texts.
Something as simple as a touchscreen monitor can make all the difference for students who find it easier to use their finger or stylus to navigate websites instead of a mouse or trackpad.
Other important accommodations can include larger seats that are accessible to different bodies, or places wheelchair users can park and still see the board and participate actively. Accessible bathrooms and living accommodations should be obvious, but in some cases still need to be fought for.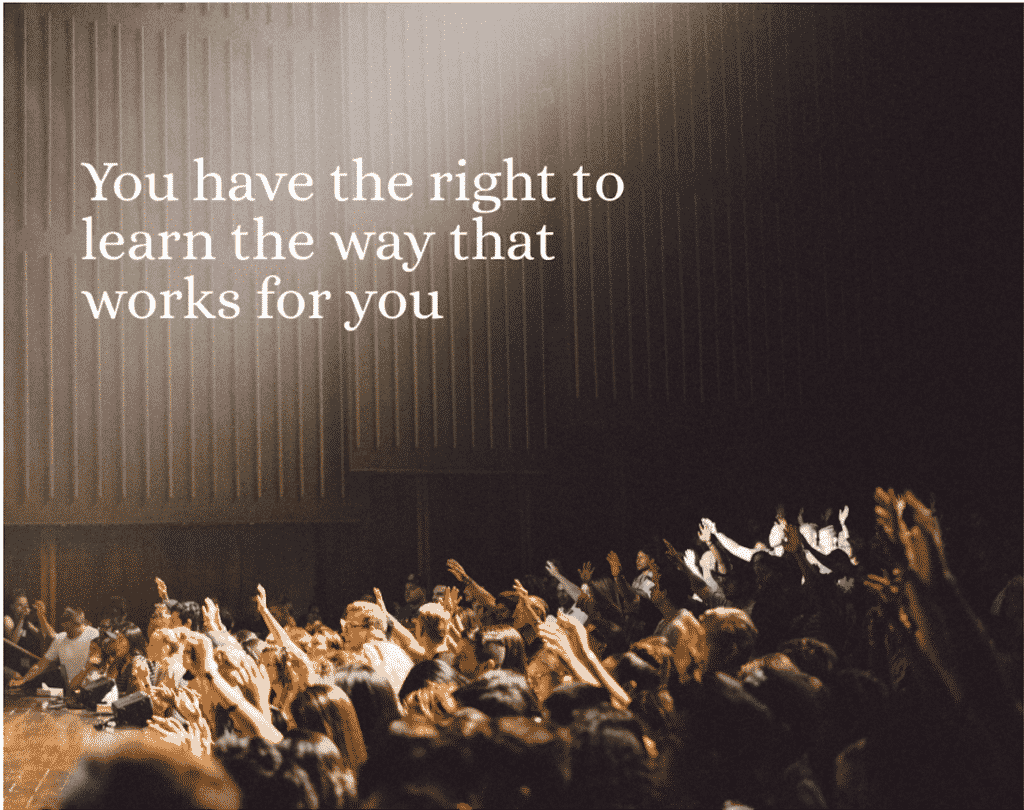 One of the most important skills to have as a college student with any disability is to know you deserve accommodations to make your education easier and in some cases possible. Along these lines it is critical to know your rights, because you have the right to learn without stigma attached to your disability. Research shows that resilience, persistence, and self regulation are critical traits or skills to take into an academic setting with a disability. Having the necessary support can make this experience so much easier. This can include parents and family members, but also therapeutic supports that may include talk therapy, and even access to appropriate community groups.
It is important that students with disabilities are able to experiment with a variety of accommodations to ensure they stay in school. Unfortunately, so many students drop out as a result of frustration and the consequential low self esteem of what feels like failure. Certainly, institutions of higher learning must be accountable to students who require accommodations, though the students themselves are responsible for making sure they access what they need. This includes seeking out the appropriate support in service of their education.
Related:
What if My College Isn't ADA Compliant?
What is a TPSID?
Can I Go to College with a Learning Disability?