Rock stars are generally thought of as people who threw away their textbooks and picked up the guitar because the system couldn't handle their ripped-up jeans and long hair. Until a college starts offering courses like Hotel Room Trashing 101 or Advanced Golden God Posturing, we're probably always going to have that impression. But contrary to popular belief, many musicians didn't only destroy it on stage, but also in the classroom. There's a wildly known correction between math and music so a surprising number of rock and roll lifers actually hold a master's degree and even Ph.Ds in subjects like science and math.
Recommended Online Colleges & Universities
Explore our featured online programs to find the right match for you today.
Ranking Rock's Most Famous Musicians with College Degrees
While a lot of bands met in college, there's a very long list of rock artists who dropped out to pursue stardom. This list is about the people who finished their degrees before the arenas called to them, or who made a second go of the college life after stardom. The College Consensus ranking of the Top 10 Rock Stars with College Degrees isn't meant to be an authoritative list; we're mainly just interested in highlighting the alma maters of some of rock's more well-read and accomplished denizens. There are doctors and scientists and experts of all stripes in the Top 10, including some that might be surprises.
Rock stars are ranked according to the Consensus Score of their graduating institution.
1. Rivers Cuomo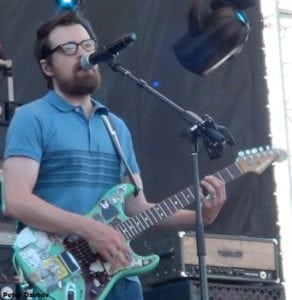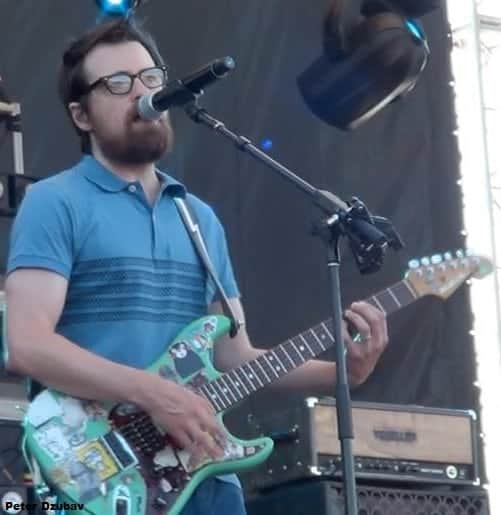 Rivers Cuomo Graduated from Harvard University91 in 2008 with a bachelor's degree in English. Burnt out after the success of his band Weezer, Cuomo decided to relax by enrolling himself into one of the most prestigious schools in the country. Nothing says vacation like the pressures of a 300-year old Ivy League education. River attended school pretty late in his life and after releasing several successful albums in the nineties because college is like a revolving door that one could always decide to walk back into.
River didn't attend college right after high school. Instead, he went to L.A in search of fame and fortune like so many other brave souls armed with a guitar and hope. However, unlike most people River managed to actually accomplish something other than draining his parent's trust fund. Although the band he moved there fell apart faster than a burrito from chipotle, he found a job at Tower Records and listened to "basically everything that was released at the time." He began writing music that would later show its face in Weezer's first album, which would become certified gold on December first, 1994 and platinum on January 1, 1995, with sales over a million.
However (as his songs attest) Cuomo is also a prodigy of negative thinking. He quickly grew tired of the monotony and loneliness of touring and developed an inferiority complex about his music saying " I just thought all my songs were simplistic and silly, I wanted to write really complex beautiful music." Cuomo's depression would only become compounded by a surgery he received in 1995 to extend his left leg, which was 44mm shorter than his right. The surgery was extensive and painful and would leave river bedridden full of painkillers and unable to write music. Around his time Cuomo attended Harvard for the first time to study classical music but dropped out of school to return to the band and channel his misery into the cult classic album Pinkerton.
Highest Degree: Bachelor's
2. Tom Morello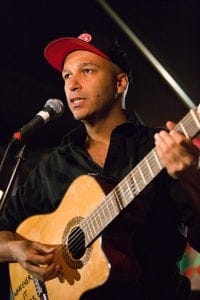 Tom Morello graduated from Harvard University91with a bachelor's degree in political science. That should come with no surprise, since he was the lead guitarist of one of the most politically vocal and active bands of all time, Rage Against the Machine. For Morello, music and activism have always been intertwined. He saw music as tool that could be used for moral and political progress. Even the band he started in high school had song titles like "Salvadorian Death Squad.''
Being political is a tradition in Tom's family. His mother Mary Morello started The Parents For Rock and Rap organization, which is an anti-censorship lobby. His father Ngethe Njoroge was a Kenyan freedom fighter and his country's first ambassador to the U.N. So studying political science and building a shantytown in the Harvard courtyard to protest apartheid were just his way of continuing the family tradition. Since Morello's weapon of choice for fighting the man was his guitar, he practiced with it religiously. While at Harvard he played his guitar seven to eight hours a day. It paid off since, after college he moved to Los Angeles and became the lead guitarist for Rage Against The Machine, making his mark as one of the most innovative and influential guitarists of his generation. Rage, as well as Morello's band Audioslave, received multiple Grammy nominations and wins, and have sold more 30 million albums sold worldwide. In 2006 Tom received the Eleanor Roosevelt Human Rights Award for his work supporting labor rights movements across the country. Some people say you have to sell out your ideals to make it in show business, but Tom Morello isn't selling anything – he's speaking truth to power.
Highest Degree: Bachelor's
3. Tom Scholz
Tom Scholz received a Master's in Mechanical Engineering from the MIT93 in 1970 and worked for Polaroid Corporation as a senior design engineer. Tom already had many major accomplishments under his belt before even starting the legendary band Boston. White collar worker by day and rocker at night, during his time at Polaroid Scholz began recording demos in his home studio, his real passion. Scholz eventually became good enough in secret for his demos to attract the attention of Epic Records. Epic would go on to sign Scholz and singer Brad Delp to a recording contract.
The songs that Scholz crafted in his basement would go to be released in Boston's self-titled debut. The album was released in 1976 and became the biggest-selling debut album by any artist up to that time. Yet Scholz's perfectionism knows no bounds and he was quite unhappy with the album, claiming that some songs were only released due to pressure from the record company. This has been a crucial part of Scholz's process from the beginning. When creating songs in his basement he would record for hours on end. He kept recording, erasing and discarding tapes all in the quest to find the elusive perfect song.
This obsession with perfection would lead him not to release an album for another ten years. When the album "Third Stage' was finally released it was certified 4x platinum and the song "Amanda" reached the top of the singles chart, so there's clearly a method to his madness. As if his list of accomplishments wasn't enough already for the man, he invented the Rocketman portable guitar amplifier. The amplifier offers four guitar effects: compression, distortion, stereo chorus, and echo – the only way to capture the iconic "Boston Tone" without years of experimentation with amps, microphones, and equalizers.
Highest Degree: Master's
4. Art Garfunkel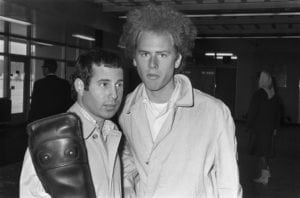 Art Garfunkel received a Masters degree in Mathematics Education from Columbia University89in 1967 after earning a bachelor's degree in art history from the same school in 1965. Following the strange habit of other musicians, Art chose to go to school and receive his master's degree at the height his band Simon and Garfunkel's success. Many musicians return to higher education after their success, perhaps because ambition is a beast that is never satisfied. The same feeling of inadequacy that leads Art Garfunkel to the top of the charts, led him back onto a college campus.
Art Garfunkel is most known for his role in the famous duo Simon and Garfunkel. The duo goes way back, meeting for the first time during a school production of "Alice in Wonderland' in sixth grade. Their bond would form into an intensely successful career that neither of them could have foreseen while sharing snacks at lunch. After performing under the name "Tom and Jerry" for a number of years, the duo finally found success with their real names. After their first album, Wednesday Morning 3 am was neither a commercial or critical success, their bond was unable to withstand the test of failure and the pair broke up. Fortunately for the people of the sixties their producer, Tom Wilson, saved the song "The Sound of Silence" from the record, remixed it, and made it a hit. The success of the song pumped newfound love and trust into the relationship and the pair got back together again. The duo would go on to record four more albums, including The Sound of Silence and the hugely successful Bridge Over Troubled Water.
The pair once again came to a crossroads when they had different ideas of what do with their success. Garfunkle chose to go back to school and Simon chose to pursue other musical projects. They have joined forces for reunion tours, including one at the which culminated in a record-breaking free concert at the Colosseum in Rome that drew 600,000 people. Folk music pioneer, musical genius, and mathematician prove the only thing more impressive than Art Garfunkle's afro is his mind.
Highest Degree: Master's
5. Greg Graffin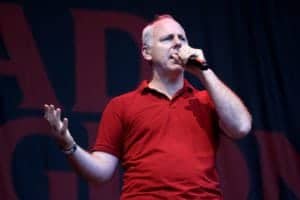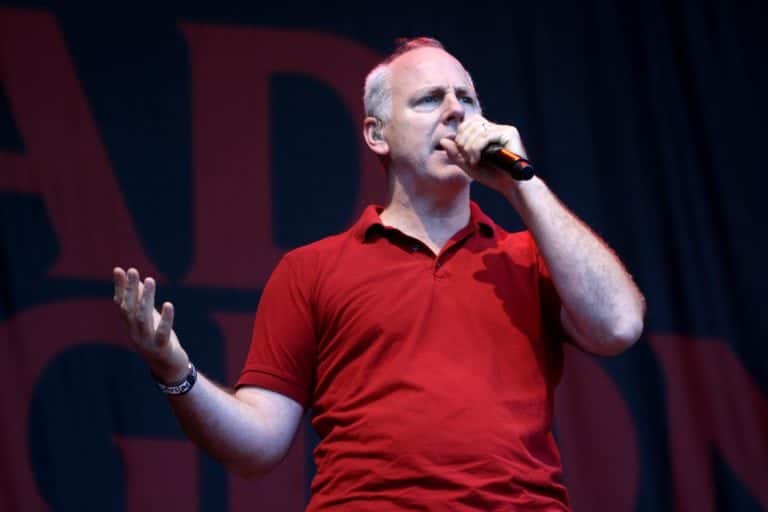 Most professors play golf in their free time; Greg Graffin sings for one of the most influential punk bands of all time. Greg Graffin is a professor at UCLA89 and lead singer of the band Bad Religion. Graffin started the band in high school, then double majored in anthropology and geocology even as Bad Religion began to take off. He also went on to earn a master's degree in geology from USC and received his Ph.D. from Cornell University91, all while screaming against the man at night. According to Graffin, science is linked to punk rock: "Science is the first expression of punk, because it doesn't advance without challenging authority. It doesn't make progress without tearing down what was there before and building upon the structure."
Greg Graffin was originally a straight-laced kid from Wisconsin until he got his first ear full of punk at a concert and was forever converted to the new way of life. He found himself obsessed with the energy and rage punk rock contained. He immediately gathered his fellow outcasts and started the band. Bad Religion was self-reliant since it's inception. They fashioned together their own posters and flyers to promote their shows and borrowed money from one of the band member's fathers to rent their own studio. In 1980, Bad Religion was featured on KROQ, and it was Greg Graffin's clear vocals and erudite lyrics that announced their arrival to Los Angeles' hardcore punk scene.
Their first two albums were an instant success; however, an internal civil war about where to take the band artistically arose and the band broke up in 1985. Bad Religion came back the year with Greg Graffin as the only original member. As the songwriter for the band, Graffin provided the articulate, politically charged lyrics that would carve out a place for Bad Religion in the world of punk rock. Until Bad Religion hits the road again, Graffin walks the halls of Cornell, lecturing on evolution and probably never even belting out the lyrics to "American Jesus."
Highest Degree: PhD
6. Jim Morrison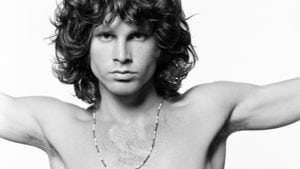 Jim Morrison's first love wasn't music – it was actually film. After taking a number of classes at Florida State University76, Morrison packed up everything he had and headed to the West Coast to take major in film at UCLA89. He especially enjoyed taking film classes because at that time film was a new discipline, so there wasn't any established authority to tell him what to do. According to Morrison, in film school 'the student knew as much as the teacher.'' Maybe that's why, against all odds, Morrison actually graduated in 1965.
If Morrison had never attended UCLA, the world may have never had the pleasure of hearing The Doors – that's where Jim bumped into his future bandmate Ray Manzarek. Their friendship would later blossom into one of the defining bands of the sixties and destroy any plans that Jim had of becoming a filmmaker. That's the job of college after all: to open your mind to new opportunities and people you would have otherwise never met.
Jim Morrison's other intellectual pursuits included poetry. In fact, he and his bandmates decided to name the band The Doors in reference to a quote from a nineteenth-century English poet named William Blake (1757-1827) "If the doors of perception were cleansed every thing would appear as it is, infinite." In 1970 he even published two volumes of poetry: The Lords/Notes on Vision and New Creatures. Unfortunately, the only thing he loved more than poetry was drugs and alcohol, which would lead to his untimely death in 1971 at age 27. During his short time here he became lead vocalist for one of the most important bands of the 1960s and become a forever legendary pop culture icon. His life, much like the sixties was an exciting evolutionary flash that was short but could never be forgotten.
Highest Degree: Bachelor's
7. Milo Auckerman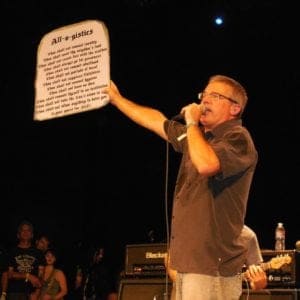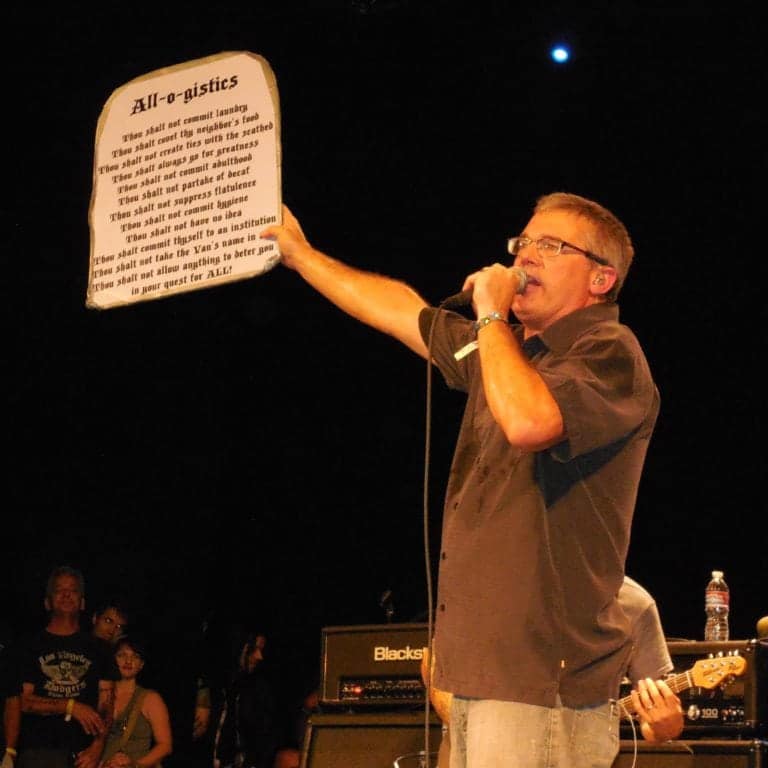 Milo Auckerman received a Ph.D. in Biochemistry from University of Southern California87. Milo is a man of two loves: genetics and punk rock. His internal struggle over which path to choose was forever immortalized in the Descendents' debut album Milo Goes to College. The title of the album was inspired by Auckerman leaving the band to study biochemistry. An academic prodigy in high school, Auckerman's parents slept easily without the fear of their child coming home with dyed hair, tattoos, and plans for an unstable future.
Unfortunately for Aukerman's parents, Milo loved to defy stereotypes and started a punk rock band with some of his friends – the Descendents. The formative pop-punk band forever broke the hardcore-era stereotype of punk rock being reserved for tough, tattoo-riddled meatheads; in fact, according to Milo "many nerds ended up turning to punk, because it was a way of releasing some of that frustration that they had for being nerds'.' He even refers to punk rockers as "champions for nerds."
Throughout his career, Milo seamlessly bounced between punk and science. He even found that they complimented each other. He used music to escape from the boredom of the lab and the lab to escape the chaotic lifestyle of music. This career multitasking could only be maintained for so long, though. When Milo eventually left his genetic research position at Dupont and chose to pursue making music full time, the band released their seventh studio album " Hypercaffeine Spazinate" to celebrate.
Highest Degree: PhD
8. Dexter Holland
Dexter Holland graduated from the University of Southern California87 with a Ph.D. in Molecular Biology in 2017. It wasn't a late-career fluke, but the continuation of a process – Holland had paused his Ph.D. when his band The Offspring hit it big. Dexter also received a master's degree in molecular biology and a bachelor's degree in biology from the University of Southern California. The most thing that matches his passion for school is his passion for music. He once described mathematics as 'just as exciting as punk rock." His love of hardcore groups like Agent Orange, Bad Brains, and the Sex Pistols led him away from the typical path of success and down the dark and winding road of punk rock.
Dexter's career in music started when a riot at a local punk show inspired Holland and his teammate Greg Krisel start their band and contribute to the chaos. They started a band called Maniac Subsidiary, which would later become The Offspring. They felt out of place in their early days, screaming rage-filled songs in a garage in beautiful Garden Grove California. Like most artists, their path involved a decade of crawling their way slowly but surely through the underground music scene. The band finally saw the sweet light of success with their debut album SMASH which sold more than six million copies. Their unique sound and social commentary brought them to the top of MTV lines and top ten radio. Moving from the indies to Columbia might have gotten them labeled "sell-outs," but there's nothing more punk rock than – a PhD in Molecular Biology? Yeah.
Highest Degree: PhD
9. Sterling Morrison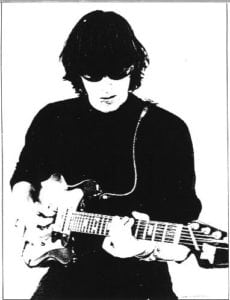 Being the founding member of one of the most famous counter-culture bands of all time tends to overshadow your other accomplishments. Sterling Morrison, guitarist for the Velvet Underground, also received a Ph.D. in Medieval Literature from University of Texas83 in 1986. This return to education was inspired by the Velvet's bitter breakup in an airport in Houston. Going back to school after leaving the band is ironic since Morrison actually joined the band in college. During his first attempt at higher education at Syracuse University, he met his soon to be future bandmate Lou Reed. They began recording "home tapes." The scruffy college students jamming together in a cramped New York apartment probably didn't realize that the songs they were recording would become the foundation of the single most influential album of the 1960s, The Velvet Underground and Nico.
The band was by no means successful, but they made an impact on the world of music. Brian Eno even once famously said that although the band only sold 30,00 records in its first five years, everybody who bought one started a band. The band's sound was like nothing else released before. By combining classical music, avant-garde noise, and Reed's Beat-inspired poetry, they managed to create a whole new genre which both fascinated and scared critics of their time. In fact, "Verve and MGM didn't know what to do with The Velvet Underground and Nico because it was so peculiar," Paul Morrissey once said: "They didn't release it for almost a year." Their strange and provocative nature caught the eye of artist turned impresario Andy Warhol. Warhol quickly took the group under his wing and let them become the house band for the Factory.
Like most pioneers, the Velvet Underground wasn't popular in their time; it took a generation, and the cultural ascent of punk rock, to earn the band the recognition it deserved. In 1996 the band was put into the Rock and Roll Hall of Fame, and in 2004 The Rolling Stone named the group number 19 on its list of "100 Greatest Artists of All Time." Their musical experimentation, controversial subject matter, and nihilistic attitudes would serve as a template for future musical movements, such as punk rock and New Wave music.
Highest Degree: PhD
10. James Williamson (The Stooges)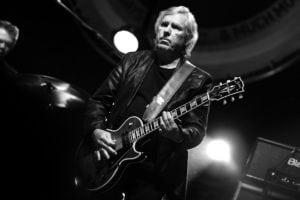 Believe it or not, one of the primary architects of the sound that would one day be known as punk rock – James Williamson, lead guitarist of The Stooges – was also one of the movers and shakers of Silicon Valley – and his coworkers mostly never knew they were in the presence of punk rock greatness. After an adolescence in rock bands and some mild juvenile delinquency (including getting kicked out of the house for refusing to cut his hair), Williamson joined Iggy Pop's struggling band The Stooges in 1970, bringing a pure, uncut injection of sonic viciousness to a band that was already the loudest, raunchiest, and most out-of-control ensemble ever put together. For the first time, The Stooges (Iggy and the Asheton brothers, Scott and Ron) sounded tight, and Williamson immediately slid into a leadership position, co-writing all of the songs on the band's last album, Raw Power, and influencing multiple generations of rock guitarists in the process.
Sadly, it was not to last – The Stooges were The Stooges, and in 1973 they broke up, messily (in a concert documented on the rawest bootleg ever pressed, Metallic KO – in which beer bottles are regularly heard smashing on the equipment). Williamson tried to salvage Iggy, then moved into producing for a stint. But when the first personal computers started appearing on the market, Williamson was hooked. He went to Cal Poly Pomona74, became an electrical engineer, and moved to Silicon Valley in 1982. There, he spent a long career, eventually becoming a VP at Sony, where he was part of the team developing Blu-Ray technology. Few ever knew about his former life, though his son once thought it strange that his father, hearing Nirvana for the first time, offhandedly said, "I invented all that."
Williamson reunited with a reformed Stooges in 2009, playing festivals for adoring crowds before retiring the band again in 2016 after the deaths of both of the Asheton brothers.
Highest Degree: Bachelor's
Honorable Mention: Brian May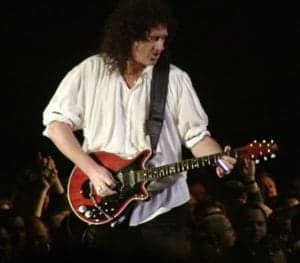 Brian May is the lead guitarist of one of the most famous bands of all time, Queen, but his pride and joy is his Ph.D. in astrophysics. Brain May's achievements are almost as long as his hair. His knack for creating took root at an early age – he even handmade his first guitar out of scrap wood and raw ambition. May's intelligence and creativity originally led him to astrophysics at London Imperial College, where he received a bachelors degree with honors in 1968.
His passion for music soon outgrew his passion for astrophysics, and in 1971 Brian walked away from completing his Ph.D. to hit the road with Freddie Mercury and the boys. A mere two years later the band released its first album which went gold and won them a following in both the United Kingdom and the United States. The band owes some of its success to May's knowledge of physics. Using what he knew about sound waves, he created echoes that amplified the stomping and clapping section of the song, creating the illusion that the sounds were coming from a huge crowd of people. It was this combination of talent and science that created a feeling audiences had never felt before.
After a four-decade reign at the top of the charts, May decided to return to his first love, astrophysics. He returned to school and completed his Ph.D. in 2007. A true Renaissance man, May continued to do impressive work in the world of astrophysics. In 2015 Brian went to work with other astrophysicists to analyze data from the Pluto New Horizons probe from NASA. A legendary musician, scientist, and author Brian May is living proof that you can totally pull off a double major.
Highest Degree: PhD
*It's a super honorable mention, since Brian May might be the most impressive of all, but College Consensus does not cover colleges and universities in the UK.
Recommended Online Colleges & Universities
Explore our featured online programs to find the right match for you today.
Related: