Before we dive into uncovering college experiences and interventions for students with visual impairments, let's first define:
What is a visual impairment?
These three tiers are a good way to get oriented:
Visually Impaired: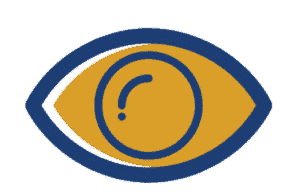 This is often known as simply 'low vision.' Lack of visual acuity is primarily what defines visual impairment, as noted by The Royal Institute for Deaf and Blind Children. Generally, we are talking about 20/70 vision or below, which impacts clarity of vision, sharpness, and contrast.
Legally Blind:
This primarily means 20/200 vision or less in the eye that sees better. This term can also be referring to any vision loss that can qualify a student for special education, accommodating devices, or specialized job training.
Total Blindness:
The American Foundation for the Blind defines total blindness as an inability to see anything, which includes both eyes.
Now, the statistics on individuals with visual impairments show that even though 42% of blind or visually impaired people are in the workforce, there are only 15% who have completed a bachelor's degree. Another statistic, as of 2015, is that 29% of blind or visually impaired adults are living below the line of poverty. It is clear that there are distinct struggles this population is forced to encounter in the classroom. Students with physical disabilities in general have a variety of barriers to overcome as they navigate a college education. Clearly, the aforementioned statistics are staggering, and the response needs to be more urgent around making sure visually impaired students are able to have what they need to thrive in an academic environment.
Often visually impaired students have had to learn how to be students with their disability for the majority of their lives. What this means is the transition to college is going to bring unique challenges, but they already have a background in learning accommodations. Generally these students are already well versed in a range of adaptive technologies that they have decided work for them, and can carry that over to their college career. The transition from high school to college, however, is a good time to begin meeting with a counselor, whether it be in the community or on campus. An academic coach or a career counselor could fit the bill here, and act as a support for the student to help them structure their academic experience accordingly. This can include creating a degree program that fits their career goals, finding resources on campus that speak to their interests in general, and support learning about current adaptive technologies and accommodations.
Social life for blind or visually impaired students on campus can be especially challenging. In 2015 USA Today put out an article called Students that are Blind Face Greater Challenges on Campus. This article forces the seeing community to think about what it's like to be at a party and not have access to all of the physical social cues we use to communicate. This can include eye contact, seeing the ways someone is looking at a watch and applying that to the idea that they probably have somewhere to rush off to. Blind or visually impaired students don't have the benefit of the primary ways we communicate, which can make it more challenging to build connections with non-visually impaired peers. That being said, isolation can contribute to academic struggle and even drop out rates for visually impaired students.
Experts in the field of disability studies suggest that one of the best ways to integrate blind and visually impaired students better in a classroom setting is by employing the principles of Universal Design. This basically brings the concepts of accessibility to the table from the beginning of structuring a lesson or even as far back as drawing the architectural designs for the classroom or building. Strategies such as these eliminate the need for accommodations later, because all learning and physical differences were already considered in the design stage. Because this is not always possible, creating and making accessible the best accommodations and adaptive technologies for visually impaired students is the next best alternative.
This can include:
Modifications to course materials that account for the needs of each individual student.
Encouraging and making available, for visually impaired students, the option to use alternative formats for exams and classroom presentations
Ensuring students have accessible and adaptive options for dorm rooms and also classroom settings, including labs and student life resources
Ensuring that visually impaired students will have access to alternative forms of classroom notes
Offering a variety of counselors and a team of support staff to help visually impaired students navigate campus resources as well their emotional needs
Offering a range of assistive technologies and apps
There are many important ways to support visually impaired college students, and it is the responsibility of the entire campus community to make sure they are treated with respect and have what they need to succeed.