In recent decades, many people felt that it was important to get a college degree in order to succeed as a professional. While college degrees are still valuable in some settings, many career experts agree that needing a college degree in order to be successful in the professional world is a thing of the past. More and more, people are turning to mastering professional skills without going through an expensive and time consuming four year college education. As the cost of college continues to rise, many people are questioning whether it's worth it to earn a four-year degree. College graduates find that they're still paying off their loans well into their fifties, and it can be tough to wrap your head around paying that much for a degree.
Defining the Term: What Does New Collar Mean?
Thinking about doing something different than the traditional college to career path? You're not alone. New collar jobs are a new, exciting option, different from the standard blue and white-collar jobs that have traditionally run society in decades past. If you're wondering "What are new-collar jobs?" you'll be glad to know that many professionals are curious about getting started in this new career area. The new collar jobs definition is a set of careers that require a particular professional skill set, but not necessarily a bachelor's degree.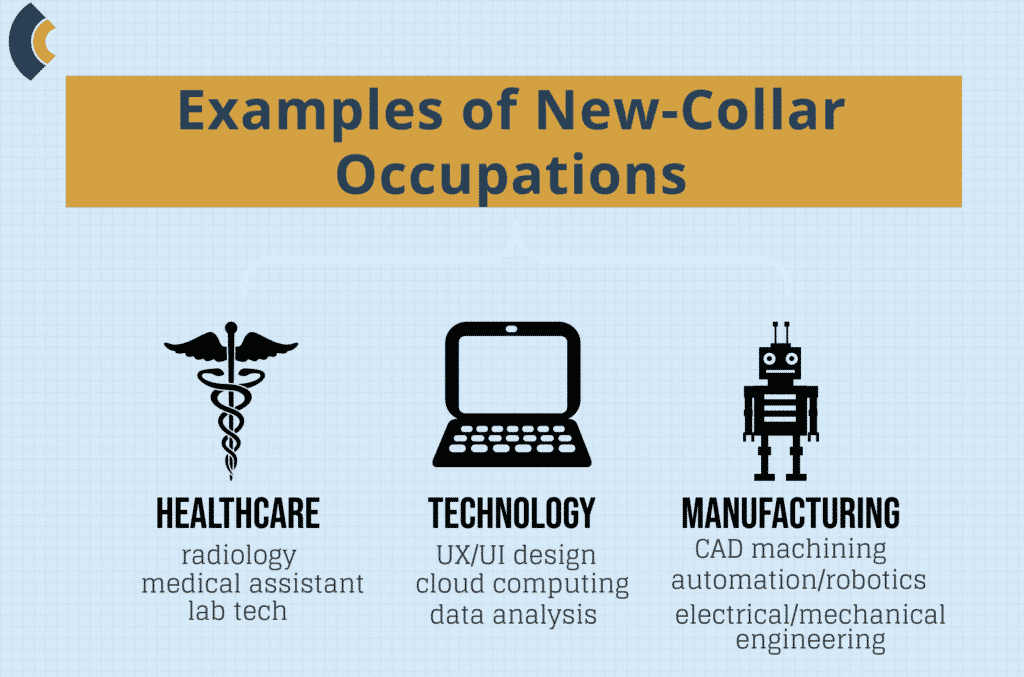 Looking for a list of new collar jobs? These positions are easy to find, as both start-up companies and those that have been around for decades are beginning to realize the importance of people with the combination of hard and creative skills required by a new collar job. New collar jobs are myriad and include:
medical positions (radiologists, hygienists, medical assistants, medical administrators, laboratory technicians)
technology positions (cloud computing, user experience and user interface design, database management, machine learning, cybersecurity)
high-tech manufacturing (machining, automation and robotics, electrical/ computer/ mechanical engineering)
This is by no means an exhaustive list. The need for new collar jobs
Community colleges and technical training institutes are popular options for new collar jobs training. Many professionals who are interested in new collar jobs go through new collar jobs training and then work to earn their bachelor's degree once they're on the job and earning a salary.
Software boot camps are another excellent option for people who are interested in finding good jobs without a college degree. Software boot camps allow people who are tech-minded to put their skills to good work, focusing on a particular area of computer technology. One of the most popular areas of software design today is user experience. User experience designers work to create human-computer interactions that feel intuitive to the user. Artificial intelligence and machine learning both play a role in user experience jobs.
Education/Training for New Collar Jobs
When you're looking for alternatives to college, you're making a smart career move. Many professionals who are successful in their fields today got to where they are by pursuing alternatives to college. In the past, many educators and programs made it seem like alternatives for college were only a good option for people who couldn't afford or couldn't get into college, but that is no longer true. Options other than college can provide valuable career opportunities in fields that are in high demand. Options include:
Community College
Technical and Vocational Schools
Boot Camps
Apprenticeships
New collar jobs are a great set of college alternatives for students are interested in getting started in their careers with a low amount of debt and a high amount of professional skill. College alternatives within the new collar job set include technical jobs in the medical field (such as emergency medicine technicians, radiologists, laboratory technicians, certified nursing assistants, office administrators, etc.), the technology field (machine learning, user experience design, and user interface design are particularly in demand right now), and in the high-tech manufacturing field (including electrical, mechanical, and computer engineering). If you're thinking about pursuing options other than college to get the training you need to be successful in your career, it's smart to look to a new collar jobs training program that can help you get started right.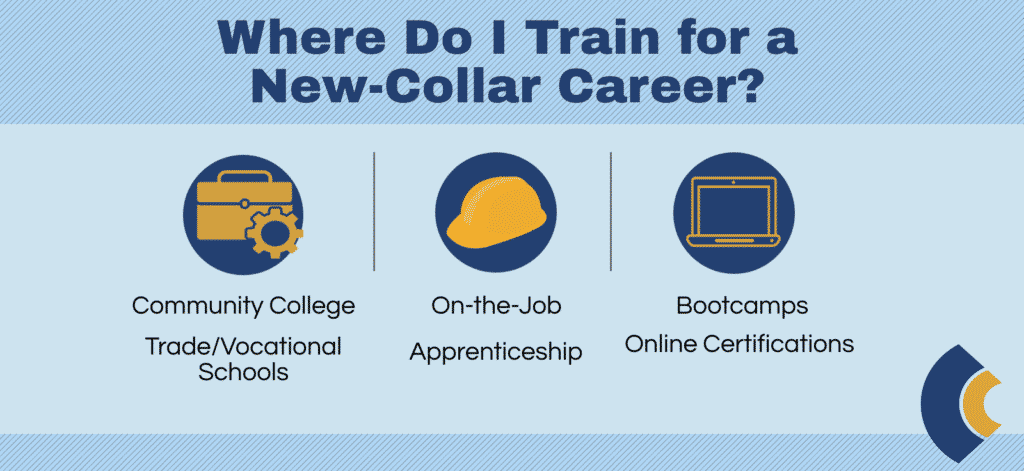 Community college is one of the best alternatives to college for several reasons. Community college offers many technical and professional certifications, and students have the option of completing their associate's degree while going through their training. Often, these credits can count toward a four year degree as well. This means that if you choose to go through with a four year education, you'll already have up to half of your credits completed, at a much lower price than you would pay at a four year university.
Just like a standard four year college, many community colleges offer scholarships that can help students afford the cost of their education. If you're thinking about attending community college, be sure to talk to the financial aid office about your school about tuition assistance. Some financial aid problems go even further than covering tuition – they may offer to cover the cost of room, board, books, and transportation.
If you're thinking about going to community college to further your advancement in a career that you already have, talk with your employer about whether they'll cover any of your education. Many employers have partnerships with local community colleges that allow their employees to attend the school at a free or discounted rate. You may also be able to use some of your work experience as credits toward your education, making it even less expensive for you to get your professional certification.
When you're wondering, "what are other options besides college?" vocational schools are also a great option to consider. Vocational schools allow students to get in-depth training in a particular skill area. Students graduate certified and ready to take on the professional world. One of the many benefits of considering a vocational school as one of your options besides college is that vocational programs are typically completed very quickly – often in as little as 12 months. This means that you get the education you need fast, letting you get to your career (and earning a salary) faster. You may even find scholarships, as trades are in such high demand.
If you're still in high school and you want to explore what are other options besides college, talk with your academic advisor about whether your school offers any technical training programs before you graduate. Many high schools provide students with options instead of college before graduation day, allowing you to become certified in a technical or professional area so that you can start your career as soon as you graduate.
Not sure that a vocational or community college program is a good fit for you? If you prefer to dive directly into the workforce, you'll find that many technical jobs offer apprenticeships or on the job training. These programs allow you to work with a trained professional to learn the craft. Some of these are paid opportunities, while others are not. Reach out to companies in your area to see if they offer apprenticeship programs if you're interested in giving this route a try.
The New Collar Job Market
If you're thinking about finding a good paying job without college, you're thinking along the same lines as many other high school graduates. While college used to seem to be the only way to get a great job, times are changing fast. Many people with a high school diploma or a GED are able to find a good paying job without college due to the surge of new collar jobs in the job market today.
There are shortages in the job market today in many fields that require a professional/ vocational education. Cloud architects, data analysts, web designers, database administrators, and help desk associates are all in extremely high demand in the tech field. Many people who have these jobs did not earn a college degree – they were about to get a good job without a college degree due to their willingness to learn on the job. In the medical field, radiation therapists, respiratory therapists, radiologists, emergency medical technicians, licensed practical nurses, vocational nurses, and nursing assistants are all in high demand. These good paying jobs without a college degree are perfect for people who want to make their mark in a professional world without having to go through the time and financial stress of earning a college degree.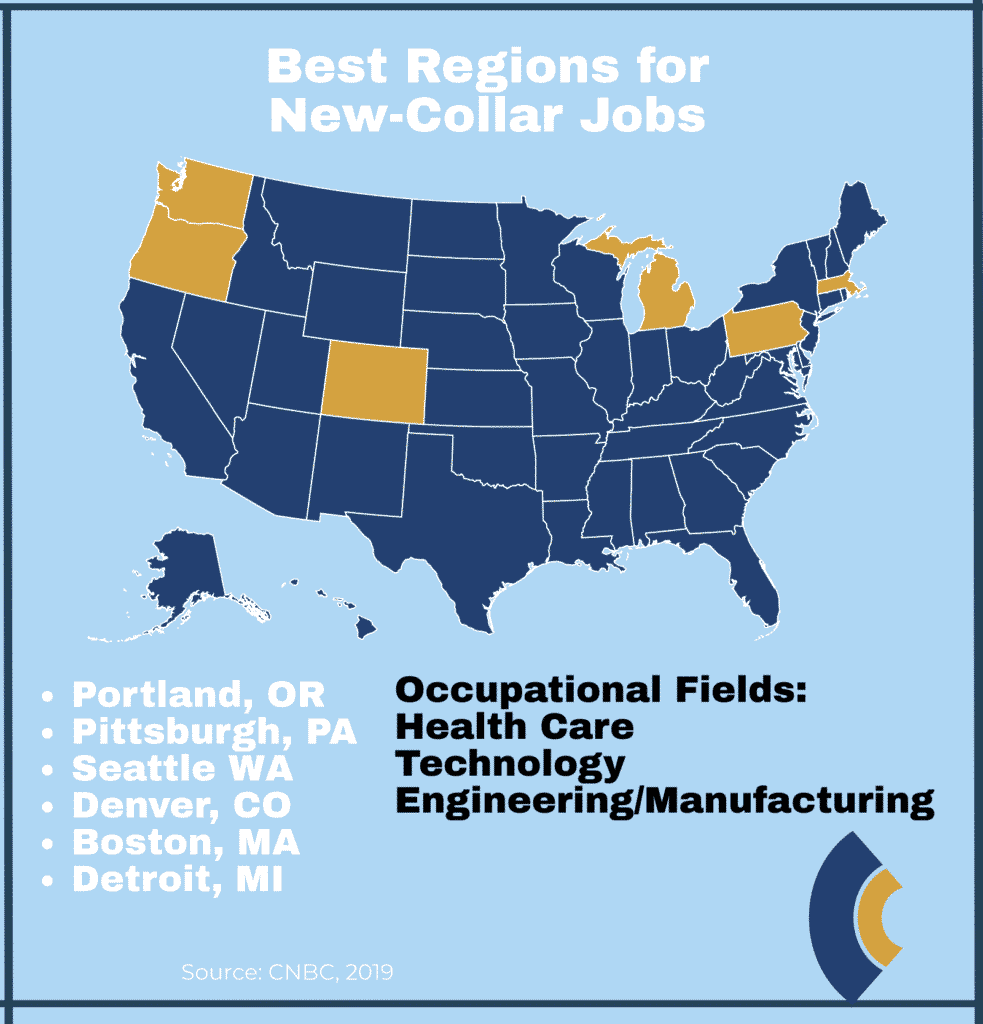 When you're searching for a good job without a college degree, you may want to check into continuing education requirements for your preferred career field. If your license requires that you earn more education credits every few years, check with your employer to see if this is something that they'll cover. Many good paying jobs without a college degree still require professionals to stay on top of the latest developments in the field in order to continue practicing.
When you're wondering about jobs that make good money without college, it's important to remember that you'll still need to go through at least some training in order to get a good paying job. While college is certainly not a necessity, good jobs without college still require employees to go through an education to become an expert in a particular skill. Good jobs without college are readily available. As you browse for good jobs without college, you'll find that most require a certification or training. Don't let that discourage you in your search for how to get a good job without going to college.
If you're just beginning your search to find good paying jobs without college, take some some time to think about your interests and what you're looking for in a long term career. When you know the area in which you'd like to work, begin to explore available jobs in your area. Often, companies find that they have almost constant openings for high needs jobs. If you have a company you know you'd like to work for, call them to talk about how to get a good job without college. Find out what professional certifications they're often searching for, and tailor your education to meet their needs. While you're talking with them, be sure to ask about whether they offer apprenticeships or internships, as these are some of the best ways to get good jobs without a college degree.
New-collar careers are, in fact, perfect choices for:
First-generation students
First-generation Americans
Low-income students
All of these groups face challenges with traditional college, from fitting in to affording skyrocketing tuition. New-collar careers have a lower barrier of entry to rewarding professions.
If you're still wondering, "can you get a good job without college?" rest assured that the answer is yes, now more than ever. As people move away from spending tens of thousands of dollars on a college education only to find a low-paying job, becoming a new collar professional is looking smarter than ever. Earning a certificate or professional license is not something that is looked down upon – it's seen as a smart career move amongst professionals who want to rise to the top of their fields as soon as possible. Let's take a look at some of the good jobs you can get without college degrees.
Brief Descriptions of Some New Collar Jobs
In today's uncertain world, medical personnel are in higher demand than ever. While doctors and registered nurses play an important role in fighting the battle against the coronavirus/ COVID-19, other medical personnel are also vital in helping the world overcome this issue.
Medical laboratory technicians are in high demand, and they're working around the clock to meet all the testing needs of hospitals around the country (and the world).
Emergency medical technicians are risking their lives going out into the community to save people who are not able to fend for themselves.
Certified nurse assistants are working with LPNs and RNs to give patients the direct care that they need.
Medical records professionals are working hard to get patients seen as soon as possible, triaging their symptoms and getting them the help they need.
In a time when almost everyone in the world is being encouraged to stay home, medical professionals are on the front lines, doing everything they can to save lives. If you're thinking about going into the medical field, your help is needed now more than ever.
New collar jobs are in high demand in many industries. This means that companies are willing to pay top dollar for professionals who understand what's needed in their new collar careers. Let's take a look at some of the most popular new collar jobs today, and check out what they entail.
User Interface Designer – Think about how we get information today. We use user interfaces constantly, whether we're paying a utility bill or choosing a show to watch on television. A user interface designer uses the complicated ideas of machine learning, human psychology, and software design to create an experience that feels intuitive for the user. Ease of use is one of the most important factors in apps, phone interfaces, computer operating systems, and more. While there are college degree programs for interface design, many interface designers learn on the job, or through a technical training program. Interface design is a job that people get better at by doing – apprenticeships and internships are a great way to learn on the job.
Dental Hygienist – When you go to the dentist, you likely spend far more time with the hygienist than you do with anyone else. A technical training program for dental hygiene is a great way to set yourself up for a long-lasting, in-demand career that will stand the test of time. As more and more jobs become automated, nothing will take the place of an actual person cleaning teeth. Dental hygienists do more than just clean – they often take x-rays, provide the dentist with insights on patient health, and ensure that the patient feels comfortable during their appointment.
Medical Laboratory Technician – After you get your blood drawn or you get tested for an illness at the hospital, your sample goes to an expert who knows how to run the tests your doctor ordered. Medical laboratory technicians are in short supply, especially with the demands currently placed on the healthcare system by COVID-19. This job can be a great option for people who love to combine medicine with chemistry, and who want to work closely with doctors and nurses. While most medical laboratory technicians work standard office hours, there may be some odd hours required, depending on your work setting.
Certified Nursing Assistant – A certified nursing assistant helps RNs and LPNs provide direct care to patients in need. CNAs are employed in several settings, including home health care agencies, nursing homes, hospitals, and more. The day to day life of a CNA can change frequently depending on the needs of the unit and changes in patients. It's important for CNAs to have an excellent bedside manner, and be able to reassure and comfort patients in their time of need. CNAs help patients with basic activities of life and it's vital for people in this position to be extremely respectful and professional, as many patients feel embarrassed or ashamed when they are unable to perform their normal self-care activities.
Medical Billing Professional – People who have a knack for data and pay close attention to detail can be a great fit for becoming a medical billing professional. Medicine billing professionals use information from hospitals and health care clinics to properly bill insurance companies for patient care. They may also work closely with patient bills to ensure that patients receive the correct invoices. People in this position may have the option to work from home, making medical billing a valuable option for people who need a flexible work schedule. Training for medical billing can often be completed online. Medical billing professionals are a vital part of today's health care industry, especially as patient bills seem to rise exponentially. A good medical billing professional can work with insurance companies to lower total patient costs as much as possible.
Cybersecurity Manager – In today's world of data breaches, it's vital for companies to have a talented cybersecurity manager in charge of keeping their information and data safe. A cybersecurity manager works to help companies protect their information from access by others. This can be especially challenging in today's world of needing people to work from home for an extended basis. In many companies that use highly sensitive data, a system in which information can only be accessed when a computer is connected to the company system is ideal. When people are working from home, this isn't possible. This presents new challenges for cybersecurity managers. People who are experts in cybersecurity are more valuable than ever to many companies.
Help Desk Team Member – The ability to help someone with a technology issue is becoming more and more valuable by the day. Help desk team members may work for a company, going to different employees who are having tech issues and helping them solve their problems. Many help desk team members work remotely for tech companies, providing support services to customers who call in. Help desk team members need a great deal of patience and need to have the ability to break down complicated tech solutions into step by step directions for people who are trying to get their software to perform correctly. Working as a help desk team member can often be a remote position. Much of the training required for a help desk team member position can be performed remotely as well.
Cloud Computing Engineer – When people think of the could when it comes to data storage, they often struggle to understand where the data is actually stored. Cloud computing engineers work to solve problems when it comes to storing data remotely. As more and more companies move to cloud computing due to today's ever changing reality of working from home, it's vital for cloud computing engineers to be able to work quickly to provide innovative solutions to data storage problems. Cloud computing engineers may work in tech offices or may work remotely. Cloud computing engineers need excellent people skills, as much of their job may involve teaching others how to use the cloud, and explaining why it makes more sense than relying on hardware to store valuable data.
Related Rankings:
50 Best Online Community College